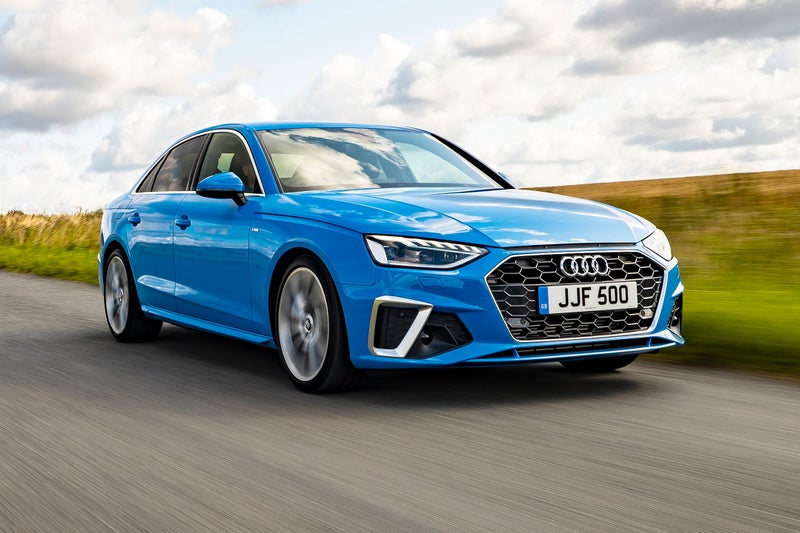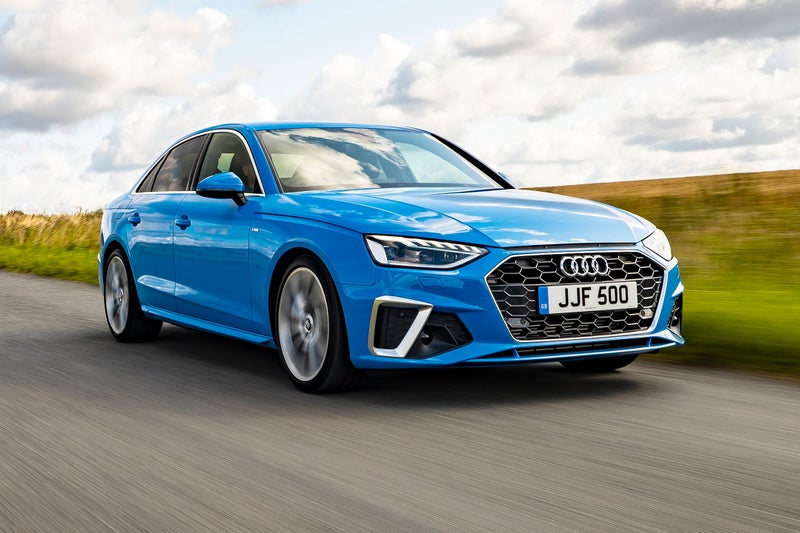 1/10
heycar rating
"A beautifully built, refined saloon "
Launched: 2015

Premium

Petrol, Diesel
Quick overview
Pros
Impressive refinement and comfort
Superb interior quality
Packed with on-board technology
Cons
Firm ride on sportier versions
No plug-in hybrid option
Expensive optional extras
Overall verdict
On the inside
Driving
Cost to run
Prices and Specs
Common questions
Overall verdict on the Audi A4
"No matter how popular SUVs of all shapes and sizes become, there will always be demand for good old saloon cars such as the Audi A4. Simply put, it's one of finest examples of the breed, with strong abilities and very few faults."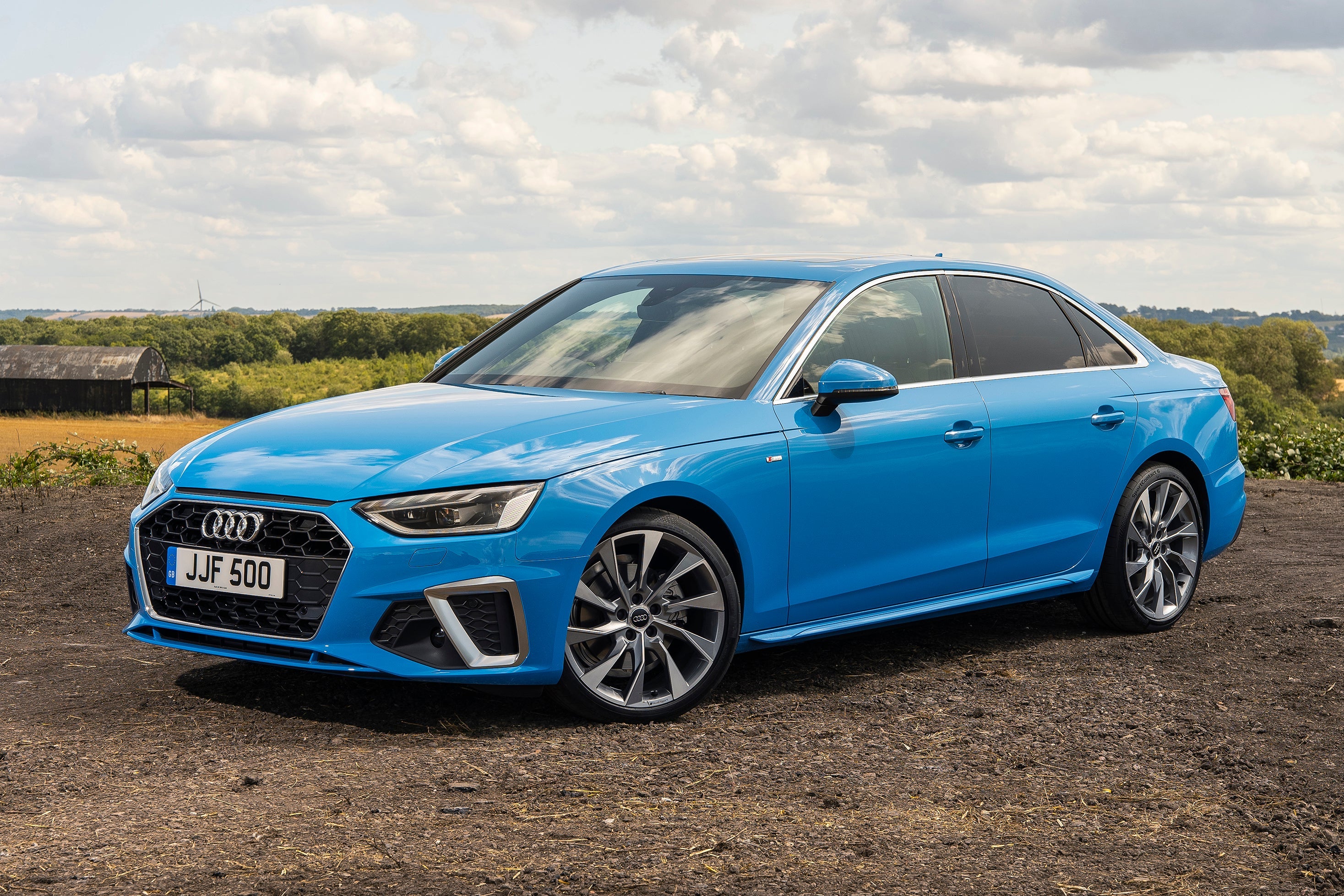 If you simply look at the price tag of the Audi A4 we're reviewing here, it might seem poor value when compared with mainstream competitors such as the Skoda Superb and Peugeot 508. But the Audi A4 consistently delivers on the promise of that upmarket image.
The Audi A4's stunning interior, impressive integrated on-board technology and generous kit list make it feel like a more luxurious car. Couple that with superlative refinement and ride comfort, and it's a winning package that, even a few years on from its launch, is a strong competitor for the BMW 3 Series and Mercedes C-Class.
Size-wise, the Audi A4 saloon is bit like Goldilocks' third bowl of porridge - just right. It's big enough to feel like a more substantial car than the A3 saloon, with a larger boot and more space for rear passengers, but not as long, wide and unwieldy to drive on narrow British roads as the considerably larger A6.
Fitting a car seat in the Audi A4 is easy and you'll be surprised by how well the Audi can cope with carrying anything from bikes to baby strollers when needed.
Our pick of the diesel line-up is the 35 TDI S tronic, which neatly splits the difference between the weedier 30 TDI and more expensive 40 TDI. It has enough power to make the Audi A4 a relaxing, effortless motorway cruiser, but its front-driven layout means it will save you a decent chunk on fuel bills, insurance and tax over a four-wheel drive quattro model.
By contrast, the entry-level 35 TFSI petrol needs more encouragement to get itself going, to put it kindly. So if the lowest possible CO2 output isn't a high priority, then 190PS 40 TFSI is a better option. It's incredibly refined and should still be capable of returning over 40mpg when driven gently.
The ride and handling, while not a highlight, is also not the weakness it once was. The latest Audi A4 rides with suppleness and composure (provided you avoid the larger wheel sizes) with a secure, planted-to-the road feel. Steering that lacks feedback and a neutral cornering balance suit the car's character, but provides little entertainment.
Audi's egalitarian approach to standard equipment means every model in the range feels equally plush. All A4s get heated front seats, climate control, all-round parking sensors and an excellent infotainment system that leaves you wanting for nothing. It's refreshing to know that spending extra on the Sport, S line or Black Edition models mostly adds visual garnish, rather than genuinely useful features.
When listing the Audi A4's abilities, it's hard to pinpoint exactly where it stands head-and-shoulders above its nearest rivals - the Mercedes C-Class, Jaguar XE, Volvo S60 and BMW 3 Series. Yet because it gives nothing away in any area, few competitors (with the exception of the BMW) come close to feeling so polished and complete. It's why it's so highly recommended by us.
Looking for a used car for sale? We've got 100s of Audi Approved Used Cars for Sale for you to choose from, including a wide range of Audi A4s for sale.
Is the Audi A4 right for you?
If your daily routine involves a long motorway stint an Audi A4 could be the perfect commuting companion. Its class-leading refinement isolates you from the stresses of the daily grind. The beautifully made interior packed with technology ensures that you'll stay relaxed behind the wheel, even on the longest of journeys.
It's good to drive, with sure-footed handling, but the Audi A4 is better suited to drivers who prioritise comfort over finely-balanced cornering. With space for four adults inside, it's relatively practical, but family buyers will be far better with the estate version, which has a much bigger boot that is easier to load.
As with many of Audi's other models, the A4 has a premium image, with a good blend of sporty styling cues and understated elegance that will have a broad appeal, but the absence of a hybrid or PHEV plug-in hybrid from the current range means it has higher running costs as a company car than several of its competitors.
If you need more practicality there's the Audi A4 Avant plus there's a more rugged version, the Audi A4 Allroad.
What other cars are similar to the Audi A4?
The executive saloon class is an extremely competitive one, so there are plenty of high-quality alternatives to the Audi A4. The BMW 3 Series matches it for interior quality and refinement, but is more entertaining to drive on a winding road, while the latest Mercedes C-Class beats the A4 for comfort and cabin technology.
Unlike the Audi A4, both German rivals are available as plug-in hybrids, with very low CO2 emissions that make them a compelling choice for company car buyers. There are also more left-field premium choices that are more fun to drive than the Audi, such as the Jaguar XE and Alfa Romeo Giulia. The Volvo S60 is also a worthy alternative that prioritises design and comfort.
If reliability is a top priority, the Lexus IS is no longer available to buy new in the UK, but has a well-earned reputation for its mechanical dependability so is an excellent used choice. Price conscious? Go for the Skoda Superb, which is a lot more practical than the A4 and shares many of the same engines.
Comfort and design: Audi A4 interior
"Audi has an enviable track record for creating polished interiors that not only look and feel great but are also very intuitive to use. The A4 is no exception. The control layout is logical, with a clear and unfussy design that makes finding the right switch the work of a moment."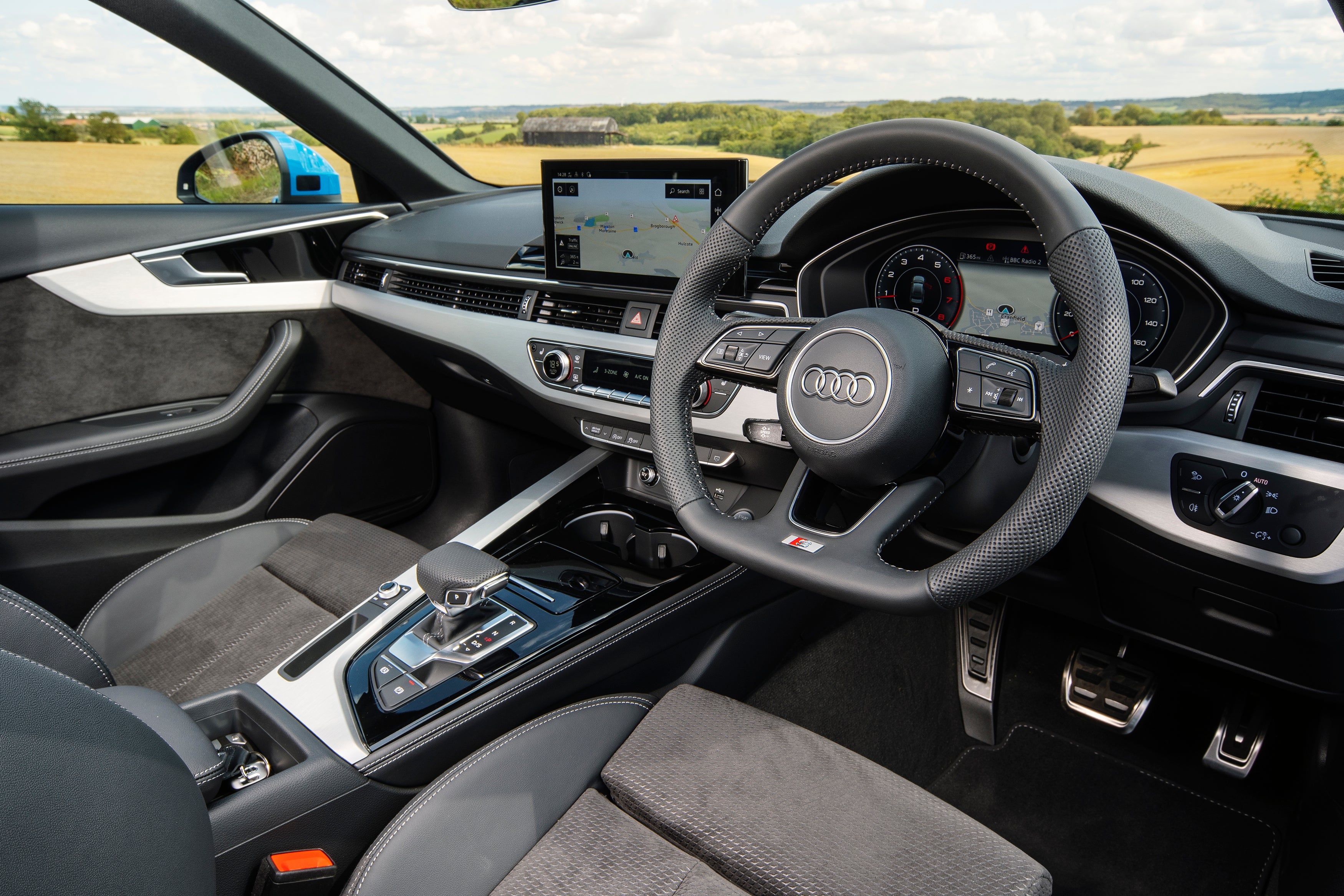 Finding the perfect driving position in the Audi A4 is simple, with a wide range of adjustment available to both the seat and steering wheel. The standard chairs are comfortable and provide a decent level of support, but the Sport seats in pricier versions have additional thigh support and thicker side bolsters to keep you firmly in place.
At least every model in the Audi A4 range comes with four-way electric lumbar support and front seat heaters, which should alleviate backache on any longer trips and make frosty winter mornings a touch more hospitable.
The cabin is neatly divided by a row of black air vents that runs across the full width of the cabin. Above the blowers, you'll find the Audi A4's two large digital displays. A 10.1-inch touchscreen mounted to the centre console, and a larger 12.3-inch screen directly behind the steering wheel, which replaces the need for traditional dials.
All the climate and heating controls are clustered together, situated directly below the main infotainment screen, while the radio volume dial and electronic parking brake are placed right next to the gear selector.
The majority of functions can actually be done on the multifunction steering wheel, minimising the need to adjust your driving position or take your eyes off the road when tweaking the different settings.
Quality and design
The Audi A4 boasts one of the highest quality cabins available at this price. The design might be a little more sober than what you'll find in the Mercedes C-Class or Jaguar XE, but the materials used in its construction, and overall level of fit and finish are a cut above these rivals and on a par with the excellent cabin of the BMW 3 Series.
The plastics are dense and soft to the touch, the steering wheel and gear selector are wrapped in real leather, and cool aluminium greets your fingertips as you adjust the climate controls or brush the stylish dash inlays. Delightful.
Everything you'll touch regularly in the Audi A4 feels substantial and solid and no matter how hard you look, it's difficult to find any evidence of cost-cutting. Even the lids of the many dash cubbies close with a softly-damped action.
All these qualities give the driver the feeling of being cocooned inside, something that's enhanced on more expensive versions. The S line and Black Edition (as the name suggests) use darker materials for the roof lining, dashboard and doors, while adding metal pedals, a flat-bottomed steering wheel with perforated leather and LED ambient lighting that softly illuminates the cabin at night.
Infotainment: Touchscreen, USB, nav and stereo in the Audi A4
All Audi A4s come equipped with an impressive array of on-board tech that puts navigation, infotainment and connectivity right at your fingertips.
Like all the best new gadgets, Audi's Virtual Cockpit digital dials make life behind the wheel so convenient, it's hard to imagine what we ever did without them. They used to be a cost option on the Audi A4, but from 2019-on are included as standard on every model.
This bright, widescreen display is customisable and allows the driver to glance down at a real-time view of the current navigation, flick between DAB and your phone, all without taking your hands from the wheel. It closely mirrors many of the functions on the 10.1-inch touchscreen sitting atop the dash. Switching between the two soon feels intuitive.
The pre-facelift Audi A4 came with a 7-inch central display. While this was smaller and had fewer features, you could control it via a scroll wheel mounted on the transmission tunnel. This made it a lot simpler to use while driving than the newer touchscreen. You could argue the latest MMI has taken a step backwards as a result. BMW's latest iDrive gives buyers the option to both touch and scroll - and is all the better for it.
The good news is that the updated MMI (Audi's name for its infotainment system) comes fully loaded with everything you could ask for. The nav system has 3D mapping, DAB and Bluetooth as standard, along with an eight-speaker stereo. Plus all-round parking sensors ably assisted by a reversing camera.
Better yet, Android Auto and Apple CarPlay connectivity are also included, so the huge central screen can become a giant smartphone. Apps like Spotify for music, Waze for traffic updates, or even Audible for audiobooks are just a button press away.
Space and practicality: Audi A4 boot space
The Audi A4 is perfect for those that need a businesslike commuter car for the week and a roomy family car for the weekend. In fact, several years on from launch, it's still one of the roomiest cars in its class.
When it comes to dimensions, the Audi A4 is 4762mm long, 1847mm wide and 1428mm tall. While its width and height are par for the course, its length makes it a touch longer than its closest rivals, and that results in more space for luggage and people alike.
Saloon versions of the Audi A4 come with a well-designed boot, and a roomier rear bench than many rivals. What does a well-designed boot look like? Well, the 480-litre luggage capacity only tells half the story. It also has a wide, square opening and rear seats that fold down in a 40/20/40 configuration.
Combine this with a low load lip and relatively flat cargo floor, and it takes less effort to stow oddly shaped or heavier items.
True, like all saloons the A4's load bay is shallower than in a hatchback, but unlike other rivals like the Jaguar XE and Alfa Romeo Giulia, the exterior design doesn't hamper functionality or prevent you from using every litre.
It's a similar story for rear-seat passengers. They get significantly more head- and legroom in the Audi than in either British or Italian alternatives. The narrow, raised middle seat is only really good for short trips, mind.
That additional cabin space comes in handy when fitting a rear-facing child seat, too, because it means the passenger in the front won't need to move their seat quite so far forward. The Isofix mounting points in the back are easily accessible, but the plastic covers are not attached to the seats, so they're likely to get lost.
Up front, there are plenty of small cubbies for stashing loose items, two large cupholders and door pockets deep enough to hold a large bottle of water each. The glovebox is merely average, but in the back you get a second set of large door bins and a pair of cupholders and a storage tray both hidden in the rear armrest.
There are a few things missing from the A4's practical armoury, however. Unlike newer models, it has no USB charging ports in the back (just a 12v socket). More irritatingly, there are no spring-loaded levers mounted in the boot for folding the rear seats down - you have to do this by reaching into the rear doors instead.
Handling and ride quality: What is the Audi A4 like to drive?
"In the right specification, the Audi A4 is one of the most comfortable saloons to drive. Fitted with 17-inch or 18-inch wheels and the 'Comfort Dynamic' suspension setup of the Technik and Sport models, it rides well over lumps and bumps. It isolates its passengers from poor surfaces and controls its body movements nicely."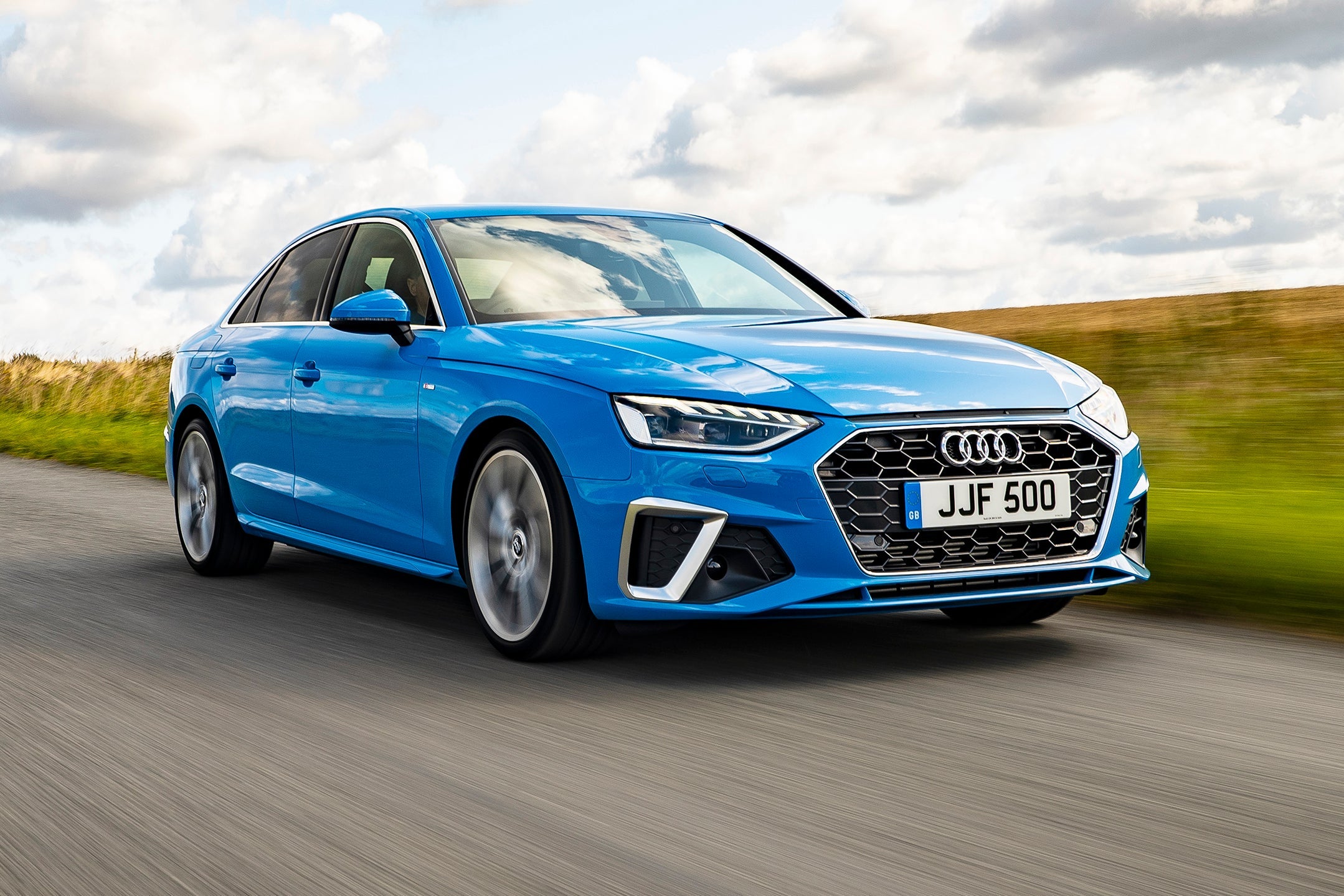 Choose either the S line or Black Edition versions of the Audi A4 and the combination of larger alloys and lowered suspension conspire to give a much firmer ride than other specs. It borders on harsh, especially when driving over motorway expansion joints or rutted city streets. New, these models could be had with the softer springs as a no-cost option, so it's worth casting a keen eye on the spec sheet of any used example.
The range-topper comes with Adaptive Sport suspension, which has the tighter body control and cornering composure of the stiffer setup, but adaptive dampers that take the firm edge off the ride. Specced correctly, the Audi A4 offers a comfortable and refined driving experience.
Every A4 features Audi's Drive Select System. This lets you to switch between Comfort, Auto, Efficiency and Dynamic drive settings. These modes change the steering weight, throttle and gearbox, but on cars without adaptive suspension, they can't change the ride quality, even when in Comfort mode.
The handling definitely feels as though it has been tuned to suit motorway driving. The A4 is stable and safe at all speeds. The steering is direct and consistently weighted, but lacks the final level of feedback that make rear-driven rivals like the 3 Series and Jaguar XE that bit more engaging for enthusiastic drivers.
It grips well in most conditions, but front-wheel drive versions can start to lose traction when exiting sharp corners too fast. All-wheel drive models have no such issues and put their power down with effortless ease, but that extra grip doesn't necessarily make them any more fun to hustle along on a quiet B-road.
What engines and gearboxes are available in the Audi A4?
A few years ago Audi changed the naming convention for its engines. For fun, it would seem. So now the numbers on the badge are just a bit confusing. This can make navigating the Audi A4's wide selection of engines way more difficult than it needs to be.
What you need to know is that all of the current engine range are turbocharged and most have a 2.0-litre capacity. As the Audi A4 is a favourite with big mileage drivers, diesels are a very popular choice.
Every TDI comes with a seven-speed S tronic automatic gearbox, which is well suited to motorway driving. This gearbox does have an annoying habit of hesitating when you want to accelerate quickly and can also be a bit jerky at parking speeds. The automatic gearboxes in the C-Class and 3 Series are smoother and more responsive.
The most popular engine is the 35 TDI. With 163PS and 380Nm outputs it's plenty quick enough for most and feels noticeably less strained than the entry-level 136PS 30 TDI. If you want four-wheel drive grip, then 40 TDI comes with Audi's quattro all-wheel drive system as standard. Still, with only marginal performance gains and worse fuel economy, we don't think it's worth the extra outlay.
The entry-level 35 TFSI petrol is the only new Audi A4 available with a manual gearbox, which is precise and positive to use, but it does need to be given some extra encouragement to keep up with other traffic.
Older Audi A4s were offered with a smaller 1.4-litre petrol that was less refined than the new 2.0-litre, but had the same 150PS power output, along with a pair of 3.0-litre V6 diesels that were smooth and strong performers.
The Audi S4 uses a 3.0-litre V6 diesel with an incredible 700Nm torque figure. That pulling power makes it almost as quick as the previous petrol S4, but with much better fuel economy. It's not a particularly exciting engine, but there's no denying its impressive performance.
Refinement and noise levels
Few cars in this class can isolate you from the world outside like the Audi A4 can. Wind and road noise are barely audible inside the cabin, even at motorway cruising speeds. Sportier cars with larger wheel sizes generate a little more tyre roar than standard models, but engine noise and vibration is extremely well suppressed.
That's true regardless of the engine you choose, but the 2.0-litre diesels are a little more vocal. Still, that difference becomes negligible once you've settled into a cruise. You won't hear more than a soft thud from the suspension either, even when driving over very patchy roads.
It's these qualities that make the A4 feel like a larger, more expensive saloon that's a pleasure to drive long distances. The exception is the entry-level manual 35 TFSI. Its 2.0-litre engine is smooth and unstressed, but you'll need to quickly shift down the gearbox often when you want a burst of speed.
Naturally, the more potent engines (in the 40 TDI and 40 TFSI) require fewer revs and feel more urgent when overtaking. This makes them more relaxing to drive, especially over long distances and when fully loaded.
Safety equipment: How safe is the Audi A4?
Audi was an early adopter of active safety technology, so it's no surprise that the Audi A4 comes with a collision-avoidance system as standard. The brand's Pre-sense City technology works below 53mph and uses a camera to detect pedestrians or potential collisions. It will automatically brake to a standstill if necessary.
Another standard feature is high-beam assist, which will dip the main beams for you to prevent the car from dazzling other drivers - certainly helpful in a car with such bright LED headlights. Acoustic all-round parking sensors and a reversing camera (with guidelines on screen) should help you manoeuvre into tighter spots.
Hill hold assist (which prevents you from rolling back down a steep gradient) is standard and activated at the push of a button, plus cruise control with a speed limiter is also included. This can be upgraded to a radar-guided system with Stop&Go function.
Like any modern car, the Audi A4 comes with a set of six airbags, electronic stability control, and traction control. It was crash tested after it was first launched in 2015, gaining the maximum five-star rating by Euro NCAP. Some of its rivals did score higher for adult occupant crash protection, but none were safer for child occupants in an accident.
Some pre-facelift Audi A4s came with a space-saver spare wheel fitted underneath the boot floor, but on newer A4s this handy extra is no longer offered (even as an option) with a foam tyre repair kit the only substitute
MPG and fuel costs: What does an Audi A4 cost to run?
"Most of the engines in the Audi A4 line-up are fairly efficient, although its official CO2 emissions and fuel consumption have both risen since it was tested against the new WLTP regulations."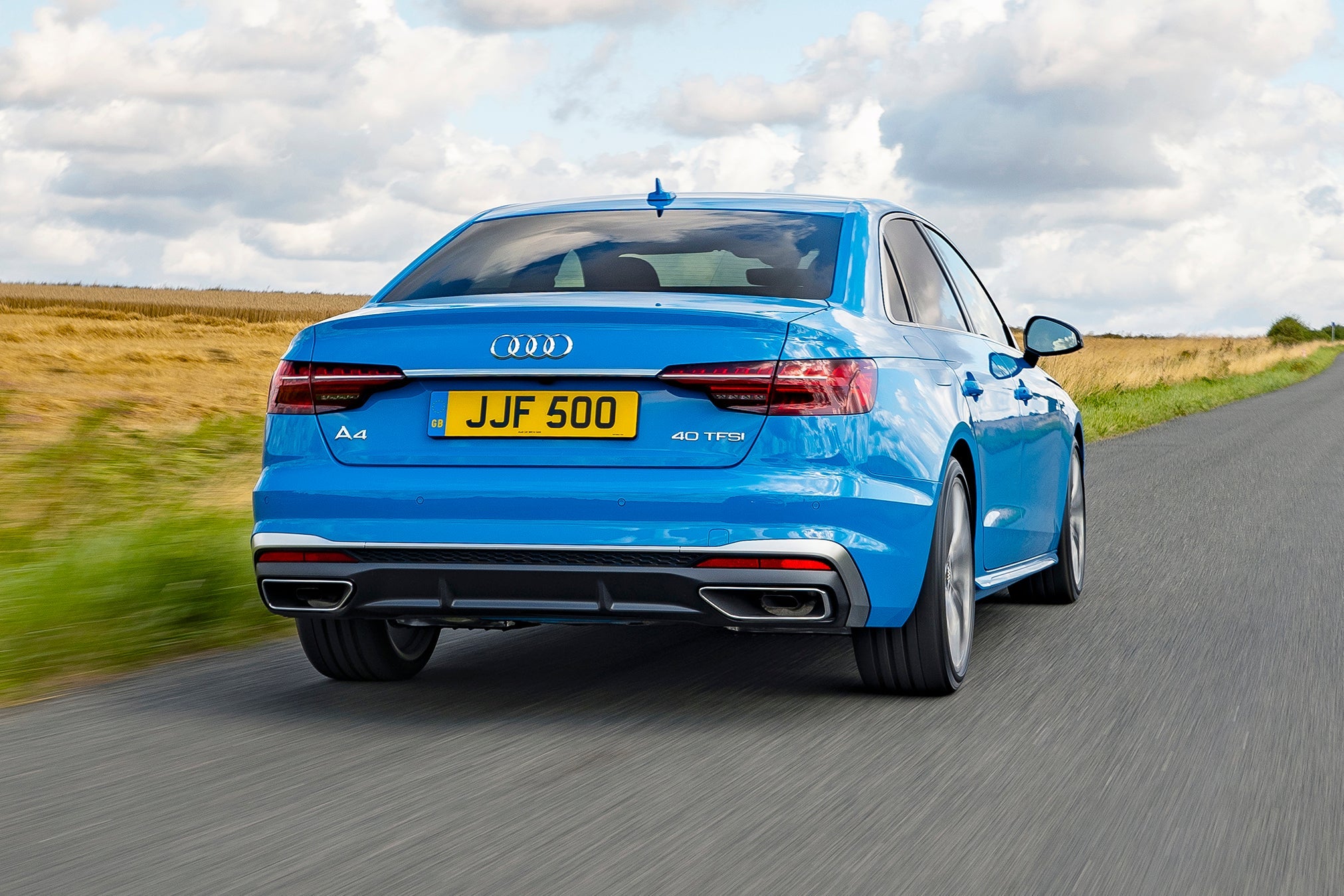 Luckily, these figures are much closer to real-world driving, with the most efficient model being the 30 TDI S tronic in Technik trim."
In this guise, the A4 returns an official 55mpg. Comparatively, the most economical of the petrol models, the 35 TFSI S tronic, is capable of 43mpg.
Adding four-wheel drive, moving up the trim levels or adding larger wheels all has a detrimental effect on fuel economy. However, because the diesel models have a smaller standard fuel tank size than the petrol versions (by 14 litres) the overall range on the 35 TFSI - at about 500 miles - is better than on the 30 TDI.
How reliable is the Audi A4
Audi should benefit from the efficiencies of the wider VW Group, as its cars use a number of components shared across numerous brands and models. Despite this, Audi is one of the lowest performing VW Group brands in the 2021 HonestJohn.co.uk Satisfaction Index, with only SEAT in a lower position.
However, the Audi A4 has been around for several years now with only minor updates, meaning its mechanicals are well proven. There have been no serious issues reported in that time, while the technology is also well-established and should prove reliable.
Insurance groups and costs
The Audi A4 is a relatively expensive car thanks to its upmarket image, which means you'll pay a higher insurance premium than for an equivalent mainstream saloon like the Volkswagen Passat or Skoda Superb.
The cheapest models are the SE trim with both entry-level petrol and diesels in Group 19. A 35 TDI in S line specification is Group 25, while the four-wheel drive 40 TDI quattro is Group 30, so bear this in mind when factoring the increased running costs of having an Audi A4 with extra all-weather capabilities.
This stacks up favourably with Audi's nearest class rivals, with the cheapest models sitting three (or in the case of the BMW 3 Series, six) groups lower - which could make a big difference to a young professional.
VED car tax: What is the annual road tax on an Audi A4?
If the original buyer managed to spend more than £40k (which is about two thirds of the range) on their A4, then it will be liable for the showroom tax, from years two to six of ownership. All models registered from April 2017 onwards will pay the standard flat annual VED rate.
For A4s registered before April 2017, you'll pay a lower rate based on NEDC emissions and no additional showroom tax. For example, a 2.0 TDI Ultra S tronic in Sport trim registered in 2016 will only cost £20 in VED.
A4s are popular with company car drivers, but without an ultra-low CO2 PHEV hybrid model in the range, the most affordable petrol and diesel models (in Technik trim) start at a 33% BIK, while mid-range cars are 35%.
How much should you be paying for a used Audi A4?
"The Audi A4's enduring popularity with company car drivers and fleet managers means there is a very healthy supply of used models."
Good deals can be found on post-2019 Audi A4s (with the upgraded infotainment system) that have usually covered less than 30,000 miles. Prices should start around £20,000 for an A4 35 TFSI S tronic in Sport or S line trim, or from £25,000 for a 35 TDI S line.
However, you'll have a much wider choice if you're willing to buy the pre-facelift design, with cars that are four years old starting from around £16,000 for petrols and £18,000 for diesels. Do be aware that many of these cars may not come fitted with the Virtual Cockpit display or (depending on trim) sat-nav, so do read the spec closely.
If you want the most affordable version of this generation Audi A4 possible, then 2015 examples that have covered less than 60,000 miles can be found for as little as £12,000. At this price, most cars come equipped with a manual gearbox and either the 1.4-litre petrol engine or the relatively efficient 2.0-litre TDI Ultra, both with 150PS.
Trim levels and standard equipment
As we have alluded to, the latest Audi A4 will not leave you wanting for equipment. Every model comes with a range of toys so that even the most affordable Technik versions feel luxurious and well-appointed inside.
Standard kit includes keyless start, climate control, heated front seats, cruise control, all-round parking sensors, a reversing camera, and the impressive MMI Plus infotainment system and slick Virtual Cockpit.
These cars look a little drab on the outside, since they come on 17-inch alloy wheels and have a less flashy grille design than the sportier versions, but do have LED headlights. Upgrading to the Sport line adds chrome to the grille and air intakes, 18-inch wheels and on the inside, chunky sports seats trimmed in leather.
Choosing an S line or Black Edition adds a good dollop of visual flair but adds nothing useful to the spec list. However, the Comfort & Sound pack (£1395) with its excellent upgraded stereo, electric boot opener and multi-coloured interior LEDs is worth looking for on used cars.
If you spend a lot of time on the motorway then the Driver Assistance Tour Pack (£1250) will ease the burden of a long commute, with its adaptive radar cruise control and lane-keep assist technology. Both come as standard on the top-spec Vorsprung models.
Ask the heycar experts:
common questions
Can I get the A4 with a manual gearbox?
Previous versions of the Audi A4 were available with a mixture of manual and automatic gearboxes, but apart from the entry-level petrol car, all the new models are automatics.

What does the 'quattro' badge mean?
Originally created for motorsport racing, this word simply means any Audi that comes fitted with four-wheel drive, a system which gives the car extra grip in slippery road conditions.

Can I get the Audi A4 as a convertible?
Between 2006 and 2009 the Audi A4 was offered as a luxurious four-seater cabriolet with some powerful engines and a glamorous image, but this model was soon replaced by the Audi A5.
Get a month's free insurance for your new car with heycar
£--.--*
Monthly thereafter
Terms, conditions, exclusions and excesses apply.
What's included?
Fully comprehensive policy
Monthly subscription, cancel anytime
No deposit or interest charges
Price guarantee for 12 months
Manage your policy anytime, anywhere
No fees for changes and cancellations
‍We've assumed that you:
– Have had a full UK driving licence for two or more years
– Will be the registered owner and keeper of your car
– Haven't made any modifications to your car
– Have never been declined insurance
– Haven't had any claims or driving convictions
Audi A4 cars for sale on heycar
5,955
Number of cars available
£8.5K - £53K
Price bracket of these cars
Colours available on heycar
Keep me updated by email with the latest advice, news and offers from heycar
By submitting, you agree to our
privacy policy
.