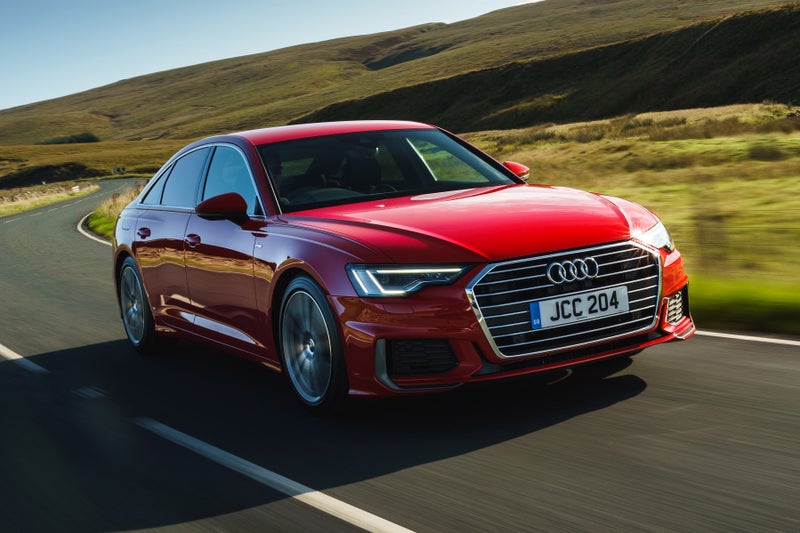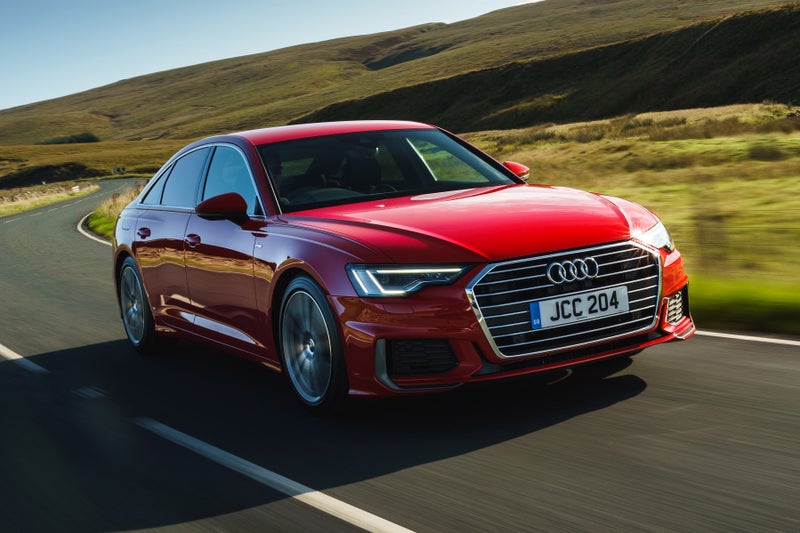 1/10
heycar rating
"A sophisticated and spacious saloon"
Launched: 2018

Premium

Petrol, Diesel, PHEV
Quick overview
Pros
Futuristic in-car technology
Roomy interior
Superlative cruising refinement
Cons
Not as efficient as its rivals
Fiddly touchscreen climate controls
Exorbitant optional extras
Overall verdict
On the inside
Driving
Cost to run
Prices and Specs
Common questions
Overall verdict on the Audi A6
"The latest Audi A6 is a thoroughly modern take on the large executive saloon. It's stuffed with technology, from its touchscreen-laden interior to its mild-hybrid engines, but has all the traditional qualities required of cars in this class."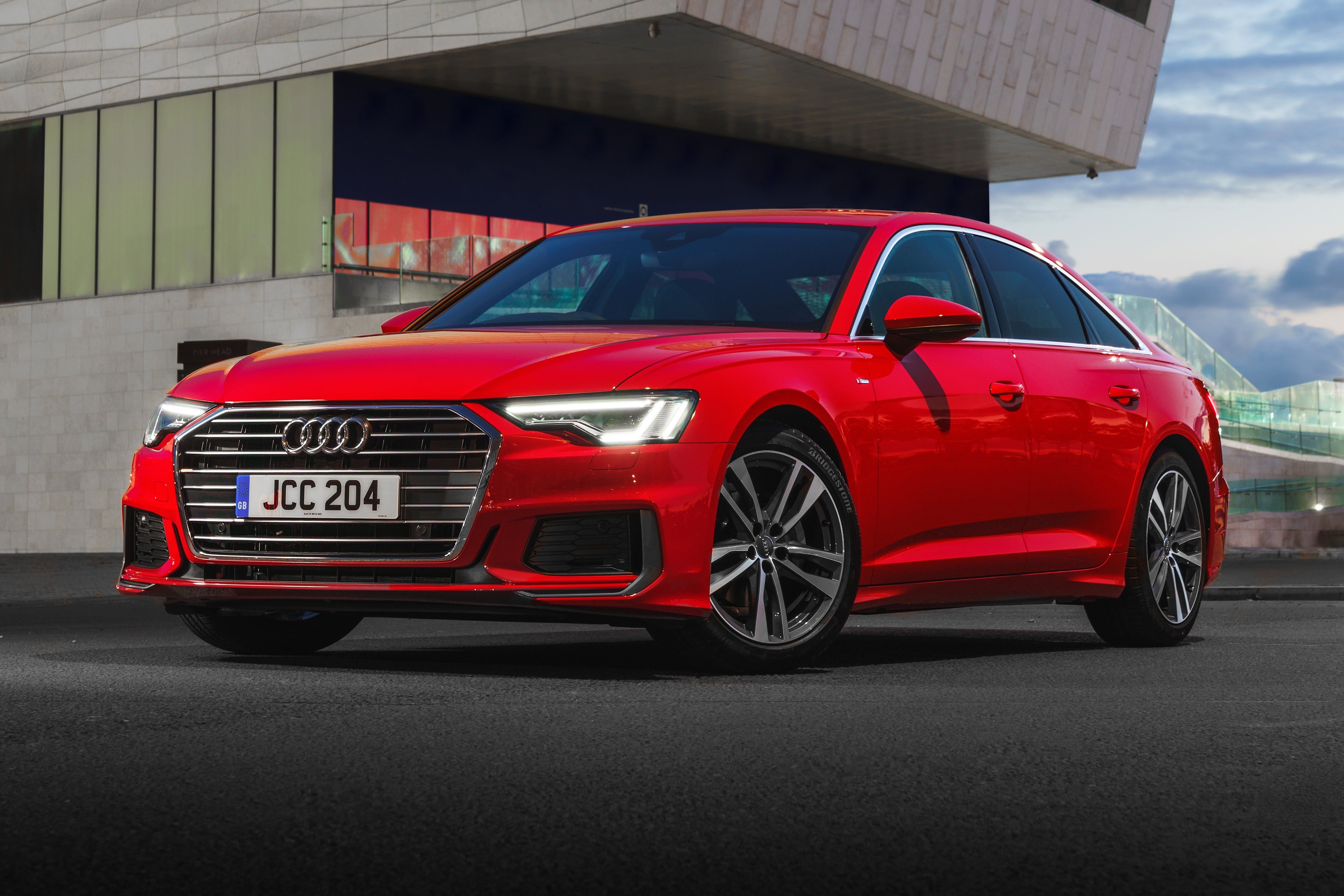 Audi's latest A6 has continued the tradition of 'lesser' cars benefitting from brand flagships: using its flagship A8 saloon as its technological testbed with the newest innovations and gadgets, Audi has then ensured this kit trickles down to its more affordable A6. In this review we'll see if that's been a successful transfer.
The Audi A6's 'digitised cabin' features up to three high-definition displays, giving this car an unmistakably futuristic vibe. The infotainment system is a little hit-and-miss though. It's packed with features, but some of the really cool kit (such as the digital dials) is only available as part of an expensive option bundle, and the touch panel for the climate controls is fiddlier to use than in Audi's other cars, and indeed its main rivals; the Mercedes E-Class and BMW 5 Series.
Most models come with four-wheel drive as standard, with the entry-level 40 TDI diesel the only exception, although you can add it as an option. It's a four-cylinder engine producing 204PS, that's remarkably smooth, and has more than enough performance for most drivers, and can also return over 50mpg on a steady run.
All A6s get a smooth automatic gearbox (with seven or eight speeds depending on power output) and mild-hybrid technology to help save fuel. It's still not the most economical large saloon, but it's close to the class best.
This transmission does help keep things calm on long journeys, although it can sometimes hesitate at poorly chosen moments (like when pulling onto a roundabout) in a way that the best automatic gearboxes simply won't.
The petrol range also kicks off with a four-cylinder turbo, the 45 TFSI, which has 245PS, and there are a pair of 3.0-litre V6 engines (one petrol and one diesel) that are smooth, refined and powerful. In 2019 Audi added a pair of plug-in hybrid models, the 50 and 55 TFSI e, which use the same 2.0-litre petrol engine and 141PS electric motor as the hybrid Q5 SUV. They have an electric range of around 30 miles, and out out over 300PS each.
There's also an indecently fast high-performance diesel - the Audi S6. Unless you want to set lap records on the M25 though, we're not sure it offers a huge benefit over the existing V6 diesel option. As for the standard car, it's a composed, stable companion on long journeys, but not as pliant as the softest saloons.
Cabin space is very impressive, with more passenger space (even with three in the back) than you'll get in any of its German and British competitors, and a nicely-shaped boot that can carry a decent amount of stuff.
Obviously, the A6 Avant estate is even more practical, but for a four-door the A6 is surprisingly roomy inside, and the Avant's extra metal only really benefits boot space.
Some cars take a while to find their niche. Before, if you were in the market for a large, luxurious saloon to show off in the company car park, then the BMW 5 Series was the sporty one, and a Mercedes E-Class was the plush one for wafting home after a day in the boardroom, so where does that leave the A6?
Well it's a great all-rounder, with a stunning cabin, and a comfortable ride with a sporty edge. Avoid the highest trim levels and it's decent value too, although if we're nit-picking, it's a little short on personality and style.
Looking for a used car for sale? We've got 100s of Audi Approved Used Cars for Sale, for you to choose from, including a wide range of Audi A6 cars for sale. If you're looking for the older version, you need our used Audi A6 (2011-2018) review.
Is the Audi A6 right for you?
The Audi A6 is a large, comfortable executive saloon that is aimed at company car drivers with a bit of cash to spend, who want the latest in on-board technology, and a luxurious cabin to unwind in on their commute.
It actually feels more like a fully-fledged luxury car than ever, with many of the impressive gadgets from the flagship Audi A8 having trickled down into this more affordable model. You get more passenger space and slicker infotainment screens than in the Audi A4 saloon, and at nearly five metres long, it feels like a bigger, more expensive car than it is.
There's no single area where the Audi A6 stands head and shoulders above the competition, and to drive it feels more at home quietly cruising the outside lane of the motorway than anywhere else. If you need practicality, the A6 Avant is a better choice, while the Audi A7 Sportback wraps the same underpinnings in a far sleeker body.
What other cars are similar to the Audi A6?
The Audi A6 has been locked in battle with its two fiercest German arch-rivals - the BMW 5 Series and Mercedes E-Class - for the last 25 years, and the heat of that competition has driven all three to excel.
If we were to pigeon-hole them, the BMW is the best all-rounder, with the lowest running costs and tidy handling, while the Mercedes is a comfortable cruiser, perhaps even more supple than the A6. Both come with marginally more standard equipment than the Audi, and can also be bought for a lower starting price.
This trio totally dominates the class in the UK, but if you fancy something stylish and safe that does a very similar job, the Volvo S90 is hard to ignore. It's got a gorgeous cabin, and class-leading crash safety stats. If it's driver appeal that matters more than most factors, the Jaguar XF is a good buy - particularly the recently facelifted version with much better cabin tech.
Another left-field choice is the Lexus ES, with a conventional hybrid powertrain and beautifully crafted cabin, it's a more affordable than any of the Germans, with prices for the standard version starting from £35,200. Its low 119g/km CO2 emissions mean it sneaks into a much lower BIK tax bracket than the cleanest A6 diesel.
A new entrant into the sector is the Genesis G80, which offers a distinctive look and a plush cabin that's loaded with standard kit. We'd find it difficult to recommend over the above cars until better engine options are available, however.
Comfort and design: Audi A6 interior
"The Audi A6's roomy and classy continues the brand's trademark traits of granite-hewn quality, but it's not the masterpiece of simple ergonomics it once was."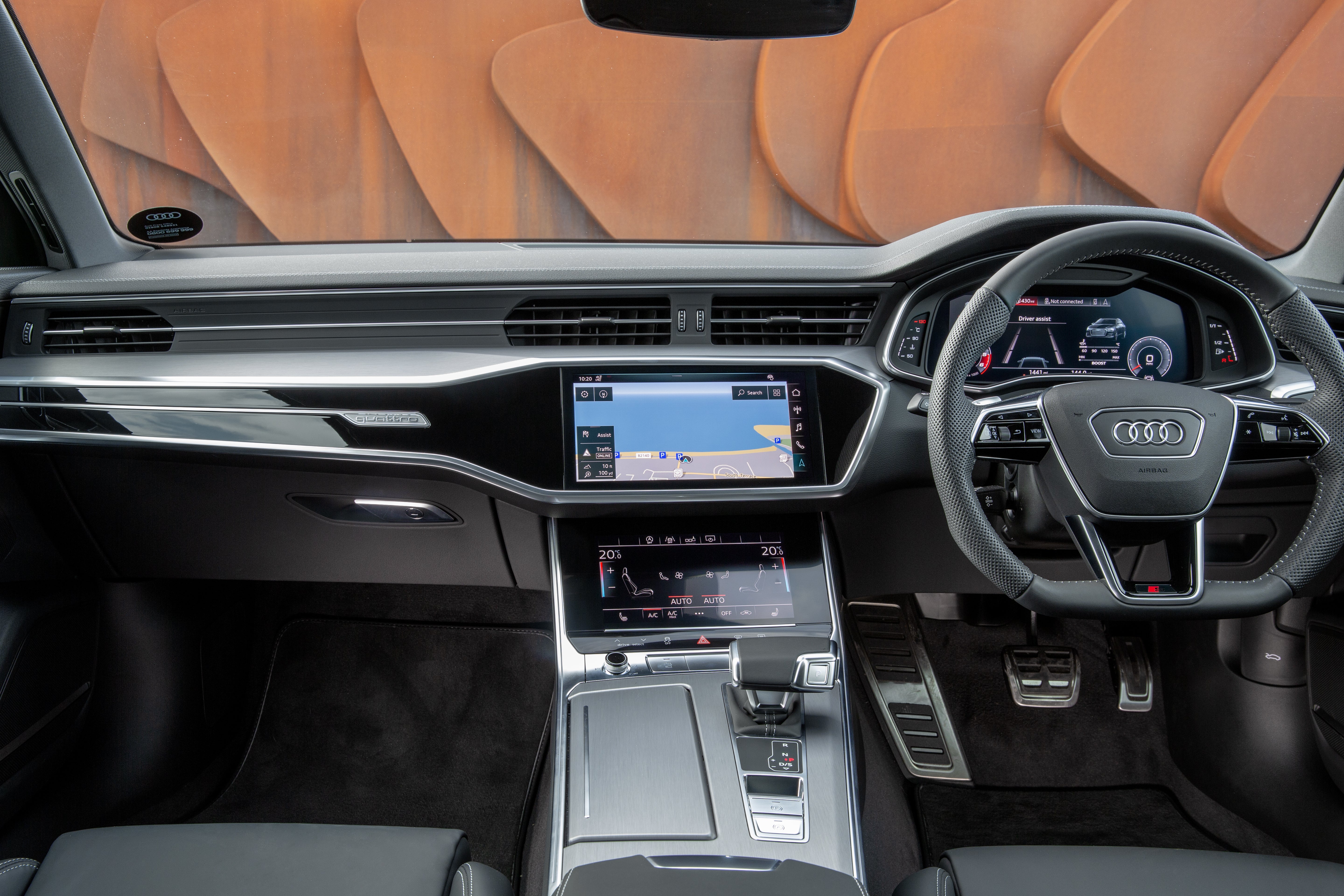 If you're stepping out of a more conventional or older saloon, the cabin of the Audi A6 might come as a bit of a shock. Controlling the myriad functions of the vast screens in top-spec cars is not as intuitive as Audi thinks.
Ironically, lower-spec models without the 12.3-inch digital dials feel less daunting, but once you've learned to navigate the system, you'll find using the screen wheel controls and Virtual Cockpit is the least distracting.
We are yet to be convinced of the merits of touchscreen climate controls. No matter how many brands harp on about haptic feedback, you can't develop muscle memory for a flat screen, so you'll always have to take your eyes off the road to make adjustments on the fly, instead of being able to let your fingers find the switchgear.
Admittedly, the way Audi has integrated these screens into the centre console looks super slick and modern, but there are problems too, since you get massive sunlight reflections from the glossy black dash materials - and fingerprints are clearly visible.
Of the few switches there are, most are sensibly located, clearly labelled and put in places that are easy to reach, but we would like the central touchscreen to be mounted a little higher up in the driver's eyeline, like it is in a BMW 5 Series.
As with its arch-rival, the pedals are offset to the right, meaning they don't line-up directly under the wheel. It shouldn't cause too much discomfort though, and the standard seats are supportive, with a really wide range of manual adjustment, and four-way electric lumbar control that lets you avoid back pain after a longer stint.
Some executive saloons offer electric adjustment on their entry-level models, and this is standard on S line cars, along with grippier front seats that hold you firmly in place when you're darting around tight corners.
Quality and design
Sitting in the Audi A6 feels a bit like being in an architect's bathroom. That's not a bad thing; it looks ultra-modern, with the bright metal trim contrasting nicely with the gloss black plastic that's used to hide the tech on-board.
It certainly makes a change from the usual expanse of shiny wood and leather that was de rigueur in luxury cars for decades, but while the materials have changed, the underlying sense of quality remains fully intact.
We prefer the more classically elegant design of the Mercedes E-Class and Volvo S90 to look at, but in those cars the upmarket feel seems like a veneer hiding some cheaper stuff underneath, the Audi feels solid and substantial throughout its cabin.
The steering wheel and wide, almost aeronautical 'thrust control' style gear selector are both really nice items to hold, operating with crisp, weighty precision - even the indicator stalks feel as though they are built to last.
As standard, all models get twin leather upholstery (a mix of leatherette and real hide), while S line cars have a mixture of leather and suede-like Alcantara, stylish contrasting white stitching, and stainless steel pedals.
The range-topping Vorsprung does take things up a notch, with genuine leather, multi-coloured LED lighting (something that's standard in an E-Class), ash grain trim inserts, a big sunroof and soft-closing power doors.
Infotainment: Touchscreen, USB, nav and stereo in the Audi A6
At first, sitting in the fully upgraded Audi A6 might feel like being in an electronics shop. It surrounds you with large screens, all tilted towards the driver. Pricier versions and those fitted with the Technology Pack have a 10.1-inch HD display integrated into a glossy black panel in the centre of the dash, sitting below it is a second 8.6-inch touch panel that operates the climate controls, with a 12.3-inch digital driver's display behind the wheel.
Lesser models have an 8.8-inch screen and normal analogue dials, but since the main display sits flush with the dashboard (so the whole thing looks like a single panel) you won't notice the difference in size too much.
Audi describes this as an 'all-digital' approach, but what that really means is you don't get as many physical controls as you do in its rivals. The screens do vibrate and make a sound when you press them, just like your smartphone does, but tweaking the fan or temperature settings is not as easy to do on the move as simply turning a dial.
Fortunately the MMI software is very slick, with coloured-coded menus and large on-screen icons that make it easy to navigate. Touch response is crisp, and it has all the connectivity kit to make the Audi A6 a mobile office.
An excellent sat-nav, 10-speaker audio system, DAB radio, Bluetooth, online services (with a three-year subscription), integration for Android Auto, Apple CarPlay and Amazon Alexa voice control are all baked-in to its circuits.
While it looks futuristic, in practice this system is more fiddly to use (and distracting) than BMW's iDrive, and the 5 Series and E-Class come with digital dials as standard, so we don't know why Audi charges for them.
Space and practicality: Audi A6 boot space
Large four-door saloons such as the Audi A6 tend to focus on providing lots of space for passengers to stretch out in, rather than being able to stack them to the rafters with luggage. For that job you really want an estate or high-riding SUV.
Despite this limited brief though, the A6 is one of the best cars in this class when the need does arrive to shift an old item of furniture, cram in some suitcases for a two-week holiday, or drop younger kids off at nursery.
It has a 530-litre boot, which matches the 5 Series and is a smidgen less than you get in the E-Class, but fitting stuff inside the Audi is easier, since the boot opening is such a wide, square shape. It's longer than it is deep, but you'll be able to fit a stroller, bag of golf clubs or three big suitcases without folding the rear seats down.
Pick either of the PHEVs though and things aren't nearly as rosy. You'll be getting a severely reduced boot that's 360-litre capacity is more like that of a family hatchback, so we hope eco-conscious buyers pack light.
Unlike some rivals (we're looking at you, Lexus and BMW) split-folding seats are included as standard. They tumble flat in a 40:20:40 configuration, giving you the flexibility to carry people and increase the load space. They lie flat enough to make sliding heavier stuff in a breeze, and only tall, boxy items will pose a challenge.
Audi gives you three spots to mount a child seat, with ISOFIX in the two outer chairs and the front passenger seat, plus a switch to deactivate the airbag. There's more than enough room to fit even the bulkiest varieties.
Room in the back seat is excellent, with bags of head- and legroom that makes it very comfortable for adults. While the middle spot is narrower than the others, it can carry three with less shoulder-jostling than its rivals.
There are deep pockets in all four doors, a decent glovebox and more useful loose storage under the central armrest, but if your rear passengers are of a coffee-drinking age, cupholders (and a few other bits) are a stingy £100 option.
In terms of exterior dimensions, the Audi A6 is among the larger cars in its class, but is only slightly above the class average, It's 4,951mm long. 1,886mm wide and 1,458mm tall.
Handling and ride quality: What is the Audi A6 like to drive?
"The Audi A6 picks a good middle ground between overtly sporty options like the Jaguar XF and BMW 5 Series and softer, more comfort-oriented saloons such as the Mercedes E-Class and Volvo S90."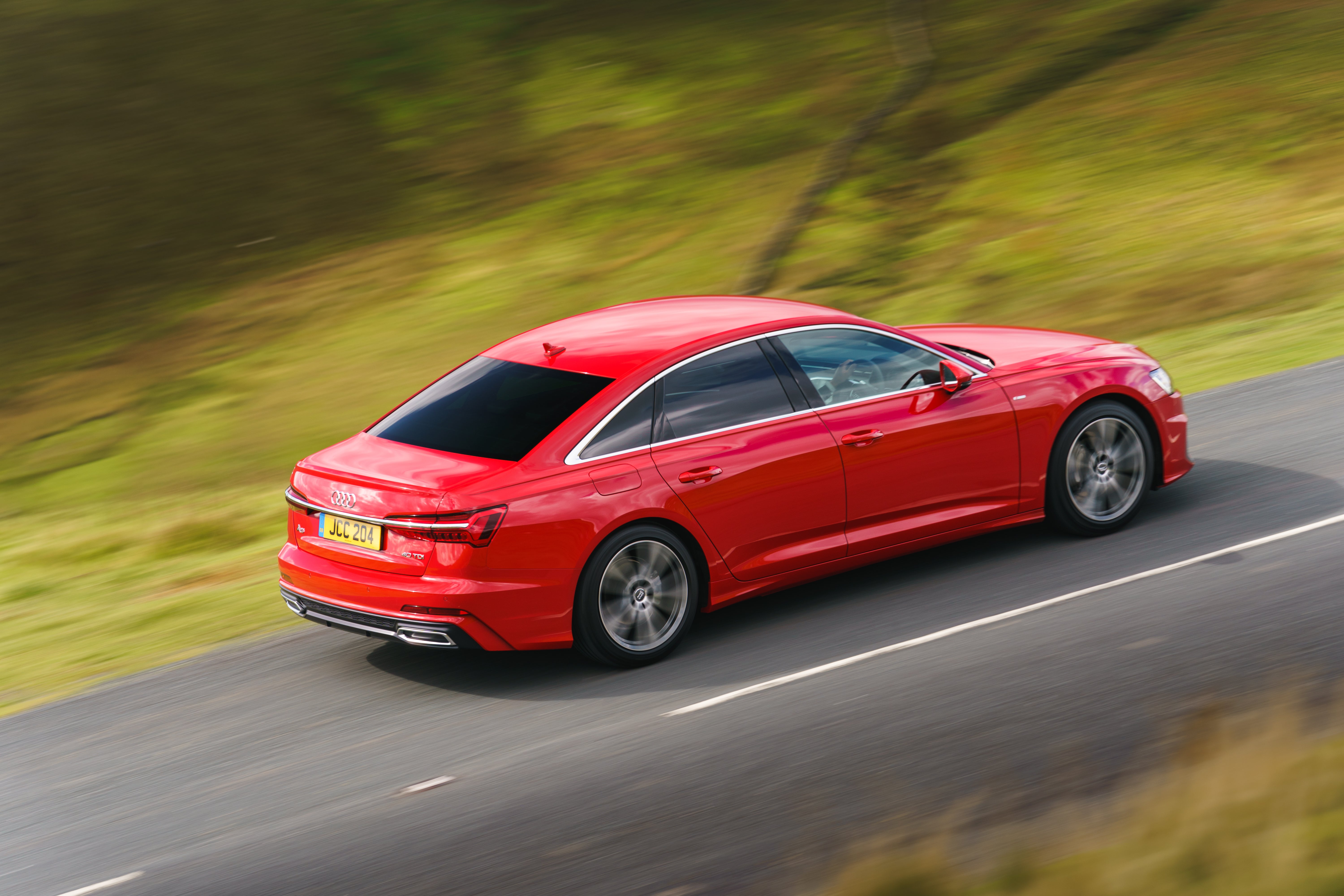 We really appreciate how easy the Audi A6 is to drive too, with light steering that's a little remote, and on most models, an eagerness to change direction that you don't expect to find on large, heavy and luxurious executive cars.
Audi used to be fairly democratic when it came to suspension setups. It would let you pick and choose from the three different options available, allowing you to decide how far to push the boat out in pursuit of comfort.
Now things are stricter, with the type of suspension and other mechanical upgrades that affect the handling characteristics now ring-fenced by which of the four trims you choose. Only forking out for a Vorsprung model will get you the all-singing adaptive air suspension and trick four-wheel steering system, for example.
The former means you can have huge wheels and still maintain a plush ride around town. Although it can absorb speed humps and larger dips unfazed, small imperfections do cause the body to shimmy. This can be irritating around town after a while, so urban drivers are likely to be better off with one of the conventional setups.
Meanwhile, the four-wheel steering effectively shortens the wheelbase, making this long, heavy car feel as nimble as an A3. It tightens up the turning circle too, perfect if you do a lot of city driving. This system also adds to the A6's (already impressive) sense of stability at higher speeds, instilling the driver with confidence.
Most versions come on a conventional non-adaptive setup, with S line models getting a lower ride height for better body control. Equipped in this fashion, the A6 is reasonably comfortable. It's at its most compliant on smoother, faster roads, but there is an underlying stiffness at low speed that you won't find its pliant rivals.
The tradeoff for this firmness is excellent body control and consistent handling. The A6 never surprises you mid-corner, reacting faithfully to your inputs and delivering plenty of stable grip. It's not as fun as a rear-drive saloon, but it's also more planted, and with four-wheel drive, you'll have superb traction in slippery weather.
What engines and gearboxes are available in the Audi A6?
Cars in this class need to provide effortless pulling power with parsimonious fuel consumption, and the wide range of engines available in the Audi A6 saloon do exactly that, with some leaning more one way than the other.
Kicking off the range is a pair of four-cylinder turbocharged units, one petrol and one diesel. The 40 TDI is the only front-wheel drive A6, the rest of the range uses Audi's patented quattro four-wheel drive technology. You can fit the latter as an option on the entry-level diesel, should you need the extra all-weather capability.
With 204PS and a decent slug of torque from low revs, this engine is refined, with a brisk turn of speed when you need it, although it's not as strong (nor as economical) as its equivalents in the BMW 520d and Mercedes E 220d. It's still our pick of the range and comes fitted with a seven-speed S tronic automatic gearbox as standard.
The 45 TFSI has a healthy 245PS, but doesn't necessarily feel much faster. A lot of its additional oomph only comes at the very top of the rev range, and if you drive around bouncing off the limiter, it'll do about 25mpg. Still, it's better at a cruise - but only one we'd buy if diesel was out of the question.
The two V6 models, the 50 TDI and 55 TFSI, are both exceptionally refined and will shove you back in your seat, they're the ones to go for if you want discreet performance. Still, the diesel comes with an eight-speed conventional automatic that's pretty hesitant to kick down, even more so than the standard twin-clutch 'box.
At the top of the performance tree sits the diesel Audi S6. Its 3.0-litre twin-turbo engine has enough grunt to power a small boat, with 349PS and a titanic 700Nm. It's an effortless overtaking machine, but so is the 50 TDI, and you'll struggle to find any road where you can legally deploy all its firepower, unless you're a German citizen.
Audi recently introduced a pair of plug-in hybrid models - the 50 and 55 TFSI e. You know the drill, a punchy four-cylinder petrol engine is ably supported by an electric motor and battery pack. This gives them speed to rivals the V6 models, but also the ability to drive shorter distances (up to 30 miles or so) in full electric mode.
There is no difference between the electrical architecture of the two models, so they have the same range and recharging times, but the 55 TFSIe has a more highly tuned petrol engine, giving it a combined 367PS.
Refinement and noise levels
Everything is pretty calm behind the wheel of the Audi A6. It's a car that has been designed with long distances in mind, and that really shines through in the way it manages to isolate its driver from the usual driving hubbub.
Even the four-cylinder diesel is hushed, sending little to no vibration into the cabin, and generally it minds its own business, even when you're accelerating down a motorway slip road. As with most things in life though, the more you spend, the more pampered you'll be. The 3.0-litre V6 in the A6 50 TDI is wonderfully smooth, but the plug-in hybrid is the quietest for pulling up outside a swanky restaurant - all you'll hear is its electric motor.
Road and wind noise are well suppressed by the clever 'acoustic' glass in the windscreen and side windows, although the former gets noticeably louder on high-spec models with enormous wheels and low-profile tyres.
It's also worth saying that this car's slippery shape makes it a fair bit quieter than a large SUV at high speed.
On cars fitted with steel springs (all of them bar the Vorsprung and S6) you'll hear the odd clonking sound from the suspension as it goes over bumps, which is not something we can say we experienced in its rivals.
If there is one weakness that detracts from the general sense of tranquillity though, it's the gearboxes. Both the seven-speed S tronic and eight-speed Tiptronic transmission are very effective at shuffling through the ratios - sometimes so imperceptibly you won't know which one you're in - but they're quite hesitant as well. This can make sharply exiting a junction or pulling onto a roundabout a bit hit and miss.
Safety equipment: How safe is the Audi A6?
Lay your mind at rest. If you have the misfortune of having an accident in the Audi A6, it'll protect you very well. In crash tests by Euro NCAP it got the top five-star rating, with high scores in each of the individual categories.
It's pretty much neck-and-neck with the BMW 5 Series, but the Mercedes E-Class performed slightly better in the detailed breakdown of adult and child occupant protection. If you want the safest saloon, the latter is it.
Still, the Audi is hardly lacking in the equipment department. Essentials such as a full complement of airbags, cruise control, auto headlights and wipers, tyre pressure monitors and electronic stability control are all here.
There is a decent array of preventative equipment too, including lane departure warning (which will actively steer you back into line if you don't indicate), and Audi Pre-sense, an autonomous emergency brake system.It scans the road ahead for obstacles and will warn the driver if it senses a crash, stopping the car if needed.
Parking is made easier (it is a bit of a barge after all) by all-round parking sensors and a reversing camera but you can also add additional driving aids from the extensive options list. The Tour Pack brings adaptive cruise control (it'll stop, go and steer for you in traffic jams), a traffic sign recognition camera, and high-beam assist.
Meanwhile, the City Assist Pack dots extra sensors all over the car, giving you electronic eyes to check your blind spots on the motorway, to watch out for traffic passing behind if you're reversing, and Pre-sense rear. It can't brake for you like the front can, but it will warn you and tighten the seatbelts if you're going to get hit.
Like most modern cars, there's no spare wheel, but you can fit one for £190 (just not to the 50 TDI or TFSI e, annoyingly).
MPG and fuel costs: What does an Audi A6 cost to run?
"Large executive saloons need to span a broad range and please everyone from mile-munching business users to high-performance enthusiasts, and the Audi A6 mostly caters for both."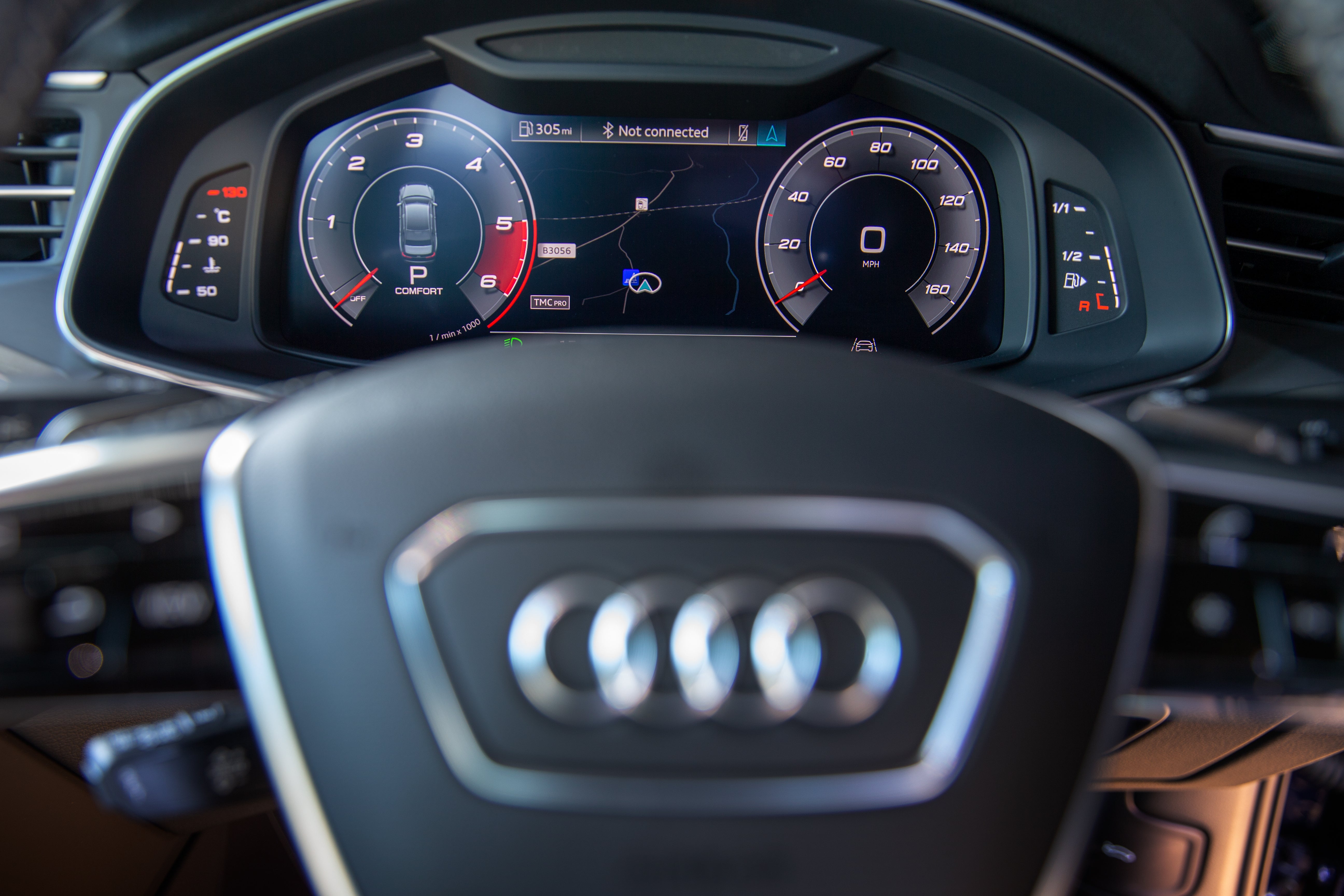 Every engine in the latest Audi A6's range features a mild-hybrid system, which is a smaller lithium-ion battery (like you get in your laptop) and a beefed-up starter motor and alternator. Working together, this technology cuts the engines off when you're coasting, and also allows start-stop to work for longer, up to 15mph in the 45 TFSI petrol car.
It's clever stuff, and in conjunction with the 2.0-litre diesel engine in the 40 TDI the A6 can return over 50mpg. That's on the tougher WLTP test cycle, but our Real MPG owners reported similar stats in everyday driving.
However, both the BMW 520d and Mercedes E220d can go further on a single tank and emit less CO2. The petrols are predictably thirsty; expect around 34mpg for the 45 TFSI and less than 30mpg for the 55 TFSI V6 in mixed driving.
The recently introduced TFSI e plug-in hybrid is the real economy champion of the range. With a full battery pack, it can travel up to 32 miles without using its engine, which translates to a ridiculous claimed 188mpg.
It will only save you money at the pumps if you charge it before and after every journey though, a process that takes up to seven hours from a standard three-pin socket, but about two and a half from a public charger. Audi is gracious enough to supply both a normal domestic and Type 2 fast charging cable as standard.
How reliable is the Audi A6?
Audi should benefit from the efficiencies of the wider VW Group, as its cars use a number of components shared across numerous brands and models. Despite this, Audi is one of the lowest performing VW Group brands in the latest HonestJohn.co.uk Satisfaction Index, with only SEAT in a lower position.
The A6 is also one of Audi's more high-tech cars, with additional complexity and potential to go wrong over the smaller, cheaper A4. Having said that, it's been on sale for a few years now, and no major problems have been reported. Just ensure the maintenance record is spotless.
Insurance groups and costs
The Audi A6 saloon is not the cheapest executive express when it comes to finding the lowest annual premium, since the entry-level 40 TDI diesel in Sport trim falls into the Group 30 insurance band, out of a possible 50.
That's on a par with its German competitors, but you can cover a base-spec Volvo S90 or Jaguar XF for quite a lot less. Trim level also affects the rating quite severely. S line cars start in Group 32, Vorsprung trim is in 39. Unfortunately, Audis are a popular target for thieves, which is reflected in insurance costs.
A good rule of thumb is that a four-cylinder model will be a thirty-something, while a V6 (petrol or diesel) or plug-in hybrid will be somewhere in mid-to-late forties, with the searingly quick S6 topping out in Group 46.
VED car tax: What is the annual road tax on an Audi A6?
Almost every Audi A6 costs more than £40,000 when new (unless you buy the 40 TDI Sport and don't fit a single option - not even metallic paint) and as a result will attract the higher 'premium' rate of road tax (VED).
That means after the car has first been registered, you'll need to fork out £475 a year to keep it on the road for the next five years before it drops to the standard rate, which is currently £150 for petrol and diesel cars.
You get a measly £10 discount if you choose either of the TFSI e plug-in hybrids, as they're alternative fuel vehicles, and their super-low Benefit-In-Kind rate of just 10% makes them a no-brainer for company drivers.
How much should you be paying for a used Audi A6?
"Prices for a new Audi A6 saloon start at just under £40,000 and rise to over £75,000 for the Vorsprung TFSI e. That's quite a broad church, but the good news is that tracking down a used model will save you thousands."
In fact, you'll only need around £24,000 to get the current shape model onto your driveway. For that money, it'll usually be a front-wheel drive 40 TDI in Sport trim, but shop carefully and you can find one with a few options too.
Up the budget to £27,000 and you'll start seeing S line models, and the occasional high-mileage 50 TDI with its 3.0-litre V6 engine, but every car should come with a full main dealer service history, and a spotless body.
If you want four-wheel drive, then you'll need to add another £2000 to that total, as the majority of used cars do not have quattro fitted. Petrols are also harder to find, so when one does pop up expect to pay £32,000.
Buyers after a Black Edition or V6 engine should definitely look at pre-registered models (essentially brand new) but with up to £5,000 scrubbed from the asking price - there's currently a good selection to pick from.
Trim levels and standard equipment
All Audi A6s come with leather upholstery, sat-nav, a 10-speaker audio system, 10GB music hard drive, parking sensors all round, heated seats and a high-definition reversing camera, and a pair of large touchscreens.
That's just on the entry-level Sport, which also has 18-inch wheels, LED front and rear lighting, dual-zone climate control, keyless go, and the all important Android Auto and Apple CarPlay phone connectivity.
S line cars have sporty extras like grippier front seats, brushed aluminium scuff plates and a perforated leather steering wheel, plus some very snazzy 'Matrix' adaptive LED headlights, and 19-inch alloy wheels.
Black Edition models don a massive set of 20-inch wheels, and (as the name implies) some stealthy black trim on the door mirrors, radiator grille, front bumper, and window surrounds, plus darkly tinted privacy glass.
If the stormtrooper look isn't your thing but you have cash to burn, the range-topping Vorsprung models take the one-stop shop approach to optional equipment. Every box is ticked, but you'll also need to remortgage.
We think this all-singing trim is needlessly expensive, while the Black Edition is style over substance. For us, a Sport or S-line model with a few choice options fitted represents the best value. There are two noteworthy bundles worth fitting to enhance the experience on-board your A6 - the Technology, and Comfort & Sound Packages.
The former costs £1495 but adds a bigger infotainment screen with improved graphics and touch response, a wireless charging pad, and Audi's 12.3-inch 'Virtual Cockpit' digital dials (which are standard in the TFSI e).
Choose the latter and your wallet will feel even lighter (to the tune of £1895) but you'll be the proud owner of a deafeningly loud 16-speaker Bang & Olufsen stereo, 360º parking cameras and multi-coloured cabin LEDs.
Ask the heycar experts:
common questions
Is the Audi A6 a good car?
Yes. The constant competition with its rivals has forced Audi to innovate and strive to excel, so the result is a very posh, refined car that is perfect for long journeys and easy to live with.

What is the boot space in the Audi A6 like?
Since the A6 is a saloon it's actually less practical than its sibling, the A7 Sportback, which has a hatchback, but its capacity is still 530 litres, easily enough for a pair of big suitcases.

Answered by
Lawrence Allan
How many different Audi A6 body styles are there?
The current A6 is offered as a four-door saloon, a five-door estate (called the A6 Avant) and a jacked up off-road version with SUV styling cues known as the A6 Allroad, so three in total.

Get a month's free insurance for your new car with heycar
£--.--*
Monthly thereafter
Terms, conditions, exclusions and excesses apply.
What's included?
Fully comprehensive policy
Monthly subscription, cancel anytime
No deposit or interest charges
Price guarantee for 12 months
Manage your policy anytime, anywhere
No fees for changes and cancellations
‍We've assumed that you:
– Have had a full UK driving licence for two or more years
– Will be the registered owner and keeper of your car
– Haven't made any modifications to your car
– Have never been declined insurance
– Haven't had any claims or driving convictions
Audi A6 cars for sale on heycar
5,969
Number of cars available
£11K - £68K
Price bracket of these cars
Colours available on heycar
Keep me updated by email with the latest advice, news and offers from heycar
By submitting, you agree to our
privacy policy
.