Volkswagen Tiguan Review 2023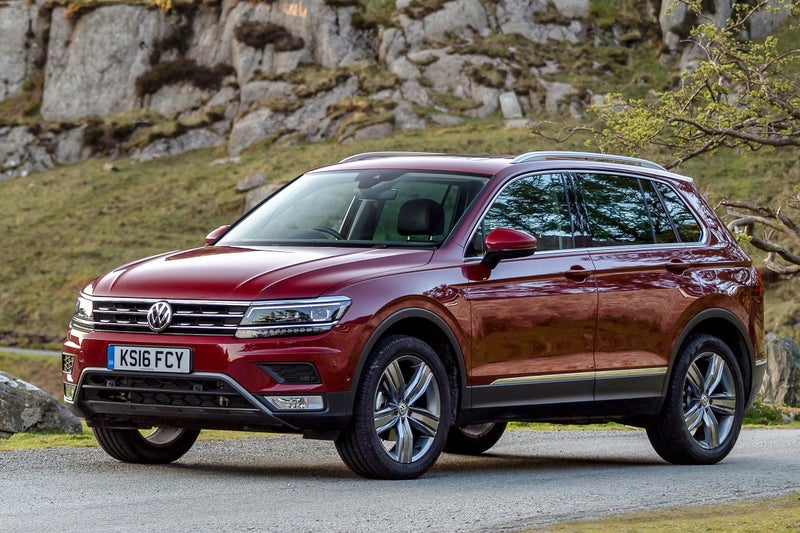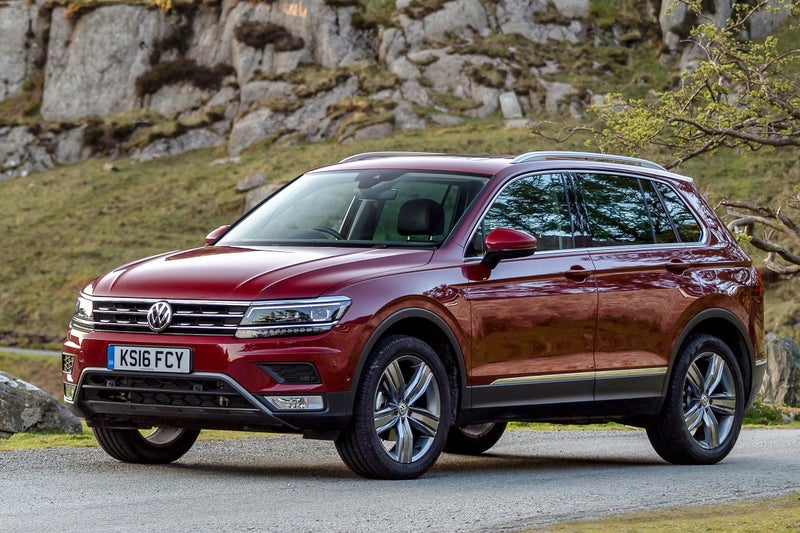 1/10
heycar rating
"Classy alternative to a Qashqai"
Launched: 2016

SUV

Petrol, Diesel, PHEV
Quick overview
Pros
Superb interior with plenty of space
Strong engine line-up with low running costs
Easy and comfortable to drive
Cons
More expensive than the very similar SEAT Ateca and Skoda Karoq
Won't turn any heads
Plug-in hybrid models are rare
Overall verdict
On the inside
Driving
Cost to run
Prices and Specs
Common questions
Overall verdict on the Volkswagen Tiguan
"Remember a time when the default option for family car buyers was a Volkswagen Golf? It ticked all the boxes: a classy image, spacious image and a feeling of quality that you wouldn't find in a Vauxhall Astra or Ford Focus."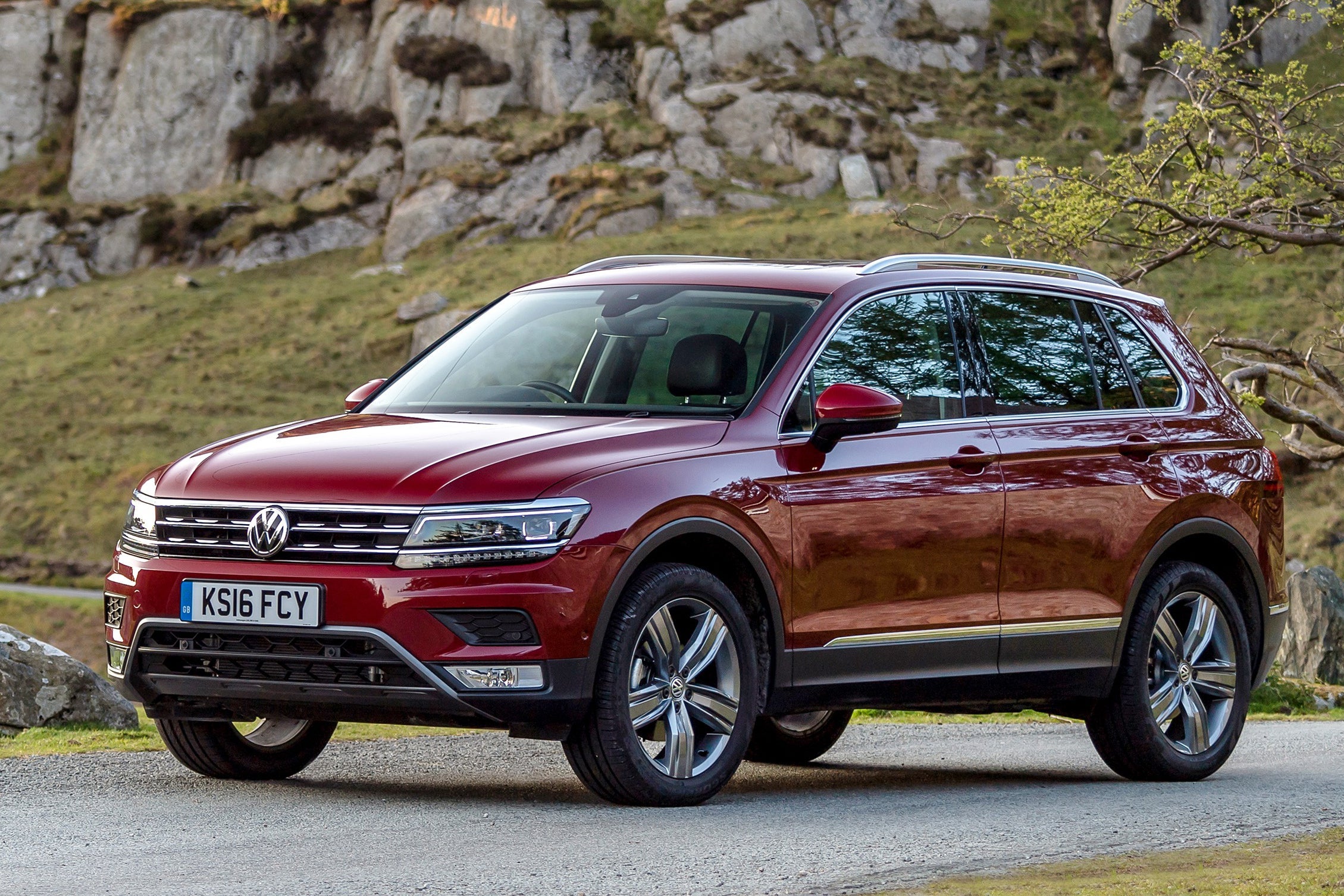 Of course, everyone now wants an SUV. And it makes sense. They provide more space, a higher seating position (which makes you feel socially superior as well as giving you a better view of the road ahead) and won't cost a great deal more to run. Popular choices include the Nissan Qashqai, Kia Sportage and Peugeot 3008. And the subject of this review, the 2022 Volkswagen Tiguan.
Just like the Golf, the Volkswagen Tiguan is slightly pricier than its mainstream contemporaries. But you get what you pay for - with generous equipment levels and a feeling of indestructibleness which is missing from the Qashqai. It also looks pretty smart, too, almost putting it in the same league as an Audi Q3 on the school run but with a less brash image.
The interior is superb, with lots of premium materials which are pleasingly squishy if you poke them. It feels just as classy as its exterior looks, while all models come with an eight-inch infotainment system as standard. This is easy to operate and has crispy clear graphics, but you should look for a Tiguan with the bigger 9.2-inch display for the ultimate in fancy infotainment. It's not a popular option, but that's because it costs an extra £1500 when new.
It's just as spacious as you'd expect from a family SUV, with plenty of space in the back for a pair of adults. Kids will love the high seating position and big windows, while the rear bench slides back and forth so you can prioritise where you need space the most. There's a big boot, too, and if you need more space Volkswagen sells the bigger seven-seat Volkswagen Tiguan Allspace.
While you can now buy a plug-in hybrid Tiguan, the majority of used models are powered by a range of petrol and diesel engines that'll cater for most needs. The entry-level engines are the ones to go for, really - either the 1.5-litre petrol or 2.0-litre diesel (both offered with 150PS), although there are more powerful versions available if you'd like a bit more get up and go. There's even a 240PS 2.0-litre diesel, which is the equivalent of the Skoda Kodiaq vRS without the naff body kit.
All Tiguan models are well equipped, but that's no great surprise considering how much they cost when new. We'd probably avoid the entry-level Volkswagen Tiguan S unless you're on a strict budget, but Match models and above will have pretty much everything you could possibly wish for.
So, what hasn't the Volkswagen Tiguan got going for it? Well, the main thing is the price. It's quite expensive when new, but you can counter that to an extent by looking for a used example. Otherwise, the SEAT Ateca is more fun to drive and the Peugeot 3008 has a more eye-catching interior, but the Tiguan is an excellent all-rounder.
Looking for a used car for sale? We've got 100s of Volkswagen Approved Used Cars for Sale for you to choose from, including a wide range of VW Tiguans for sale.
Is the Volkswagen Tiguan right for you?
If you're looking for a practical family SUV that'll make you feel good about yourself, the Volkswagen Tiguan is an excellent choice. Arguably, the closely-related SEAT Ateca and Skoda Karoq do pretty much the same job for less money, but we like the Tiguan's interior and think it looks sharper, too. There's an engine to suit most buyers, and most models are pretty comprehensibly equipped.
What other cars are similar to the Volkswagen Tiguan?
Comfort and design: Volkswagen Tiguan interior
"The Tiguan's interior doesn't have the wow factor of the Peugeot 3008, but it looks every bit as premium as you'd expect from a Volkswagen."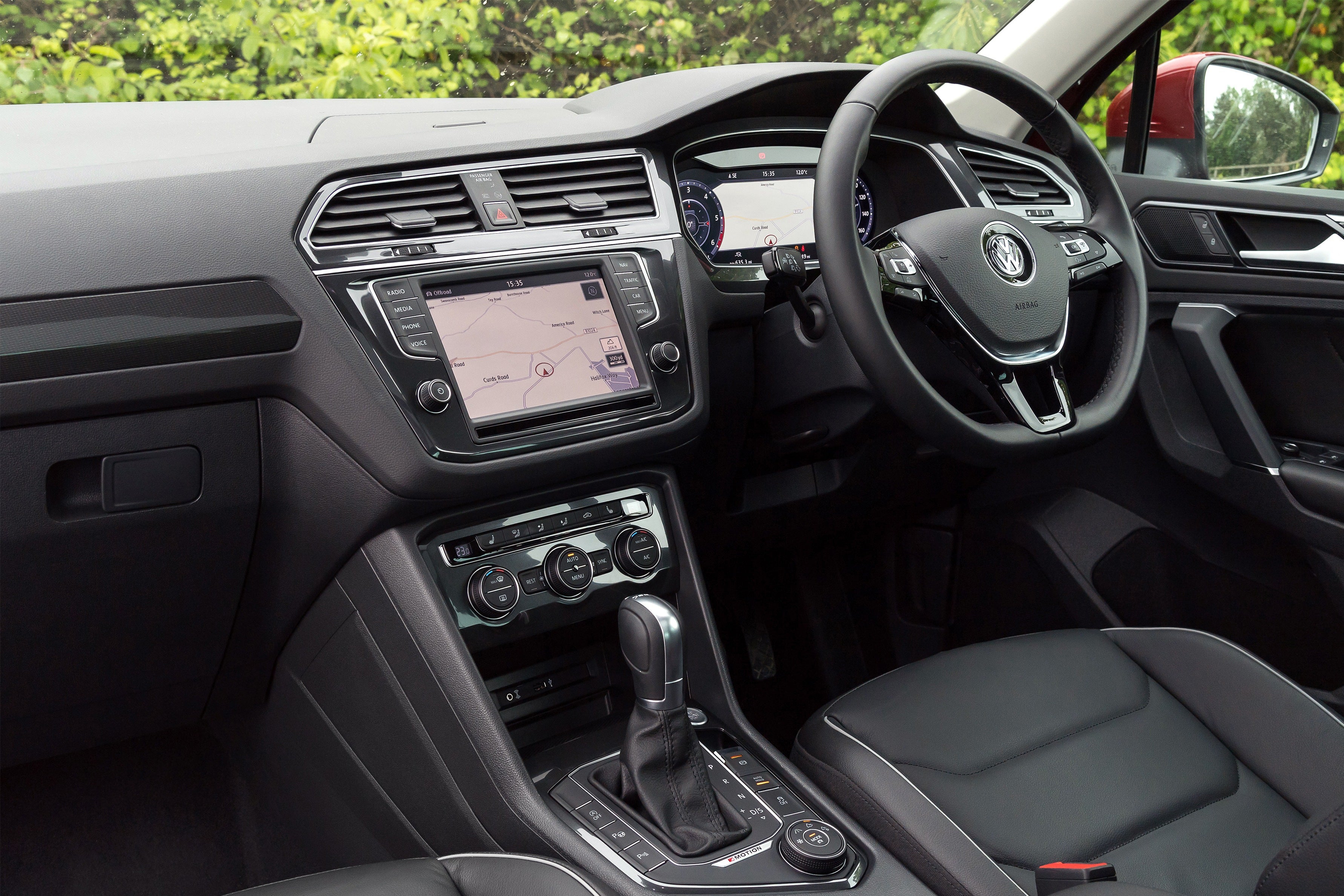 It's very user-friendly, too - with switchgear clearly marked and, pleasingly, not too much reliance on the touchscreen media system to perform simple tasks like adjusting the temperature of the climate control.
The standard instrument panel is clear and easy to read, although SEL and R-Line Tech models come with a 10.3-inch digital instrument cluster (optional on the Match). This isn't quite as fancy as Audi's Virtual Cockpit, but it has sharp graphics and various different modes - allowing you to make it as simple or as complicated as you wish.
The seats are big and comfortable, with plenty of adjustment (although - annoyingly - you'll have to look for one with the optional Vienna leather for electric seat adjustment). Even with them in their lowest setting, you sit fairly high up. This doesn't hinder headroom, though, and it gives you a really good view across small cars in traffic.
Most people will find the Tiguan's seats supportive enough for covering long journeys without many aches and pains, although it's worth noting that the entry-level S model does without adjustable lumbar support. This is one of those features that you won't miss until it's gone.
Quality and finish
You'll pay a bit more for a Volkswagen over other mainstream alternatives, but generally you'll notice a step-up in quality to reflect this. That's true for the Tiguan, which has lots of dense soft-touch materials and thoughtful trim finishes. Sure, if you start poking around you might find a few hard or flimsy plastics here and there, but that's what separates the Tiguan from the pricier Audi Q3.
Every button or switch you press will feel substantial and nicely damped, with even things like the indicators giving off an impression of quality. Yes, we're serious.
Of course, exactly how opulent your Tiguan is will depend on its trim level. SEL models come with some appealing Piano Black inserts on the centre console as well as ambient lighting in the front footwell. All models come with a leather-trimmed steering wheel, although leather seats are a desirable option available on most trim levels.
Infotainment: Touchscreen, USB, sat nav and stereo in the Volkswagen Tiguan
All Volkswagen Tiguan models are sold with an eight-inch touchscreen media system, which includes Bluetooth connectivity (for calls and audio streaming), an SD card reader and DAB radio. S models don't come with navigation, but that's not a huge loss as Apple CarPlay and Android Auto are standard across the range - allowing you to mirror apps from your phone, including third-party navigation apps like Google Maps.
Match models and above get navigation via the same infotainment screen, including preloaded European navigation data and a choice of 2D or 3D map views.
Tech fans should look for a Tiguan with the optional 9.2-inch Discover Pro system. As well as a bigger screen, this includes voice control, fancy gesture control (our words…), a DVD player and a 64GB hard drive.
No matter which system your Tiguan of choice has, all are easy to use with intuitive menu layouts, clear graphics and fast responses. They're not too distracting to use on the move, too, as the screen is positioned usefully high up on the dashboard and flanked with helpful shortcut buttons.
Space and practicality: Volkswagen Tiguan boot space
Measuring 4486mm in length, 1654mm in height and 2099mm in width (including door mirrors), the Volkswagen Tiguan is on the big side when it comes to family SUVs.
There's loads of space in the front of the Tiguan, with plenty of headroom (even in models with the panoramic sunroof, which can sometimes eat into space) and legroom. You'll find lots of handy storage space, too, including generous door pockets and a useful cubby under the central armrest. A cooled glovebox is a neat touch, too - as are the drawers under the front seats of Tiguan Match and SEL models.
Rear-seat passengers are unlikely to complain either, unless you try to squeeze three adults in side-by-side (which makes things feel a little cramped). Big windows will help reduce the chances of travel sickness, while most Tiguans come with fold-down tables on the back of the front seats. There's Isofix points on the outer rear seats, too, making fitting child seats that little bit easier.
If you need more space, there's also the Volkswagen Tiguan Allspace which is slightly longer and adds an extra pair of seats.
The boot is huge - certainly much bigger than the Golf hatchback and alternatives like the Nissan Qashqai and Skoda Karoq. It can lug up to 615 litres of luggage, while access is easy thanks to a large opening and height-adjustable floor. You can slide the rear bench forwards if you need more space, and drop them almost entirely flat for even more room.
Under the boot floor, most Tiguan models come with a steel space-saver spare wheel. This will save time and prevent arguments in the event of a puncture. Having said that, the 2.0 BiTDI 240 model comes with one of those frustrating tyre repair kits instead.
Handling and ride quality: What is the Volkswagen Tiguan like to drive?
"Although it has a slightly firm edge to it, the Tiguan generally rides very well indeed - especially on smaller alloy wheels."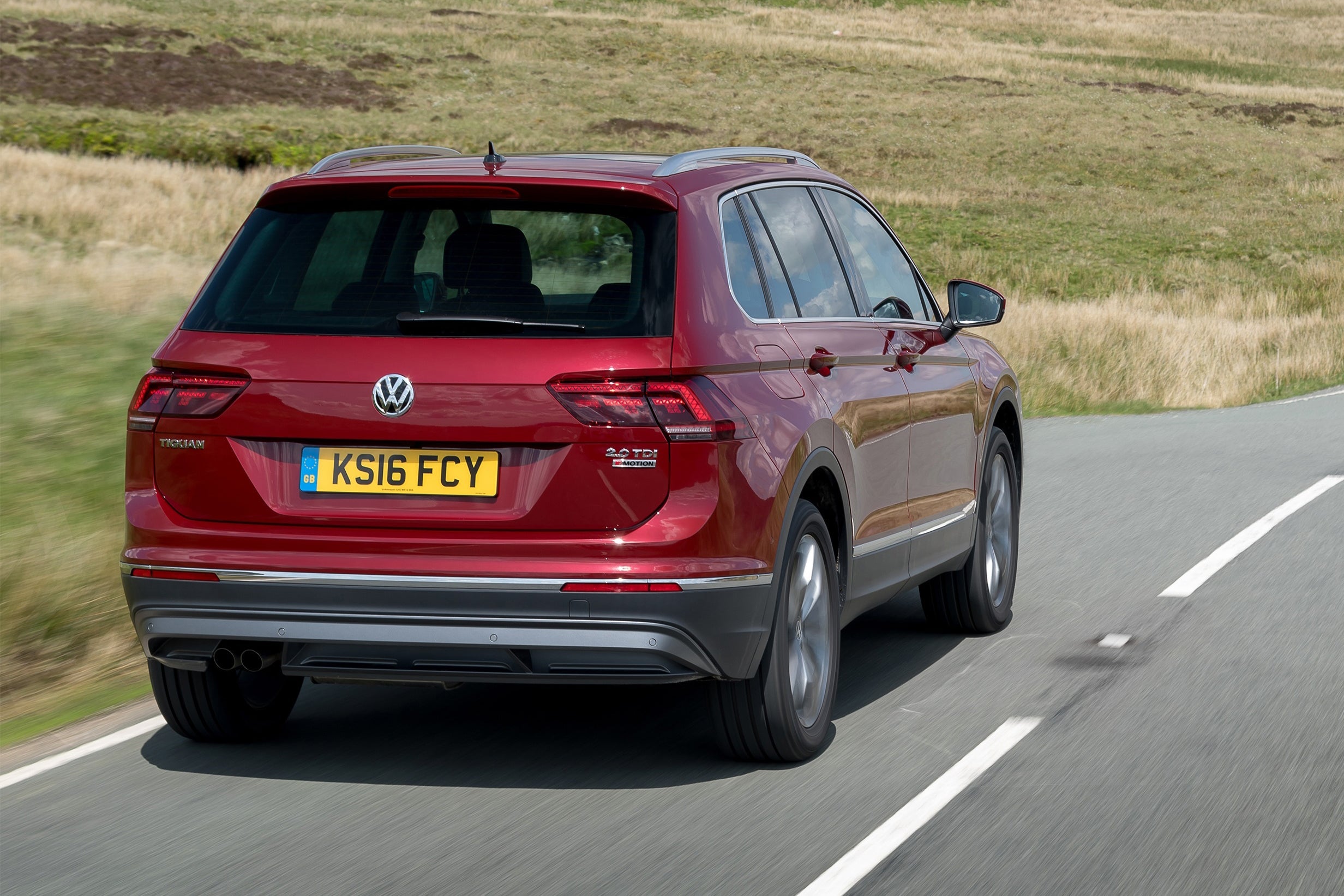 Higher-spec models come with adaptive suspension which allows you to sharpen up the ride at the touch of a button, although this is definitely a 'nice to have' rather than 'must have' feature. It makes little difference to ride comfort in the real world and most buyers won't bother changing settings once they're over the novelty of it.
The Volkswagen Tiguan R-Line Tech comes with sports suspension which lowers the ride height by 15mm. Combined with the standard 20-inch alloy wheels, you'll notice bumps in the road a bit more than you would in a standard Tiguan S with its 17-inch wheels, for example.
While the Volkswagen Tiguan doesn't feel quite as sporty as the SEAT Ateca to drive, it remains a lot more composed on twisty roads than rivals like the Kia Sportage or Vauxhall Grandland X. It drives just like a Volkswagen Golf, meaning it's easy to manoeuvre through traffic and it's confidence-inspiring at higher speeds.
You sit higher than a Golf, obviously, and this gives you a good view of the road ahead. All but entry-level Tiguan S models come with front and rear parking sensors, while higher-spec models come with a reversing camera. There's a 360-degree camera on R-Line Tech models, as well as a Park Assist feature which can take over the steering and help you slot the Tiguan into a parking space.
Certain Tiguan models come with all-wheel drive but this is a bit unnecessary, really. Two-wheel-drive Tiguans have plenty of grip as well as reduced running costs. If you wish to venture off-road, you'd be better looking at something like the pricier Land Rover Discovery Sport.
What engines and gearboxes are available in the Volkswagen Tiguan?
Diesel engines are more popular than petrols in the Tiguan. They suit the car well, with plenty of low-down torque providing a relaxing drive even when loaded with passengers or luggage.
The entry-level 2.0-litre TDI will be grunty enough for most buyers. It packs 150PS and is available with two- or four-wheel drive, as well as a six-speed manual or seven-speed automatic DSG gearbox. Cars with the DSG transmission are the most desirable and fetch a little more on the used market (and you'll pay more in fuel, too) - so you'd be better looking for a manual if you're on a budget. That said, the DSG gearbox suits the car really well with quick responses.
Higher-spec models are also available with a 190PS version of the same engine. This provides a useful extra amount of power, which makes overtaking and building up speed on motorway sliproads slightly easier. For the ultimate in turbodiesel performance, look for a Tiguan with the 2.0 BiTDI engine which produces a stonking 240PS. This'll accelerate to 62mph in 6.5 seconds, which is almost hot-hatch levels of performance. It's a bit unnecessary, really, but it'd certainly make for a very competent tow car.
If you don't cover many motorway miles and don't plan to tow anything, you'd be better with a Tiguan powered by a petrol engine. Earlier models were sold with a 1.4-litre petrol, which was replaced by a 1.5 early in 2019. These engines are much of a muchness, really - surprisingly punchy in typical turbocharged petrol manner, although you might prefer the torque of the diesel if you expect to regularly drive your Tiguan with a full cohort of passengers.
There's a 2.0-litre petrol available too, but it's quite a thirsty choice which means it only sold in small numbers and is quite a rare find on the used market.
Refinement and noise levels
The Volkswagen Tiguan does a superb job of isolating you from wind and road noise at higher speeds, although you will notice a bit of a rumble from those fitted with 20-inch alloy wheels.
The engines are very quiet, too, even if you opt for diesel power. Sure, there's the usually distinctive clatter on start-up, but it settles down nicely once up to speed (and temperature). The more powerful diesels are slightly more refined than the standard 150PS 2.0-litre diesel, but that's largely because they don't need working as hard to build speed.
If you cover lots of town driving, you might find a hybrid alternative like the Toyota RAV4 or Honda CR-V to be slightly more refined than a petrol Tiguan, but few people will have any complaints about noise levels in the Volkswagen.
Safety equipment: How safe is the Volkswagen Tiguan?
The Volkswagen Tiguan is packed with clever safety features designed to prevent you from being involved in a crash in the first place.
These include Volkswagen's Front Assist monitoring system which combines Predictive Pedestrian Protection with City Emergency Braking, alerting you if it detects vehicles or pedestrians at the edge of the road or on the carriageway. The system can even perform an emergency stop if required.
Lane Assist is also standard. This is a camera-controlled system, which warns you if your car starts to drift from your lane. It can also nudge your steering wheel if it looks like you're veering from your lane without indicating.
Select models also come with a Driver Alert system. This monitors your driving behaviour and how long you've been driving, suggesting you should take a break if you appear tired or distracted.
If, despite all these active safety systems, you are in a crash, the Volkswagen Tiguan's a very safe SUV to be in. Its comprehensive airbag system includes curtain airbags for front and rear passengers, front seat side impact airbags, driver's and front passenger's airbags with passenger's airbag deactivation switch and a driver's knee airbag.
When the Tiguan was crash tested by Euro NCAP in 2016, it scored a maximum five stars for safety. The independent body gave it an impressive 96% rating for adult occupants, 84% for children, 72% for pedestrians and 68% for its safety assist features.
MPG and fuel costs: What does a Volkswagen Tiguan cost to run?
"If you're covering high miles and don't want to visit too many petrol stations, buy a diesel Tiguan. The 150PS 2.0 TDI with two-wheel drive and six-speed manual gearbox can return up to 50.4mpg - and, as this is measured in the latest WLTP fuel economy tests, that ought to be pretty attainable in the real world."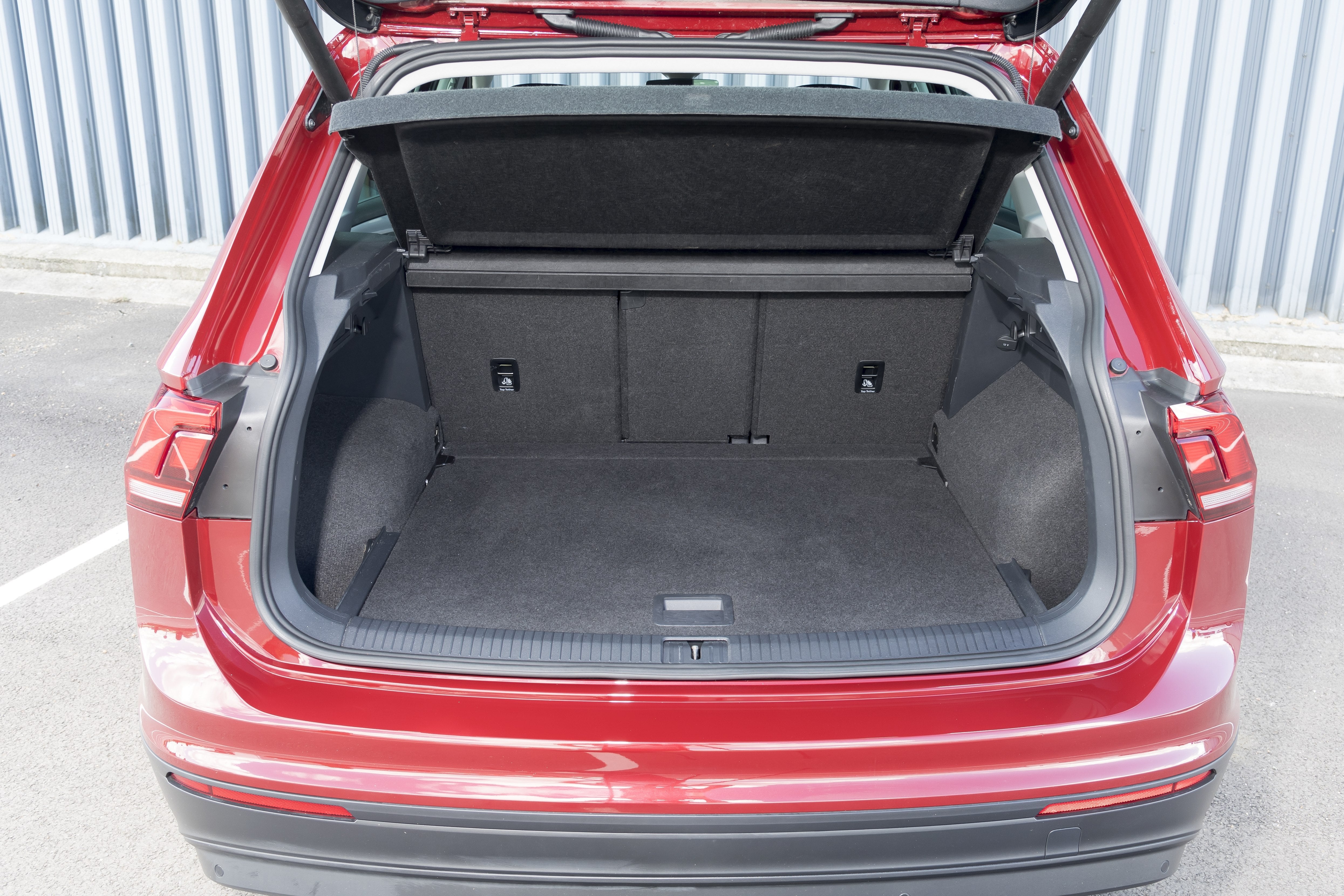 Four-wheel-drive knocks economy slightly, as does the DSG automatic gearbox. The 2.0 TDI 4Motion DSG officially returns up to 44.1mpg. The powerful 2.0 BiTDI 4Motion returns up to 35.3mpg - that's pretty thirsty for a diesel, but what do you expect for a Tiguan with 240PS?
If you don't cover many motorway miles, you'd be better with a petrol The entry-level 1.5 130 returns up to 44.8mpg, dropping to 42.2mpg with 150PS.
How reliable is a Volkswagen Tiguan?
Volkswagen has a fairly average reliability record – in recent years, its cars don't seem to be quite as dependable as you might expect. This is backed up by the latest HonestJohn.co.uk Satisfaction Index, where Volkswagen ranked 10th in the list of least reliable manufacturers. There aren't too many issues with the Volkswagen Tiguan specifically, although the DSG automatic gearbox can be troublesome – as can the 1.5 TSI petrol engine.
Insurance groups and costs
If you're looking for a Tiguan that's cheap to insure, buy one with the 130PS 1.5 TSI petrol engine. This falls into insurance group 11, which ought to make it pretty affordable.
The most expensive Tiguans to insure are the high-spec four-wheel-drive models. A Tiguan R-Line Tech with the 2.0-litre TSI engine and 4Motion is placed in insurance group 27, as is the same spec with the 2.0 BiTDI diesel. No Tiguan should cost a fortune to insure, unless you're a particularly new driver, so it's worth shopping around for insurance.
VED car tax: What is the annual road tax on a Volkswagen Tiguan?
You'll pay a flat rate of £150 a year to tax any Tiguan registered since 1 April 2017. Watch out for Tiguans with a list price of more than £40,000 (i.e. the retail price when new). These are subject to an additional premium tax of an extra £325 a year. You'll have to pay this rate for five years (from the second time the vehicle is taxed), even if you've paid significantly less than list price for the car.
How much should you be paying for a used Volkswagen Tiguan?
"The Volkswagen Tiguan's desirable image means it holds onto its value very well, but there's still money to be saved by looking nearly-new."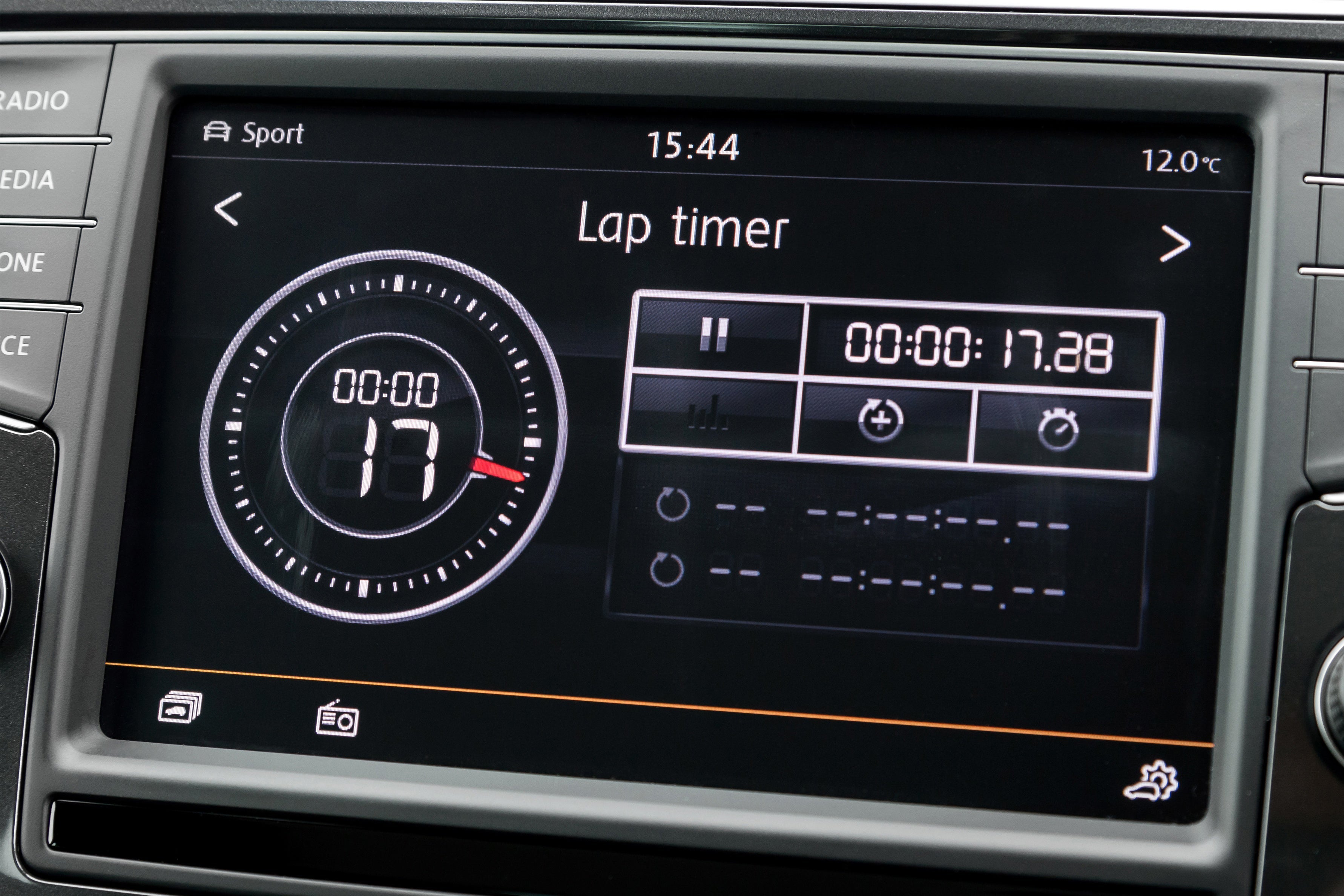 If you fancy a Tiguan that feels like a new car but without the new car price tag, look for a pre-registered model. These are cars that have been ordered and registered by dealers before being offered at a discount - allowing you to save money and skip the waiting list.
We've seen Volkswagen Tiguan Match models with the 150PS 1.5 TSI engine and double-digit mileages selling for around £24,500 - that's a saving of nearly £5000. A pre-registered Tiguan SEL with the 2.0-litre TSI petrol engine, four-wheel drive and DSG automatic gearbox can be picked up for around £30,000 - nearly £7000 below list.
Look at older models for bigger savings. Three-year-old examples will be coming out of lease and finance deals and can represent really good value for money. A budget of £16,000 will get you an SE Nav model with low miles and the 2.0 TDI diesel engine.
Trim levels and standard equipment
The Volkswagen Tiguan range kicks off with the S trim level, which is actually pretty comprehensively equipped. It comes with 17-inch alloy wheels, an eight-inch media system (with DAB radio and Apple CarPlay/Android Auto) and a whole range of driver-assist systems. These include a radar emergency braking system, lane assist and automatic headlights.
Look out for a Volkswagen Tiguan Match for things like 18-inch alloy wheels, extra chrome exterior trim and an eight-inch navigation system. Climate control is standard on the Match, as well as more driver assistance features: adaptive cruise control, driver alert system, high-beam assist and a rear-view camera.
The Tiguan SEL brings a selection of driver modes with adaptive suspension (on selected engines), LED tail lights, Piano Black decorative dash inserts and heated front sport seats. There's a panoramic sunroof as standard, as well as ambient lighting in the front footwell and a 10.3-inch digital dash display instead of conventional dials.
Topping the range, the Volkswagen Tiguan R-Line Tech looks and feels particularly bling. It comes with 20-inch alloy wheels and sports suspension (with most engines). It gets bespoke R-Line styling, while the interior gets chrome pedals and R-Line logos on the seats. Keyless entry is standard, including a start/stop button, and it comes with an electric tailgate. Finally, it also gets a 360-degree parking camera.
Ask the heycar experts:
common questions
Is the Volkswagen Tiguan a good car?
If you're looking for a practical family SUV that'll make you feel good about yourself, the Volkswagen Tiguan is an excellent choice.

Which is the best Volkswagen Tiguan model?
Tiguan Match will have most things that most buyers desire, without an expensive price tag. Fork out more for one of the top-spec R-Line Tech models and the Tiguan becomes a little more difficult to justify, as it suddenly starts squaring up against some very good premium alternatives.

Is a Volkswagen Tiguan good in snow?
Certain models have all-wheel drive, which is good in snow. But now all, so make sure you check.

Get a month's free insurance for your new car with heycar
£--.--*
Monthly thereafter
Terms, conditions, exclusions and excesses apply.
What's included?
Fully comprehensive policy
Monthly subscription, cancel anytime
No deposit or interest charges
Price guarantee for 12 months
Manage your policy anytime, anywhere
No fees for changes and cancellations
‍We've assumed that you:
– Have had a full UK driving licence for two or more years
– Will be the registered owner and keeper of your car
– Haven't made any modifications to your car
– Have never been declined insurance
– Haven't had any claims or driving convictions
Volkswagen Tiguan cars for sale on heycar
6,638
Number of cars available
£8.8K - £50K
Price bracket of these cars
Colours available on heycar
Keep me updated by email with the latest advice, news and offers from heycar
By submitting, you agree to our
privacy policy
.