Toyota Prius (2016-2022) Review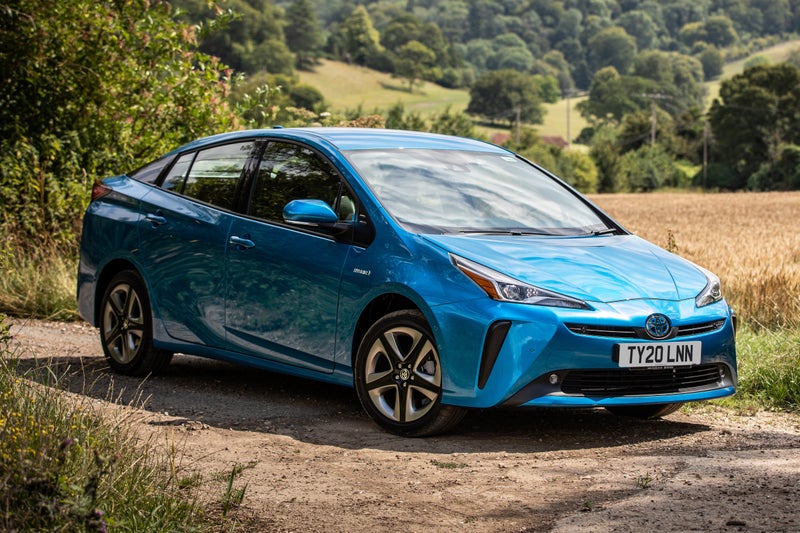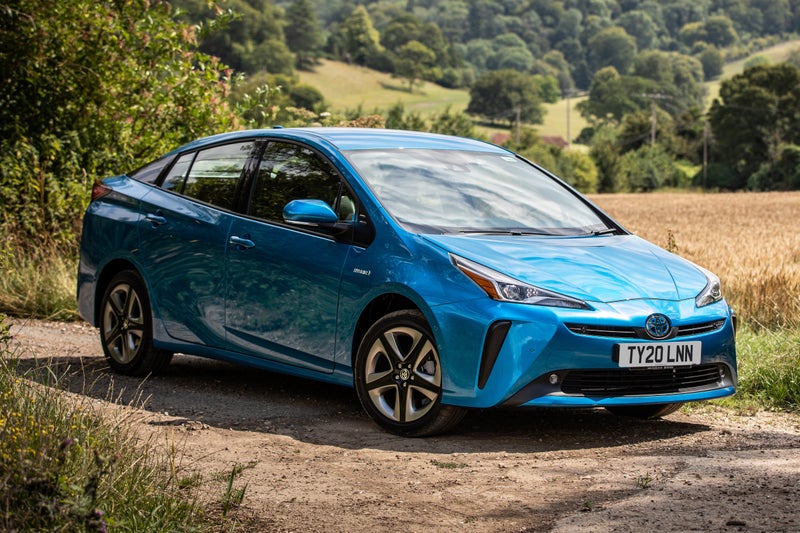 1/10
heycar rating
"Easy-going, odd-looking hybrid "
Launched: 2016

Family hatch

Hybrid
Quick overview
Pros
Comprehensive standard equipment in all, especially from Business trim upwards
Excellent, easily achieved economy
Well built and certain to be reliable
Cons
Hard plastics in the entry-level model
Newer hybrid rivals are better to drive
It's looks are very divisive, and difficult to love
Overall verdict
On the inside
Driving
Cost to run
Prices and Specs
Common questions
Overall verdict on the Toyota Prius
"Time, and rivals, have caught up with the Toyota Prius, as despite a very well integrated hybrid system the number of rivals that can better its economy has grown markedly in recent years. They include everything from self-charging hybrids like the Prius itself, to plug-in, diesel, petrol and even fully electric cars for the fully environmentally committed."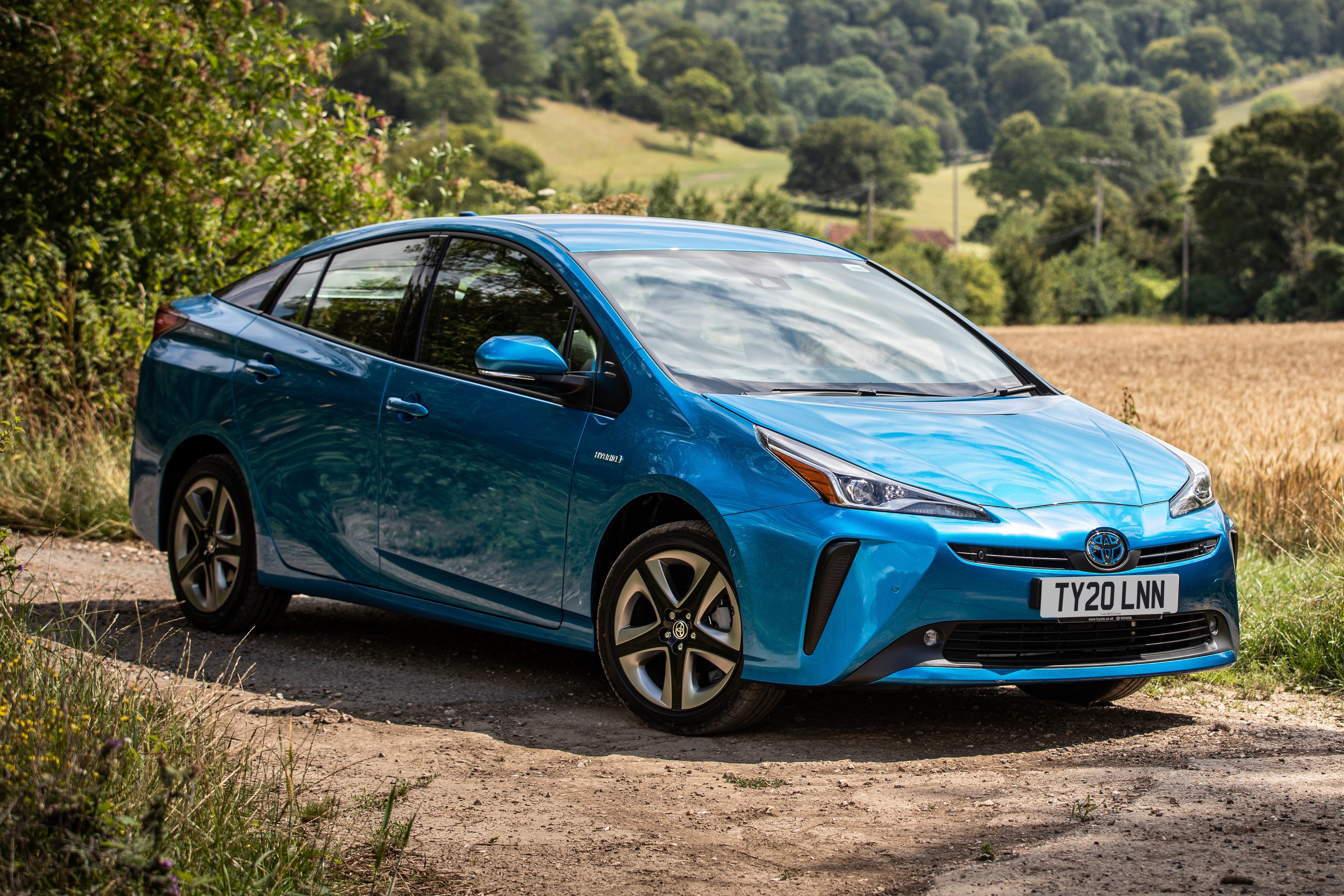 Entering its third decade, the Toyota Prius is more than just a car, it's a cultural phenomenon. Say hybrid and people think Prius, it the flag-bearer for electrically-assisted hybrid power.
Having entered the global lexicon to represent green-leaning mobility does mean the Toyota Prius has become a divisive car, as loved by some as it is loathed by others, its visibility has been helped, and arguably hindered, by some very public figures using it as a virtue signalling tool.
For every Hollywood star, musician or sports person who has proudly driven their Prius for the cameras though, there are legions of owners who simply find its pragmatism and low running costs appealing.
It'll never be loved by those enthused by cars and driving then, to that audience the Prius is anti-car, but for all the scorn a small minority place at the Prius' low-rolling resistance wheels and tyres, for everyone else it makes a lot of sense, that it's a popular private hire taxi choice and the darling of Uber drivers worldwide only underlining that.
The Toyota Prius's hybrid drivetrain allows it to return good economy, not quite the near 100mpg previously claimed under the old consumption measuring system, with the newly measured circa 60mpg now associated with it actually being more realistic, and achievable.
The current Prius arrived in 2016, Toyota giving it a re-style fairly quickly just two years later, replacing the dramatic front lights with slightly more conventionally styled headlights.
Even post-facelift, the Toyota Prius remains a quirky looking car, its shape defined by aerodynamic efficiency, with some bold surfacing that makes for busy-looking flanks and an odd-looking rear. Its styling is certainly daring in a somewhat conservative class, that, again, either a positive or a negative depending on your viewpoint.
Once pretty much operating in a class of one, the Prius can now count a number of more conventionally styled hybrid rivals among its competition, these joining the ranks of familiar compact family hatchbacks like the Ford Focus and Volkswagen Golf, right through to upmarket alternatives like the Audi A3 and Mercedes-Benz A-Class.
The Toyota Prius's economy champion status has also diminished as its wide range of rivals have seen dramatic improvements in consumption thanks to the adoption of downsized, turbocharged petrol and diesel engines, mild hybrid and stop-start systems.
Indeed, you don't have to look too hard to find petrol, turbodiesel or hybrid choices that better the Prius's claimed figures, while those really invested in reducing emissions can now choose from a growing number of fully electrically-powered choices, too.
There's a plug-in model that might attract those buyers, it offering a more useful electric only range, it being reviewed elsewhere on heycar and for those wanting a Prius with a more seats and space, there's the Prius+, which you can, again, read about in a seperate heycar review. For the regular Prius Toyota keeps the line-up fairly simple; there's only one engine choice, and the four trim choices are also similarly easy to understand.
The Prius no longer operates in a class of one, and rivals look a good bit more conventional, while still offering the Prius's hybrid advantages.
Looking for a used car for sale? We've got 100s of Toyota Approved Used Cars for Sale for you to choose from, including a wide range of Toyota Prius cars for sale. If you're looking for the PHEV version, you need our Toyota Prius Plug-In review.
Is the Toyota Prius right for you?
If you're even considering a Prius then there's a good chance it'll be for you. If you want a hybrid, but don't want the hassle of a plug-in version, or simply cannot accommodate charging one, then the Prius does make sense.
Diesel hatchbacks might be able to offer similar, if not better economy, but the Prius ability to use its electric motor for short periods around town, does lessen local emissions, though if you want to do over half a mile then you'll be better served by the plug-in version.
It's refined and easy, and decently accommodating, too, as many Uber customers can attest to, though for all its pioneering status, there are arguably more appealing alternatives out there now, like Toyota's own Corolla Hybrid.
What other cars are similar to the Toyota Prius?
The Toyota Prius might have been the hybrid trailblazer and recognised globally as such, but it's no longer a unique offering. Indeed, there are plenty of self-charging hybrids, not least Toyota's own Toyota Corolla and the now ancient Lexus CT, while Hyundai offers the Hyundai Ioniq, and Kia its Kia Niro in a fashionable SUV form.
That's the most obvious 'self-charging' hybrid options, to which you can add a sizeable number of plug-in hybrids, like the Volkswagen Golf GTE, plug-in versions of the MINI, Mercedes A-Class, Audi A3 and plenty more. If you can live with a conventional engine, any number of compact family hatchbacks will do the job of the Prius, and some will even return greater economy.
Comfort and design: Toyota Prius interior
"The Prius isn't shy with its looks outside, and the bold style is carried through into its interior. Again, it's a bit of an acquired taste, the Prius wilfully different with its cabin layout, from the lack of any conventional instruments in front of you, to the tiny drive selector that protrudes out of the lower centre of the dashboard."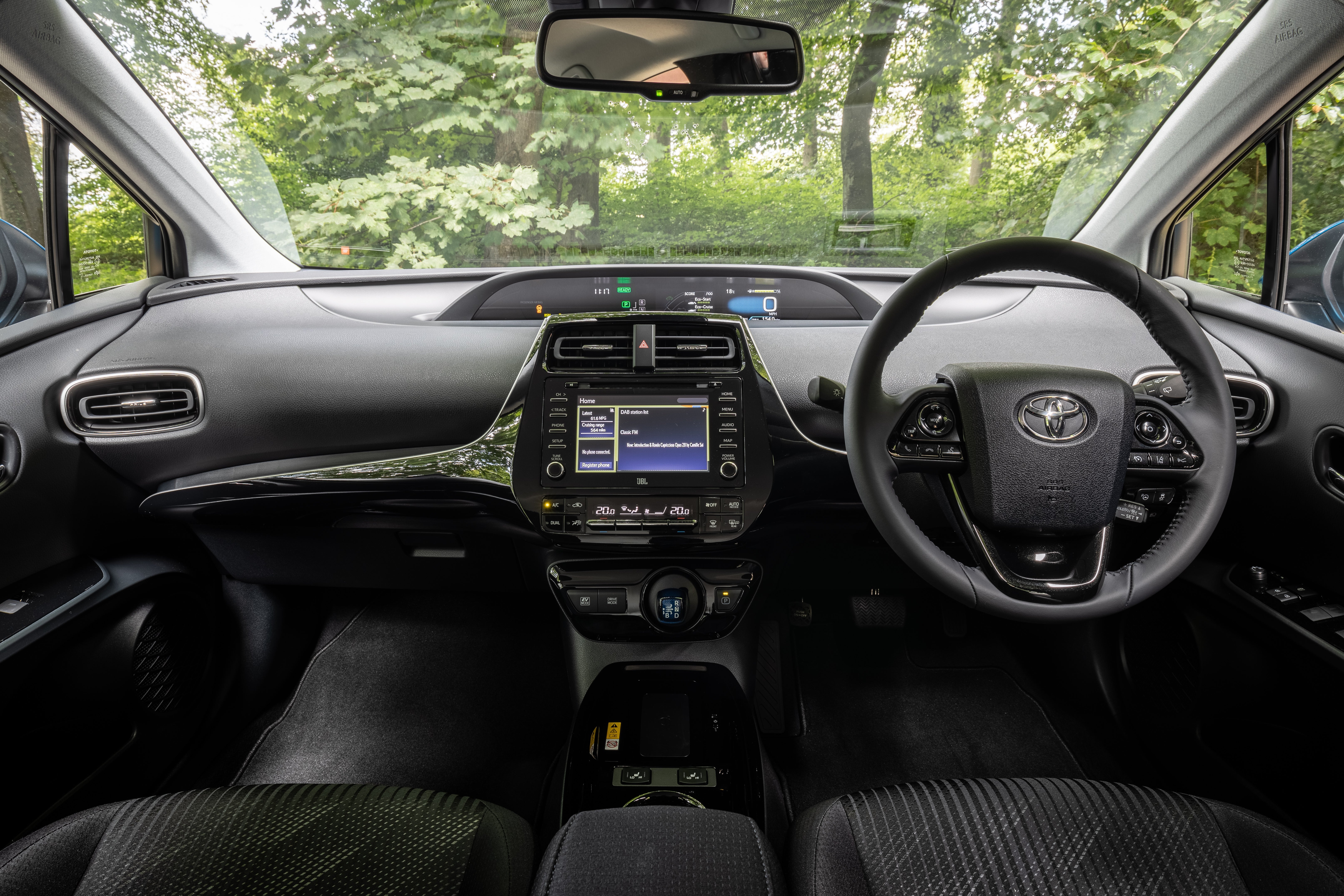 Unusual then, but it works, the combination of the unconventional central dash-top instrumentation – in a narrow screen – giving a serious impression of airiness in the cabin that's backed by the swooping lines that sweeps around behind the instruments and down through the doors. The seats are all the same shape, regardless if they're fabric – on all but Excel where they're leather trimmed – with all having powered lumbar adjustment. From the Business Edition model upwards the front seats gain heating, too. Business Edition models also gain rear footwell heating as part of the standard specification, while the colour head-up display, again from Business Edition models and upwards, adds to the ease of use of the Prius. Smart entry, keyless entry is standard on all, with just the driver door working with the Active model, with Business Edition upwards gaining a smart entry on all doors.
Standard on all is dual-zone air conditioning, as is a tilt/telescopic adjustable steering wheel with audio, multimedia and telephone controls on it, that all making the Prius an easy, comfortable pace to spend time, which given so many are taxis, that's not a bad thing.
Quality and finish
Go for the entry-level Toyota Prius Active and you lose the soft-touch dashboard and door tops for a more unyielding plastic. That does render it a bit low-rent, which is why, along with the additional, useful equipment the Toyota Prius Business Edition brings we'd really consider it as the entry-point to the line-up. It's unfair to judge the Prius alongside premium rivals, but mainstream competition has improved in their interiors, and while the Prius doesn't lag behind as such, there are some hard, cheaper looking plastics around the cabin. We know Toyota can do better here, you just need to look at its own Corolla to witness that.
The Prius will undoubtedly wear well though, with reliability a certainty you can be sure all the buttons and switches around the interior will still work with the same action for years, if not decades to come. There's the choice of grey seating material inside, which lightens the cabin, but black will age better, and will be easier to keep clean.
Infotainment: Touchscreen, USB, nav and stereo in the Toyota Prius
There are a pair of small screens which replace the conventional instruments spanning the centre of the top dashboard, these featuring details like speed, trip and other drive-related information. The main screen in the lower centre console takes care of the Prius's infotainment. It's a 7-ish touchscreen in all, with additional control via the steering wheel buttons, and home shortcut buttons surrounding the touchscreen itself. It's a relatively easy system to use, with the Active and Business Editions making do with just a media system, Business Edition Plus and Excel gaining sat nav. There's DAB on all, USB and Aux-in connection, but no option for Apple CarPlay or Android Auto.
The Toyota Prius Business Edition Plus and Excel gain a JBL premium audio system, upping the speaker count from 6 to 10, these trim levels also benefitting from voice recognition and control, none of these features offered optionally on either the Active of ordinary Business Edition. Useful as sat nav might be, and the attractiveness of the JBL audio, we're not sure it's worth the circa £1,700 it adds to the price of the Business Edition.
Space and practicality: Toyota Prius boot space
The Toyota Prius is similar in size to a conventional family hatchback like the Volkswagen Golf. It measures 4575mm in length, 1760mm in width and 1475mm in height.
Front seat space is good, with the Prius comfortable and airy for the driver and passenger. The rear is a bit tighter, particularly if you're a bit on the tall side – headroom at a premium as a result of the Prius's wind-cheating rear profile. Rear legroom is adequate though, and there's only a small hump on the floor so there's decent foot room should you squeeze in a third person in the rear middle seat. Doing so will be tight, but that's the case with all the Prius's rivals, so it's unfair to be overly critical here. ISOFIX child seats are fitted in the two outer rear seats for safely attaching child seats.
The boot is accessed via a large hatchback, the space on offer a good shape, its volume quoted as 297 litres, or 343 litres if you opt for a tyre repair kit rather than a space saver wheel under the floor. The all-wheel drive model also loses a bit of boot space, though that does mean when the rear seats are folded, these doing so in a 60/40 split, the load area is flat, the boot having a step on it in the front-wheel drive models. Not the most commodious boot, then, but if you're after a more practical Prius the Toyota salesman will be only too happy to sell you a Prius+, which offers a pair of additional seats in its larger boot.
Handling and ride quality: What is the Toyota Prius like to drive?
"The Prius is first and foremost about economy, and that's reflected in the way it drives. Competence is the byword here, the Prius riding neatly, and driving well enough, with light, accurate steering, this current model far better in that regard than its predecessors. Indeed, with the lower driving position and Toyota shifting the Prius' mass closer to the road, this Prius is Toyota's best Prius to drive to date, even if it's still miles off what could reasonably be described as either sporting, or, indeed, engaging."
There's fun to be had if you're keen to eke out as much potential from the drivetrain, and now the Prius has a level of ability in the bends you can use that to your advantage, but push too hard and there's a fair amount of body roll. The ride comfort is commendable, too, the suspension smoothing off the worst bumps well, that in no small part thanks to the fitment of 15-inch alloy wheels, with the tall walled economy tyres helping with the ride quality. The smallest 15-inch wheels also deliver the best economy and emissions figures and are a free option on models which otherwise gain larger wheels on their standard equipment list.
What engines and gearboxes are available in the Toyota Prius?
There are no choices in relation to the engine and gearbox in the Prius, as there's only one, with a petrol 1.8-litre and electric motor working in unison to power the Prius. A self-charging hybrid system, it replenishes its batteries by scavenging back energy that would otherwise be lost, via regenerative brakes of the engine diverting power to boost the battery pack. That means no plugs or charging – though Toyota does offer a plug-in version – it simply stopping at the petrol station like conventional cars. The combined output of the petrol and electric motors is 122PS, which is enough to allow the Prius to reach 62mph in 10.8 seconds, and a top speed of 112mph.
It's a proven hybrid system, Toyota having developed it effectively to juggle its power sources effectively, the petrol engine cutting in incredibly smoothly and the electric motor doing the work where and when it can, too. They drive through a CVT (Continuously Variable Transmission) automatic transmission, which works well in the Prius, particularly around town, it only hanging onto revs if you're in a hurry which in a Prius is a fairly unusual scenario. Economy is its goal, and it delivered, with an official WLTP measured consumption figure of around 60mpg on the WLTP tested combined consumption cycle. That fuel consumption figure varies slightly between models, with the best performing being those with 15-inch alloy wheels, and the worst being all-wheel drive version on 17-inch alloy wheels. This also effects the CO2 emissions, so check which one you want if that's a buying consideration.
Refinement and noise levels
The Toyota Prius uses its electric motor wherever possible to power it, it being hushed as a result. That electric only running ability is brief, though, but when the petrol engine does work in unison it does so very quietly. Overall, it's a refined, easy car to live with, with very little road or wind noise, the Prius only getting noisy, and even then briefly, if you're pressing the accelerator hard – say for an overtake – and the CVT automatic hangs onto high engine revs to provide power. Around town, or on the motorway, the Prius is very quiet, that serenity being part of its appeal.
Safety equipment: How safe is the Toyota Prius?
Toyota doesn't scrimp with standard safety equipment on the Prius, with all coming with Toyota Safety Sense 2 which includes a Pre-Collision system with Pedestrian Protection, Lane Departure Alert with Steering Control, Automatic High Beam and Adaptive Cruise Control with Road Sign Assist. All come with an adjustable speed limiter, stability control a tyre pressure monitoring system, reversing camera, seven airbags and a pair of ISOFIX child seat mounts on the outer rear seats. When the Prius was crash tested by EuroNCAP in 2016 it scored a full five star score, so it should protect you well in the event of an accident. Business Edition and above models come with Blind Spot Monitoring and Rear Cross Traffic Alert in addition to the standard equipment of the Active trim level.
Maximum EV range in the Toyota Prius
The Prius might be a hybrid, but the electric motor is more assist than dominate in the mix. Yes, it'll run on electricity alone, but you'll do well to get more than half a mile or so out of it before the petrol engine cuts in. If you're after greater EV running then the plug-in Prius will suit you better, or a good number of rival plug-in or fully electric vehicles.
MPG and fuel costs: What does a Toyota Prius cost to run?
"No charging times, as the Toyota Prius charges itself, and the mpg figures for all are around the 60mpg mark, that dropping slightly for larger 17-inch wheeled models, or if you opt for the all-wheel drive version. Toyota offers all trims with a free 15-inch alloy wheel if you're wanting the best economy and emissions figures."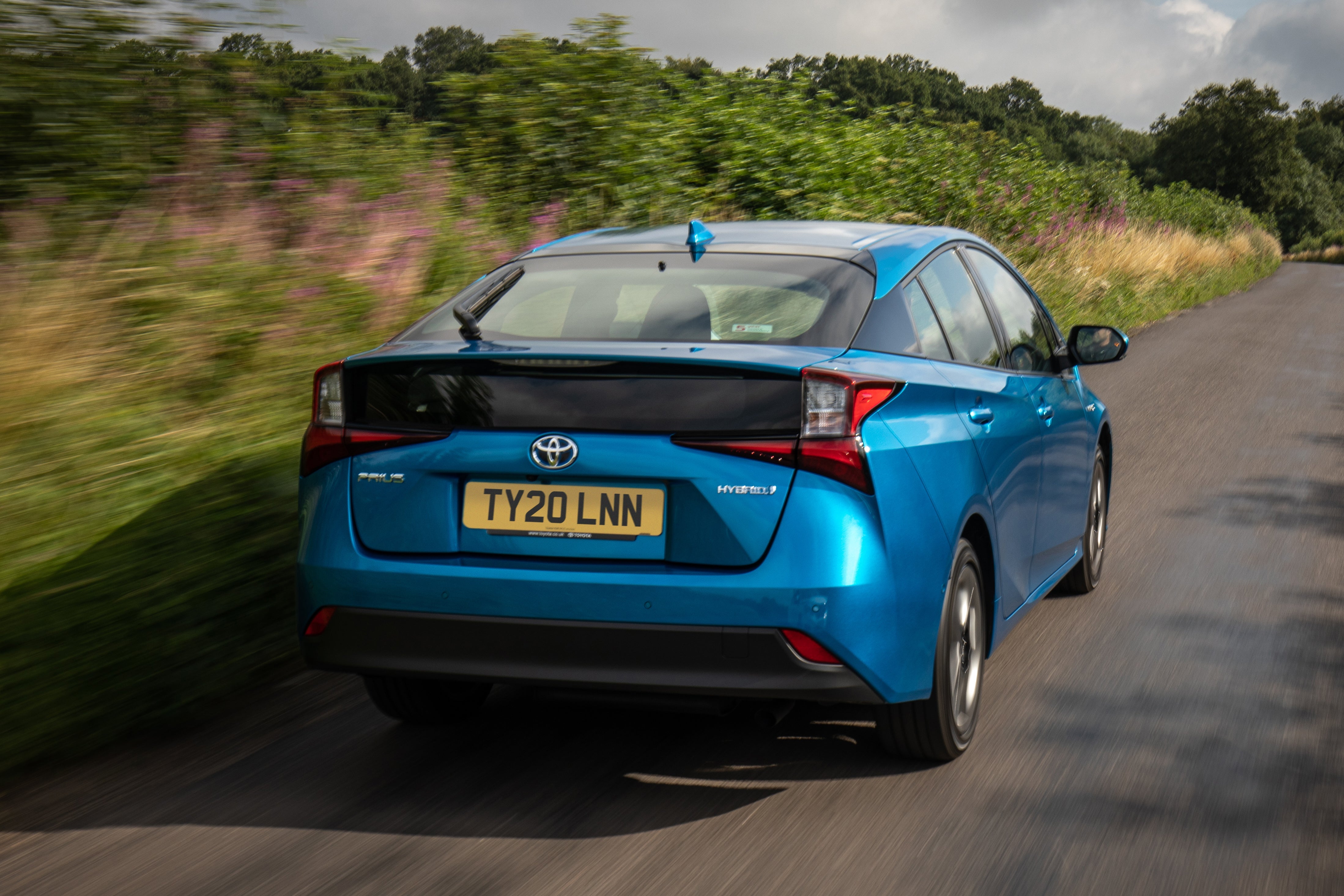 If you're looking at that 60mpg and thinking it looks low, that's because how fuel consumption is measured has been changed recently, with the WLTP testing more representative of the consumption you might actually achieve. Under the previous testing system the Prius was quoted as a car that returns 90+mpg, which it never did.
How reliable is a Toyota Prius?
There's a reason Uber drivers love a Prius - not only are they exceptionally cheap to run, they're also incredibly reliable. No other manufacturer can beat Toyota's hybrid expertise, and the Prius is one of its most reliable models. It regularly tops the charts in reliability surveys including HonestJohn.co.uk's Satisfaction Index.
Insurance groups and costs
The Toyota Prius is in insurance groups 13 and 14, so it'll be relatively inexpensive to insure, the Prius not costing any more to insure than a conventionally-powered car, like a Volkswagen Golf.
VED car tax: What is the annual road tax on a Toyota Prius?
With emissions quoted at 94g/km for 15-inch wheel versions and as much as 109g/km for the all-wheel drive model, first year VED will vary from £110 to £155. After that the Prius will cost £150 a year in road tax.
How much should you be paying for a used Toyota Prius?
"The current Toyota Prius, in pre-facelifted form is available used from around £10,000 for higher mileage, early examples."
Around £12,000 gets you a Prius with substantially less than the 100,000+ miles of those in the £10,000 spectrum. Starting from around £18,000 you'll find early facelifted Prius in the classifieds, with the bulk of these still on Toyota forecourts.
Trim levels and standard equipment
The Toyota Prius Active comes with 15-inch alloy wheels, LED headlights, Toyota Touch Media system, dual-zone air conditioning, push button start, Toyota Safety Sense 2 and Powered lumbar support
The Prius Business Edition adds Full Smart Entry, Soft touch dashboard and door tops, Wireless phone charging, heated front seats, colour Head Up Display, Automatic Wipers, Blind Spot Monitor and Rear Cross Traffic Alert.
On top of this, the Toyota Prius Business Edition Plus comes with 17-inch alloy wheels, Sat Nav, Intelligent Parking Assist with front and rear parking sensors and JBL premium audio.
Topping the range, the Toyota Prius Excel comes with all of the above features plus leather seats.
Ask the heycar experts:
common questions
What's the best hybrid car?
The Toyota Prius is one of the best hybrid cars you can buy, with exceptionally low running costs and an excellent reliability record. Don't dismiss in-house competition on the form of the Toyota Corolla Hybrid or Lexus CT200h, though, as well as the Hyundai Ioniq Hybrid.

Is the hybrid Toyota Prius really fuel efficient?
Officially the Toyota Prius returns around 60mpg, while that should be fairly attainable in the real-world. You might even see more than that - HonestJohn.co.uk readers see an average of around 65mpg according to the Real MPG database.

Do you need to charge the Toyota Prius?
The standard Toyota Prius is a 'self-charging' hybrid, which means it doesn't need plugging in to get the best from it. If you want to charge your car, though, there is a Toyota Prius Plug-in Hybrid available, although it sells in much smaller numbers than the standard car.

Get a month's free insurance for your new car with heycar
£--.--*
Monthly thereafter
Terms, conditions, exclusions and excesses apply.
What's included?
Fully comprehensive policy
Monthly subscription, cancel anytime
No deposit or interest charges
Price guarantee for 12 months
Manage your policy anytime, anywhere
No fees for changes and cancellations
‍We've assumed that you:
– Have had a full UK driving licence for two or more years
– Will be the registered owner and keeper of your car
– Haven't made any modifications to your car
– Have never been declined insurance
– Haven't had any claims or driving convictions
Toyota Prius cars for sale on heycar
3,802
Number of cars available
£14K - £29K
Price bracket of these cars
Colours available on heycar
Keep me updated by email with the latest advice, news and offers from heycar
By submitting, you agree to our
privacy policy
.