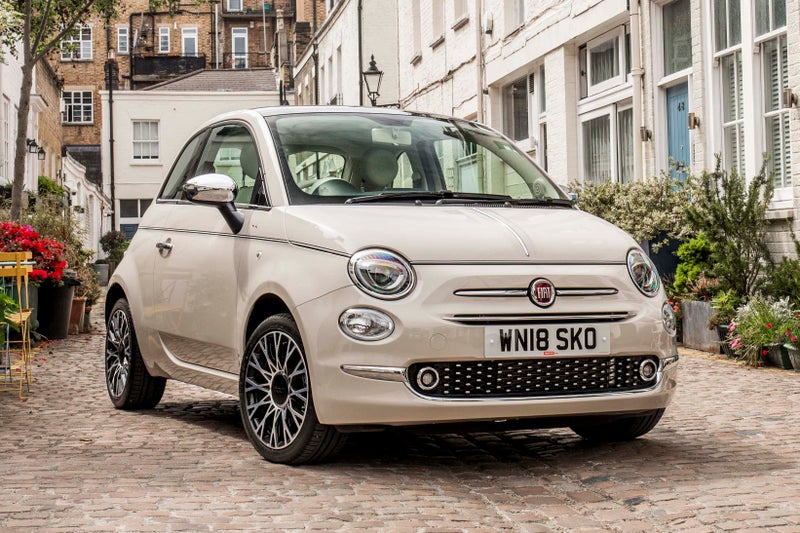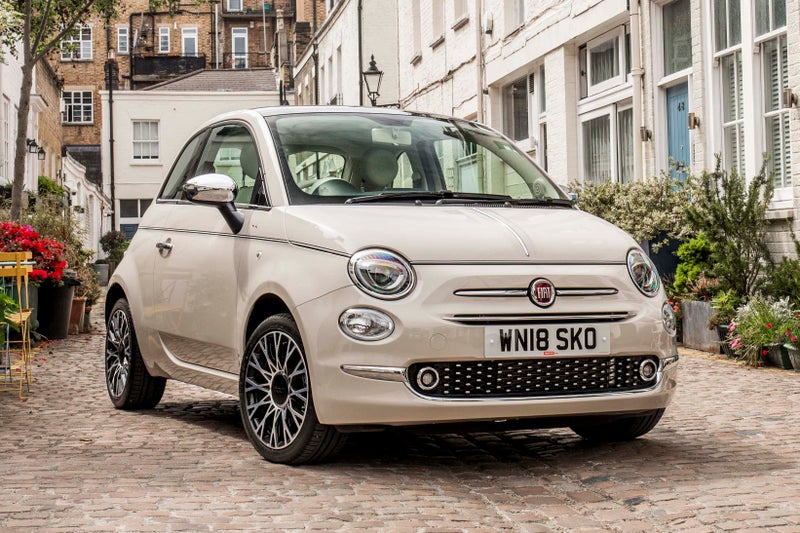 1/10
heycar rating
"Stylish, expensive, compact but average"
Launched: 2008

City car

Petrol
Quick overview
Pros
Chic styling
Low fuel costs
Mid-spec models are well-equipped
Cons
Cramped cabin
Lackluster handling
Unrefined Dualogic automatic gearbox
Overall verdict
On the inside
Driving
Cost to run
Prices and Specs
Common questions
Overall verdict on the Fiat 500
"The Fiat 500 is a stylish city car that uses its classic heritage to pull at your heartstrings. However, while chic and retro, the 500 falls flat in several important areas. That said, if you love the looks, you'll probably be happy to overlook its many shortcomings."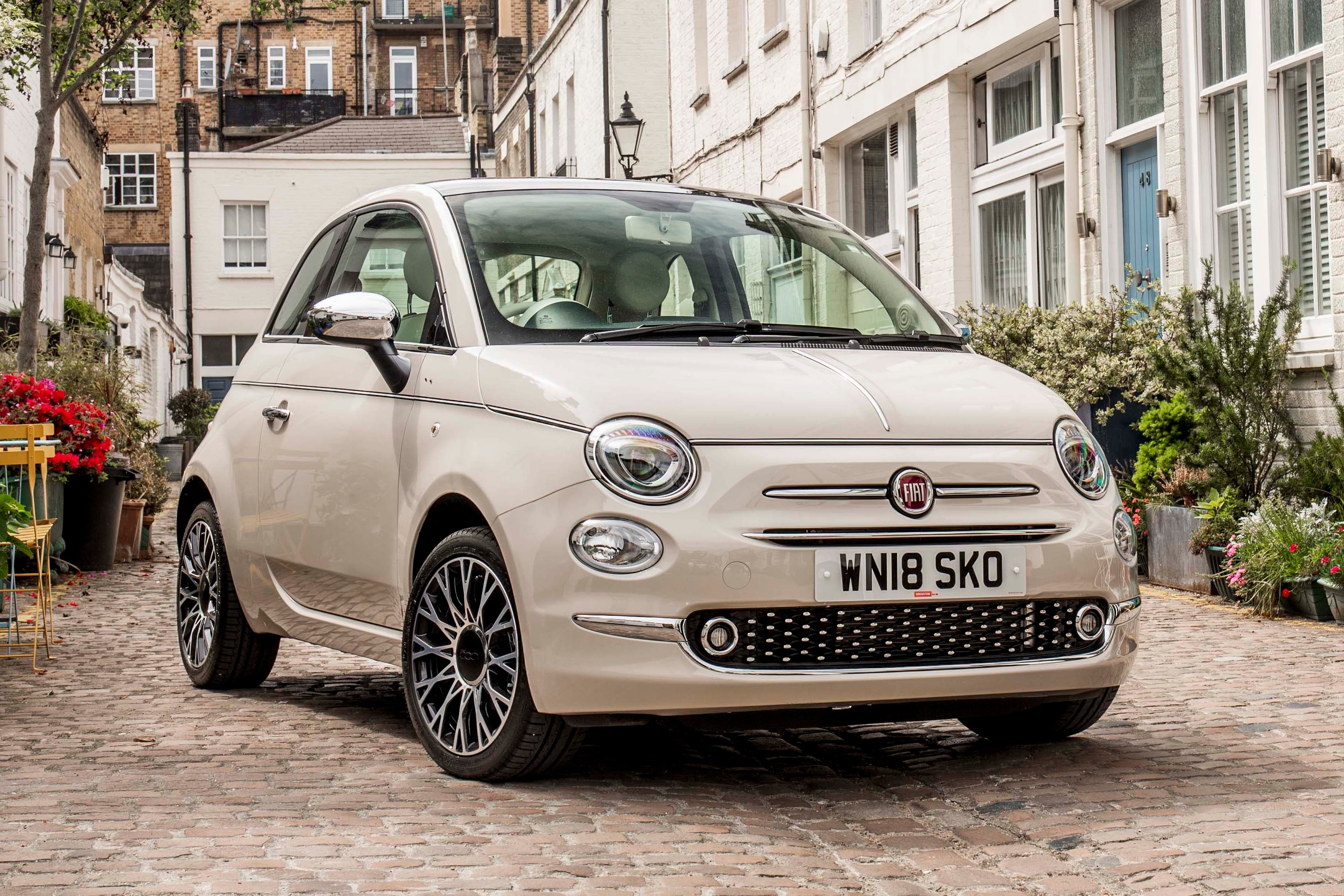 Inspired by the 1957 classic, the Fiat 500 delivers modern city car motoring with an Italian twist. However, like an ice cream left in the Italian sun, the 500 wavers when you compare it to the best in class from Volkswagen, Kia and Suzuki. Continue to read our full Fiat 500 review to find out how it stacks up.
But let's be honest, if you're here it's probably because you've already fallen in love with the retro looks of the Fiat 500. And we agree - the Fiat 500 is one of the best-looking city cars you can buy. Its compact and cute styling gives a heavy nod to past. However, while the 500 is undeniably one of the most attractive small cars on sale, it also has the tendency to be one of the most frustrating.
Most of the Fiat 500's problems are caused by the fact it's very small. The cabin is cramped, the seats narrow and the boot is barely large enough to cope with a weekly food shop. Technically the 500 is a four-seater, but only children will be able to make use of the rear seats.
Mid-spec versions of the 500 are advertised with a height adjustable driver's seat, but the lever at the side only changes the angle of the seat rather than the height. The steering doesn't have any reach adjustment either, which means short and tall people will find the 500 equally frustrating when trying to find a decent driving position.
The 500 isn't particularly good to drive, either. The steering is light and accurate, but there isn't a great feel of feedback via the wheel or pedals. This isn't really a problem below 30mph, but take this small Fiat onto a twisty A road at 50mph and the overpowered steering makes it difficult to find any bond with the handling. The 500 is a safe and predictable car to drive (there's plenty of grip) but there is very little fun to be had from this pint-sized Fiat.
The handling is further diminished by the soft suspension, which results in a bouncy and uncomfortable ride quality at low-speeds. Things do settle down when you venture past 50mph, but there's lots of sideways travel in the suspension and this means even a moderate turn will cause the body of the 500 to roll heavily.
General equipment levels are fine. The entry-level Fiat 500 Pop gets a basic DAB radio and USB socket that lets you play music via a mobile device. We'd recommend spending extra on a Fiat 500 in Lounge spec, which adds a smart 7-inch touchscreen with Bluetooth and Apple CarPlay/Android Auto.
Most versions measure just 3.6 metres in length, which makes the 500 an easy thing to to live with in a town or city where space is limited. What's more, at 1.7 metres wide, the 500 has little trouble cutting its way through heavy traffic or squeezing into a narrow parking space.
Looking for a used car for sale? We've got 100s of Fiat Approved Used Cars for Sale for you to choose from, including a wide range of Fiat 500s for sale. The latest generation car has gone electric-only. Read our Fiat 500 Electric review to see if it's one of the best small electric cars going.
Is the Fiat 500 right for you?
If you want a chic city car that stands out from the crowd then the Fiat 500 is worth considering. Admittedly, it doesn't fare well against its rivals for value, performance or practicality, but it's still one of the most stylish small cars you can get.
What other cars are similar to the Fiat 500?
The Volkswagen Up is the best city car to drive, while the Hyundai i10 and Kia Picanto are spacious and supplied with long warranties. However, if you want something that'll standout from the small car crowd then the Suzuki Ignis is worth considering, with its quirky retro design giving a clear nod to the Whizzkid hatch from the 1970s.
Comfort and design: Fiat 500 interior
"Even by city car standards, the Fiat 500 is very small. The front seats have okay(ish) levels of head and legroom for adults, but the rear seats are tiny and lacking in any form of comfort."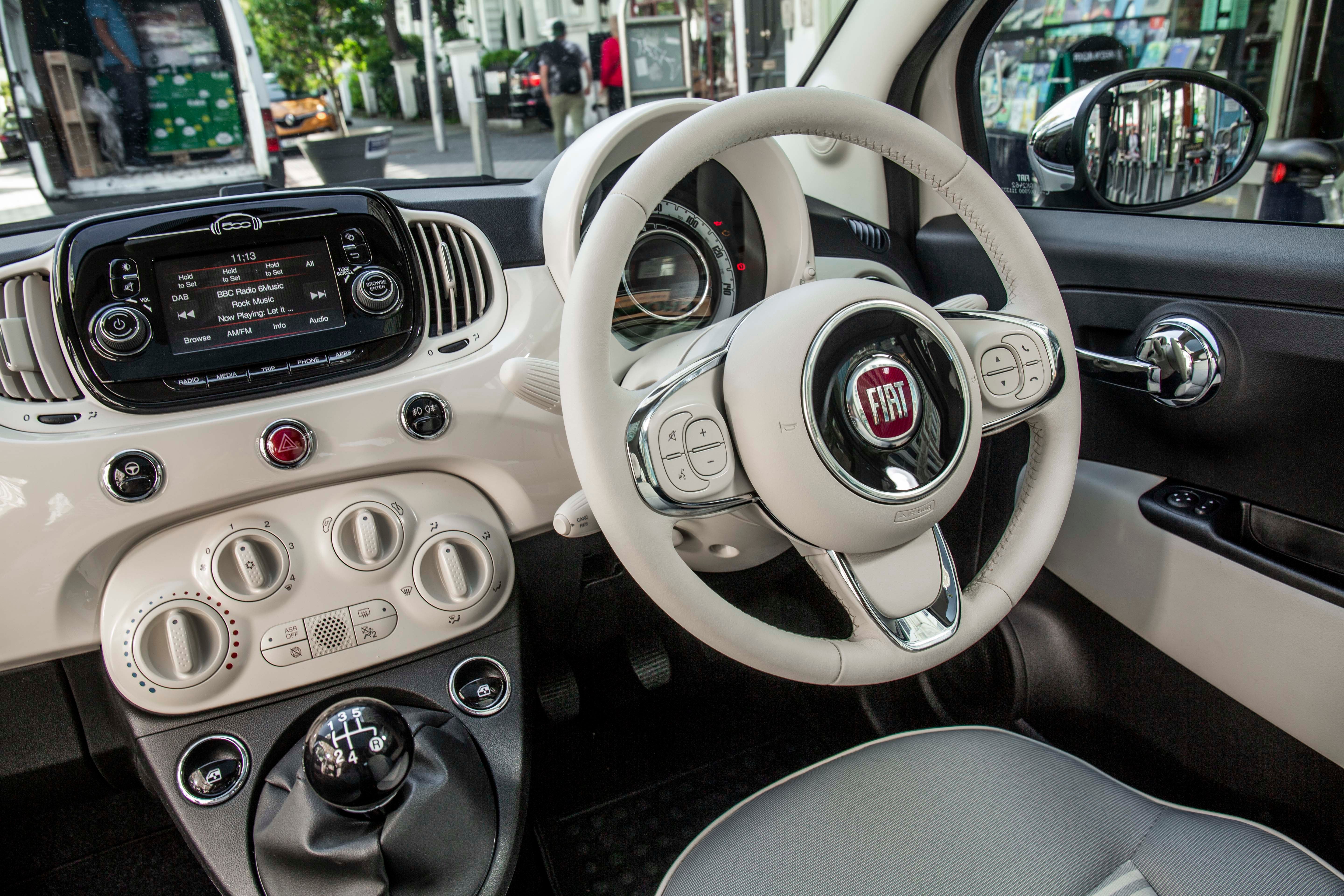 The Fiat 500 is not a practical car. You get just 185 litres of boot space, which is significantly less than the 250-260 litres you get in the Volkswagen Up, Hyundai i10 and Suzuki Ignis. The good news is that it's easy to squeeze into a garage, with compact exterior dimensions. It measures 3632mm long, 1683mm wide and 1527mm high.
The Fiat 500 doesn't really get much in the way of in-car storage, either. You get a pair of cup holders in the centre console and a compact cubby box for loose change. But both of the door pockets are small and narrow, which makes them good for carrying bits of paper or a slimline mobile phone and very little else.
The cabin is covered in thick layers of cheap plastic that will be hardwearing and easy to clean. Small children will (just about) fit into the rear seats. However, if you want to squish two adults into the back of the 500, you'll need to slide the front seats forward to such a degree that the driver and front passenger will find themselves pinned against the dashboard. The Fiat 500 has three-doors (there's no four-door model) which means your passengers will have to climb over the front seats (which fold forward) to get in and out.
A smart seven-inch colour screen is fitted to most models and is easy to use and mounted quite high, which makes it straightforward to use on-the-move. It also has Apple CarPlay and Android Auto connectivity, which lets you plug your phone in via the USB to mirror its display via the touchscreen.
Handling and ride quality: What is the Fiat 500 like to drive?
"The newest versions of the Fiat 500 is offered with a 69PS 1.2-litre petrol or a 70PS 1.0-litre mild hybrid petrol. The latter is the best, even if it's slow and lacking in refinement on the motorway."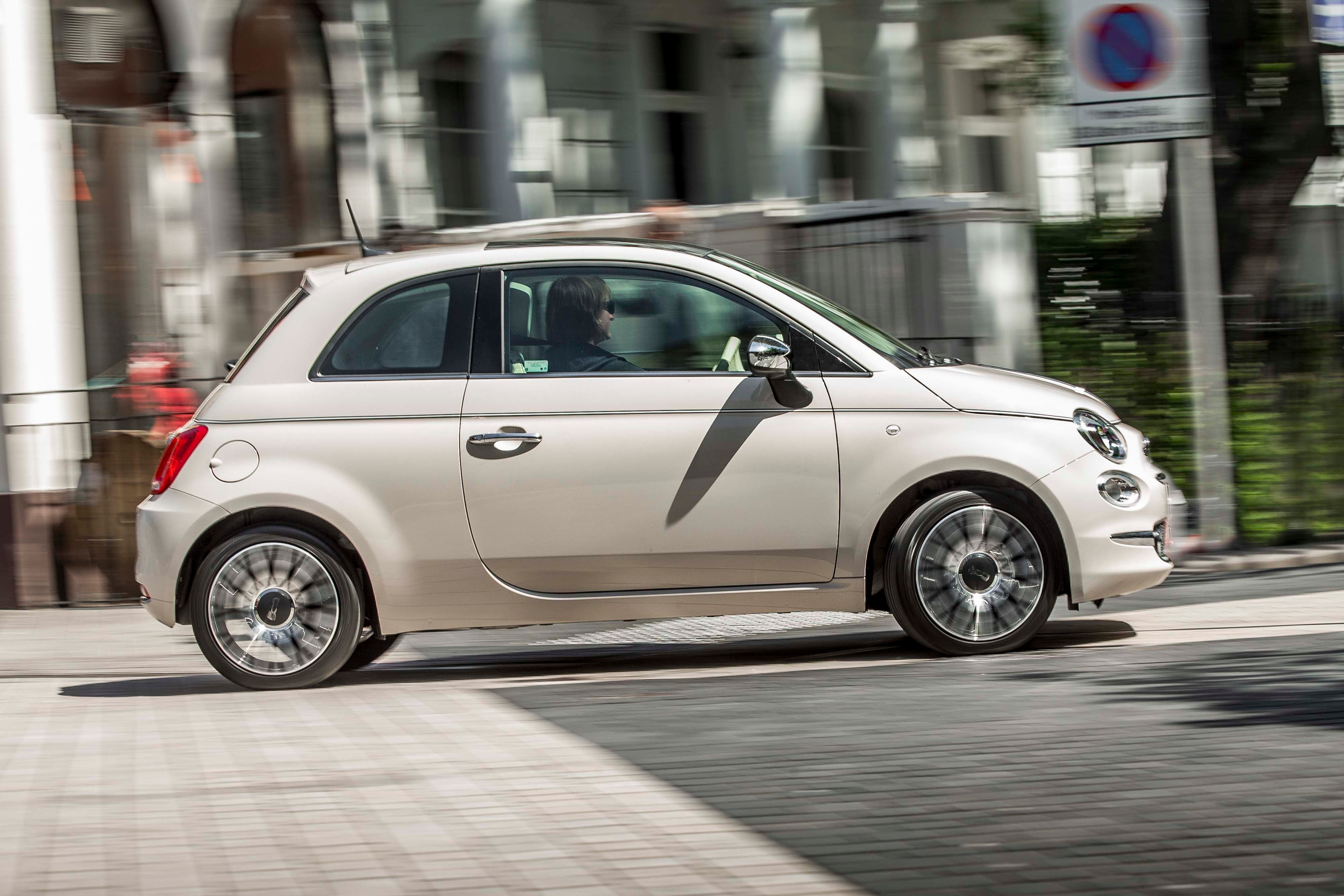 The Fiat 500 is offered with a 69PS 1.2-litre petrol or a 70PS 1.0-litre mild hybrid petrol. Older versions of the 500 are available with Fiat's turbocharged 0.9-litre TwinAir, a 1.2-litre petrol or a 1.4-litre petrol. A 1.3-litre diesel engine is also available on the older versions.
The 1.0-litre mild hybrid doesn't have any leads or plugs - the powertrain combines a three-cylinder petrol engine with an electric motor and a lithium-ion battery to recharge itself by recovering energy from the brakes and deceleration. This recovered energy is used to boost acceleration and save fuel. The powertrain works quite well at low-speeds, but can be a bit noisy on the motorway. The 1.0-litre mild hybrid is linked to a six-speed manual gearbox, which is smooth and easy to use. There's no automatic option.
The 1.2-litre petrol develops 69PS and is only available with an automatic gearbox that feels like a poor match for the four-cylinder engine. The transmission is noisy and occasionally causes the engine to emit a loud shriek of protest as the revs jump around as the gearbox struggles to find the correct gear.
MPG and fuel costs: What does a Fiat 500 cost to run?
"The Fiat 500 is a small car and fuel costs are generally low. The 1.2-litre petrol is advertised with 47mpg, while the 1.0-litre mild hybrid will return up to 53mpg."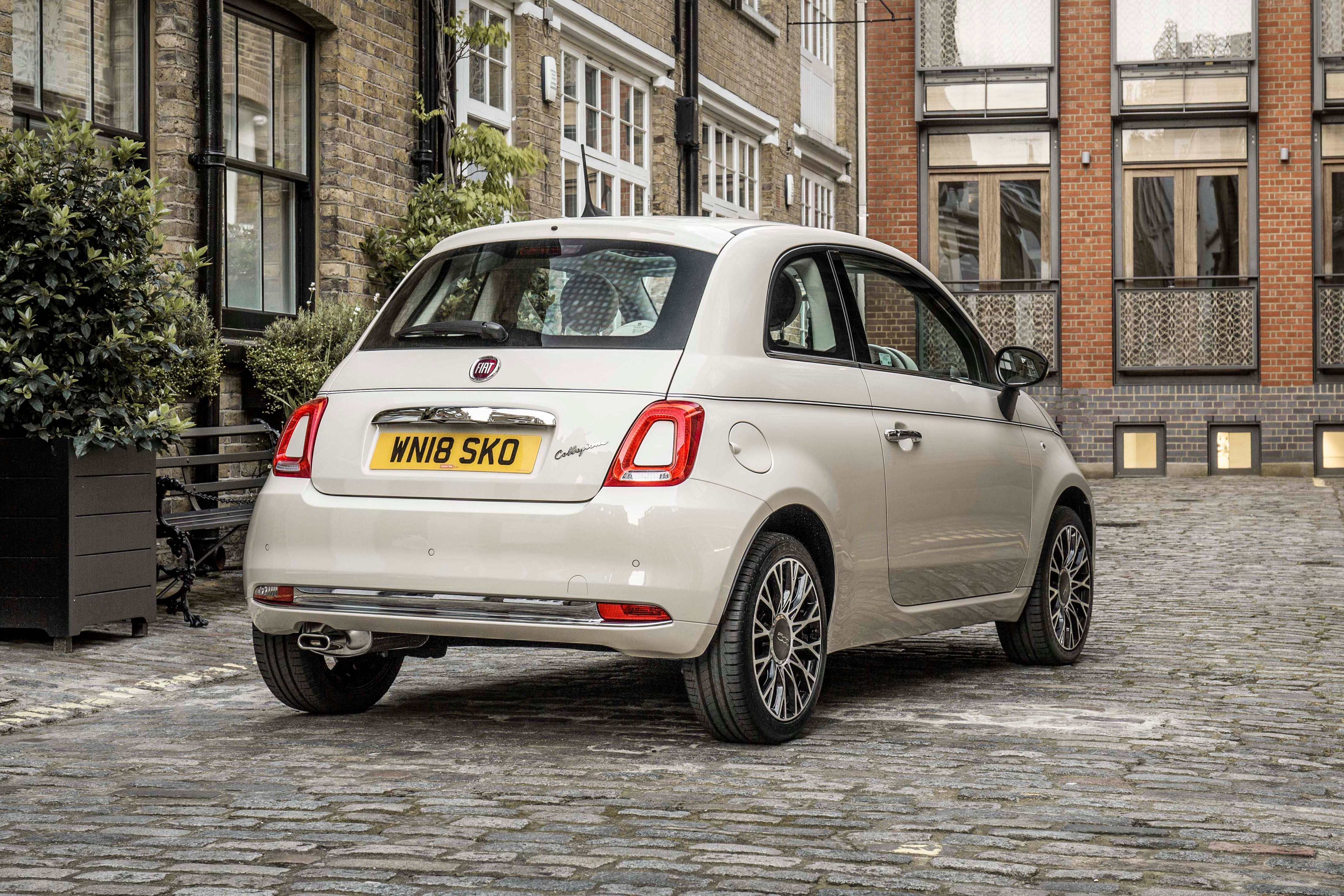 The petrol versions of the Fiat 500 are affordable when it comes to fuel - advertised economy ranges from 47-53mpg. Older models are offered with Fiat's 1.3-litre diesel, which officially returns 72–83mpg. The 0.9-litre TwinAir petrol has official figures of 67mpg. Road tax VED is £150 per year, while the first year 'showroom' rate for new cars is £175 for the 1.0-litre and £215 for the 1.2-litre.
How reliable is a Fiat 500?
Reliability isn't the Fiat 500's strong point. Gearboxes often go wrong, electrics can play up, while Fiat 500s fitted with the 1.2-litre petrol engine can struggle to reach the top of hills. Oh, and the door handles sometimes fall off, while interior trim rattles are pretty common. If you're looking for a reliability city car, we'd recommend a Toyota Aygo or Volkswagen Up instead.
Prices, versions and specification
"The range starts with the Fiat 500 Pop, which ironically isn't very popular with buyers owing to the fact it doesn't get a lot of equipment as standard."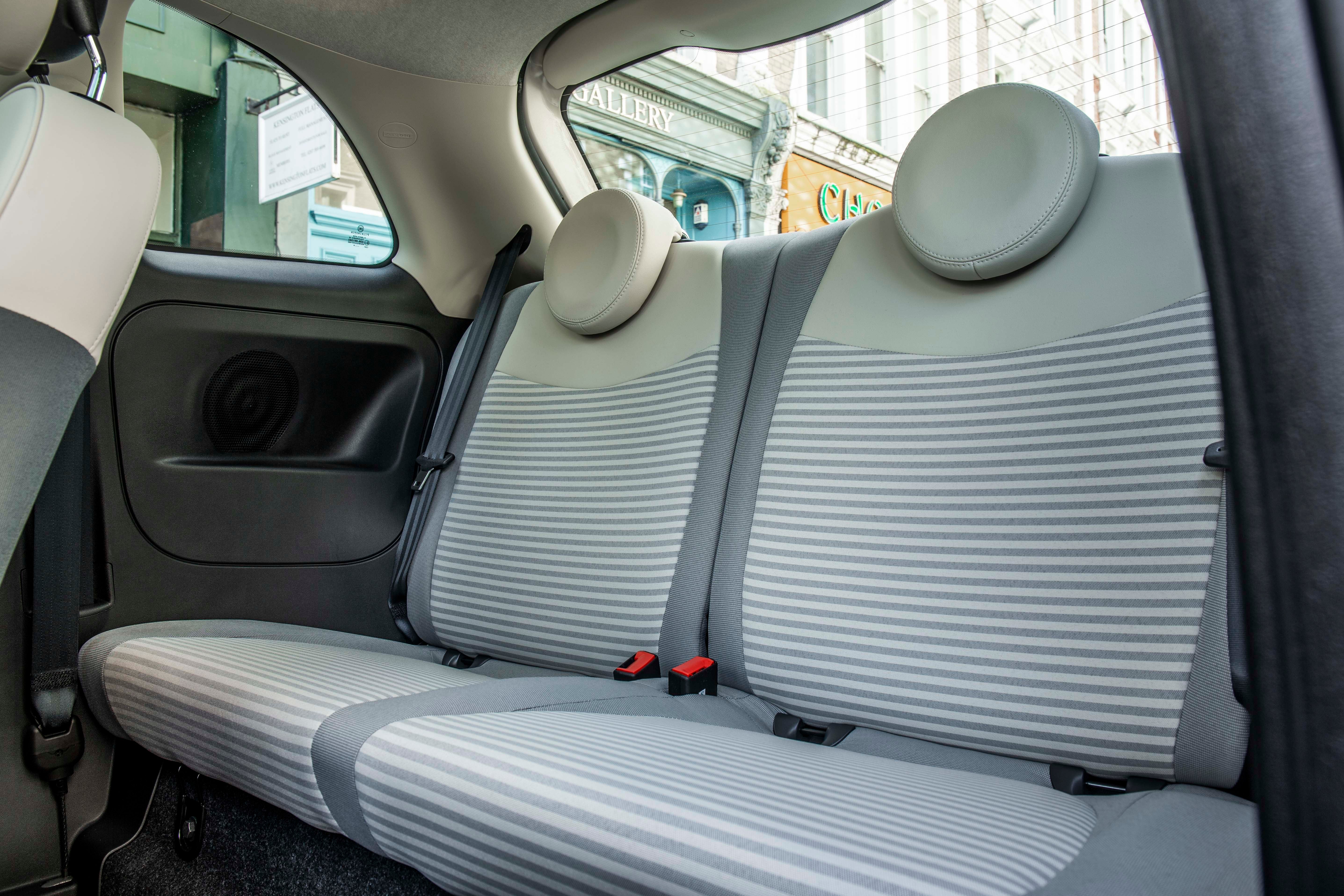 If you want a decent spec then aim for the Fiat 500 Lounge trim or better. It adds 15-inch alloy wheels, touchscreen infotainment, sunroof and rear parking sensors. The seven-inch infotainment system is bright and colourful. It's mounted quite close to the windscreen and this makes it easy to read when driving. It also has full Apple CarPlay and Android Auto connectivity.
The Fiat 500 Star adds 16-inch alloy wheels and a seven-inch TFT display to the instrument cluster, while the more expensive Sport trim removes the sunroof and adds an aerodynamic bodykit and a small spoiler to the rear of the car. A leather steering wheel is also included.
The Fiat 500 Rockstar model is the range-topping version. It gets dark tinted rear windows, climate control, leather steering wheel and also reinstates the sunroof.
Ask the heycar experts:
common questions
Is the Fiat 500 a reliable car?
The 500 scored 8.82 out of 10 for reliability in the 2020 HonestJohn.co.uk Satisfaction Index, some way off the Toyota Prius which topped the results with a score of 9.88 although that is still a better score than the Ford Fiesta and Range Rover Evoque.

Is it worth buying a Fiat 500?
The Fiat 500 may be getting on in years and is not the best small car around by any stretch of the imagination but it still looks great and is no less desirable than when it was launched. Used models are very affordable and being cheap to run it makes an ideal first car or a runabout.

What are the problems with the Fiat 500?
Our sister site HonestJohn.co.uk has a long catalogue of problems with the Fiat 500, with repeated issues of the Dualogic automatic gearbox a recurring problem. The gearbox fault means it will slip into neutral and it worst case scenario, it can fail completely.

Get a month's free insurance for your new car with heycar
£--.--*
Monthly thereafter
Terms, conditions, exclusions and excesses apply.
What's included?
Fully comprehensive policy
Monthly subscription, cancel anytime
No deposit or interest charges
Price guarantee for 12 months
Manage your policy anytime, anywhere
No fees for changes and cancellations
‍We've assumed that you:
– Have had a full UK driving licence for two or more years
– Will be the registered owner and keeper of your car
– Haven't made any modifications to your car
– Have never been declined insurance
– Haven't had any claims or driving convictions
Fiat 500 cars for sale on heycar
456
Number of cars available
£5K - £29K
Price bracket of these cars
Colours available on heycar
Keep me updated by email with the latest advice, news and offers from heycar
By submitting, you agree to our
privacy policy
.
Popular models
Similar models