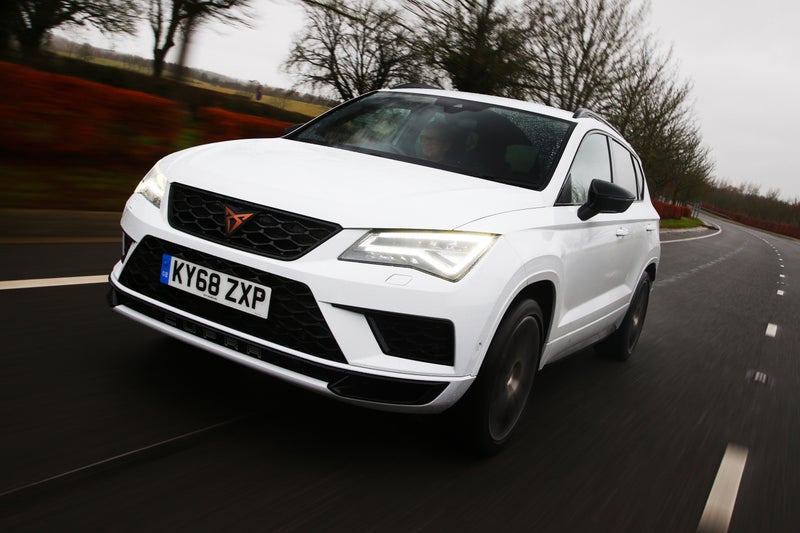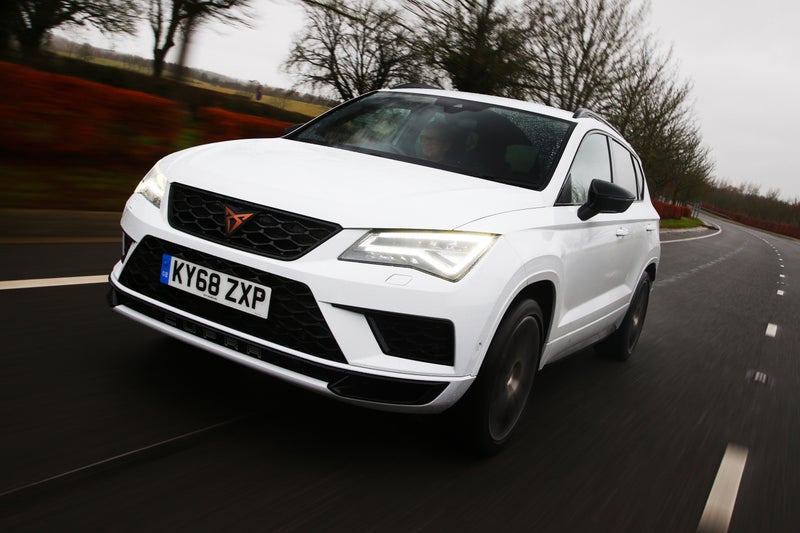 1/10
heycar rating
"Sporty yet practical small family SUV"
Launched: 2019

Small SUV

Petrol
Quick overview
Pros
Almost as much fun as a 'proper' hot hatch
Superb cabin build quality
Just as versatile as the standard SEAT Ateca
Cons
Fairly rare - making it difficult to find a used bargain
Thirsty, especially if you're heavy with the throttle
You'll get more enjoyment out of a Civic Type R
Overall verdict
On the inside
Driving
Cost to run
Prices and Specs
Common questions
Overall verdict on the Cupra Ateca
"This might look like a SEAT Ateca with a funny badge but it's actually the start of something new. The Spanish car manufacturer has launched its performance sub-brand, Cupra, as an entity in its own right. Does it cut the mustard though?"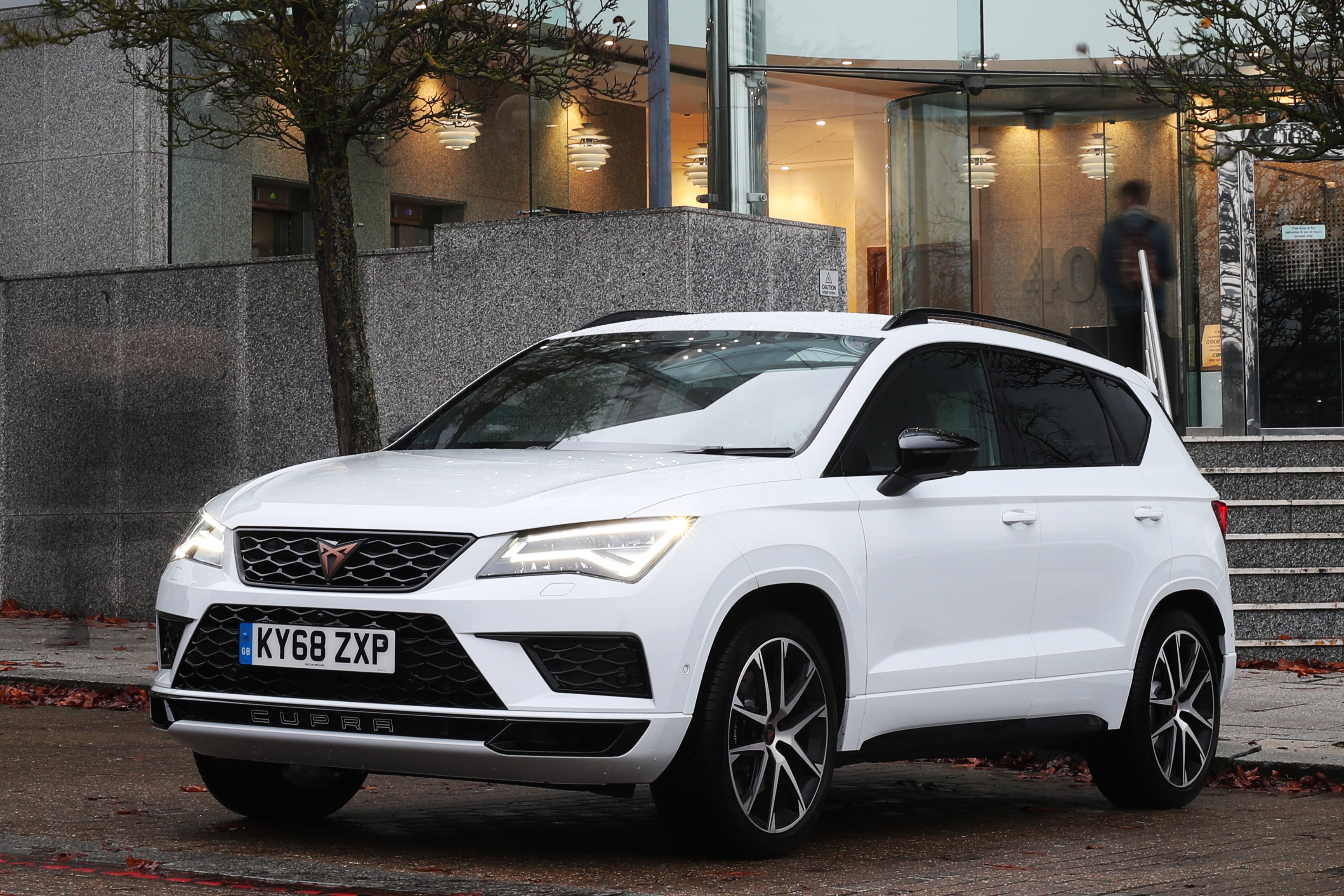 We take a look at the first car to be launched under the Cupra name in our Cupra Ateca review. It's essentially a SEAT Ateca with a 300PS 2.0-litre petrol engine from the Volkswagen Golf R along with racing spoilers, diffusers and quad exhaust pipes. If you want a family small SUV with attitude, this is it.
You'll be pleased to hear its bark is as aggressive as its bite. With four-wheel-drive and a DSG automatic transmission as standard, the Cupra Ateca will hurtle to 62mph in just 4.9 seconds - just as fast as a 'proper' hot hatch like the aforementioned Golf R.
And it's not just in a straight line where the Cupra Ateca's quick. It devours corners for fun, with next to no body roll and an extraordinary amount of grip. You almost have to re-calibrate your mind as to how well a car as high as this can take bends.
It's the Cupra Ateca's versatility which really impresses. When you're in the mood for punting your family wagon down a winding road, it's almost as refined as the standard Ateca. It's an excellent motorway companion and a heap of standard tech (including a birds-eye-view camera) means it's a doddle to drive and park around town.
While the interior doesn't feel as classy as the BMW X2 M35i, it feels well made. A standard touchscreen infotainment system and digital dials make the Cupra Ateca feel modern, while sporting touches such as the suede-like Alcantara seats and shiny aluminium pedals give it a sporting edge.
It's practical too, with plenty of space in the back for kids and a big boot. It's in terms of practicality where the Cupra Ateca comes into its own compared to hot hatch rivals and even premium alternatives like the Audi SQ2.
The Cupra Ateca proves you can have your cake and eat it. It's a practical small family SUV that's perfectly happy cruising on the motorway or bimbling around town. There's plenty of space in the cabin and standard equipment levels are generous. When you're in the mood, it's quick and fun to drive - although you'll soon pay for it in fuel bills.
The biggest issue with the Cupra Ateca is it sells in relatively small numbers. That means you're unlikely to find one rocking up on your neighbour's driveway, but finding a bargain on the used market might be difficult. That Cupra badge is more appealing than a SEAT, and as such you'll pay for it.
Looking for a used car for sale? We've got 100s of Cupra Approved Used Cars for Sale, for you to choose from, including a wide range of Cupra Ateca cars for sale. If you're looking for the standard version, you need our SEAT Ateca review.
Is the Cupra Ateca right for you?
If you want a hot hatch but need the practicality of a small family SUV, the Cupra Ateca is the choice for you. It's not quite as exciting to drive as its hot hatch rivals, but it still corners immensely well and has an incredible turn of pace. It's also very versatile - not only has it got room for all the family, but it's also very good at covering long distances in comfort. The biggest issue is the Ateca's running costs - you'll struggle to see 30mpg unless you drive very sensibly.
What's the best Cupra Ateca model/engine to choose
You don't get much choice in the Cupra Ateca range, although we think the optional Comfort and Sound pack is a desirable feature. This adds things like a premium Beats sound system, a space-saver spare wheel, adaptive cruise control, electric tailgate and heated front seats.
The Cupra Ateca Design pack, meanwhile, adds a few aesthetic touches like 19-inch copper alloy wheels, Brembo brakes and black interior styling. This was dropped from the range in 2020.
If you want to be the envy of other Cupra drivers, look for one of the special edition models. Those fitted with the Akrapoviç exhaust system sound noticeably lary-er than the standard car.
What other cars are similar to the Cupra Ateca?
While there are a few hot small SUVs on the market, there's nothing quite like the Cupra Ateca. The Volkswagen T-Roc R is probably the closest rival, sharing the same platform and engine - although it's a bit smaller and not quite as practical.
Audi's take on the hot SUV is the Audi SQ2 - which is also smaller than the Ateca - while BMW offers the X2 M35i. You could also consider practical hot hatches like the Skoda Octavia vRS or the Volkswagen Golf R - both of which are also sold as estate models.
Comfort and design: Cupra Ateca interior
"There might be a bizarre Cupra emblem stuck on the steering wheel, but there's no hiding the fact that this interior is broadly the same as the SEAT Ateca."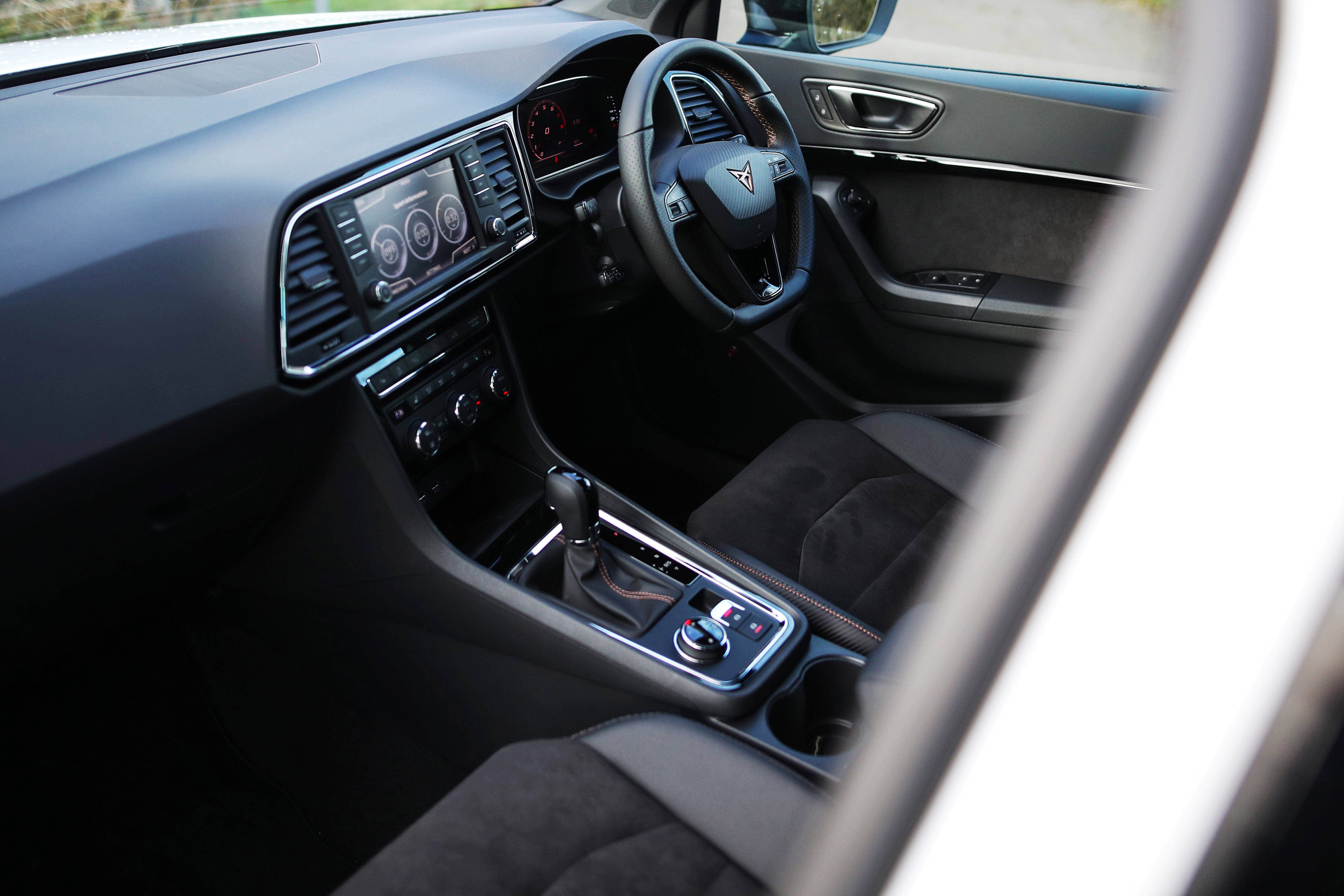 With lots of dark materials and little in the way of flair, it does look a little old-fashioned - the dashboard is pretty much the same as that found in a SEAT Leon. It's functional, though, with buttons on the centre console controlling things like the climate control, and useful shortcuts to infotainment functions further up.
It's been Cupra-fied extensively, too. The door panels and sports seats are finished in Alcantara, while aluminium pedals add a further sporty touch. Copper-coloured stitching on the steering wheel, gear lever and steering wheel all contribute to the Cupra Ateca feeling a bit more special than the standard car.
It's surprising how comfortable the sports seats are. Even the extreme-looking Cupra bucket seats (a £1600 option when new) are incredibly cosseting, while they do a very good job of holding you (and your passengers) in place during high-speed cornering.
The driving position - noticeably higher than a typical hot hatch - is very good, and there's plenty of adjustment in the seats (although only Limited Edition models get an electric driver's seat, which is a bit disappointing in an over £40,000 SUV).
Quality and finish
While the standard Cupra Ateca scores pretty highly in terms of quality, we'd expect a little more from a car that's up against premium rivals like the BMW X2 M35i.
There are lots of soft-touch materials in the cabin, but look hard and you'll soon find some hard, scratchy plastics on the lower surfaces. It all feels like it'll stand up to day-to-day abuse from family life, though. Indeed, the standard Ateca has been on sale for several years now, and even early examples with high miles still have relatively fresh looking interiors.
Just like we'd expect the cabin to look a bit more special in an SUV that costs just over £40,000 when new, we'd like it to feel a bit more like a premium product. That said, the doors do close with a satisfying thud, and the optional Design pack adds a few nice black interior detailing highlights.
Infotainment: Touchscreen, USB, nav and stereo in the Cupra Ateca
When it was first launched, the Cupra Ateca came as standard with a very good eight-inch touchscreen infotainment display that did everything you could possibly want aside from play your favourite CDs: navigation, full smartphone integration (including Apple CarPlay and Android Auto), DAB radio, a 10gb hard disc drive, voice control… the lot.
It's a typical Volkswagen Group media system and, as such, it works perfectly well. The graphics are clear, it responds quickly to inputs and all the menus are laid out perfectly logically. There are a few Cupra-specific functions, like the G-force meter and lap timer, but otherwise the system is pretty much identical to the one you'll find across the Volkswagen Group range.
In 2020, this system was replaced by a 9.2 display. While this looks a bit more modern, it replaces the old-fashioned buttons with touch-sensitive pads, which can be irritating to operate on the move (and quickly covered in fingerprints).
As well as the main infotainment display, there's a digital display in place of conventional dials. These are crystal clear and easily configured to prioritise whatever you think is important - such as your current speed or navigation directions. The digital cockpit does a very good job of lifting the otherwise slightly bland cabin.
Space and practicality: Cupra Ateca boot space
As you'd expect, the Cupra Ateca is just as practical as the standard car - meaning it's infinitely more versatile than a regular hot hatch like a Mercedes-AMG A35. It measures 4386mm long, 2078mm wide (including mirrors) and 1599mm tall.
The driver and front seat passengers will be very comfortable, with a high seating position (which is easy to get into thanks to the Ateca's raised ride height) and plenty of adjustment in the seats (albeit not electric on most models).
There's loads of headroom too, even for the tallest of passengers - meaning the Ateca feels far from cramped. The panoramic sunroof does eat into headroom slightly, but it's still a desirable option on used models thanks to the amount of light it lets into the cabin.
Things are good in the back too. Legroom is slightly less than impressive, and there's an annoying lump in the middle of the floor for the transmission tunnel. This means the middle seat really is for occasional use only. ISOFIX points are fitted on the outer rear seats for the easy fitting of child seats.
If you're expecting to regularly carry rear-seat passengers, it's probably worth looking for one without the optional bucket seats. These cut legroom and make things feel a bit more claustrophobic in the back.
Capable of carrying up to 485 litres of luggage, the boot is significantly bigger than that in the Audi SQ2 and marginally bigger than the BMW X2 M35i's. An electric tailgate is available as part of the comfort and sound pack, although it's not something everyone will want - manually opening the boot is often quicker, provided you're not juggling the weekly shop.
The rear seats are easily dropped (although not entirely flat), and there's also a ski hatch allowing you to feed longer items between the rear seats, if required.
Handling and ride quality: What is the Cupra Ateca like to drive?
"It's a bit of a cliché to say that a sporty SUV defies physics, but the Cupra Ateca does a pretty good impression of doing just that"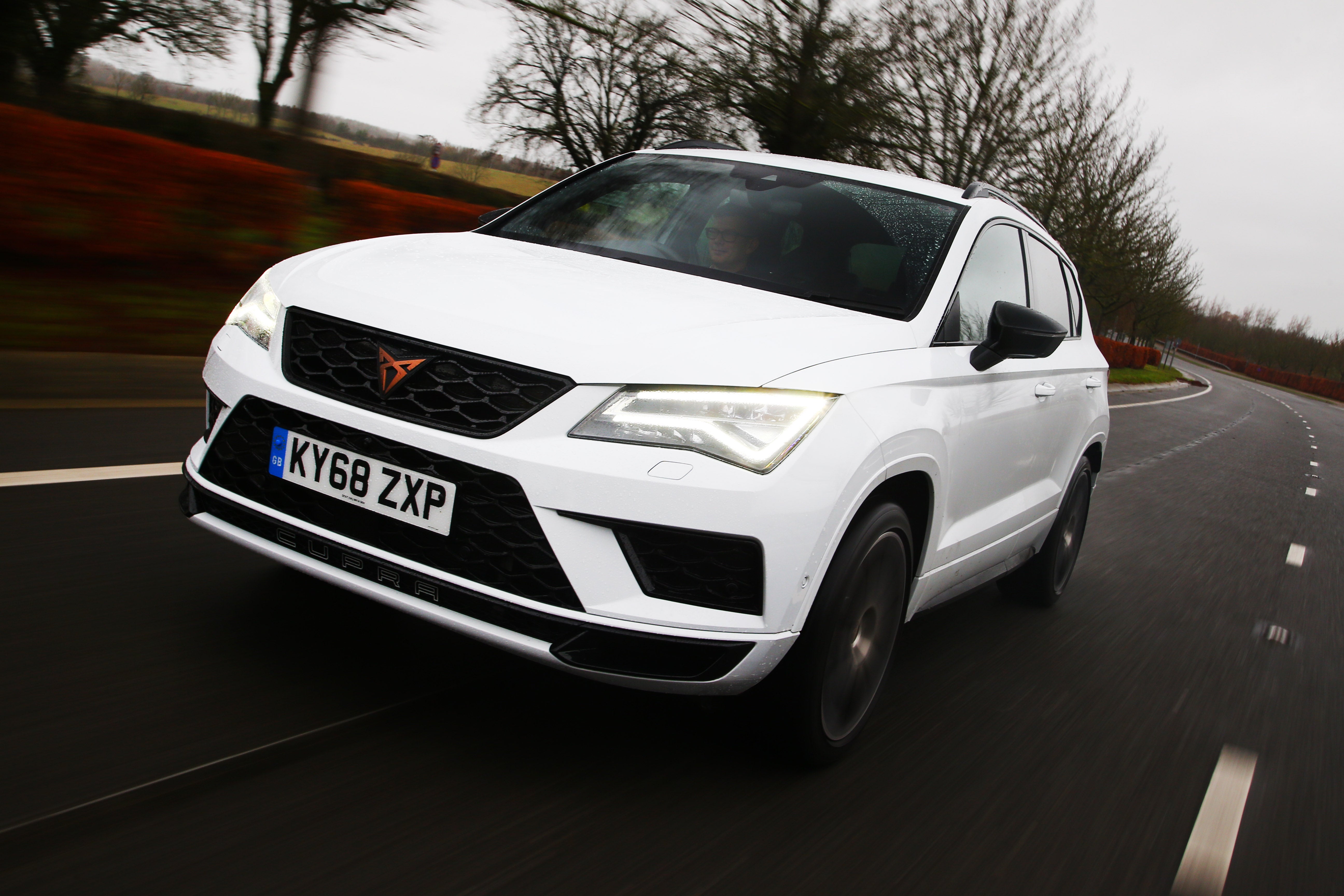 The Cupra Ateca remains very composed during cornering, providing only a hint of lean - especially with the adaptive suspension firmed up via one of the sportier drive modes.
No, it's not quite as keen to turn in at the limit compared to a more conventional hot hatch like the Honda Civic Type R, but you can still get a huge amount of enjoyment. Four-wheel-drive combined with wide tyres ensures there's a huge amount of grip on offer.
Surprisingly, considering its big wheels (19-inch as standard), the Cupra Ateca isn't as uncomfortable on rough roads as you might expect. Sure, it's noticeably firmer when the dampers are dialed up via the Cupra drive modes, but it's not going to make your kids reach for the sick bag up as you pootle down the motorway.
Around town, the Cupra Ateca is just as easy as any other Ateca to drive. It's relatively compact (its footprint isn't much larger than a Volkswagen Golf) and you sit relatively high up, giving you a good view of the road ahead.
Rear visibility is about as good as you get in a small SUV of this size (i.e. it's not great), but that's no biggie. Front and rear parking sensors are standard as well as a high-resolution reversing camera with a 360-degree birds-eye view. There's even a self-parking feature that will automatically steer the car into a space while you control the throttle and brake.
What engines and gearboxes are available in the Cupra Ateca?
There's just one engine available in the Cupra Ateca: a 2.0-litre turbocharged petrol producing 300PS. It's combined as standard with a seven-speed DSG automatic gearbox and 4Drive all-wheel drive.
It's the same engine that appears in many hot Volkswagen Group models, including the Volkswagen Golf R, Volkswagen T-Roc R and SEAT Leon. As you'd expect for a turbocharged petrol engine producing 300PS, it's pretty rapid, taking the Ateca from a standstill to 62mph in just 4.9 seconds.
The four-wheel-drive system ensures there's loads of grip - you won't find the wheels scrabbling if you boot it off the line. There's a launch control function for the ultimate in quick getaways, although this is a bit of a gimmick that you'll probably never use once the novelty's passed.
The Cupra Ateca is well suited to the DSG transmission which provides rapid gear changes and seems to provide the right gear for the situation without hesitation. All models come with paddles behind the steering wheel should you wish to change gears yourself. This does add a degree of excitement when you're pressing on but, like the launch control function, you probably won't bother most of the time.
If you do decide that 300PS isn't enough, German tuner ABT Sportsline offers an upgrade which adds an extra 50PS and boosts torque to 440Nm (up from the standard Cupra's 400Nm). This shaves 0.2 seconds off the Cupra Ateca's 0-62mph time. If this appeals, any SEAT dealer should be able to perform this upgrade - and it won't affect your warranty.
Refinement and noise levels
One of the most impressive features of the Cupra Ateca is its Jekyll and Hyde personality. It can 'do' refinement surprisingly well. Leave it in Normal or Eco mode and the exhaust note is surprisingly hushed, allowing it to happily bimble along at low revs like any other Ateca.
One of the biggest issues is road noise from the wheels. The standard-fit 19-inch alloy wheels are fitted with low profile tyres which create quite a din, even when cruising on the motorway. It's nothing that can't be drowned out by turning up the stereo, but it is something that goes against the Cupra compared to a standard SEAT Ateca.
The Ateca's bulky dimensions means there's also a bit more noticeable wind noise compared to a low-down hot hatch like the Volkswagen Golf R.
If you do want a bit more, the sport and Cupra drive modes ramp up the drama, with more noise from the exhaust and through a sound actuator in the cabin. It does sound the business but, for the ultimate in theatricals, look for one with the noisier Akrapovic exhaust system.
Safety equipment: How safe is the Cupra Ateca
If you're going to carry your family in a car as rapid as the Cupra Ateca, you're going to want all of the safety systems. Fortunately it doesn't disappoint.
Highlights include a front assist system which uses radar to monitor the cars ahead of you. If it detects a potential collision, it'll alert the driver, and can even apply the brakes to mitigate an impact. With city emergency braking, this'll bring the car to a complete halt to prevent a crash in stop-start traffic.
There's also a tiredness recognition system which watches out for things like erratic steering wheel inputs and lane movements, before telling the driver to take a break if it suspects you're tired.
Other handy safety features include a hill hold control system which will hold the car for two seconds after you lift off the brake pedal - preventing it rolling back into other traffic. A space-saver spare wheel is offered as a £120 option and can be retrofitted to used models, provided they don't have both the Comfort and Sound and Design packs.
When the standard SEAT Ateca was crash tested by Euro NCAP in 2016, it received an impressive five-star safety rating (out of five). It performed particularly well in the adult and child occupant tests, for which it achieved 93 and 84 percent respectively.
SEAT's pedestrian protection features - including deformable front wings and space left between the bonnet and engine - contribute to a 71% rating for pedestrian safety. The Ateca scored 60% for its safety assist features, losing points for not having a lane assistance system as standard (it is fitted as standard to the Cupra Ateca).
MPG and fuel costs: What does a Cupra Ateca cost to run?
"Under WLTP fuel economy tests (those which are meant to be fairly representative of real-world conditions), the Cupra Ateca returns between 31.7 and 32.5mpg."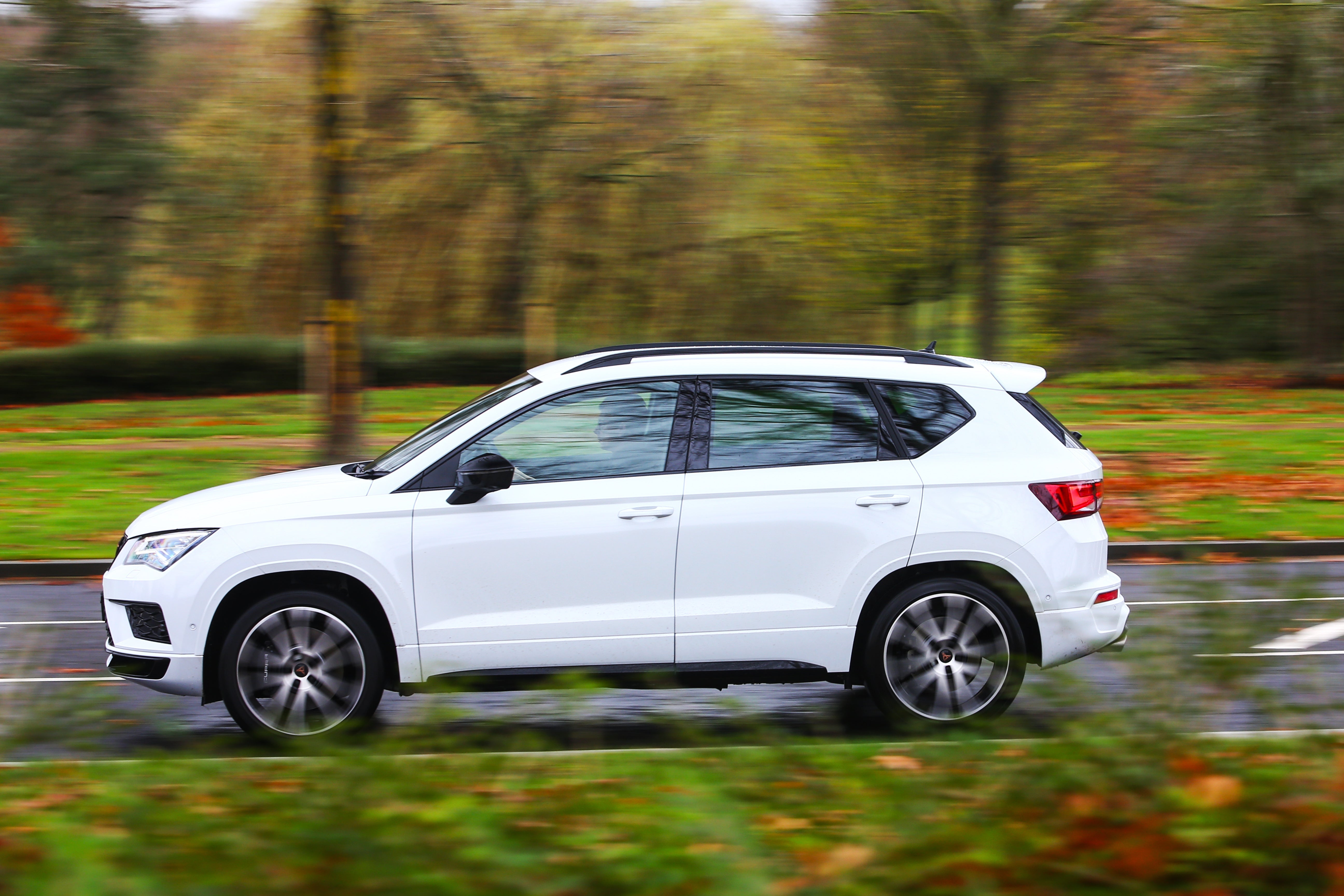 That's fairly realistic, in our experience, providing you're gentle with the throttle and resist the temptation to use sports mode. If you exploit its full potential, you might find 20mpg to be more realistic...
How reliable is the Cupra Ateca?
As the Cupra Ateca is still a relatively new car, there's little data to establish long term reliability yet. However, SEAT as a brand didn't perform especially well in the latest HonestJohn.co.uk Satisfaction Index, coming 22nd out of 30 manufacturers.
For reliability the SEAT Ateca scored an average of 8.89 out of 10. As the Cupra Ateca is based on the SEAT Ateca, the Cupra model should follow suit with good reliability.
Insurance groups and costs
It's a flashy SUV with a powerful engine… the Cupra Ateca's going to be quite expensive to insure, particularly if you're an inexperienced driver. They're all in insurance group 33, no matter which option packs you select. That's higher than a Volkswagen Golf R but a group below the Volkswagen T-Roc R. It's worth shopping around for quotes before you plunge for a Cupra Ateca. Factors like your location and where the car's kept overnight can make a difference too - it's the sort of car which is very attractive to thieves.
VED car tax: What is the annual road tax on a Cupra Ateca?
All petrol and diesel cars registered since April 2017 will be charged a flat rate of car tax after the first year, meaning you'll pay £150 a year to tax a Cupra Ateca.
Be careful, though. Cars with a list price of more than £40,000 when new are subject to a premium tax of an extra £325 a year for the first five years (from the second time the vehicle is taxed). This means, while a standard Cupra Ateca costs £150 to tax, one with the Comfort and Sound pack will cost you £475 a year for the first five years. Still want those heated front seats..?
How much should you be paying for a used Cupra Ateca?
"The Cupra Ateca sells in fairly small numbers which means it's quite desirable on the used market."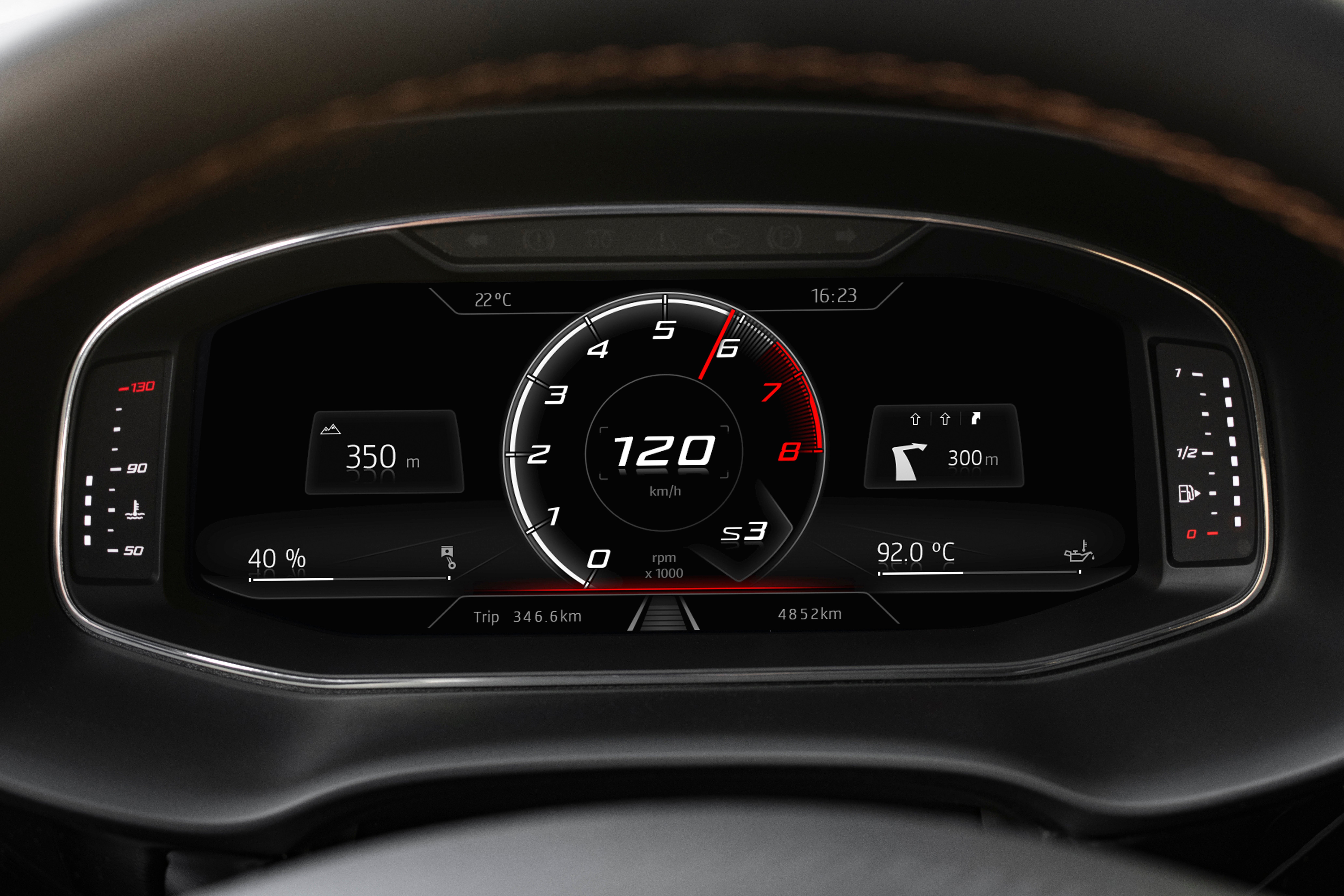 That doesn't mean it's impossible to bag a bargain - you just might have to look harder, especially if you're picky about things like the colour and specification.
Around £30,000 will get you a choice of year-old examples with average miles on the clock - representing a saving of around £8000 off the list price.
There are some pre-registered examples about, if you'd like a new Cupra Ateca without the waiting list. These are cars that have been ordered and registered by dealers in order to meet targets. They usually have minimal miles on the clock and are often sold as ex-demo models.
Around £35,000 will get you one of these, while you'll pay an extra few grand for one with one of the desirable options packs.
Trim levels and standard equipment
The standard Cupra Ateca comes loaded with kit. Standard equipment includes 19-inch diamond-cut alloy wheels, full LED headlights, metallic paint, twin exhaust pipes, digital cockpit, smartphone integration (Apple CarPlay and Android Auto), Navigation Plus with 9.2-inch display. The list goes on.
The Comfort and Sound pack adds a space-saver spare wheel, BeatsAudio sound system, adaptive cruise control, electric tailgate, heated front seats and high beam assist. The Cupra Ateca Design pack, meanwhile, features Brembo brakes, 19-inch copper wheels and black interior styling.
There have been a few special editions offered since the Cupra Ateca's launch in 2019. These include the catchily named Cupra Ateca Special Edition of 2019, which featured 20-inch copper alloy wheels, copper carbon fibre exterior elements (including the door mirrors and rear spoiler), and a Akrapoviç exhaust system. Inside, there's blue Alcantara covering the front bucket sports seats, rear seats and door panels.
Limited to just 100 units in the UK, the 2020 Cupra Ateca Limited Edition was available with or without the Akrapoviç exhaust system, as well as bigger Brembo brakes, 20-inch copper alloy wheels and copper carbon fibre exterior highlights.
Cupra doesn't provide an extensive options list, but look out for features like the panoramic sunroof and Alcantara bucket seats.
Ask the heycar experts:
common questions
Who makes the Cupra Ateca?
The Cupra Ateca is made by Cupra, which is a sporty offshoot of SEAT... which is itself owned by the VW Group.

Is the Cupra Ateca an SUV?
The Cupra Ateca could be described as an SUV thanks to its raised ride height and four-wheel drive.
Who owns the Cupra brand?
Cupra stands for Cup Racing, the brand was formed by SEAT initially to compete in motorsport, it went on to be a badge for sporty SEATs. Cupra has since become a standalone manufacturer.

Get a month's free insurance for your new car with heycar
£--.--*
Monthly thereafter
Terms, conditions, exclusions and excesses apply.
What's included?
Fully comprehensive policy
Monthly subscription, cancel anytime
No deposit or interest charges
Price guarantee for 12 months
Manage your policy anytime, anywhere
No fees for changes and cancellations
‍We've assumed that you:
– Have had a full UK driving licence for two or more years
– Will be the registered owner and keeper of your car
– Haven't made any modifications to your car
– Have never been declined insurance
– Haven't had any claims or driving convictions
Cupra Ateca cars for sale on heycar
399
Number of cars available
£30K - £39K
Price bracket of these cars
Colours available on heycar
Keep me updated by email with the latest advice, news and offers from heycar
By submitting, you agree to our
privacy policy
.