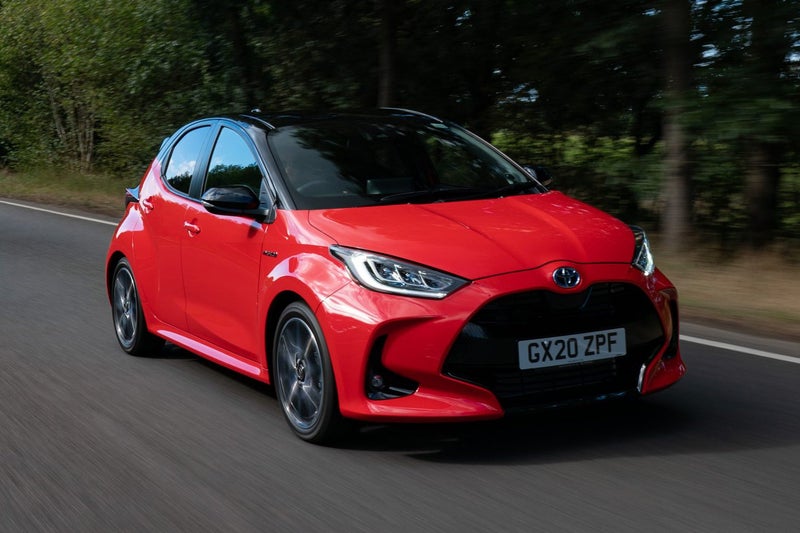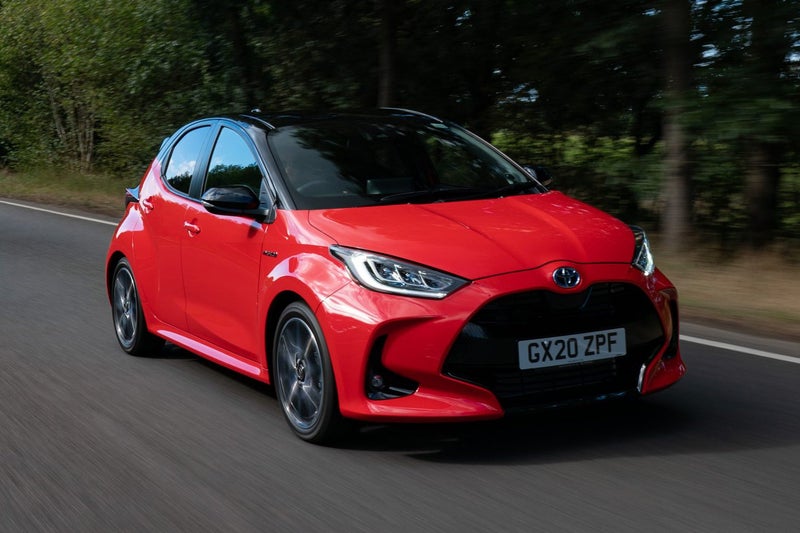 1/9
heycar rating
"Cheap to run and comfortable"
Launched: 2020

Small hatch

Hybrid
Quick overview
Pros
Smart styling inside and out
Hybrid engine makes a camel look thirsty
Autonomous driving aids take the edge off long journeys
Cons
Perceived quality isn't as consistent as you'll find elsewhere
Tall adults will feel a little squeezed in the back
Steep starting price, though offset by generous kit
Overall verdict
On the inside
Driving
Cost to run
Prices and Specs
Common questions
Overall verdict on the Toyota Yaris
"You always knew that Toyota made small cars that are dependable, but this new Toyota Yaris proves it can also make them desirable. It looks great inside and out, but also also adds class-first standard autonomous driving aids and a hybrid engine that make it relaxing on long trips and cheap to run. It's very nearly the complete package".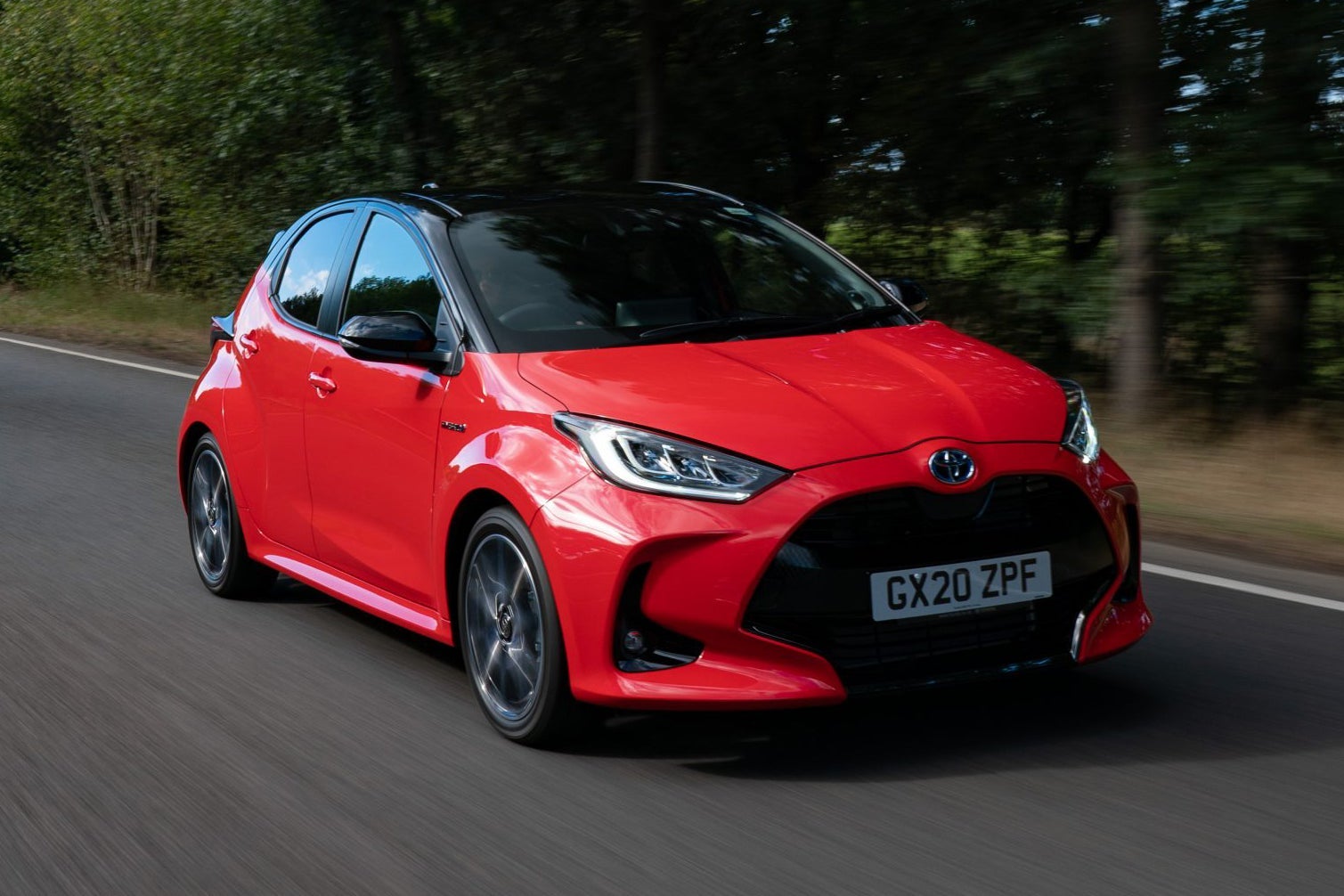 This probably shouldn't come as a surprise because Toyota's seriously got its act together recently. Over the past couple of years we've had the stylish Toyota C-HR, seen the once forgettable Toyota Camry get a sharp new suit, while the Toyota Corolla – at one time derided as one of the most boring models on sale – has been resurrected as a car you can be proud to own. Read our 2022 Toyota Yaris review to see if they've done it again.
The Toyota Yaris's own comeback starts with its striking styling – a bold grille, and a combination of curves, creases and angular details ensure that, unlike its predecessors, this Yaris is memorably good looking.
And the same's true on the inside of the Toyota Yaris. There you'll find two-layer design and an infotainment screen that's fitted with Apple CarPlay and Android Auto as standard, and all but the basic model get a pretty digital dashboard. It's not a clean sweep, though, and there are more hard and flimsy plastics hidden below your eye line than you'll find in a Volkswagen Polo.
A bigger complaint can be aimed at interior space because the Toyota Yaris can't accommodate four tall adults as comfortably as a Hyundai i20 or the Polo for that matter. The boot space also falls a little short of the class best – its neither the biggest nor the best designed – so if you want as much practicality you can get from a small hatchback, that might rule the Toyota Yaris out for you.
Which would be a shame because the Yaris does some things – like fuel economy – brilliantly. You only get one engine choice – a petrol-electric hybrid – but its an excellent option allowing the Toyota to return fuel economy of 60mpg almost irrespective of how and where you drive it. As a result, 400-mile trips are readily achievable out of its small 36-litre tank. Not only one of the best small hybrid cars you can buy, but one of the best hybrid cars full stop.
As well as saving fuel, The Toyota Yaris's ability to run on pure electric power makes it very quiet to drive in town, where its lights controls, standard CVT automatic gearbox and reversing camera make it a treat to manoeuvre. This relaxed nature continues as the speeds rise thanks to its standard autonomous driving aids. They do the Toyota Yaris's accelerating, braking and steering for you so long as you keep your hands on the wheel, massively reducing fatigue on long motorway runs.
Okay, so the Toyota Yaris is still not the last word in driver enjoyment. A Ford Fiesta has sharper responses, grips just that little bit harder and has a manual gearbox that makes it more engaging, but the Toyota Yaris has never been closer in the fun stakes, while it's autonomous driving aids make up for a ride that isn't quite as comfy as a Polo's.
Above all else, what should have its rivals most worried is that this Toyota Yaris is genuinely desirable and that's not something we could have ever said before.
Looking for a used car for sale? We've got 100s of Toyota Approved Used Cars for Sale for you to choose from, including a wide range of Toyota Yaris cars for sale. If you're looking for the older version, you need our used Toyota Yaris (2011-2020) review.
Is the Toyota Yaris right for you?
If you want a small car that can rival the build quality of a brick-walled latrine but is many times more desirable, then the Toyota Yaris should be right at the top of your shopping list. It's packed to the gunnels with technology that makes it easy to live with every day, its automatic gearbox makes it ideal for town and its hybrid engine means it has the thirst of a fruit fly.
You should only rule the Toyota Yaris out if you want as much space as possible out of your small family car, you'll be better catered for by the Volkswagen Polo or Hyundai i20 if that's the case.
What other cars are similar to the Toyota Yaris?
The Toyota Yaris' stiffest competition can be found in the more fun-to-drive Ford Fiesta or the more spacious and smoother riding Volkswagen Polo, though neither offers the Toyota's generous standard equipment levels and hybrid engine. If it's hybrid you want, look at the versatile Honda Jazz.
There's a long list of other rivals to choose from including cars like the Hyundai i20, Kia Rio - both with long warranties as standard plus the practical Skoda Fabia and the well equipped SEAT Ibiza. The Mazda 2 is a little older but still worth checking out plus the latest Vauxhall Corsa and Peugeot 208 are both very impressive.
Comfort and design: Toyota Yaris interior
"The Toyota Yaris looks great on the outside and, we're happy to say, much of that want-ability has been carried through to the inside where the Yaris gets a sculpted design and perceived quality that heavily hints at the brand's famous durability."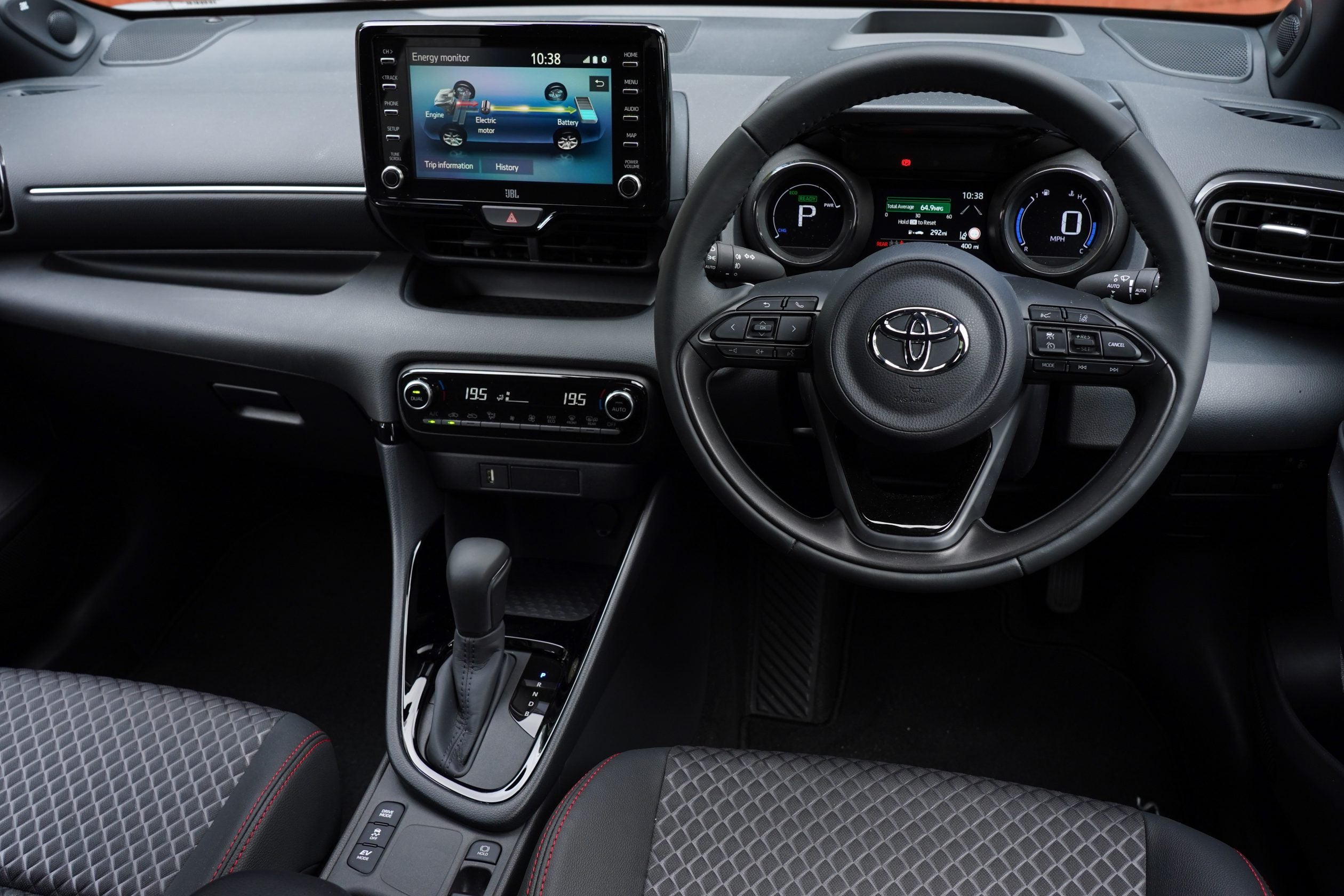 All Toyota Yaris models come with a sporty three-spoke steering wheel that's finished in soft Nappa leather so the part of the car you touch the most feels great.
And the rest of the Toyota Yaris's interior looks pretty good too. The dashboard has a two-layered, stepped design that's much more appealing than the plain shape in the old model and also a lot easier to use thanks to the prominent infotainment screen doing away with the need for a sea of conventional buttons.
Standard fit on all but basic Icon models is the Yaris's digital instrument binnacle. Two pods with a centre cluster – not the one-piece display you get in the likes of the Volkswagen Polo – it is clear and easy to read, but not as functional as the Polo's which can display a huge sat-nav map that looks great.
If you don't need to worry about stains, it's worth specifying the lighter interior which makes the Toyota Yaris feel bright and airy inside, while Excel and Dynamic models are also available with a panoramic sunroof that amplifies the effect.
You get a fabric finish on the doors that makes the car feel warm and cosy, but the over-designed pulls are OTT and make the door handles hard to find at night unless you get a top-spec car with ambient lighting.
You can't complain about visibility out of the Toyota Yaris though, the supportive driver's seat is set high in the cabin – making it feel almost like you're driving a small SUV – although the downside is that it doesn't go low enough for a sporty feel if that's what you prefer.
Quality and finish
The Toyota Yaris has taken a big step up in quality compared to the previous model. You get a belt of spongy soft-touch plastics that runs along the centre of the dashboard – which makes up for the hard but durable plastics on the centre console and door cards – flashes of chrome and fuzzy fabric trims.
What the Toyota Yaris can't compete with is the consistent feel of quality you get in the Volkswagen Polo. So, while the car feels well built on the whole, things like the cheap featherlight glovebox lid, plasticky door handles and flimsy armrest between the front seats let the side down.
Also up for criticism are the Toyota Yaris's centre touchscreen's washed out graphics that have neither the colour nor the definition of the graphics you'll find on a Polo's infotainment screen. That said, there can be no complaints about the clarity and size of the optional head-up display.
Infotainment: Touchscreen, USB, nav and stereo in the Toyota Yaris
All but basic Icon versions of the Toyota Yaris get a digital dashboard with two pod instrument clusters and a 4.2-inch TFT display nestled between them.
A central touchscreen comes as standard. In entry-level Icon models, it's a 7-inch display which is easy to use navigate – helped by conventional hotkeys that run down the side of the infotainment display – and looks much smarter than infotainment you get in a basic Fiesta (which is just as well because the Toyota Yaris is a lot more expensive).
It displays info on things you'd expect, like your fuel economy and radio station, and things that are more of a novelty – what the hybrid engine's getting up to and how economically you're driving – it'll even give you an economy score at the end of each trip.
Aside from the obvious, the 8-inch screen is all but identical, it's at this point we should note that no Toyota Yaris comes with sat-nav, which is fine because all models do get Apple CarPlay and Android Auto. As a result, you can use your smartphone's navigation apps – like Google Maps and Waze – on your car's big screen, both of which are better than a basic sat-nav system with no connectivity.
These mirroring programmes mean you can also playback music using apps like iTunes and Spotify complete with their pretty artwork and excellent suggested playlists. While we're on the subject of music, an uprated eight-speaker JBL stereo is optional on Excel models and standard with Dynamic cars – it's punchy but not as clear or as powerful as the Beats Audio system available in some Polos.
On Toyota Yaris Excel models, the JBL stereo comes as part of the optional Tech Pack which also adds an auto-dimming rear-view mirror and a 10-inch head-up display. The latter is multi-adjustable so it's easy to get it positioned in your line of sight so key information like the speed limit and your current mph are right where you need it. Although, it's a shame sat-nav directions aren't something it displays.
Space and practicality: Toyota Yaris boot space
Getting comfortable in the Yaris is easy and that starts before you've even got in. It's large front doors and the surprising height of the driver's seat mean you can slide behind the wheel rather than dropping into it. It does feel a little too tall at first, but you very quickly get used to it. If you want to know the dimensions of the Toyota Yaris, it's 3940mm long and 1745mm wide.
All Toyota Yaris models get a height-adjustable driver's seat and Excel models and above carry over that functionality to the passenger side, too. Sadly, though we found the seats very comfortable, lumbar adjustment isn't even and option.
While the seats may benefit from more adjustment, the steering wheel has plenty – it moves in and out and for height – and the Yaris' standard automatic gearbox's shifter is also easy to reach.
Space in the back of the Toyota Yaris is also relatively good. Someone over six foot will fit behind you even if you're the same height, although they'll probably find themselves wrapping their knees around the sides of your seat.
It's not uncomfortable, but tall adults will have more room for their knees in a Hyundai i20 or Volkswagen Polo. Headroom is fine, however, even in Toyota Yaris models fitted with the space-eating glass roof.
There's more good news on the storage front. The Yaris's layered dashboard design give you a couple of storage ledges above the glovebox and beneath the infotainment screen, the glovebox itself is an average size, you get large door pockets up front, small ones in the back and a tray in front of the gear stick. You also get a couple of cupholders that fit different sized cups although the front centre armrest gets in the way when you're using them.
The boot space on the Toyota Yaris could also be better designed. It misses out on the false floor and smaller storage areas you get in cars like the Volkswagen Polo and the Toyota Yaris's 286-litre boot capacity is 30 per cent smaller than you get in a Renault Clio.
Fold the Toyota Yaris' back seats down and you'll have to lift heavier items over the pronounced boot lip and the rear seats don't fold neatly flat into the floor although, all in all, the Yaris is still pretty roomy for its size.
Handling and ride quality: What is the Toyota Yaris like to drive?
"There's a personality to the Toyota Yaris that's deeper than just it's cool looks, it's the first Yaris you can actually enjoy driving."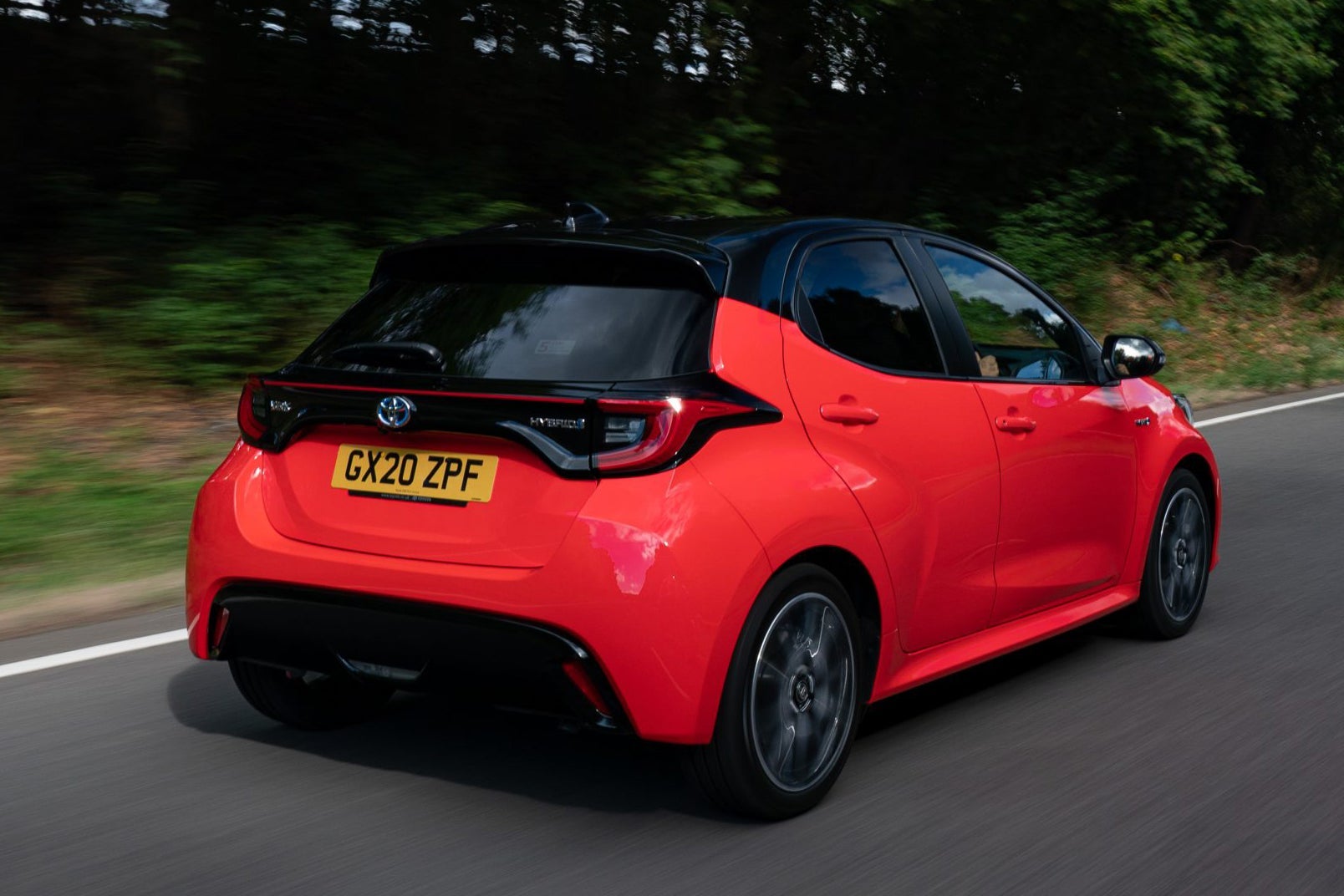 The Toyota Yaris' steering has a meaty weight to it that makes it feel positive in corners, there's plenty of initial front end grip and there's not much body roll to contend with.
Okay, so if you push a bit harder it doesn't latch on to corners with the same determination as a Ford Fiesta, its steering isn't as consistently weighted as a Volkswagen Polo's and the drive select's Power mode really just makes the engine sound strained, but none of these are deal-breakers.
You'll even grant the CVT gearbox a free pass. Sure, like all CVTs, it's not very responsive, but the hybrid engine's electric boost masks that effectively and, while you get the usual gearbox induced engine drone, it's less noticeable in the Yaris because its tiny engine isn't that noisy.
You'll likely find these disadvantages are far outweighed by the advantages of having an automatic transmission fitted as standard. In town, it makes the Yaris as easy to drive as a supersized bumper car and sticking the gearbox in B replicates engine braking so you rarely have to use the brake pedal.
At these lower speeds, the Toyota Yaris spends much of its time driving on electric power making it quiet and relaxing, while light steering and the standard reversing camera makes squeezing into tight spaces a cinch.
Complaints? Well, the suspension's comfortable most of the time but you do feel the occasional jolt that would be ironed in a Polo.
That's also a complaint at higher speeds, but it's a tiny blot on a motorway driving copybook that's as near to perfect as you'll find in a small car. That's all because of the Yaris' standard – yes standard – autonomous driving aids. They amount to active cruise control and lane-keep assist that mean the little Yaris will more or less drive itself on the motorway so long as you keep your hands on the steering wheel.
Compared to older systems, the Yaris's driving aids are impressively refined. Tuck in behind a faster car and the active cruise control will let you drop back without using the brakes, it doesn't get confused in corners and when the road is clear it will gently accelerate you to your preset cruising speed – not fire you hell for leather towards the horizon like some older systems.
The lane assist, meanwhile, steers you gently between the white lines and can do it in corners as well as on the straights.
What engines and gearboxes are available in the Toyota Yaris?
Ignoring the Toyota GR Yaris rally homologation special, the Toyota Yaris is only available with a 1.5-litre, three-cylinder petrol engine that's boosted by an electric motor to produce 116PS in total through a CVT automatic gearbox. It gets the Yaris from 0-62mph in 9.7 seconds and gives it a top speed of 108mph.
The hybrid system is much improved compared to the old car. It can run on battery power alone for significantly longer than before for incredible in-town fuel economy and, unlike in the old Yaris, the battery/motor combo is powerful enough to take you up to motorway speeds without needing to call on the petrol engine. Read our guide to what is a hybrid car to find out the pros and cons of self-charging and plug-in hybrids.
Something that doesn't work so well is the EV mode. It should let you lock out the petrol engine entirely at the touch of the button but our car never had enough battery charge to do it. The driving modes (Eco, Normal and Power) are another gimmick. They progressively make the engine more responsive and the steering heavier, but not in a way that makes the Toyota Yaris any nicer to drive and you soon learn to leave it in Normal and never touch it again.
Refinement and noise levels
Around town the Toyota Yaris is extremely quiet because it will run on silent electric power almost all of the time.
Clear the city and head out on the motorway and you'll still have very little to complain about with the Toyota Yaris. Okay, so you'll hear a muffled growl from the engine as you accelerate but once your up to speed that disappears, there's not much tyre roar and no wind whistle worth mentioning.
It can even run on electric at a cruise, albeit, only for short bursts. All this makes the Yaris the quietest small car on sale nudging it slightly ahead of the Volkswagen Polo.
Safety equipment: How safe is the Toyota Yaris?
You can count on the Toyota Yaris being very safe after Euro NCAP awarded it a five-star safety rating under 2020's extremely tough testing regime.
Perhaps it's not a surprise that it past with flying colours when you see its list of standard safety equipment.
As well as getting autonomous driving aids that mean it can accelerate, brake and steer itself on the motorway, the Toyota Yaris can read road signs – for information like the speed limit – and display it on its infotainment screen and dip its headlights automatically.
On top of that, it can warn you when you need to take a break from driving and, if you do have an accident, it can call the emergency services with your location.
MPG and fuel costs: What does a Toyota Yaris cost to run?
"Unless you're fully committed to driving a like a lunatic – everywhere – the Toyota Yaris will return fuel economy of close to 60mpg in almost all circumstances".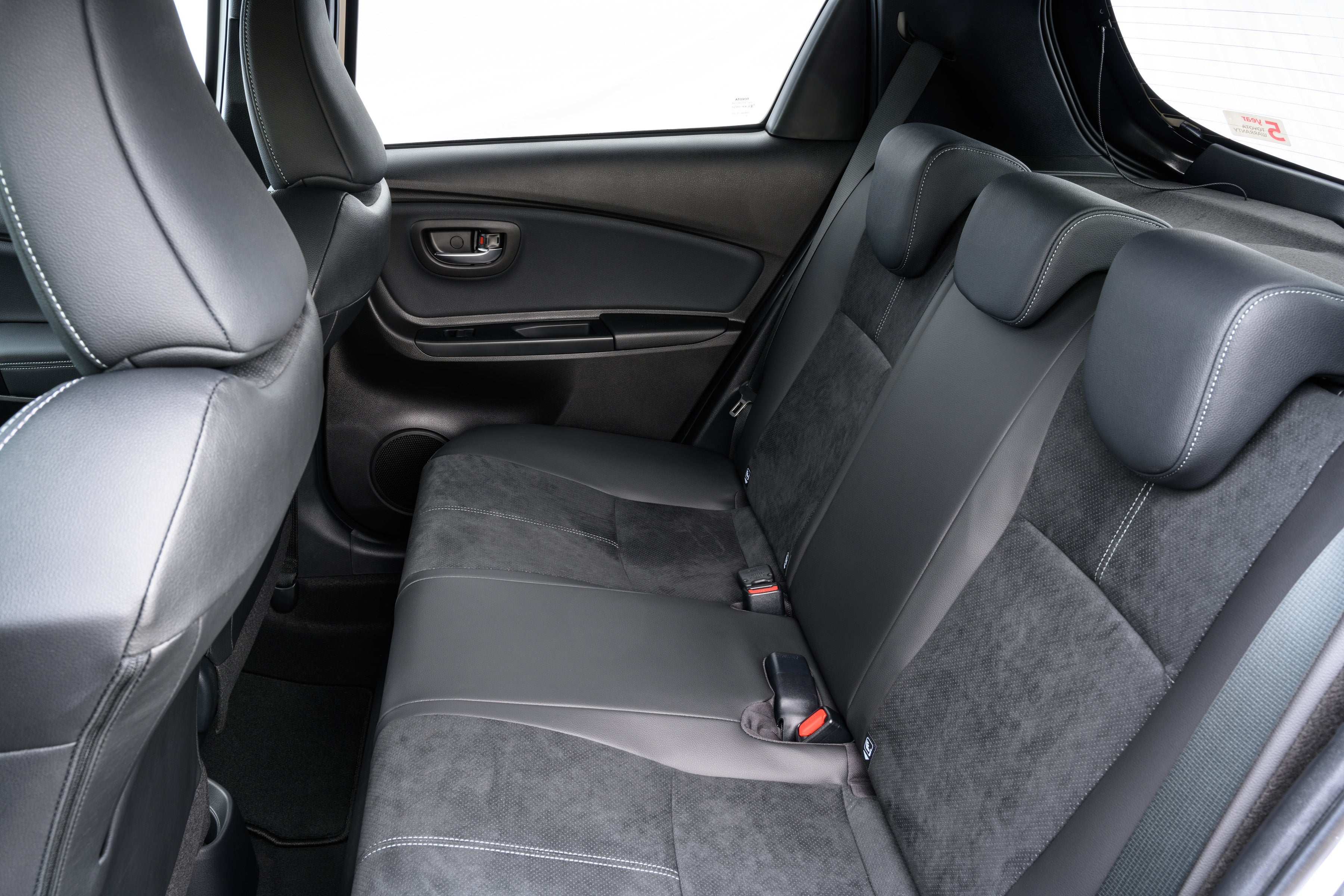 What will seem counterintuitive – if you've driven petrols and diesels in the past – is that the Yaris is actually at it's most economical in town. There the Toyota can run on electric most of the time and gets the best use of its regenerative brakes so fuel economy of 65mph is a realistic prospect.
That'll drop to 60mpg at the legal limit on the motorway. The Toyota Yaris automated driving tech helps fule economy at a cruise by taking the sting out of long drives and removing the temptation to speed as a result.
How reliable is the Toyota Yaris?
If you're looking for a reliable car that'll deliver many years of solid service, you'll want a Toyota. They have to be the most reliable mainstream car manufacturer, and we expect the Yaris to continue that tradition, while as a brand Toyota's been selling hybrid cars since long before they were in fashion.
Insurance group and costs
The Toyota Yaris will be cheap to insure because it qualifies for Group 13 or 14 insurance. That said, it'll cost you more to get covered than, say, a Volkswagen Polo which sits in insurance group 1-8 depending model. That is likely to be down to the Yaris' single 116PS engine being relatively powerful for a small car.
VED car tax: What is the annual road tax on a Toyota Yaris?
The Toyota Yaris produces CO2 emissions of between 92-112g/km depending on wheel size. Choose a version that produces between 91-100g/km CO2 and you'll pay tax of £135 in year one and £140 for every year thereafter – £10 less than other conventional small cars which don't qualify for the hybrid Yaris's Alternatively Fuelled Cars discount.
Yaris models producing between 101-110g/km or 111-130g/km of CO2 pay £155 or £175 respectively in the first year, before reducing to £140 for every year thereafter.
How much should you be paying for a used Toyota Yaris?
"The 2020 Toyota Yaris is so new, you'll not make a huge saving by buying second hand, in fact, some garages will charge you a small premium to get your hands on a car straight away."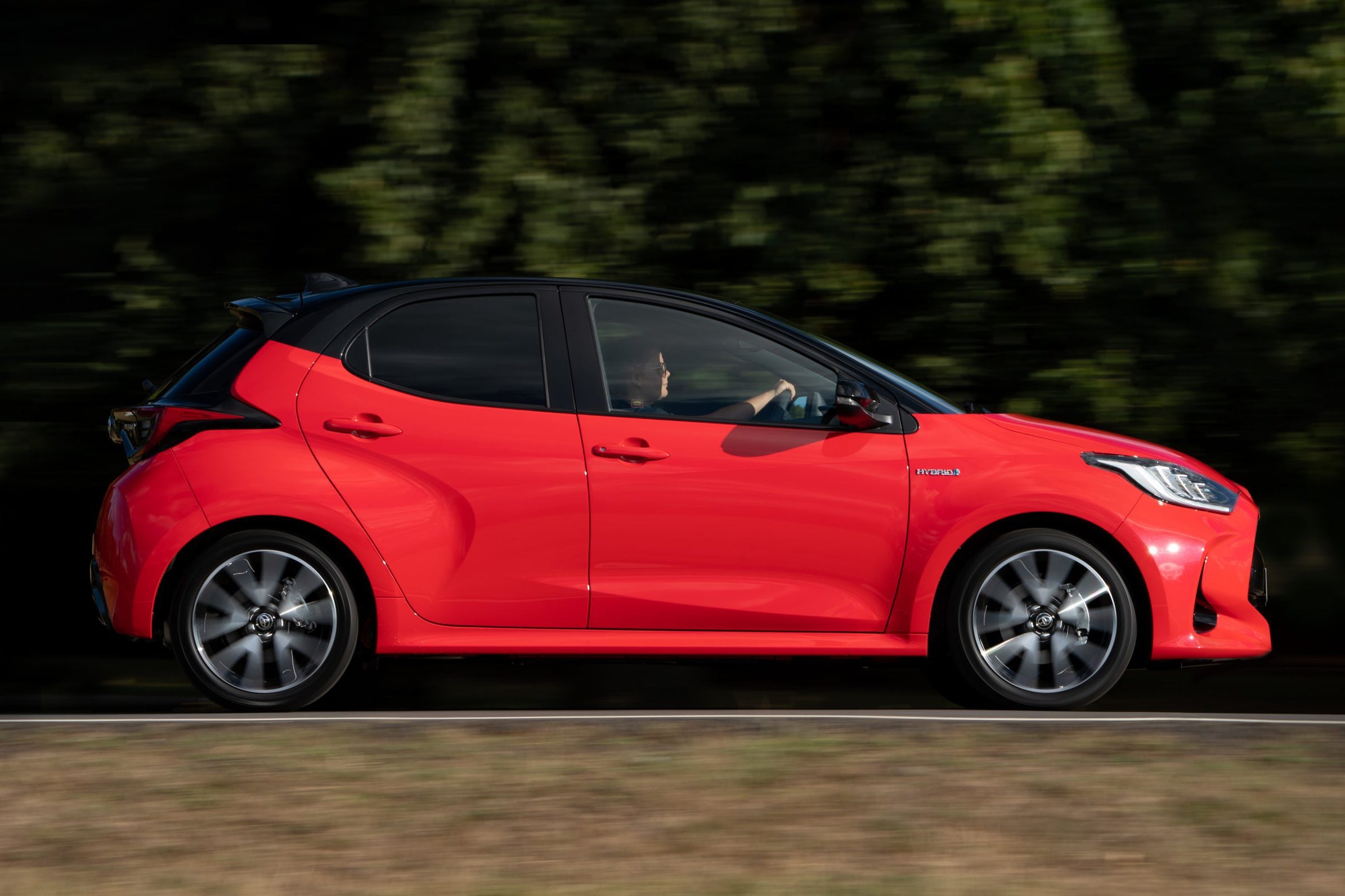 That being said, there are still some deals to be had. We saw a pre-registered top-specification, limited-run Launch Edition car up for sale for £23,500 – a £500 saving on buying factory-fresh. The cheapest car we saw, meanwhile, was a pre-registered Yaris in Design trim which was up for £19,500 – a near £1500 saving on a car from the factory.
Trim levels and standard equipment
The Toyota Yaris range kicks off with the Icon model though you wouldn't know it's the entry-level car from looking at its kit list.
It looks quite sporty thanks to its 16-inch alloy wheels, LED tail lights and boot-mounted spoiler. Inside, equipment highlights include things like a seven-inch infotainment screen with Apple CarPlay and Android Auto, automatic air conditioning, a reversing camera, plus auto lights and wipers. The Icon is the only model not to get the digital dashboard readouts and looks a touch basic as a result.
Toyota Yaris Design models solve that problem by adding the digital dashboard, swapping in an eight-inch centre screen, as well as adding electric rear windows. They're also smarter on the outside thanks to 16-inch machined alloy wheels, all LED lights and tinted rear windows.
Toyota Yaris Dynamic models are the sportiest of the lot. They add 17-inch alloy wheels but also get sports seats with added bolstering, an upgraded eight-speaker JBL stereo, dual-zone climate control, keyless entry and start, piano-black trims and a height-adjustable passenger seat.
Toyota Yaris Excel models feel the most luxurious thanks to their light grey upholstery and interior plastics that make the interior feel light and airy. They use Design trim as a base, adding different 17-inch alloy wheels, dual-zone climate control, folding wing mirrors, front and rear parking sensors, keyless entry and go, plus a height-adjustable passenger seat.
Toyota Yaris Launch Edition models represent the apex of the range and have everything bar the kitchen sink fitted as standard. Using Dynamic models as a base, they add kit like the 10-inch head-up display, blue ambient interior lighting, auto-folding mirrors with blind-spot warning and seats with contrast red stitching. They're easily spotted thanks to their Tokyo Fusion (red) and Eclipse Black pearlescent paint job.
Ask the heycar experts:
common questions
Is the Toyota Yaris automatic a good car?
The new Toyota Yaris only comes with an automatic gearbox which might put you off if you enjoy changing gear yourself. In truth, though, you're more likely to appreciate that it makes the Yaris easier and more relaxing to drive.
Is the Toyota Yaris comfortable?
The Toyota Yaris' silent electric running, plus its standard automatic gearbox and self-driving technology makes it the most comfortable small car on sale.

Why is the new Toyota Yaris so expensive?
It's true, the Toyota Yaris is quite expensive for a small car, but take account of its generous standard equipment list and you'll find it actually closely matches other small cars, which don't come with the Toyota's clever hybrid technology.

Get a month's free insurance for your new car with heycar
£--.--*
Monthly thereafter
Terms, conditions, exclusions and excesses apply.
What's included?
Fully comprehensive policy
Monthly subscription, cancel anytime
No deposit or interest charges
Price guarantee for 12 months
Manage your policy anytime, anywhere
No fees for changes and cancellations
‍We've assumed that you:
– Have had a full UK driving licence for two or more years
– Will be the registered owner and keeper of your car
– Haven't made any modifications to your car
– Have never been declined insurance
– Haven't had any claims or driving convictions
Toyota Yaris cars for sale on heycar
3,803
Number of cars available
£6.4K - £27K
Price bracket of these cars
Colours available on heycar
Keep me updated by email with the latest advice, news and offers from heycar
By submitting, you agree to our
privacy policy
.