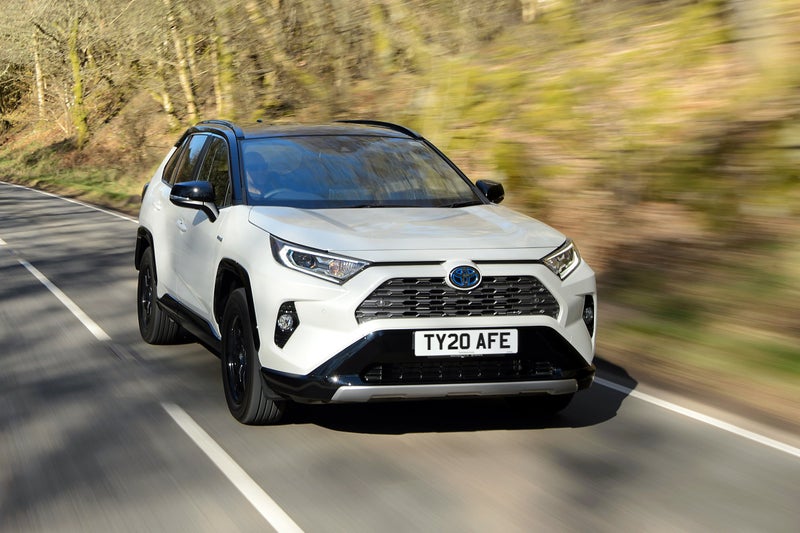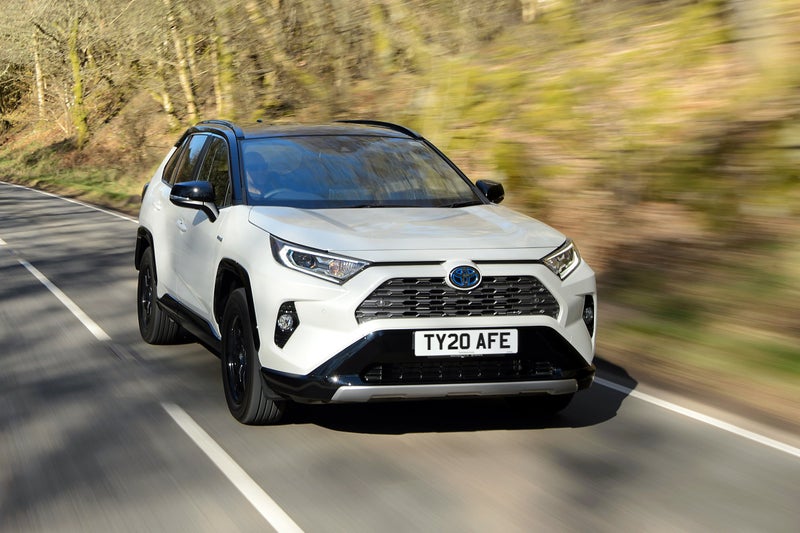 1/10
heycar rating
"Large, sturdy and economical SUV "
Quick overview
Pros
Huge boot will swallow pretty much anything
Quiet to drive in town and very cheap to run
Apple CarPlay and Android Auto are fitted as standard
Cons
The CVT gearbox makes the engine drone when accelerating hard
Parts of the interior feel very robust but not expensive
Well equipped, but pricey next to some alternatives
Overall verdict
On the inside
Driving
Cost to run
Prices and Specs
Common questions
Overall verdict on the Toyota RAV4
"The Toyota RAV4 set the trend for the SUV way back in the 1990s, and it is still setting trends now."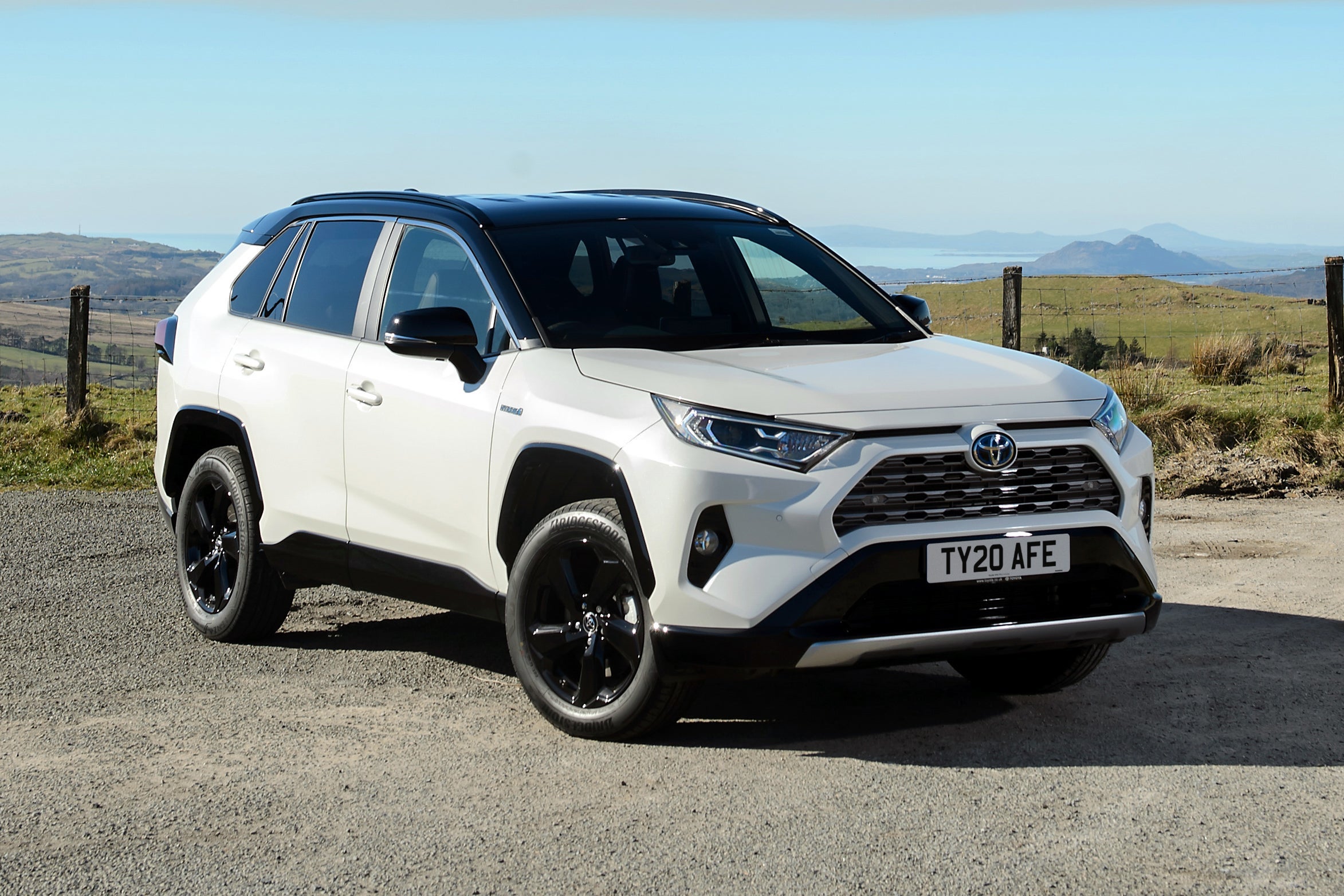 A lot has changed since the original Toyota RAV4 arrived in 1994. It's bigger, more complicated, now limited to 2.5-litre petrol hybrid powertrain only. The competition has also changed, from non-existent to absolutely packed. Rivals include the Volkswagen Tiguan, SEAT Tarraco, Skoda Kodiaq, Honda CR-V, Ford Kuga, Peugeot 5008 and many, many more. Continue to read our full 2022 Toyota RAV4 review to find out how it stacks up.
Compared to those cars, the Toyota RAV4's styling is a striking mixture of angles and creases like its body has been folded to create a giant origami model. It's striking but also not so polarising that it's likely to rub you up the wrong way.
There's not much going to annoy you about the inside, either. It feels solid and is relatively easy to operate, although a Volkswagen Tiguan is posher still and more intuitive to operate. Toyota could also have integrated the infotainment display more neatly, as it is, the screen looks like a bit of an afterthought, has blocky graphics and isn't very responsive. Also watch out for early cars that didn't come with Apple CarPlay and Android Auto, which are now fitted as standard.
Start considering practicality and the news gets better. The Toyota RAV4 has loads of room up front and a large back seat that'll happily sit three adults. There are numerous handy cubby spaces sprinkled around the interior that help keep it tidy and the boot is huge. You'll get a set of suitcases in there without having to remove the parcel shelf and with the rear seats down you can fit an adult's bike with an impressive amount of room to spare.
What's less impressive is the Toyota's engine range – you get one. In fairness, though, it does a good job of offering all things to all people. It's a hybrid with a 2.5-litre petrol engine backed up by an electric motor and a large battery. You might find our guide to the best hybrid SUVs useful if you're after a plug in SUV.
This combination means the Toyota RAV4 can turn in praise-worthy fuel economy figures in town because most of the time it runs on silent electric power. Factor in the standard automatic gearbox and this is one of the most relaxing cars of its type if you're driving through the city. Plus the standard reversing camera means parking the big Toyota isn't a pain.
On the motorway you'll find the RAV4's an adept cruiser. Sure, there's the usual complaint about the engine drone under acceleration caused by the CVT automatic gearbox, but it's relatively muted.
Anyway, the fact that all Toyota RAV4s come with active cruise control and lane assist – so they can accelerate, brake and steer autonomously on the motorway – makes up for this. Turn off the motorway and onto a country road and the Toyota handles corners safely and predictably but if you're looking for a more engaging SUV then you'll be better off with the Ford Kuga.
The RAV4 is a big practical SUV that's very well built and back by Toyota's excellent reputation for reliability. It comes as standard with a petrol-electric hybrid engine that makes it very economical and relaxing to drive.
Looking for a used car for sale? We've got 100s of Toyota Approved Used Cars for Sale for you to choose from, including a wide range of Toyota RAV4s for sale. If you're looking for the older version, you need our used Toyota RAV4 (2013-2019) review.
Is the Toyota RAV4 right for you?
If you want a family SUV with striking looks, build quality that makes a tank look fragile and an interior that'll swallow everything a family can throw at it, the Toyota RAV4 is well worth considering,
Sure, it's pricier than some rivals but it also comes very well equipped as standard with an eight-inch infotainment screen that has Apple CarPlay and Android Auto, climate control and autonomous driving aids that take the strain out of long motorway journeys.
The Toyota RAV4's unique selling point, however, is its petrol-electric hybrid engine which turns in impressive fuel economy and makes the Toyota a very relaxing car to drive in town.
What other cars are similar to the Toyota RAV4?
Comfort and design: Toyota RAV4 interior
"The RAV4's interior has a smart, modern design with a sculpted, multi-layer dashboard and a chunky centre console."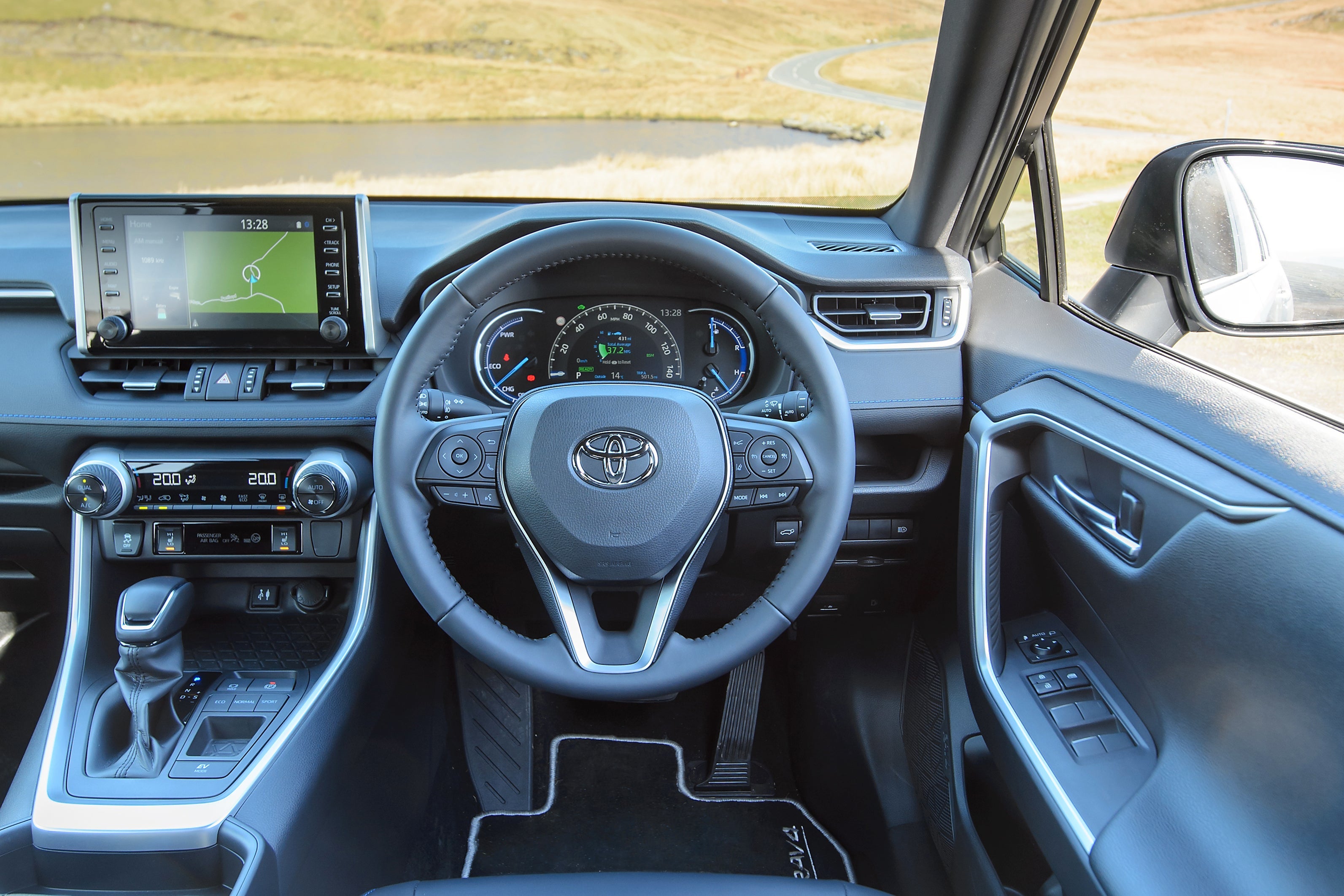 The only part we're not too keen on is the thick-bezeled infotainment screen, which looks a bit like someone has nicked a TV from Currys and cable tied it to the top of the dash.
In the infotainment's defence, it does at least have a couple of knobs that make it easy to skip tracks or turn up the radio, while the ventilation system's heater controls look like the buffers on a train – their prominent size making them easy to feel for when you're driving.
Either way, this is a comfortable car. All models come with a steering wheel that moves for height and reach and a driver's seat that can also be raised. You also get a wide and thickly padded centre armrest that leaves plenty of space between you and your front-seat passenger's elbows.
Naturally, moving up the range gets you more toys. Design models add keyless entry and a boot that opens and closes (very slowly) electrically. Dynamic models add electrical height and lumbar adjustment on the driver's seat and heated front seats. This sporty version of the RAV4 has seats that offer more lateral support to keep you in position if you're cornering aggressively.
Toyota RAV4 Excel models, meanwhile, are the luxurious option. They swap the black fabric seats you get in the rest of the range for a real leather interior that looks and smells posh but will also make it easier to clean up dirty marks and spills. Excel models have a driver's seat that's fully electrically adjustable and includes a memory function – so you can easily get your position back if you lend the car to someone else – and you also get a heated steering wheel.
Quality and finish
The Toyota RAV4 feels like a well-built, high-quality car. You get a dashboard that's soft squidgy to the touch and has plenty of metal-look trim pieces that stop you feeling like there's a tidal wave of black plastic bearing down on you. The swathe of stitched leather on the dashboard is another nice feature, sweeping onto the tops of the doors, it feels like something you'd find in a pricey Range Rover.
To make the interior feel as plush as possible, the optional panoramic sunroof is a good shout giving the car's interior a light and airy, luxurious ambience. It's available on all models but, strangely, if you specify it, Toyota automatically deletes the standard space-saver spare wheel.
The RAV4 doesn't get an entirely clean bill of health, though, while it feels very nice for the most part, further down the cabin you'll find plastics that are hard and scratchy. Cars like the Volkswagen Tiguan and Skoda Kodiaq use more consistently high-quality plastics.
Infotainment: Touchscreen, USB, nav and stereo in the Toyota RAV4
The RAV4 comes with an 8-inch infotainment screen that's prominent position means you only have to glance to look at it, which does make up for the slightly fuzzy, washed-out graphics.
It's a touchscreen design meaning it can be a fiddle to operate when you're bumping down the road, not helped by the Toyota's confusing menu layout. Ah well, at least the screen is flanked either side by a strip of buttons that let you quickly flick between menus.
Icon models don't have built-in navigation but all cars get Apple CarPlay and Android Auto and, to be honest, using either of their maps will be less frustrating than trying to operate the built-in nav system fitted to the rest of the RAV4 range.
In terms of the audio system, it doesn't matter which model you go for, they all get a six-speaker system that's fine, but probably won't hit the spot if you like your music to have clarity and punch. For that, you'll want the optional nine-speaker, 800W JBL system, although annoyingly it's only an option on high-end Toyota RAV4 Excel and Dynamic models.
Space and practicality: Toyota RAV4 boot space
Getting comfortable behind the wheel of the Toyota RAV4 should present no significant problems as all models come with a height-adjustable steering wheel and driver's seat. The RAV4's tall body also helps give you a great view out.
Get into the back and you'll see there's loads of room. Your six-footer friends will be fine in there even if you're just as tall sitting in front of them, there's plenty of knee and foot room and the large rear windows let in plenty of light.
Toyota also gives people in the back a few luxuries. They get a back seat that reclines a few degrees so you can stretch out on longer journeys, the rear air vent keeps the cabin temperature even and, on the same console, you'll find two USB sockets so your passengers can keep their phones charged.
The RAV4's even pretty decent with three in the back. Sure the middle seat is firmer and thinner, but a third passenger will have plenty of room for their feet. Meanwhile, the large and wide-opening rear doors give you plenty of room to fit a baby seat, even if you have to dig into the upholstery to find the Isofix points.
And if you have a baby the RAV4's boot is ideal. It'll swallow a stroller – and the rest – with no issues whatsoever, even if its 580-litre capacity is 140 litres down on what a Skoda Kodiaq offers. There's room in there for a set of suitcases with the parcel shelf left in place. Want to load the boot up to the roof? No problem, there's a space under the floor to neatly pack away the parcel shelf.
If anything, the Toyota's even more impressive when you fold away the back seats. The boot open is square, there's no load lip and the floor doesn't have any annoying steps to catch luggage on when you're loading. You can slide an adult's bicycle into place without having to dismantle it, leaving a good half meter between it and the tailgate.
Smaller storage spaces are also well covered. You get large front door pockets, slightly smaller versions in the rear, a tray for your phone upfront complete with wireless charging, front and rear cupholders and, above the large lockable glove box, an open tray that's a handy place to chuck a few pens.
If you've got a tight driveway, you may want to take note of the Toyota RAV4's dimensions. It measures 4600mm in length, 1855mm in width and is 1685mm tall.
Handling and ride quality: What is the Toyota RAV4 like to drive?
"If you fancy trying something a little more adventurous, the RAV4 is available with all-wheel drive that'll deal with light off-roading and slippery winter roads."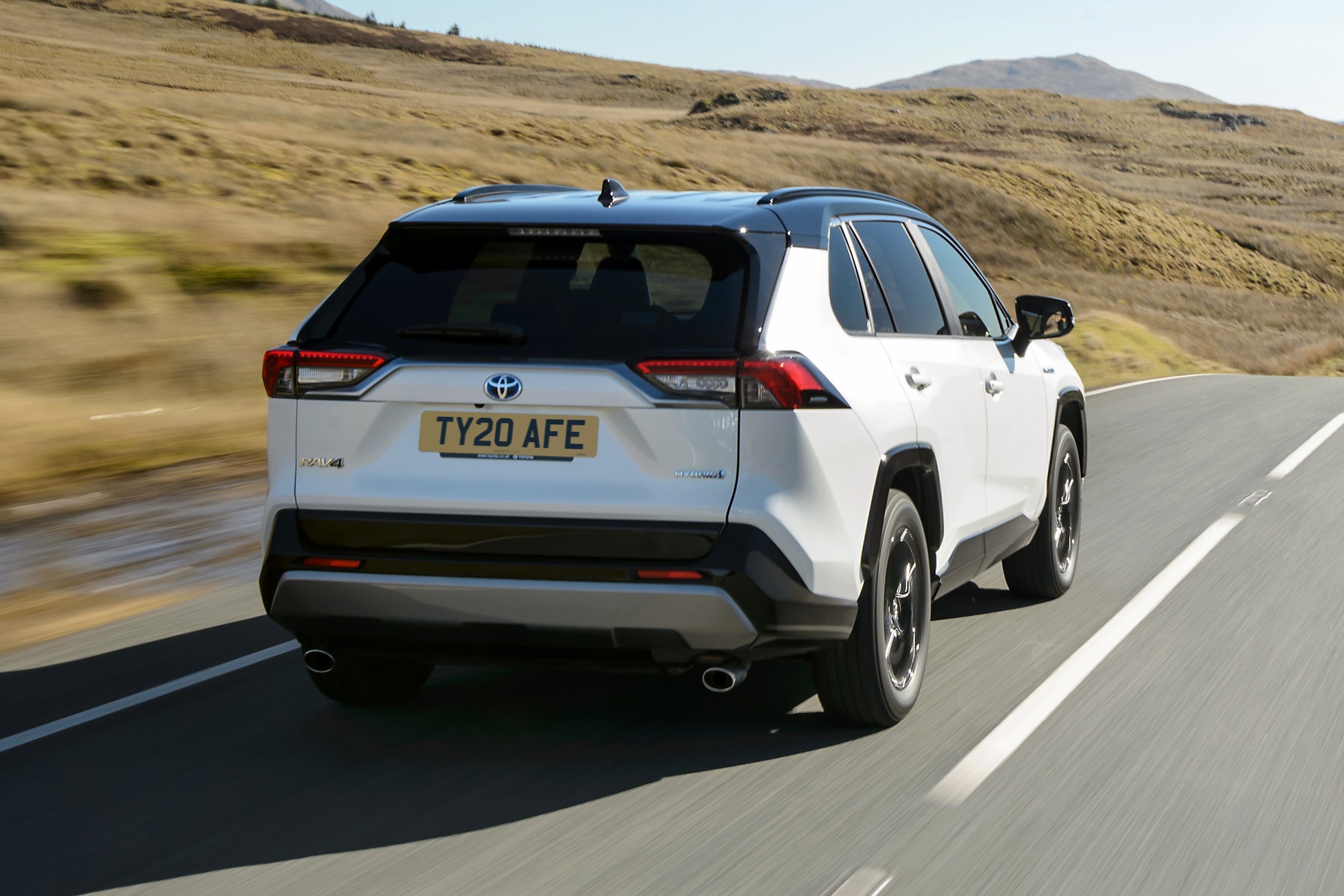 However, it may be more relevant if you tow a trailer because adding the AWD system increases the Toyota's tow limit from 800 to 1650kg.
And it's all thanks to the hybrid engine. It's the most advanced system Toyota has fitted to the RAV4 allowing the car to run in silent pure-electric mode for a few miles at a time.
Even when the petrol engine does engage, more often than not it's acting as a generator and barely working above idle so you'll hardly notice it. The only sound you will hear is the AVAS (Acoustic Vehicle Approach System) which produces a gentle hum to warn pedestrians that the Toyota's approaching.
Along with the clever stuff, the RAV4 also gets the fundamentals right. You get a great view out the front of the car and low-speed manoeuvring is easy thanks to the light steering and pedals, of course, the standard automatic gearbox means you'll not constantly be pumping a clutch pedal in stop-go traffic.
All models come with a reversing camera and rear sensors so you won't be nudging the car behind when you're slotting into a space and every RAV4 has wing mirrors that fold away when you park. Design models and above also get front sensors.
Head out on more open roads and you'll find the RAV4 deals with corners safely and predictably. You do sense that this is a heavy car – the hybrid tech adds weight – but it doesn't emulate the Leaning Tower of Pisa in bends and the steering makes the car easy to place on roads. If you want a genuinely engaging drive you'll be better off with a Ford Kuga, though.
That said, on long motorway jaunts, we'd stick with the RAV4. It's a relaxing car to travel in on a big drive, the suspension remains comfortable at higher speeds and the car can accelerate, brake and steer itself while automatically observing the speed limit (if you want it to) helping cut fatigue.
What engines and gearboxes are available in the Toyota RAV4?
The Toyota RAV4 is only available with one engine, it's a petrol-electric hybrid with a 2.5-litre petrol engine boosted by an electric motor to produce 128PS (front-wheel-drive models) or 222PS (AWD models). Getting from 0-62mph takes roughly eight seconds in both versions.
There might be lots of clever things going on underneath the Toyota's bonnet, but you'd never know it. The standard automatic gearbox means it's as tricky to drive as a super-sized dodgem and it has no problem keeping pace with fast-moving traffic. Overtaking is easy, too, though, as is always the case with CVT gearboxes, you'll have to put up with a constant engine drone while you do it.
Refinement and noise levels
The RAV4 is so quiet in town, EU law says Toyota must fit an Acoustic Vehicle Approach System just so pedestrians know it is coming so, as you can imagine, it's a very relaxing car to drive in.
This isn't quite so true at higher speeds when the RAV4 will be relying more heavily on the noisier petrol engine. That said, even on the motorway, the car is quiet with limited road noise even on the larger 18-inch wheels and barely any wind noise to speak off.
Safety equipment: How safe is the Toyota RAV4?
The Toyota RAV4 was awarded five-stars for safety when it was crash tested by Euro NCAP under 2019's extremely tough test conditions. It comes as standard with automatic emergency brakes that use a camera and radar to detect vehicles, cyclists and pedestrians, and will stop the car automatically if they sense an imminent front end impact.
Intelligent active cruise control is also standard. It can accelerate and brake the car automatically and read road signs, automatically matching the car to the current speed limit. Lane Trace Assist, meanwhile, means the car can drive itself completely autonomously, using the windscreen mounted camera to detect road markings, keeping it dead centre of its lane as it steers around corners.
Dynamic and Excel models add a blind-spot monitoring system that can warn you when another vehicle is approaching in your blind spot and rear cross-traffic alert, which will brake the car if you try to pull into oncoming traffic when reversing out of a parking space.
MPG and fuel costs: What does a Toyota RAV4 cost to run?
"The Toyota RAV4 is capable of returning around 50mpg – irrespective of whether you go for the front-wheel-drive or AWD model – and you can expect to see close to that even when you're driving in town."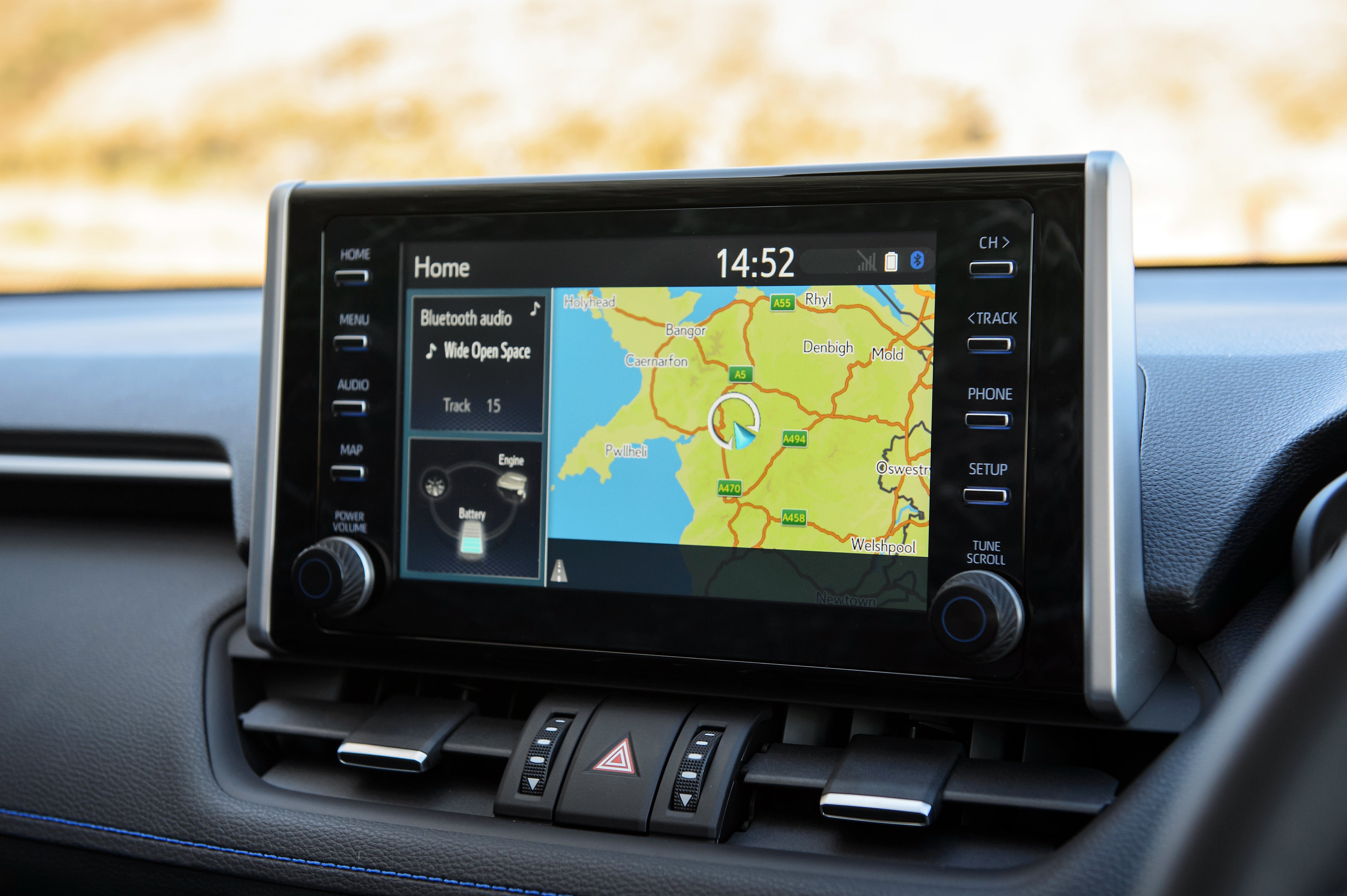 Want to get the best economy possible? Well, Toyota's infotainment can coach you on how to drive more efficiently and it can be quite a fun way to pass the time on a boring commute. The data can also be downloaded onto your phone via Toyota's MyT app complete with feedback on how to get the most out of the RAV4's hybrid engine.
In town is where the RAV4's at its most efficient because it's able to drive on electric power alone at city speeds and the regenerative brakes get lots of opportunities to scavenge lost energy in stop-go traffic.
If you do lots of motorway driving, though, you might be better off with a diesel version of an alternative such as the Skoda Kodiaq, which will be a tad more efficient at these higher speeds.
How reliable is a Toyota RAV4?
Toyota is probably the most reliable mainstream car manufacturer, and the RAV4 does little to tarnish that reputation. The brand's been selling hybrid cars since long before they were in fashion, and we have no doubt that the latest Toyota RAV4 will prove to be an extremely reliable SUV.
Insurance groups and costs
Insurance for the Toyota RAV4 varies depending on trim level. The basic Toyota RAV4 Icon sits in insurance group 25, while the RAV4 Design is in group 26 and top-of-the-range RAV4 Excel in group 30.
There are a few idiosyncrasies, though, so while front-wheel-drive Excel models sit in group 26, adding the Premium Pack – which includes the uprated stereo and a glass roof – moves insurance up to group 28 while adding AWD moves you up another two groups.
VED car tax: What is the annual road tax on a Toyota RAV4?
The RAV4 is cheap to tax. The standard car with 17-inch wheels costs £165 in the first year and £140 every year after, while if you're buying it as a company car it qualifies for 28% year one Benefit in Kind (BIK) tax. Models fitted with 18-inch wheels cost £205 in year one but the cost remains the same after that, while BIK sits at 29%.
How much should you be paying for a used Toyota RAV4?
"The Toyota RAV4 lineup ranges from just under £31,000 for a front-wheel-drive Icon model, to a little over £38,000 for an all-wheel-drive Dynamic car."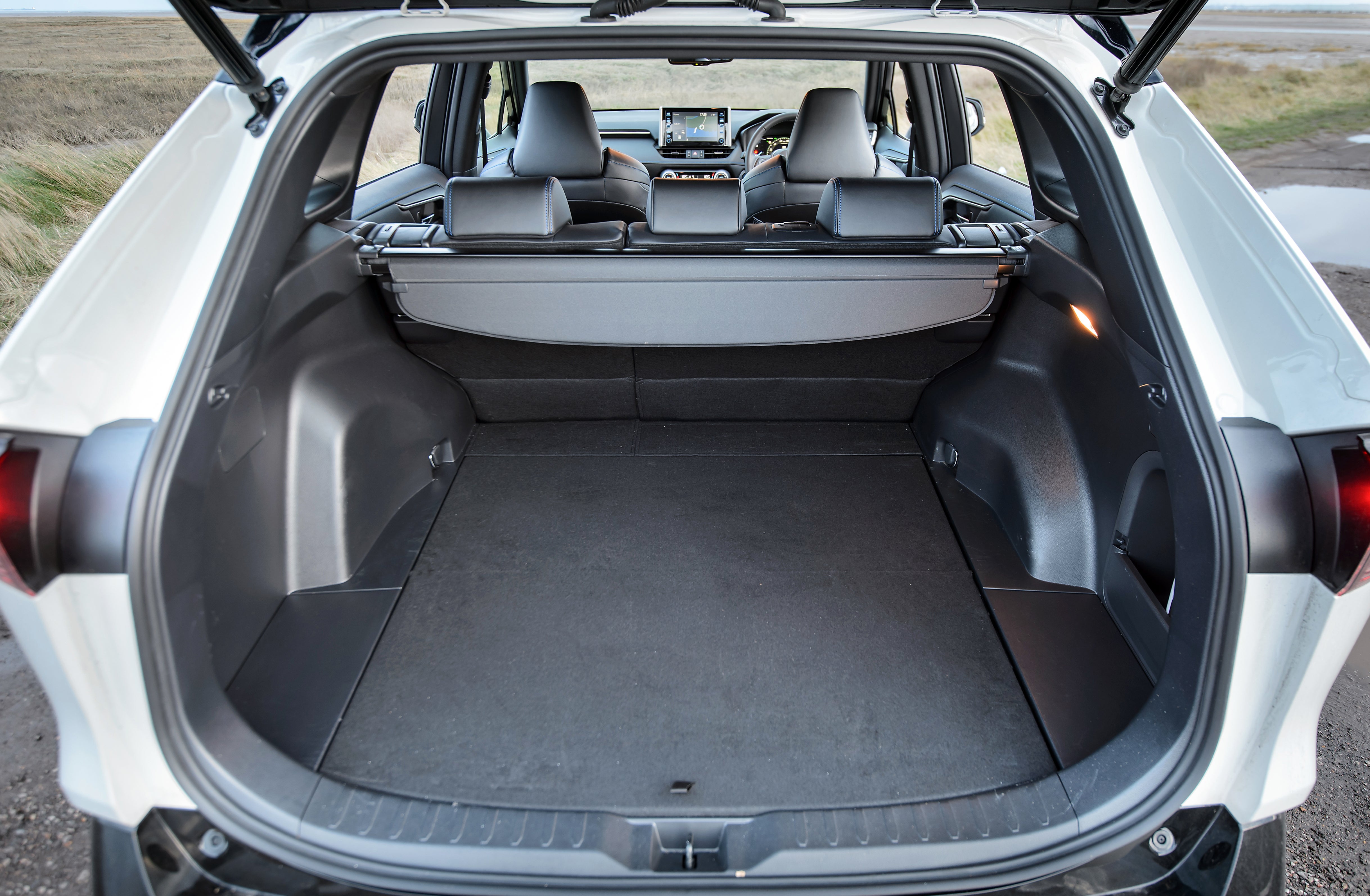 The model we'd choose – and the one that's most popular on the secondhand market – is the Toyota RAV4 Excel, although you should only bother with the all-wheel-drive if you need the extra grip or intend to use the car for towing. Excel models feel a little bit posher than the rest of the range thanks to their leather seats and glowing ambient interior lighting.
Buy second hand and you stand to make a worthwhile saving on the front-wheel-drive model's £37,200 list price. We found a 2019 example with 18,000 miles up for sale for less than £30,000. A brand-new pre-registered car is yours for £33,900, a useful saving over a car coming straight from the factory.
Trim levels and standard equipment
You're not going to feel short-changed on equipment even if you go for a basic Toyota RAV4 Icon. Standard equipment includes an eight-inch touchscreen infotainment system that has Apple CarPlay and Android Auto, a reversing camera, dual-zone climate control and wing mirrors that fold out the way when you park. On the outside, you get 17-inch alloy wheels, tinted rear windows and roof bars, while inside you'll find black fabric upholstery.
The Toyota RAV4 Design is recognisable by its swirl-style 18-inch alloy wheels. Inside, the 8-inch touchscreen now gets built-in sat-nav and front parking sensors. Design models also have handy keyless entry – so you don't need to get your key out of your pocket to unlock the car – and an electric opening and closing boot.
The Toyota RAV4 Excel keeps the same 18-inch wheels but add useful puddle lights that illuminate the area around the car when you unlock it. You also get more powerful projector LED headlights with washers. Excel models get lots of extra kit inside, too, most notably their posh leather interior, but you also get heated front seats, an electrically adjustable driver's seat with lumbar support, ambient lighting, a heated steering wheel and heated wipers that won't get frozen to the windscreen in winter. Excel trim also boosts safety adding a blind-spot monitoring system and a system that'll brake the car if you try to reverse out into oncoming traffic.
The Toyota RAV4 Dynamic doesn't get the same amount of kit but do look sportier. They get 18-inch wheels finished in gloss black, a gloss black roof, gloss black wheel arch trims and gloss black bumpers. Dynamic models get the same additional safety features as Excel cars as well as their puddle lights and ambient interior lighting, while the rest of their equipment list is shared with Design versions of the RAV4.
Ask the heycar experts:
common questions
Is the Toyota RAV4 a reliable car?
The Toyota RAV4 is one of the most reliable SUVs on sale today, consistently performing well in ownership and reliability surveys. If you have your RAV4 serviced by Toyota, it'll be covered under the brand's Relax warranty for up to 10 years/100,000 miles.

Should I buy a Toyota RAV4?
If you're looking for a practical SUV that'll be very efficient and cheap to run, the Toyota RAV4 is a great choice. It might not be as desirable as premium alternatives, but it looks sharper than old models, while the latest RAV4's interior is better than ever.

Which Toyota RAV4 should I buy?
Even the most affordable Toyota RAV4 Icon is well equipped with 17-inch alloy wheels, a reversing camera and a seven-inch touchscreen media system with Apple CarPlay and Android Auto. If you're on a budget, this is the car for you.

Get a month's free insurance for your new car with heycar
£--.--*
Monthly thereafter
Terms, conditions, exclusions and excesses apply.
What's included?
Fully comprehensive policy
Monthly subscription, cancel anytime
No deposit or interest charges
Price guarantee for 12 months
Manage your policy anytime, anywhere
No fees for changes and cancellations
‍We've assumed that you:
– Have had a full UK driving licence for two or more years
– Will be the registered owner and keeper of your car
– Haven't made any modifications to your car
– Have never been declined insurance
– Haven't had any claims or driving convictions
Toyota RAV4 cars for sale on heycar
3,768
Number of cars available
£10K - £47K
Price bracket of these cars
Colours available on heycar
Keep me updated by email with the latest advice, news and offers from heycar
By submitting, you agree to our
privacy policy
.