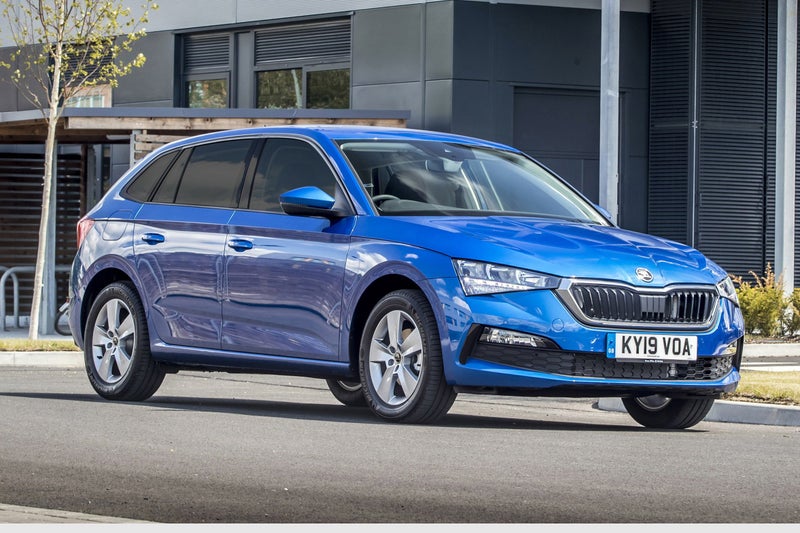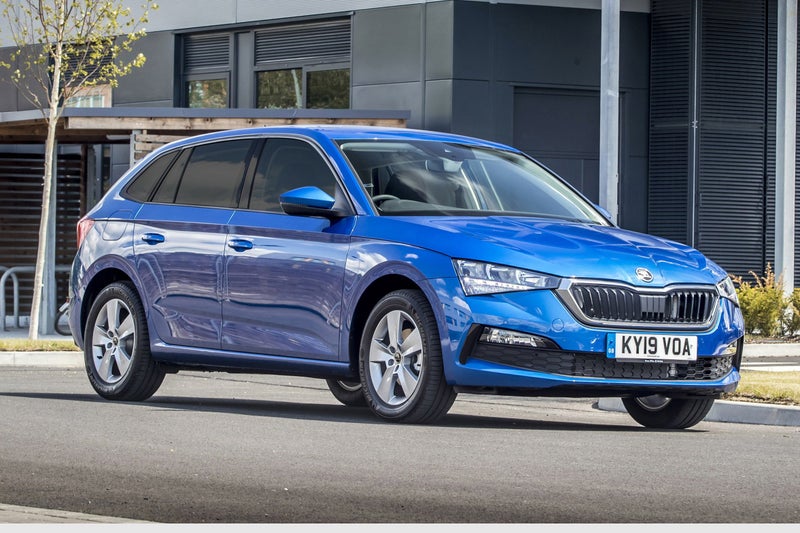 1/10
heycar rating
"Skoda's budget Ford Focus Rival"
Launched: 2019

Small hatch

Petrol, diesel
Quick overview
Pros
Comfortable and secure on the road
Roomy cabin and a big boot
More affordable than most of the competition
Cons
Interior feels rather low on quality
Some items of standard kit are missing
Very basic infotainment on entry-level model
Overall verdict
On the inside
Driving
Cost to run
Prices and Specs
Common questions
Overall verdict on the Skoda Scala
"Sibling rivalry can be a powerful thing. Just look at Skoda's range of family hatchbacks. First, you have the older sibling, the Octavia. Popular. Successful. Established. Good at everything. Then there's the poor little Scala, the younger of the pair, who has to come along and make a name for itself in big school, while always trying to measure up to its big brother."
Actually, it's not like that with the Skoda Scala. This isn't a car that's trying to be a carbon-copy of its outstanding elder sibling. It has its own character, and it's designed to offer something different and we'll explain all in our Skoda Scala review.
While the Octavia is - and continues to be - popular for providing limousine space for hatchback money, along with loads of luxury kit and a posh-feeling cabin, the Skoda Scala caters for different buyers. Not everyone needs as much space as the Octavia provides, and not everyone cares as much about quality and kit as they do about the pricetag. With that in mind, the Scala is a smaller, more budget-focused offering to satisfy those people who might otherwise be drawn to a Kia Ceed or Vauxhall Astra.
Of course, when we say 'smaller', everything is relative. The Octavia is enormous inside by class standards, and so the smaller Skoda Scala is still one of the roomiest cars in the class, both in the passenger compartment and in the boot. Yes, you will see evidence of cost-cutting in other areas: the interior is trimmed with fairly dull-looking grey plastics, and while lots of equipment is offered, not a great deal of it is standard. Still, what do you expect when the pricetag undercuts those of pretty much every rival?
Importantly, you won't detect any signs of cost-cutting on the road. The Skoda Scala is an impressively comfortable and easy-going car to drive, with a compliant ride, controlled handling and perky and efficient engines.
You'll also enjoy the fantastic all-round visibility it gives you, the user-friendly nature of all the various controls and the peace-of-mind you get from its five-star Euro NCAP safety rating. In fact, quality and kit-list aside, the Skoda Scala is an exceptionally good all-rounder. And off for a bargain-basement price. If you like the finer things in life, it might not be for you, but when you stand to save thousands, surely it's worth a look, right?
Is the 2022 Skoda Scala right for you?
Are you looking for as much car as you can possibly get for as little cash as possible? That's always been where Skoda has been able to trump most rivals, and so it continues with the Scala. This is one of the roomiest cars in the class, and also one of the most affordable. However, Skoda is already covered in this area of the market by the excellent Octavia, so why have the Scala as well?
Well, while the Octavia is an even roomier, slightly pricier and more upmarket offering, the Skoda Scala is designed for those people who don't need quite so much space, and are operating on a rather tighter budget. And on that score, it does a fantastic job. You might have to forgive a few iffy interior plastics, and forego some items of luxury kit, but the Scala is a really well-rounded performer in every other area.
What's the best Skoda Scala model/engine to choose?
For our money, the Skoda Scala makes most sense as a petrol (badged TSI), and it's the 115PS version of the 1.0-litre that has impressed us most so far. It's actually more efficient than the entry-level 95PS option, but it still keeps purchase prices down, and it's impressively smooth and punchy.
When it comes to your choice of trim level, none of them are ideal to be honest. The ones at the bottom of the range are rather spartan, and while the ones at the top of the range are much better, there's still quite a bit of stuff you'd expect as standard that buyers are required to pay extra for. For us, the best compromise is the second-rung Skoda Scala SE, which gives you most of what you really need without taking purchase prices too high.
What other cars are similar to the Skoda Scala?
The Skoda Scala has no shortage of competitors, as this is one of the most fiercely-fought sectors in all of motoring. Sitting at the more affordable end of the family hatchback scale, the main competition comes from cars like the Ford Focus, Hyundai i30, Kia Ceed and Vauxhall Astra.
The Volkswagen Golf costs buyers a little bit more, and bridges the gap to more premium offerings like the Audi A3, BMW 1 Series and Mercedes A-Class. You also have dozens of small SUVs competing for the same cash.
Comfort and design: Skoda Scala interior
"The driver's seat is fairly supportive - although some drivers might welcome a bit more side support - and there's bags of adjustment in the seat and steering wheel to help you find a comfy driving position. The seat moves manually in all versions, and if you want electric seat adjustment, you'd better pray the original owner raided the options list."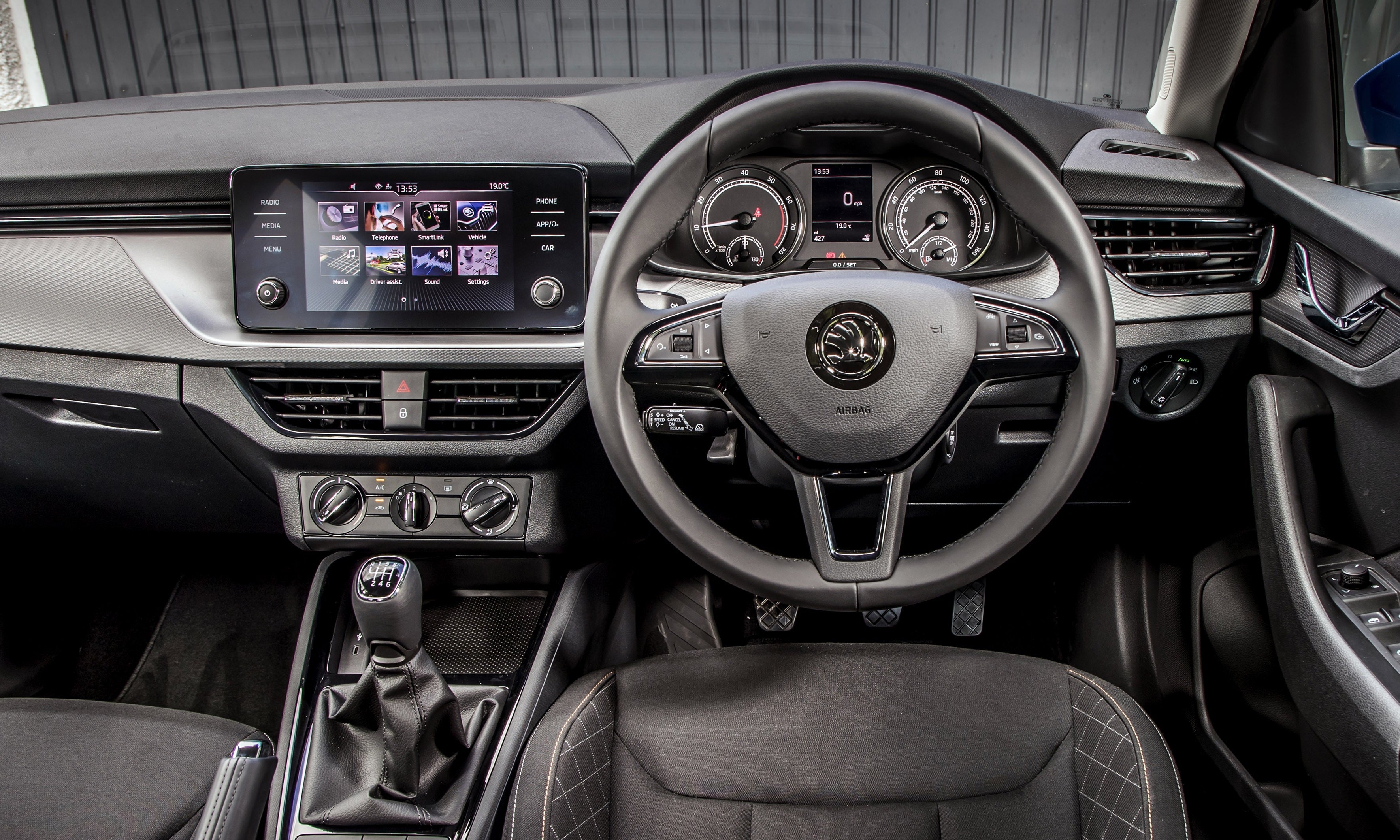 Happily, visibility is better than it is in the majority of the Scala's rivals. The skinny windscreen pillars mean your view isn't blocked at junctions, and thanks to similarly skinny pillars at the rear, either side of a large, square rear window, your rear-view is also impressively clear.
What we really like, though, is the simplicity of the dashboard layout. While most carmakers these days are trying to cut down the number of physical switches and buttons by using touch-sensitive panels or working various functions - like ventilation controls, for instance - into the infotainment system, the Scala is much more traditional, and it's all the better for it. Physical dials and buttons are much easier - and therefore less distracting - to use on the move, and all of the Scala's are logically placed, well marked and easy to operate at a glance.
Quality and finish
This is one area in which the Skoda Scala's budget leanings are evident. There's some soft-touch plastic on top of the dashboard, but pretty much everything else is constructed from stuff that's harder, scratchier and less tactile.
What's more, there aren't many additional trim pieces used to add a little variety to the cabin's range of colours and textures, giving a rather monotone feel. In truth, most rivals have a more appealing interior than the Scala, and that's the case regardless of how far up the Scala's trim structure you wander.
That said, while the materials aren't the last word in plushness, they do look and feel incredibly robust, and the substantial way in which they're bolted together also helps give the Skoda Scala a built-to-last feel.
Infotainment: Touchscreen, USB, sat nav and stereo in the Skoda Scala
The nature of the infotainment system you get depends entirely on the grade of car you choose. We'd avoid the entry-level Skoda Scala S on this score alone, because it gets a very basic system with a tiny 6.5-inch touchscreen system. It comes with Bluetooth, DAB radio, four speakers and a couple of USB-C ports, but that's about it.
Upgrade to the Scala SE, and you get a bigger 8.0-inch screen with eight speakers, but the biggest difference is that it comes with Smartlink, a stem that rolls up Apple Carplay, Android Auto and Mirrorlink - the most common smartphone integration systems - into one package. So, whatever phone you have, the Scala should be able to work with it, and it means you can use your phone's navigation functionality through the car's screen.
The Skoda Scala SE L and the Monte Carlo both get a system with a bigger 9.2-inch screen and built-in navigation, along with the Virtual Cockpit digital instrument screen found in high-end Volkswagen Group models. These look great and work well, but there's very little wrong with the conventional dials found in other Scalas.
Each touchscreen system uses the same basic user interface, and it's pretty intuitive and easy to find your way around. Being a touchscreen, it's a little more distracting than some other types of interface because you have to stare at the screen so intently to make sure you hit the right bit, but as touchscreens go, it's not bad at all.
Space and practicality: Skoda Scala boot space
The Skoda Scala is 4362mm long, 1988mm wide (including door mirrors) and 1471mm tall. That means it's slightly bigger than a Volkswagen Golf or Ford Focus.
Providing maximum space for minimum money has always been Skoda's party piece, and the Scala is no different. Nobody's going to struggle for space in the front seats, and there's also more rear space than in most rivals, with generous headroom and legroom that allows lofty passengers to stretch out. A pair of bulky child seats will be no bother, either.
The cabin is narrower than it is in some rivals, making it a bit more of a squeeze to carry three people across the rear bench, but there isn't a car in this class that can perform such a task without forcing passengers to get overly familiar with each other. At least the middle seat is wide and not too raised, and because the central transmission tunnel is relatively narrow, it's not uncomfortable to sit with your feet either side of it. Those either side of the middleman also get lots of space under the front seats for their feet.
With a massive 467 litres of luggage space, the Scala's boot is also considerably bigger than you get in most rivals. The Octavia and Honda Civic have more still, but the Scala has pretty much every other rival beaten on this score. The space is also a nice square shape, and the rear seats fold in a 60-40 split to allow you to boost your load-carrying capacity. However, those seats lie at a slight angle, and there's a sizeable step between them and the boot floor, not to mention a sizeable load bit at the boot opening. This can be levelled off by using the variable boot floor, but it's a bit disappointing that this is an optional extra on all versions.
Handling and ride quality: What is the Skoda Scala like to drive?
"The Skoda Scala's standard suspension does a really good job. It has a soft, forgiving set-up that keeps life impressively comfortable and cosseting, and that's regardless of whether you're crawling along craggy urban streets or steaming along motorways. "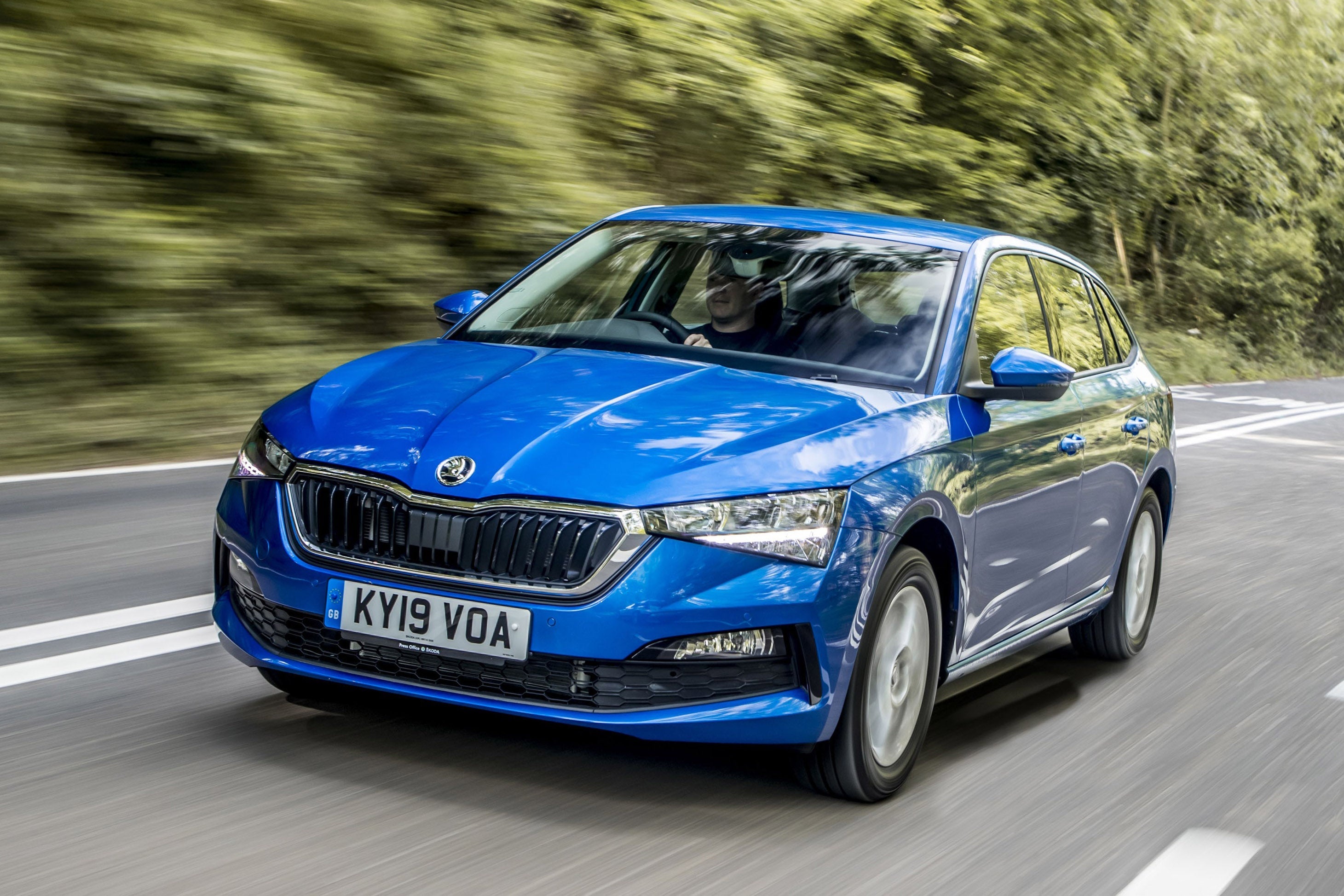 Despite the Skoda Scala's impressive comfort, there's still enough control in the suspension to keep the body from bouncing up and down too much on undulating country roads, or from leaning over too much in bends, making the car feel secure and tidy.
Okay, it's not the sharpest-handling hatchback you'll ever drive - a Ford Focus will provide plenty more thrills for keen drivers - but its mixture of civility and security is arguably more important, and certainly worth the trade-off.
The Scala is also offered with an adaptive sports suspension which has to be added from the options list, costing buyers extra. This changes its behaviour according to which driving mode you select. Even without the extra cost, we'd avoid it. Regardless of the mode, it makes the ride quite a lot firmer and lumpier, and it doesn't really make the car any more enjoyable in the corners.
What engines and gearboxes are available with the Skoda Scala?
Scala buyers have the choice of three turbocharged TSI petrol engines: a pair of 1.0 TSI three-cylinder engines with either 95PS or 115PS, and a four-cylinder 1.5 TSI with 150PS.
The 115PS is a proper little belter. With impressive low-down pull, it feels responsive and surprisingly strong from anywhere on the rev range, so not only is your progress adequately brisk, it's also easy and effortless.
The 1.5 TSI is a fraction quicker against the stopwatch, and has a similarly perky character. However, in 90 percent of driving situations, it doesn't feel a whole lot faster than the smaller engine, so we'd probably save the extra it costs to buy.
A diesel choice is also offered, a 1.6 TDI with 115PS. It gives you decent pace, but it doesn't feel as lively or as eager as the petrol, and overall, it doesn't suit the car as well. It cost quite a bit more than the equivalently powered petrol engine, too, and you'll have to cover a lot of miles before its superior fuel economy overturns the difference.
All engines are offered with a reasonably slick six-speed manual gearbox, while all but the 95PS petrol are also offered with a seven-speed twin-clutch automatic. It slurs through the gears pretty effectively, keeping your progress smooth and responsive.
Refinement and noise levels
The smallest petrol engines may be three-cylinder units, but they do a good impression of ones with an extra cylinder, staying smooth at all times and not getting too thrummy or thrashy when you rev them hard.
Even so, the four-cylinder 1.5 TSI is quieter and smoother still, with even fewer vibrations making their way through to the cabin. The diesel is the most rowdy engine of the bunch, with a distinct clatter at idle and when you pile a few revs on. However, it's not too bad compared with the diesel engines in some rivals, and it settles down well enough once you reach motorway cruising speeds.
Compared with rivals, the Scala is a bit less civilised in other ways, though. There's more wind and road noise to be heard at high speed, and you hear a fraction more from the Skoda's suspension as it goes about its work. Still, while it lags behind its best rivals here, it's still not a raucous way of getting around. What's more, its nicely weighted, consistent feeling controls make the Scala easy to drive smoothly.
Safety equipment: How safe is the Skoda Scala?
Bit of a mixed bag here, if we're honest. Importantly, the Scala scored the full five-star rating when it was smashed into various things by the experts at Euro NCAP, and its individual section ratings also look reasonably good as well.
The safety kit you get as standard includes a very run-of-the-mill six airbags, automatic emergency braking, lane assist and automatic emergency calling. However, lots of other stuff that rivals might provide as standard cost extra on the Scala, a driver's knee airbag and front parking sensors, for instance. Buyers also have to pay extra for adaptive cruise control and a self-parking function. A space-saver spare wheel is included, though.
MPG and fuel costs: What does a Skoda Scala cost to run?
"It's no surprise that, according to the official figures, the diesel will give you the greatest amount of range for every gallon of fuel you put in. The latest WLTP figures suggest that up to 60mpg is possible, dropping to around 56mpg if you add the automatic gearbox."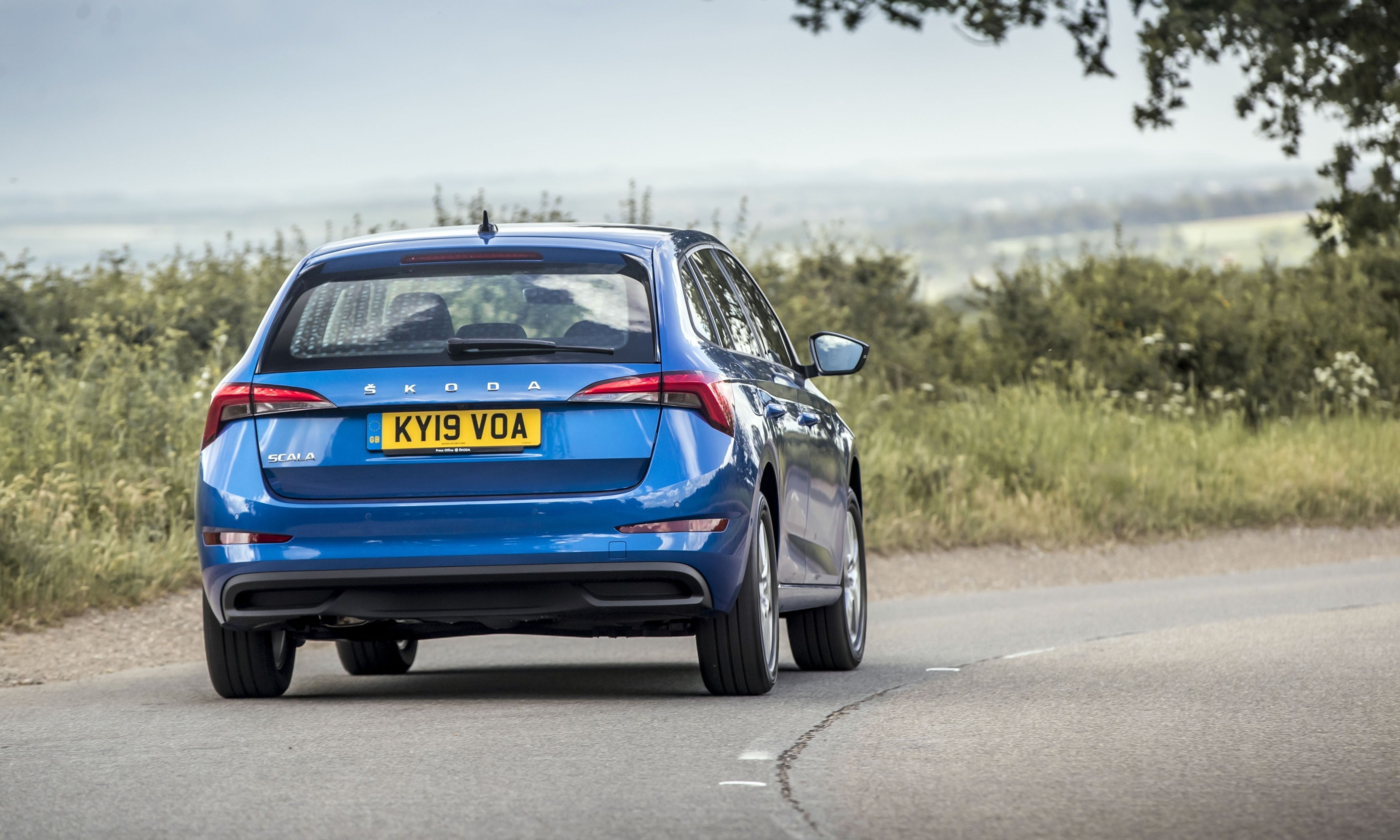 Before you buy, though, make sure you're going to cover enough miles to make up for the considerable amount more you'll pay for the diesel. The best of the petrols is actually the 115PS version of the 1.0 TSI, with a figure of 51mpg compared with the weaker 95PS version's 50mpg. However, the punchier engine's return drops to 48mpg if you add the twin-clutch automatic, while the 1.5 TSI delivers 49mpg in manual form and 46mpg as an auto'.
How reliable is a Skoda Scala?
Skoda might be a budget brand, but it's not going to leave you stranded on the side of a motorway. It came second in the 2020 HonestJohn.co.uk Satisfaction Index, narrowly losing out to premium carmaker Lexus.
The Scala's too new for any real idea of long-term reliability, but it shares engines and mechanical bits with a wide range of Volkswagen Group cars. That means it ought to be pretty dependable, while sourcing parts shouldn't be an issue, either.
Insurance groups and costs
If you're buying a budget-focused car like the Skoda Scala, you don't want to pay a king's ransom to insure it, and the good news is that you won't. Insurance groupings range from 10 at the bottom of the scale to 19 at the top, with most versions sitting at around the 14 mark. So, if you have a decent no-claims-bonus, premiums should be very palatable.
VED car tax: What is the annual road tax on a Skoda Scala?
Easy one, this. Whichever version of the Scala you pick, you'll pay annual VED tax of £150 per year. That's because it was introduced in 2019, after the Government had brought in a flat rate for petrol and diesel cars, and no version is expensive enough (even if you add all the optional extras it's possible to add) to make it liable for the temporary surcharge of £325.
Company car users pay Benefit-in-kind tax on 28% of the car's value for most versions of the 1.0 TSI, but that rises up to 33% for the diesel automatic.
How much should you be paying for a used Skoda Scala?
"The Skoda Scala is priced to undercut its rivals, and it does. Compared with rivals like the Volkswagen Golf and Ford Focus, it undercuts them by a lot, and with rivals like the Kia Ceed and Vauxhall Astra, it undercuts them by less, but still by a useful amount."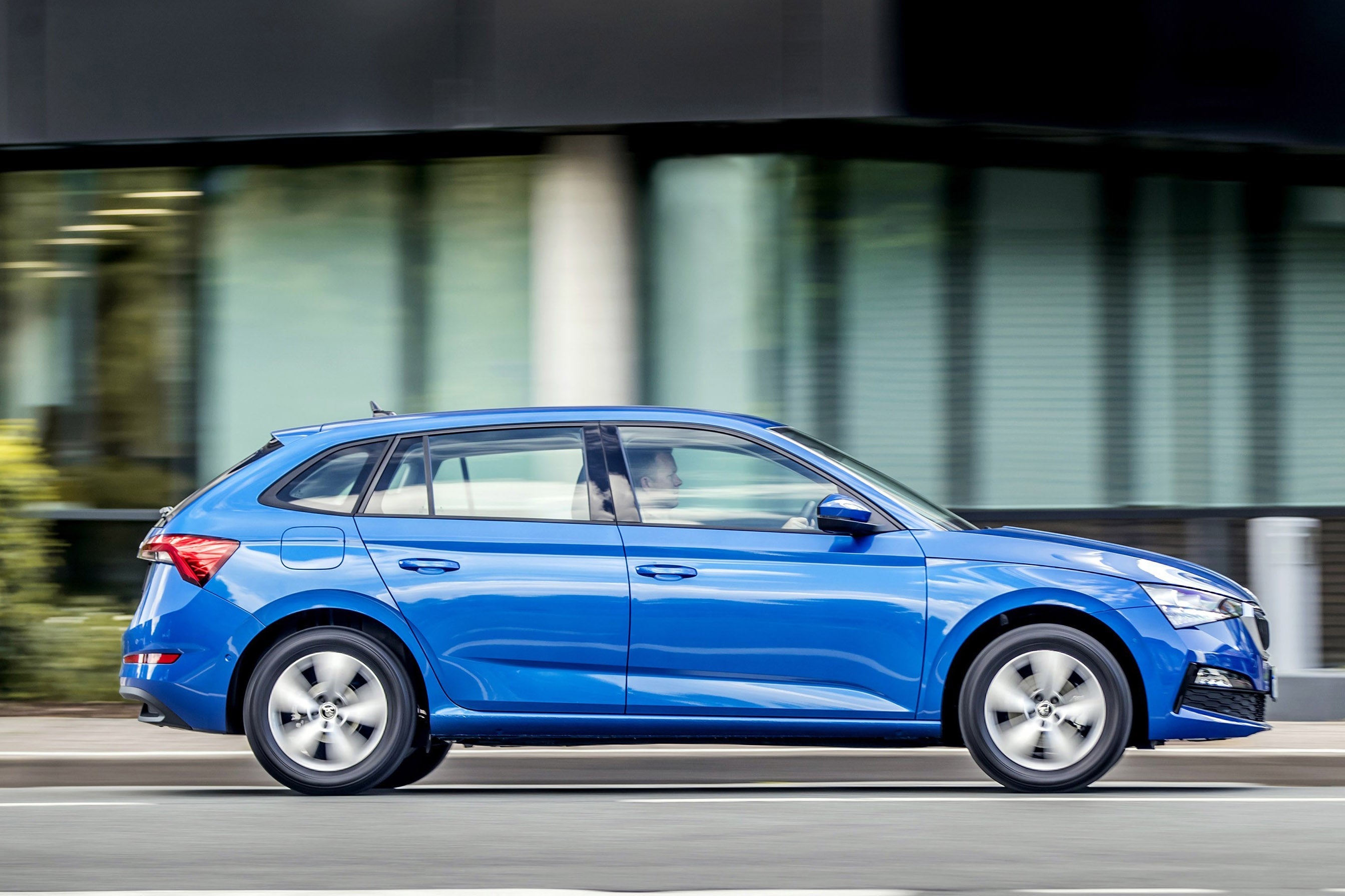 At the time of writing, prices start from around £17,000 for the 1.0 TSI 95 manual Skoda Scala S, and rise to almost £26,000 for the 1.5 TSI 150 Monte Carlo automatic. Our favoured version, the 1.0 TSI 115 SE manual, checks in at a shade over £19,000, which represents stunning value, while the cheapest diesel version - the 1.6 TDI SE manual - would set you back a little over £21,000.
The even better news for used buyers is that the Scala doesn't cling onto its value as well as most rivals, so prices for second-hand examples will be even lower. Obviously, only having been released in 2019, prices haven't had a chance to come down all that far yet, but check our listings and you'll find lots of very tempting-looking examples of our favourite version for less than £14,000.
Trim levels and standard equipment
On top of the safety and infotainment kit we've already talked about, the entry-level Skoda Scala S comes with alloy wheels, LED headlights, manual air-conditioning, remote locking, four powered windows and electric door mirror adjustment. We reckon it's worth upgrading to the SE for the better infotainment system alone, but doing so also earns you niceties including cruise control, automatic lights and wipers, front foglamps and rear parking sensors.
The price jump to Scala SE L is considerable, and we think most buyers will be happy enough with the SE, but it does earn you the top-grade infotainment system, privacy glass, two-zone climate control, cornering foglamps, LED rear lights, part-suede-effect upholstery and keyless go.
The range tops out with the Skoda Scala Monte Carlo, which adds sportier styling touches, a panoramic roof and a few extra leather bits dotted around the cabin. However, the amount of stuff left on the options list, even on the range-topping versions, is perhaps a little surprising. Electrically adjusting seats, part-leather upholstery, a reversing camera, adaptive cruise control, wireless phone charging, a variable boot floor, front parking sensors and heated seats are all available, but no version gets them as standard.
Ask the heycar experts:
common questions
What is the Skoda Scala based on?
The Skoda Scala isn't really based on another model, but it does use a common set of Volkswagen Group components and parts that you'll see in many other models from Volkswagen's own Polo to SEAT's Ibiza.
What is the best Skoda Scala to buy?
For our money, the Scala makes most sense as a petrol (badged TSI), and it's the 115PS version of the 1.0-litre that has impressed us most so far. It's actually more efficient than the entry-level 95PS option, but it still keeps purchase prices down, and it's impressively smooth and punchy.

Is the Skoda Scala expensive to insure?
Insurance groupings range from 10 at the bottom of the scale to 19 at the top, with most versions sitting at around the 14 mark. So, if you have a decent no-claims-bonus, premiums should be very palatable.

Which Skoda Scala has the best MPG?
The best of the petrols is actually the 115PS version of the 1.0 TSI, with a figure of 51mpg compared with the weaker 95PS version's 50mpg. However, the punchier engine's return drops to 48mpg if you add the twin-clutch automatic, while the 1.5 TSI delivers 49mpg in manual form and 46mpg as an auto'.

Get a month's free insurance for your new car with heycar
£--.--*
Monthly thereafter
Terms, conditions, exclusions and excesses apply.
What's included?
Fully comprehensive policy
Monthly subscription, cancel anytime
No deposit or interest charges
Price guarantee for 12 months
Manage your policy anytime, anywhere
No fees for changes and cancellations
‍We've assumed that you:
– Have had a full UK driving licence for two or more years
– Will be the registered owner and keeper of your car
– Haven't made any modifications to your car
– Have never been declined insurance
– Haven't had any claims or driving convictions
Skoda Scala cars for sale on heycar
2,966
Number of cars available
£10K - £27K
Price bracket of these cars
Colours available on heycar
Keep me updated by email with the latest advice, news and offers from heycar
By submitting, you agree to our
privacy policy
.