Skoda Octavia Review 2023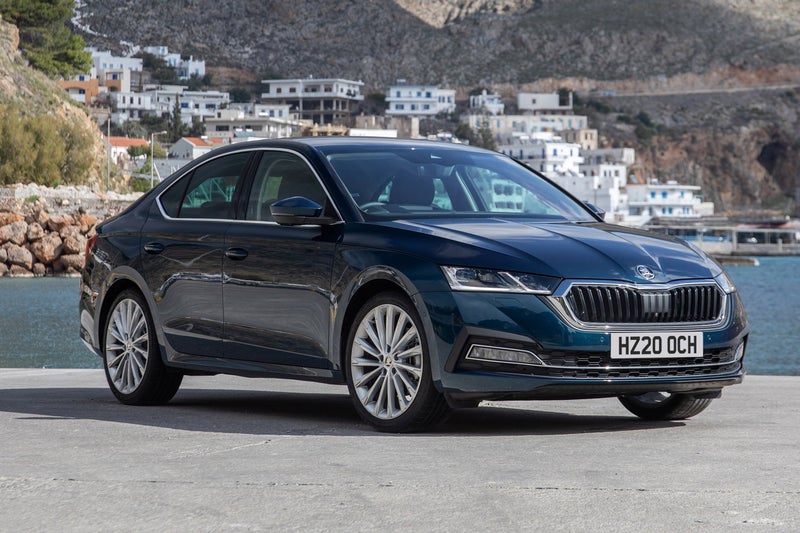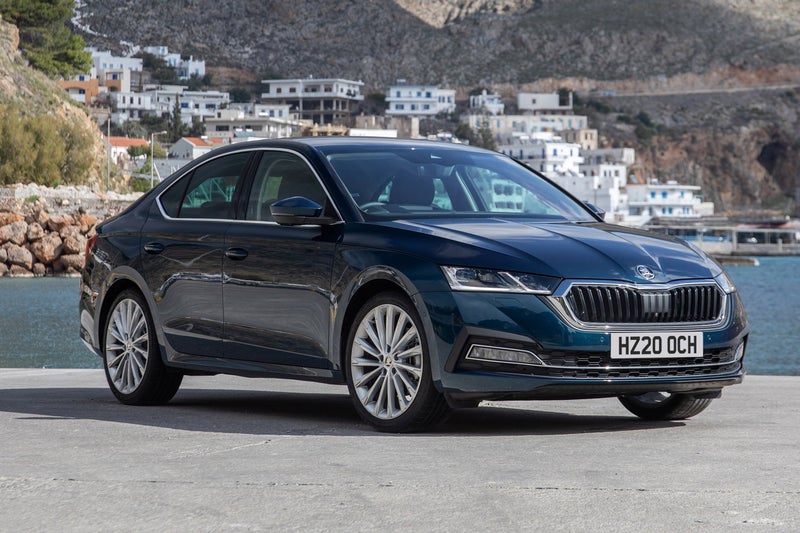 1/10
heycar rating
"Skoda's sensible hatchback moves upmarket"
Launched: 2020

Family hatch

Petrol, Diesel, PHEV
Quick overview
Pros
Practical Octavia is more stylish than ever
High levels of standard equipment across the range
Frugal petrol and diesel engines
Cons
Not the budget option it once was
Media system is a little frustrating
Still too new to attract huge savings on the used market
Overall verdict
On the inside
Driving
Cost to run
Prices and Specs
Common questions
Overall verdict on the Skoda Octavia
"The 2022 Skoda Octavia is as brilliant as it always was, but now it offers something a bit extra with a notable increase in interior quality. That puts it even closer to its in-group rival the Volkswagen Golf, and thanks to the significant advantage in terms of interior space, it is arguably the better buy of the two. While it's not as cheap as it used to be it's still cheaper than the Volkswagen, and pre-reg deals are out there if you look around."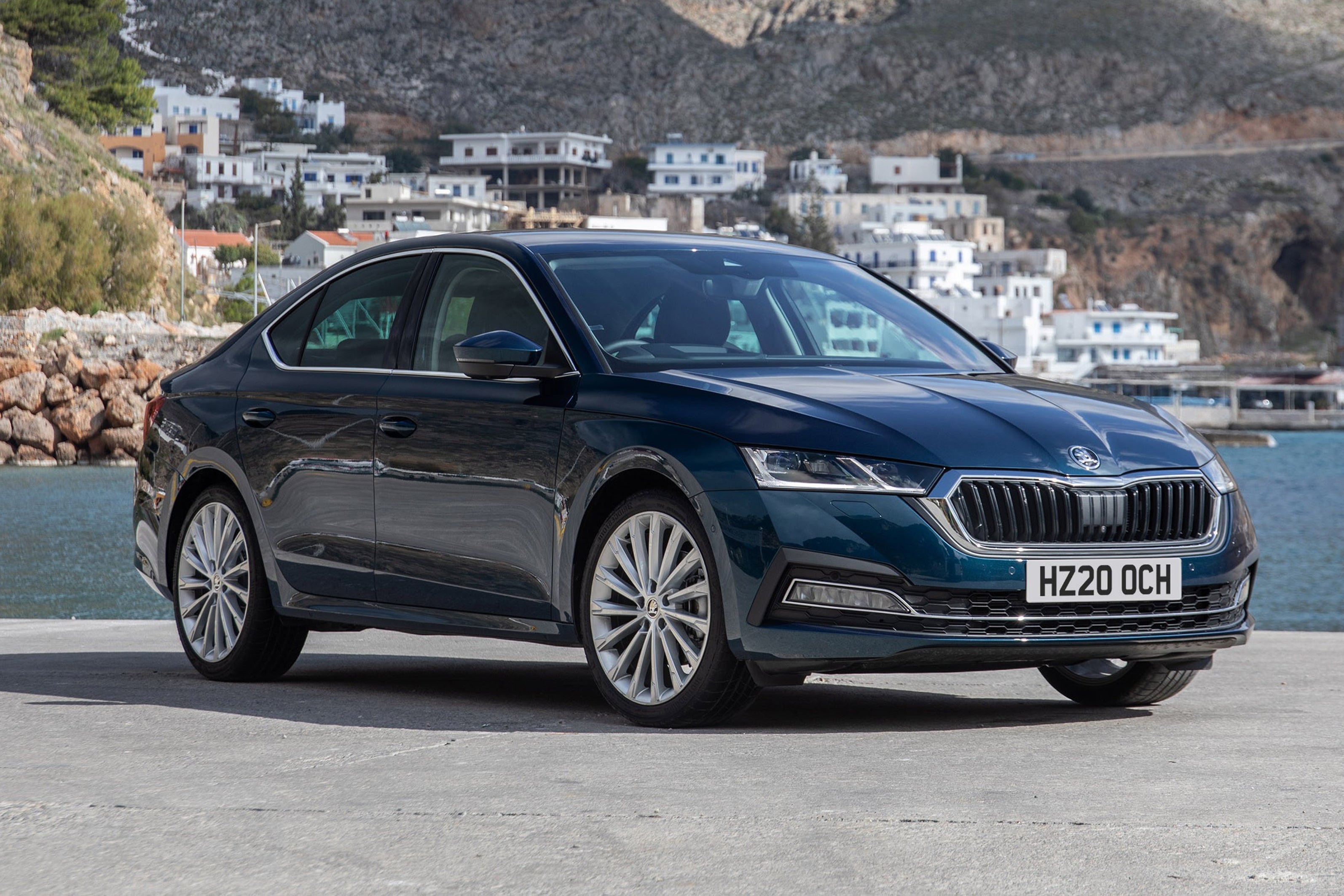 While the Skoda Octavia is posher than before, it continues to hold the title of most practical car in its class. In fairness, that's because it's huge – it seems daft comparing it to cars like the Ford Focus, Vauxhall Astra and Kia Ceed. It's almost eating into Skoda Superb territory, with practicality rivalling the likes of the Volkswagen Passat and Vauxhall Insignia Grand Sport – and it will hold a lot more luggage than SUV alternatives like the Nissan Qashqai, Skoda Karoq and Peugeot 3008. Continue reading our full Skoda Octavia review to find out how it stacks up against its many rivals.
Since the last Skoda Octavia went on sale in 2013, the brand's added the Skoda Scala to its line-up. This sits between the Skoda Octavia and smaller Fabia in terms of size and price, allowing the Octavia to command a slightly higher price tag. However, with list prices starting in the region of £21,000, it's far from expensive. And you'll notice that standard equipment is pretty generous, too, so it's not just a big boot that you'll get for your cash.
Go for a high-spec Skoda Octavia SE L and it feels particularly plush, with highlights including microsuede seats (and a microsuede dash covering), as well as ambient interior lighting and various splashes of chrome (both inside and out). While a more affordable Skoda Octavia S is on its way, the Skoda Octavia SE is the current entry-level model and is comprehensively equipped, with highlights including a 10-inch media system (we'll come onto that shortly...), rear parking sensors and 16-inch alloy wheels.
There's a wide choice of engines including petrol, diesel and – for the first time in a Skoda Octavia – plug-in hybrid power. The big seller is likely to be the 1.5-litre petrol which is available with manual or automatic gearboxes, while Skoda also offers a little 1.0-litre unit.
High-mileage drivers are catered for with the 2.0-litre TDI diesel which is available with 115PS or 150PS, letting you prioritise performance or fuel economy (not that any Octavia will be expensive to run). If you're looking for an Skoda Octavia to drive around town, the plug-in hybrid Skoda Octavia iV can travel 43 miles under electric power alone, saving its 1.4-litre petrol engine for longer trips. If you're looking to find out more about hybrid cars, our guide to the best hybrid cars is a great place to start, while we also cover what is a hybrid car as well.
No matter which engine you go for in your Skoda Octavia, it's good to drive. And we don't mean in a 'cornering on the door handles' way – the Octavia is a really comfortable choice with a cushioned ride and impeccable refinement. It feels safe in the corners (if not as fun as a Ford Focus or SEAT Leon), while there's plenty of technology to make tackling city centres that bit easier.
Talking of technology, the 10-inch media system which is standard across the range looks pretty swanky but isn't the easiest to use on the move. It's something that you'll get used to with time, but what's wrong with old-fashioned buttons for adjusting the climate control or changing the volume? Maybe we're stuck in the past.
It's hard to overemphasise how much space there is in the Skoda Octavia. It's a very comfortable car for those in the front, while there's plenty of space in the back too. And the boot is massive – easily capable of swallowing up baby paraphernalia or golf trolleys. If you need even more space, there's the Skoda Octavia Estate, too.
Looking for a used car for sale? We've got 100s of Skoda Approved Used Cars for Sale for you to choose from, including a wide range of Skoda Octavias for sale. Looking for the older version? If you're looking for the older version, you need our used Skoda Octavia (2013-2020) review.
Is the Skoda Octavia right for you?
If you want a premium-feeling car with a huge boot but don't want to pay over the odds for a badge that's going to impress the neighbours, the new Skoda Octavia's looking like an excellent choice. It's more stylish and more spacious than ever, which means it's going to tick a lot of boxes for a lot of buyers. If you need more room there's the Skoda Octavia Estate.
What other cars are similar to the Skoda Octavia?
If you don't need a car quite so huge as the Skoda Octavia, you should also look at the new SEAT Leon and Volkswagen Golf. Both share platforms and engines with the Skoda Octavia, so they're very similar.
There are loads of very good non-Volkswagen Group alternatives, too. The Ford Focus is an ever-popular choice with stylish looks (and it's more fun to drive than the Octavia), while the likes of the Kia Ceed and Vauxhall Astra represent excellent value for money. You could also consider bigger alternatives like the Vauxhall Insignia Grand Sport or Ford Mondeo – or even premium models like the BMW 3 Series.
Comfort and design: Skoda Octavia interior
"While the Skoda Octavia's exterior isn't going to turn many heads, its interior feels fresh and modern. It's packed with stylish features, from the two-spoke steering wheel to the fancy shift-by-wire automatic gear selector."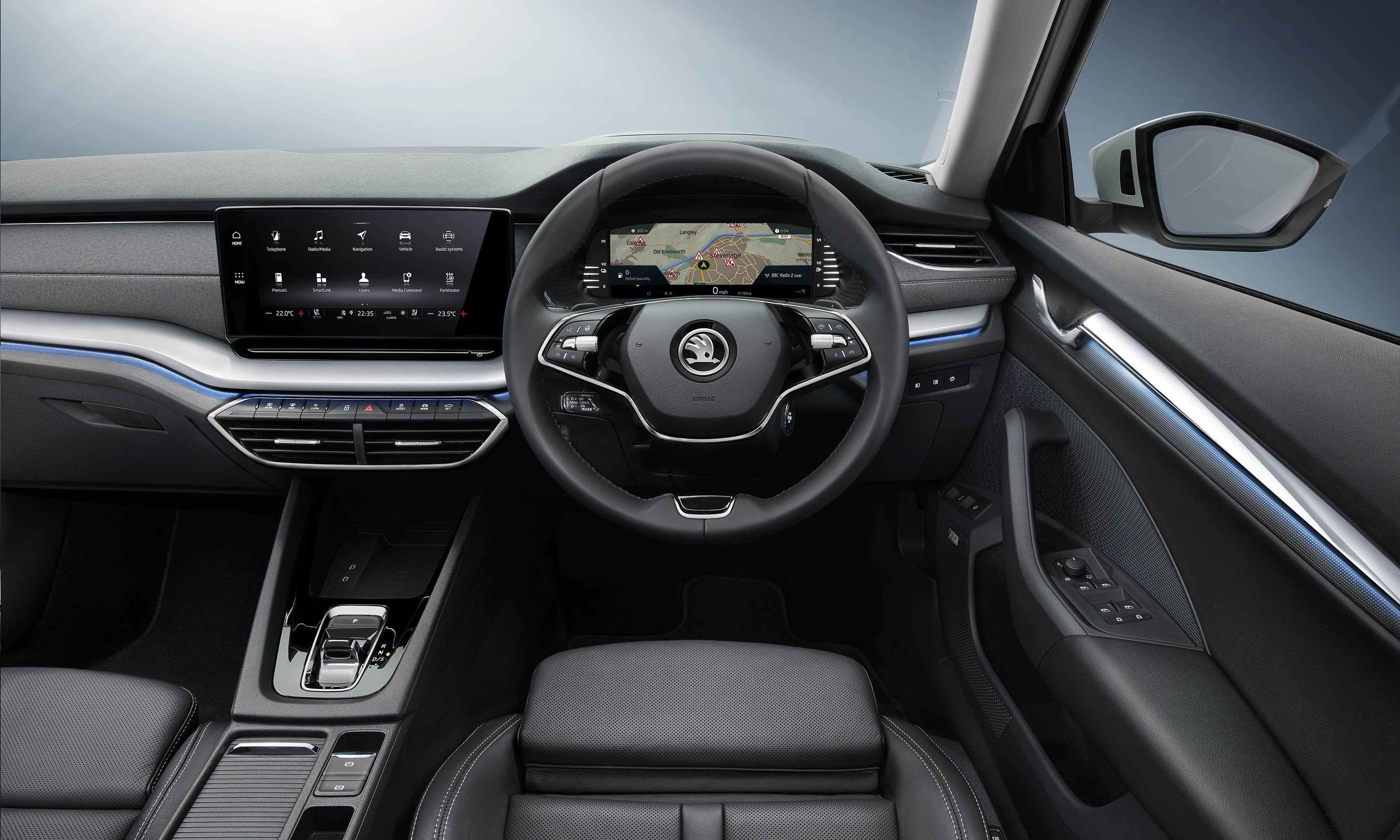 While the old Skoda Octavia's cabin was functional but a little drab, the interior of the new model really emphasises the hatchback's shift up-market. From the cool aluminium strip running along the dash to the fancy ambient lighting and digital dials, you could almost mistake the Skoda Octavia for a premium car. Naturally, you'll have to stretch to the pricier Skoda Octavia SE L for the fanciest of features, but the SE model feels far from entry-level.
The Skoda Octavia is a car that's long been popular with high-mileage company car drivers so Skoda's got plenty of experience designing seats that keep you comfortable over the longest of journeys. They're very supportive, with adjustable lumbar support on higher-spec models, while there's plenty of adjustment built into them.
One gripe we have is that, while the relatively button-free interior looks clean and tidy, it's not the most user-friendly. We'd like a dial for adjusting the volume of the radio and some buttons for quickly tweaking the temperature of the climate control.
Quality and finish
Inside, the Skoda Octavia feels just as posh as the more expensive Volkswagen Golf and a step above cars like the Vauxhall Astra or Peugeot 308. The range-topping Skoda Octavia SE L is particularly plush, with standard kit including microsuede upholstery and a padded dash panel. You get chrome air vent surrounds, too, and fancy silver square inserts on the dash.
All Skoda Octavia models feel like they're built to last. It's too new to know for sure what it will be like for creaks and rattles a few years down the line, but the old model aged well so we suspect this one will do so too. The Skoda Octavia should have no issues coping with family life.
Infotainment: Touchscreen, USB, nav and stereo in the Skoda Octavia
Apart from the early Skoda Octavia SE First Edition, all models feature a 10-inch media system perched (as is the trend) high up on the dashboard. Its positioning actually makes it very easy and safe to glance at on the move, but the same can't be said for the irritating lack of buttons to navigate it.
It's purely a touchscreen system, while there's a touch-sensitive slider below to adjust the volume. As we hinted at above, adjusting the climate control settings requires fiddling around with the infotainment - there are some handy shortcut buttons below but not a simple dial or button for adjusting the temperature.
It's something which we found quite annoying at first but, with time, you'll soon get used to its quirks. At least its graphics are sharp and it responds quickly to inputs, while Apple CarPlay and Android Auto smartphone mirroring is standard across the range. This makes up for the lack of standard navigation on all but top-spec Skoda Octavia SE L models – you can just use Google Maps via your phone instead.
Space and practicality: Skoda Octavia boot space
You really could swing the proverbial cat in the Skoda Octavia, there's that much space on offer.
The boot is massive compared to rivals like the Ford Focus and Mazda 3 – there's enough room for up to 600 litres of luggage, which is even bigger than a Vauxhall Insignia Grand Sport or Ford Mondeo (two cars which are more expensive and technically sit in the class above). It's worth noting that, if you buy the plug-in hybrid Skoda Octavia iV, this drops to 450 litres – the batteries and electrical gubbins eat into boot space, unfortunately.
The rear seats can split 60/40 and are dropped easily using levers in the boot, leaving up to 1,555 litres of space (1405 litres for the iV hatch). The sheer length of the Skoda Octavia compared to rivals makes it the perfect choice for IKEA trips – it will happily gobble up a Billy bookcase or three.
With the rear seats left up, there's plenty of space for rear-seat passengers. That's providing you're not expecting to transport three adults side-by-side (in which case, the middle seat is a little on the narrow side and there's a lump in the floor eating into foot space). Head and legroom are both generous and you'll find enough storage for your knick-knacks – there's an armrest with cupholders and pockets on the back of the front seats.
If you're expecting a compromise, you certainly won't find it in the front. There's loads of space up front, including surprisingly big door pockets and a generously large (and cooled) glove box. You'll find a useful mobile phone tray in front of the gear lever and some conveniently positioned cup holders. If you need even more space, check out the Skoda Octavia Estate.
Of course, the main reason the Skoda Octavia is so practical is that its exterior dimensions are so much larger than rivals. It measures 4689mm long, 1994mm wide (1829mm not including door mirrors) and 1470mm high.
Handling and ride quality: What is the Skoda Octavia like to drive?
"The Skoda Octavia is a refreshingly wafty hatchback. It might not be quite as agile as a Ford Focus or SEAT Leon, but it's considerably more comfortable on a bumpy road."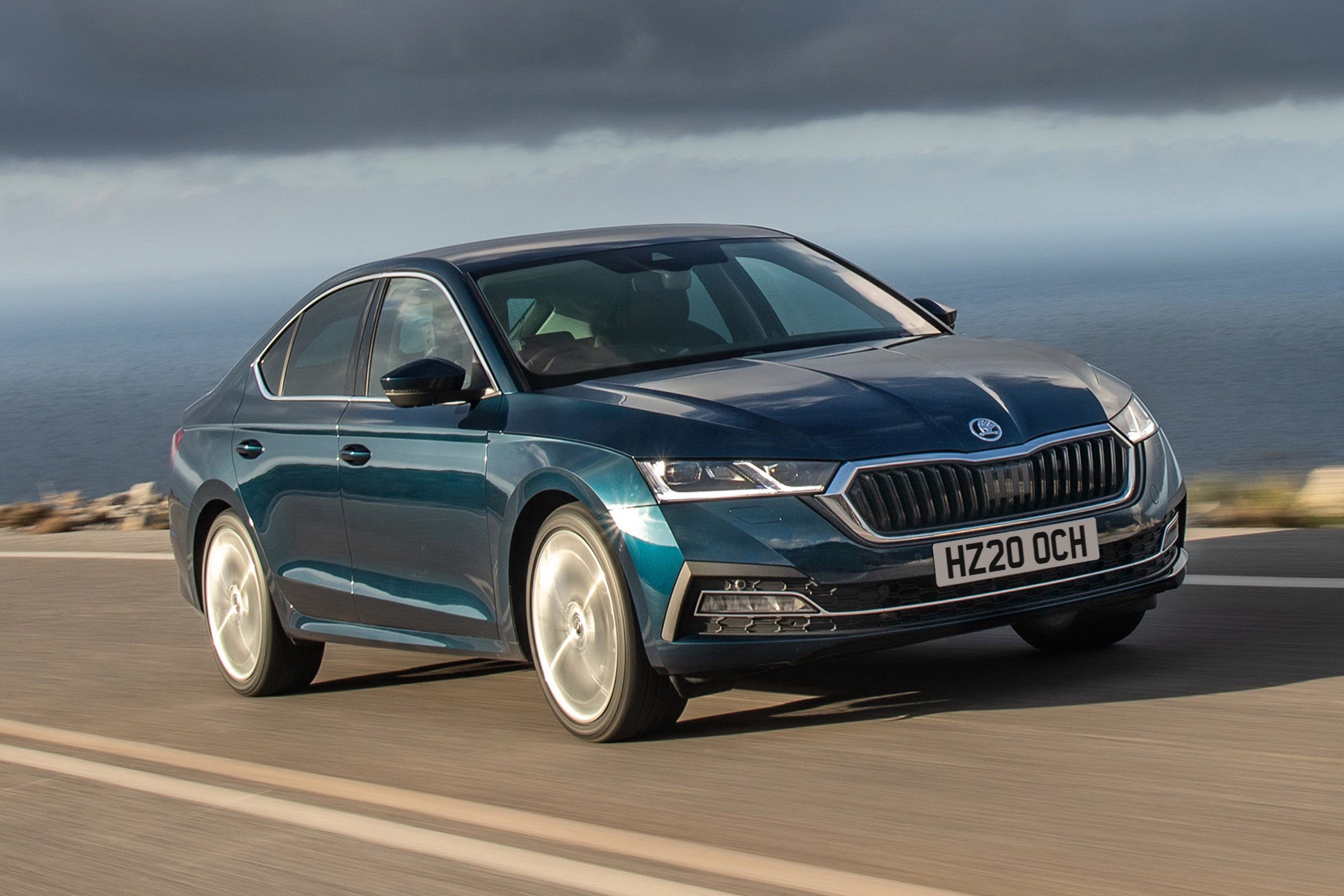 It generally copes very well indeed with speed bumps and broken road surfaces, with only the biggest craters causing some discomfort for passengers. If you want the ability to sharpen up the suspension when you're in the mood, look for an Skoda Octavia with the optional dynamic chassis control. This is a £925 option that few buyers will tick and, to be honest, it's not really necessary.
While it might lean a bit more in corners than sportier alternatives, the Skoda Octavia actually has a surprising amount of grip. It's not an exciting car to drive but, ultimately, it feels very safe and assured – which is exactly what you want in a family car.
Around town, you'll notice the Skoda Octavia's chunky dimensions compared to smaller alternatives like the Volkswagen Golf or Toyota Corolla. It's something you'll soon get used to, though, helped by good visibility and light steering. Rear parking sensors are standard across the range but, if you want a camera, you'll have to look for one with that optional extra fitted. There's also an optional park assist feature available. This is capable of manoeuvring the car into parallel or bay parking spaces itself.
What engines and gearboxes are available in the Skoda Octavia?
Whether you're after petrol, diesel or hybrid power, there's an engine to suit every buyer in the Skoda Octavia.
The range kicks off with a 1.0-litre petrol which produces a fairly conservative 110PS. This might be a little out of its depth on the motorway (although a six-speed manual gearbox helps here), but it's perfectly powerful enough for day-to-day town driving. Buy an Octavia with this engine and the DSG automatic transmission and you'll also get mild-hybrid technology to help you save fuel.
You'll find a lot more Skoda Octavia 1.5-litre petrols on the market. This provides a healthy 150PS and is available with a manual or automatic transmission (the latter, again, brings mild-hybrid tech with it). It suits the car really well with enough performance for motorway driving, while the running costs will be pretty reasonable, too.
Of course, a lot of people buy Skoda Octavias to cover a lot of motorway miles. If that's you, we'd recommend the 2.0-litre TDI, which is available with 115PS or 150PS. The 115PS model is fine but we'd recommend the 150PS version if it's in budget – that extra grunt makes it much more relaxing to drive, especially with a full complement of passengers.
Then there's the plug-in hybrid model badged the Skoda Octavia iV. This combines a 1.4-litre petrol engine with a big battery pack and an electric motor, producing a total of 245PS. That like quite a lot of power but, with the weight of the batteries, it takes 7.7 seconds to accelerate from 0-62mph. Quick but not shove-you-back-in-your-seat rapid.
If you want a quick Octavia, wait for one of the new Skoda Octavia vRS models. For the first time, it's offered with petrol, diesel and plug-in hybrid power – each one with 200PS or more.
Refinement and noise levels
As the Skoda Octavia majors on comfort, it's no surprise to see that its move upmarket has seen an improvement in refinement. It's not quite as civilised as something like a BMW 3 Series, but it's really not that far off.
Avoid the optional 18-inch or 19-inch alloy wheels and you'll notice very little road noise making its way into the cabin. Wind noise is slightly more noticeable, but it's no worse than rivals – and certainly nothing that can't be drowned out by the radio.
The most refined Skoda Octavia is the plug-in hybrid Skoda Octavia iV. When it's fully charged, you can select E-mode and it mimics an electric vehicle for as long as possible. That means you can bimble around town without the sound of a petrol engine kicking in for the ultimate in refinement. The mild-hybrid e-TEC models are impressive in this regard, too – while they can't travel under electric power, they will turn the engine off and let you coast silently to a halt.
Safety equipment: How safe is the Skoda Octavia?
Euro NCAP handed the Skoda Octavia a maximum five-star rating when it was crash-tested in 2019, including impressive 92% scores for adult occupants and 88% for children.
There's plenty of driver-assist technology available in the Skoda Octavia but, unfortunately, very little of it is provided as standard. Blind spot detection was standard on the SE L First Edition, for example, but is a costly extra on the SE L (and isn't even on available on the SE). Travel Assist (with traffic sign recognition, adaptive lane assist, predictive adaptive cruise, traffic jam assist and – on DSG models – emergency assist) is only available as an option on the hot vRS model.
At £45, the driver fatigue sensor represents good value for money if you're buying the car new, while the optional reversing camera is a desirable but pricey feature, on the options list at £595.
MPG and fuel costs: What does a Skoda Octavia cost to run?
"If you wish to cover a lot of miles as frugally as possible, the Skoda Octavia 116PS 2.0 TDI officially returns up to 68.9mpg. That should be fairly achievable on a relaxed motorway drive, while the more powerful 150PS diesel provides up to 67.3mpg (dropping to 64.2mpg with the DSG automatic gearbox)."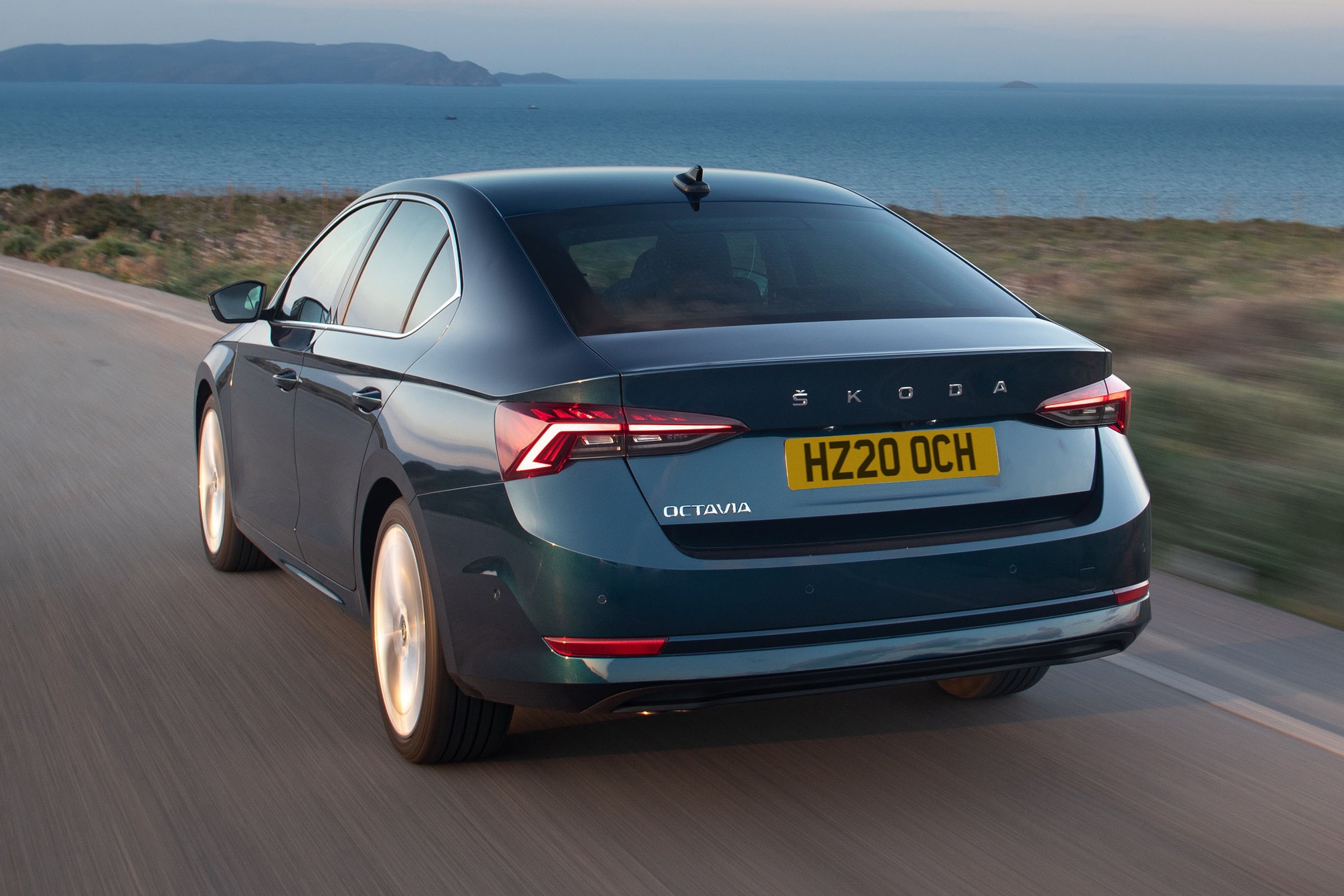 The petrol engines are far from inefficient. Go for the 1.0-litre TSI with the manual gearbox and you should see up to 54.3mpg (according to the latest more accurate WLTP fuel economy test) while the e-TEC version with its mild-hybrid tech and DSG automatic gearbox has an official figure of up to 56.5mpg. Not so long ago, that kind of economy was only provided by the smallest of petrol city cars.
In fuel economy tests, the 1.5 TSI returns up to 52.3mpg, or 53.3mpg with the DSG automatic gearbox. Even allowing for a dose of real-world driving, no Skoda Octavia will be particularly thirsty.
If you're looking to move towards electric motoring and have off-road parking with access to electricity, the plug-in hybrid iV could be a good option. This officially returns up to 282.5mpg which, on paper, sounds almost unbelievable. You'll have to cover a lot of short journeys and charge it regularly to see anywhere near this fuel economy but, with an electric-only range of around 43 miles, you could cover the school run without the petrol engine kicking in at all.
Over an extended period, we've seen an average of 54.9mpg from the Skoda Octavia iV plug-in hybrid. When it's fully charged, the electric range is around 30-34 miles – a little less than the official figure, but still enough for day-to-day mooching about.
How reliable is a Skoda Octavia?
As a brand, Skoda generally performs very well for reliability. It was named one of the most reliable car manufacturers in the latest HonestJohn.co.uk Satisfaction Index, while the last-generation Skoda Octavia was one of the most reliable cars. While the latest Skoda Octavia is still a very new model, we're yet to hear of any issues – and would be surprised if it turned out to be a liability.
Insurance groups and costs
The Skoda Octavia's full range of insurance groups are yet to be confirmed but a Skoda Octavia SE First Edition with the 1.0 TSI petrol engine falls into a very reasonable group 12, while the 1.5 is group 15. Plug-in hybrid and diesel models are a little more to insure, being placed into groups 15 to 21.
An insurance company quoted us £286.54 to insure a 40-year-old teacher living in Lincolnshire, travelling 10,000 miles a year and seeking fully-comprehensive cover.
VED car tax: What is the annual road tax on a Skoda Octavia?
After the first year (which is lumped into the on-the-road price and taken care of by the first owner), you'll pay a flat rate of £150 a year VED on a petrol or diesel Skoda Octavia. Hybrid models (including the mild-hybrid e-TEC and plug-in hybrid iV) qualify for a £10 discount.
That's the same as rivals, unless you consider a purely electric alternative like a Volkswagen ID.3 or Nissan Leaf. These won't cost a penny to tax.
How much should you be paying for a used Skoda Octavia?
"A new Skoda Octavia starts from around £21,000. That's more than cut-price alternatives like the SEAT Leon and Vauxhall Astra, but you do get a huge amount more for your money."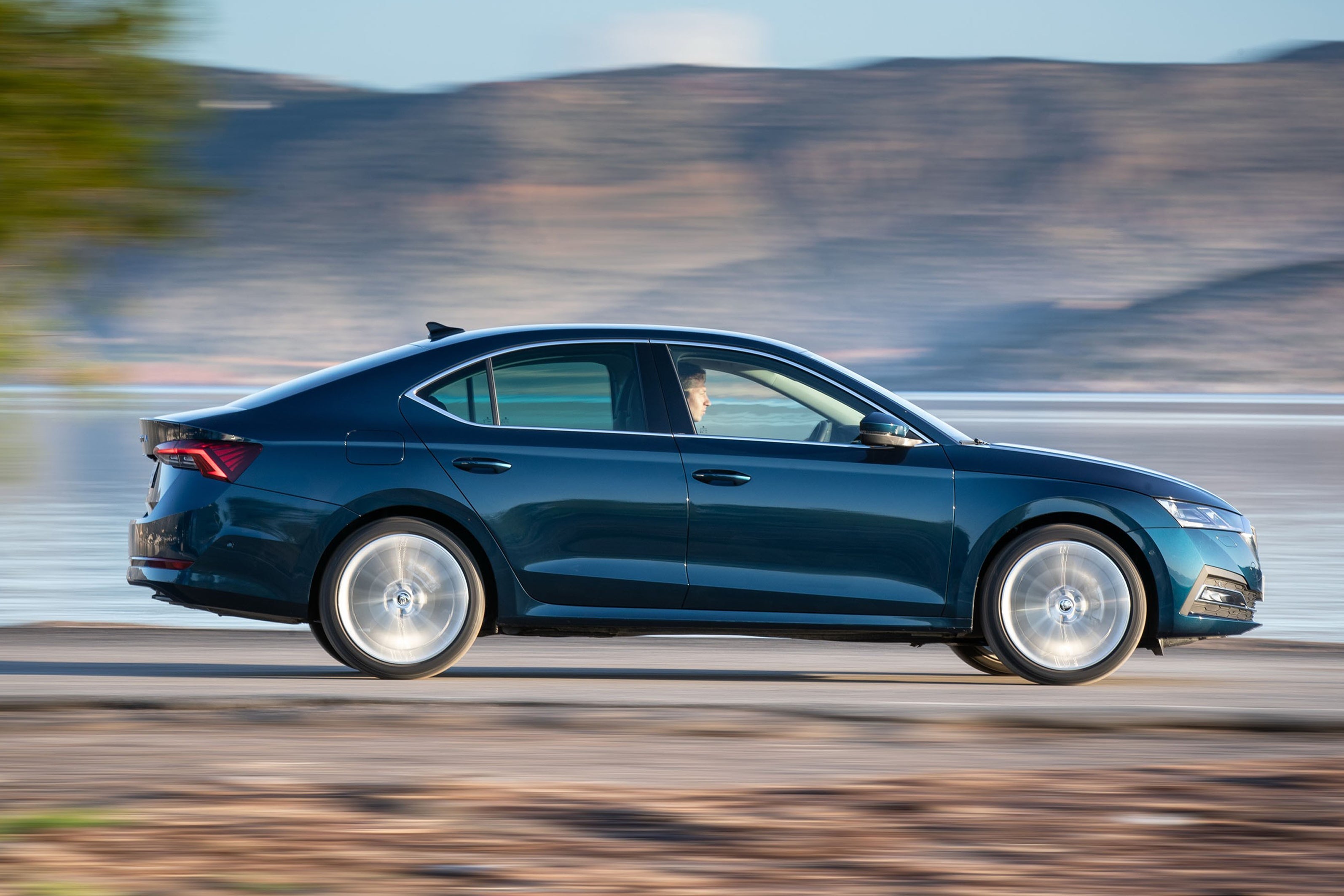 There is a way you can pick up an as-new Skoda Octavia for the price of a Fabia. Dealers often order and register cars before selling them from their showrooms for big savings over list price. Advertised as 'pre-registered' or 'ex-demonstrator' models, these are a brilliant way of both saving money and skipping the waiting list.
Just £17,500 will get you a pre-registered Skoda Octavia SE First Edition with only a few hundred miles on its 1.0- or 1.5-litre TSI petrol engine. That's incredible value for money. A fully-loaded Octavia SE L can be picked up for less than £21,000 – while a top-spec diesel will cost you around £22,000.
Trim levels and standard equipment
For the time being, the new Skoda Octavia skips the basic S model with the range instead starting with the Skoda Octavia SE trim level. Standard kit includes 16-inch alloy wheels, LED headlights and a chrome grille surround. Inside, you'll find cloth seats (height-adjustable in the front), a leather steering wheel and gearshift lever and aluminium decorative inserts.
Your entertainment needs are catered for with a 10-inch touchscreen media system (with Apple CarPlay and Android Auto), while cruise control and parking sensors are also standard. Early SE First Edition models, sold for a brief period when the latest Skoda Octavia first went on sale, also featured a 10.25-inch Virtual Cockpit (and a smaller 8.25-inch central infotainment display).
Upgrade to the Skoda Octavia SE L for 17-inch alloy wheels, some extra chrome exterior highlights (namely the window surrounds and a strip in the lower front bumper), rear privacy glass, headlight washers and electrically adjustable, heated and folding door mirrors.
Inside, there's microsuede upholstery, heated seats in the front, chrome air vent surrounds and shiny haptic decorative dash inserts. Navigation is standard as part of the 10-inch media display including online infotainment (for one year). The Skoda Octavia SE L comes with front parking sensors (as well as rear), adaptive cruise control, selectable drive modes and keyless entry/start.
If you see a Skoda Octavia SE L First Edition on the market, this is similarly equipped but with the addition of an electrically adjustable driver's seat (including lumbar support), LED interior lighting and blind-spot detection.
Ask the heycar experts:
common questions
Is the Skoda Octavia a good car?
The Skoda Octavia is one of the best family cars on sale. It's practical, bigger than its rivals inside, with a nicely finished interior and long equipment list. It's also comfortable and easy to drive at all speeds.

Is a used Skoda Octavia a good car?
The Skoda Octavia makes a good used car thanks to its durable build and solid interior. As with any used car, you need to choose wisely and avoid anything with huge miles, but the diesel engines are renowned for their longevity and economy. We'd suggest being wary of the DSG gearbox on older models as it has not been without its faults.
How many miles can a Skoda Octavia do?
It's not unheard of to find Skoda Octavias that have covered 250,000 miles. No wonder it's a favourite with taxi and minicab drivers. In terms of miles per gallon, the 2.0 TDI 115 returns up to 65.7mpg in combined WLTP fuel economy tests.

Which is the best Skoda Octavia engine?
If you're not doing huge mileages, we think the 1.5 TSI is the ideal engine for the latest Skoda Octavia. It's quiet and smooth yet responsive when need be. It's also very economical for a petrol with a claimed 50mpg which is certainly achievable at a steady 70mph on the motorway.

Get a month's free insurance for your new car with heycar
£--.--*
Monthly thereafter
Terms, conditions, exclusions and excesses apply.
What's included?
Fully comprehensive policy
Monthly subscription, cancel anytime
No deposit or interest charges
Price guarantee for 12 months
Manage your policy anytime, anywhere
No fees for changes and cancellations
‍We've assumed that you:
– Have had a full UK driving licence for two or more years
– Will be the registered owner and keeper of your car
– Haven't made any modifications to your car
– Have never been declined insurance
– Haven't had any claims or driving convictions
Skoda Octavia cars for sale on heycar
2,962
Number of cars available
£6.8K - £43K
Price bracket of these cars
Colours available on heycar
Keep me updated by email with the latest advice, news and offers from heycar
By submitting, you agree to our
privacy policy
.