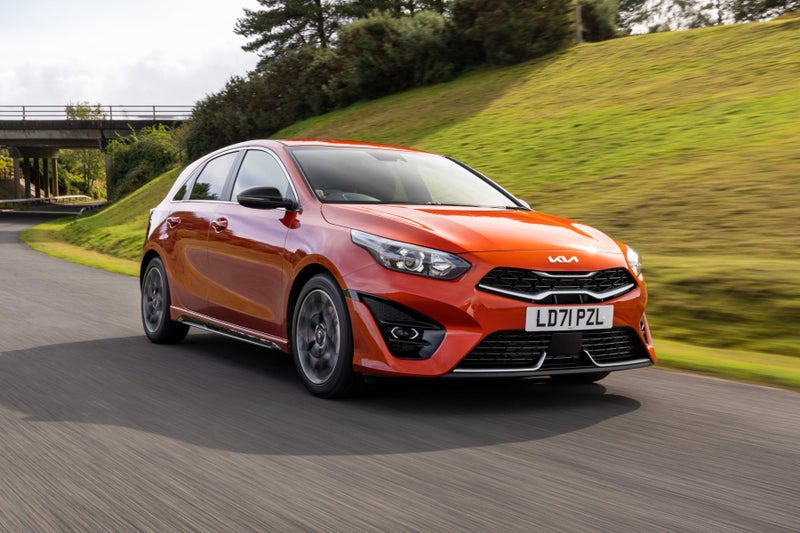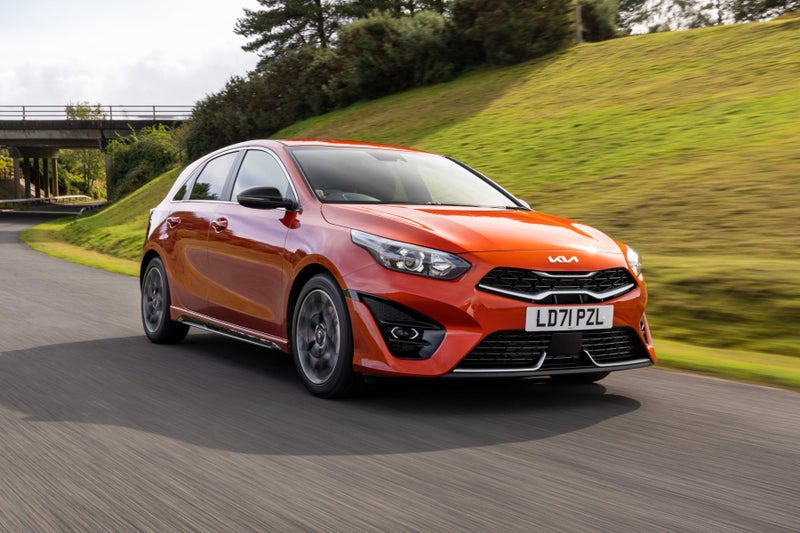 1/9
heycar rating
"Decent (but not exciting) hatchback"
Launched: 2018

Family hatch

Petrol
Quick overview
Pros
Good value for money with lengthy standard equipment list
Easy to use, un-gimmicky cabin
Transferable seven-year warranty
Cons
Not as refined as a Volkswagen Golf
Automatic gearbox is a bit frustrating
Manual's clutch is a bit sharp
Overall verdict
On the inside
Driving
Cost to run
Prices and Specs
Common questions
Overall verdict on the Kia Ceed
"The Kia Ceed might be getting on a bit with fresher-faced rivals on the scene, but it's a refreshingly simple and likeable family hatchback with a good quality feel, a decent driving experience and a seven-year warranty. Our 2022 Kia Ceed review will see if it's really the full package, however. "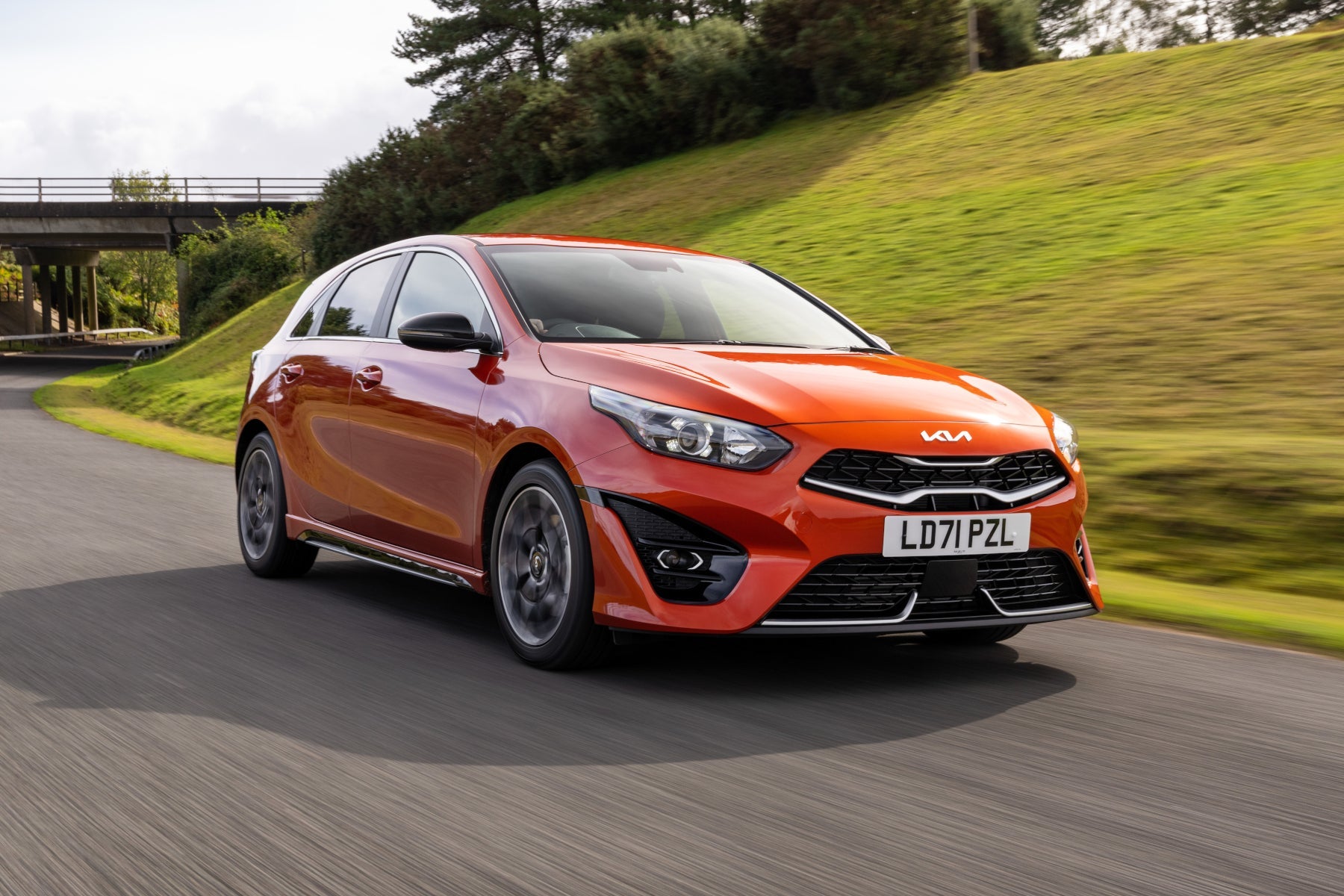 Early generations of the Kia Ceed were like buying a tin of supermarket own-brand baked beans, whereas the Ford Focus and Volkswagen Golf were the familiar name brands. You got more for your money, but something was missing.
Nowadays things are different. Kia hasn't considered itself a 'budget brand' for several years now, which is reflected in the Cee'd's pricing lining up pretty squarely with key hatchback rivals such as the Vauxhall Astra, SEAT Leon and Ford Focus.
So it's not But, as you'll find in our full 2022 Kia Ceed review, it's also just as good in many areas as, say, a Volkswagen Golf. It's loaded with kit, too, with even the most affordable models featuring a decent infotainment system, a reversing camera and proper safety assist tech. Chuck in a transferable seven-year warranty and suddenly the Ceed makes a very strong case for itself as a used bargain.
Late in 2021 a facelifted version of the Kia Ceed was launched with a lightly tweaked design (including neat new LED tail-lights on GT-Line trim), the brand's new badging, fresh cabin trim, improved infotainment on higher trims and new safety equipment. The 2022 Kia Ceed has also been hit by supply shortages, meaning if you order one new right now you'll only get the choice of the 1.5-litre petrol engine and a manual gearbox.
We'll start with one of the Ceed's best features: its smart and practical interior. It's mostly devoid of cheap plastics and genuinely comparable to a Volkswagen Golf's, if not as plush as the cabin of a Mazda 3. Most models even come with a slick 10.25-inch touchscreen navigation system with Apple CarPlay and Android Auto. This has a logical layout and sharp graphics, while handy physical shortcut buttons make it slightly easier to use on the move.
The interior is fairly spacious, especially for front-seat passengers, although full-sized adults in the back might get a bit grumpy after a few hours. There's plenty of useful storage compartments and the boot is slightly bigger than a Ford Focus or Volkswagen Golf, although you'd probably have to park the cars alongside each other to notice.
To drive, the Kia Ceed is pretty unremarkable as family cars go, but most will see that as a good thing. You don't really want a car like this to be remarkable to drive. The steering steers, the tyres grip and the brakes stop. It doesn't lean considerably in the corners while the supple suspension does a pretty good job of soaking up lumps and bumps. You'll notice a bit of road and wind noise at high speed - certainly more than in a Volkswagen Golf - but it's not enough to really irritate.
Anyone looking for something a bit sportier is catered for with the Ceed GT, which comes with a powerful 1.6-litre petrol engine. It's hardly a hot hatchback - and not in a fun Mazda MX-5 way, either. It's noisier, thirstier and less comfortable than a standard Ceed, without being as good to drive as a Volkswagen Golf GTI or Ford Focus ST. It's a bit pointless unless you can get a good deal on one.
More importantly, the Kia Ceed is a safe purchase, with a five-star Euro NCAP safety rating and a long list of techy safety features as standard. Isofix points in the back will help when fitting child seats, too.
The Kia Ceed is no longer a budget option and, in many ways, is just as good as a comparable Ford Focus, Volkswagen Golf or Mazda 3. You get lots for your money, with a well-finished interior and decent practicality. It's nothing special to drive but it feels safe and assured, while the engine line-up means it ought to be cheap to run if you steer clear of the rather unnecessary Ceed GT.
If you're looking for the older version, you need our used Kia Ceed (2012-2018) review.
Is the 2022 Kia Ceed right for you?
The Kia Ceed is a very likeable car. It has a perfectly pleasant interior and it feels reassuringly solid to drive. The engines are very good, although they're let down slightly by the so-so gearboxes (both automatic and manual). It'll be cheap to run, though, with decent fuel economy, low servicing costs and a long warranty.
While the Ceed doesn't blow away the competition in any particular area (and it's not the bargain it once was), it's all brought together in a perfectly good package. Rivals might be more appealing in certain areas, but we doubt you'd regret buying a Kia Ceed.
It's worth noting that you won't have much choice of Kia Ceed in 2022 if you're buying new, with only two trim levels and one engine option offered due to supply chain issues. You'd be better off tracking down a nearly new model.
What's the best Kia Ceed model/engine to choose?
You don't need to spend big bucks to get a decent Kia Ceed. The most affordable 2 trim level will tick all the boxes for a lot of buyers, but we reckon middling models like the Kia Ceed 2 Nav or 3 represent the best value for money. Kia Ceed GT-Line and GT-Line S models are loaded with equipment, but you'll pay strong money for them. Knowing they'll command more when it comes to sell on might soften that blwo.
In terms of engines, don't bother with a diesel unless you cover a lot of miles. The petrols are still efficient and better to drive. The standard 1.0-litre petrol is eager, if a little noisy, and will be fine for a lot of people. If you need a bit more performance (particularly for motorway driving), the 1.4 or later 1.5 would be a better option. Avoid the 1.6 GT unless you're really averse to proper hot hatches like the Golf GTI.
What other cars are similar to the Kia Ceed?
The big contenders in the family car class include the Ford Focus, Volkswagen Golf, SEAT Leon, Mazda 3 and Vauxhall Astra. It's not far off being as good as a Golf, although the Focus pips it in terms of driving enjoyment.
The Mazda 3 feels more special, but the Ceed is a decent alternative to the Leon with a higher quality feel. You could also consider the Skoda Octavia if practicality's important, and then there's the Hyundai i30 - a car that's closely related to the Ceed. Underdog alternatives include the very good but pricier and hybrid-only new Honda Civic and the stylish new Peugeot 308.
Comfort and design: Kia Ceed interior
"You'll find it easy to get comfortable in the Kia Ceed, thanks to generous adjustment in the driving seat and steering wheel - even on the most affordable models."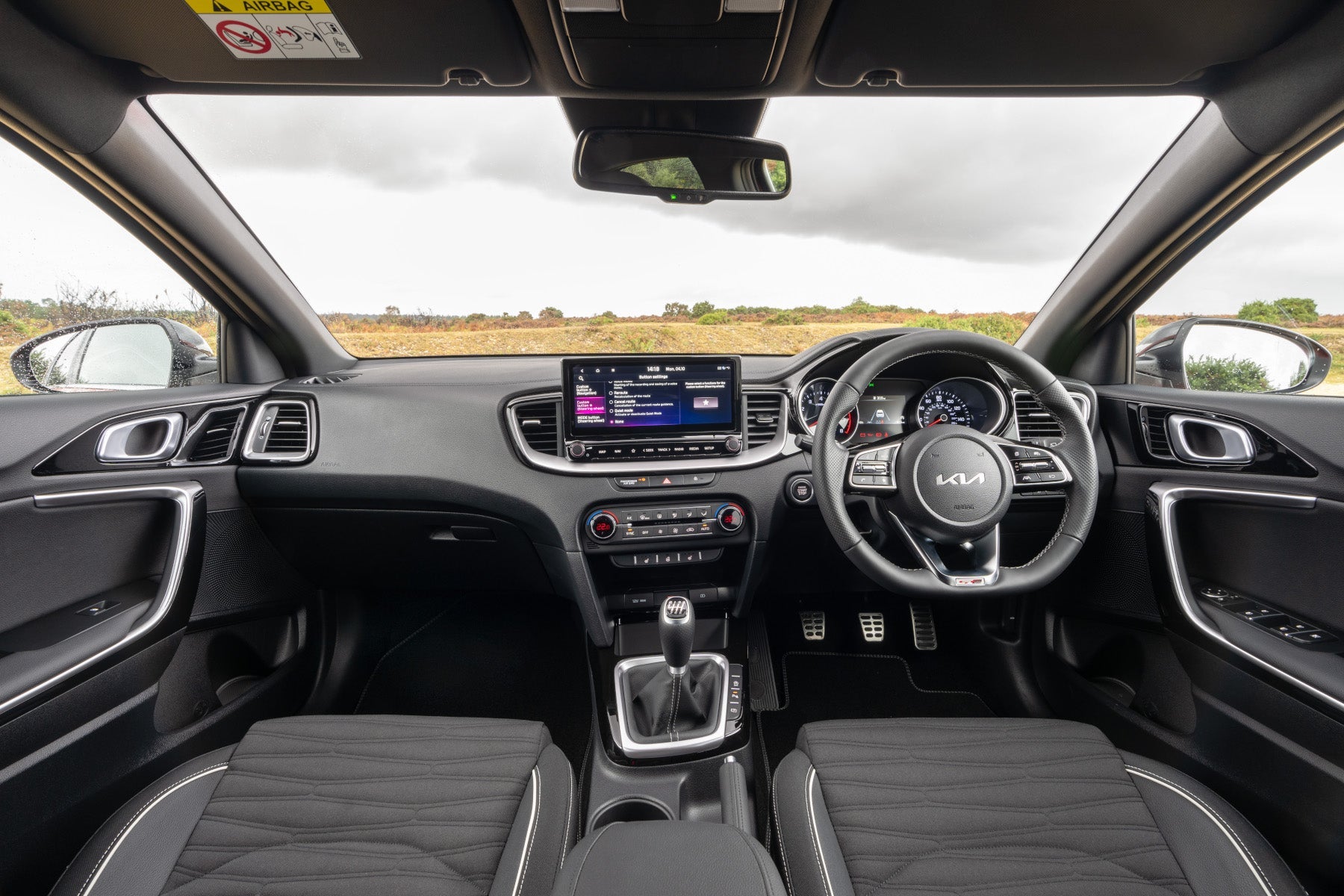 If you (or your regular passengers) are an unusual size or suffer from backache, you might wish to avoid the 2 or 2 Nav versions of the Kia Ceed. These do without a height-adjustable passenger seat or electric lumbar support - both of which are standard across the rest of the range.
For the fanciest seat adjustment, look for a GT-Line S model. This features a 10-way power adjustable driver's memory seat - particularly useful if more than one person is going to regularly drive your car. It's a shame this isn't offered on lesser trim levels, even as an optional extra.
Still, all the seats are fairly comfortable and supportive, and heated front seats across GT-Line models and above are a desirable feature.
Comfort aside, it's a classy, well-designed cabin. It's pleasing to see actual buttons for operating things like climate control and even skipping music tracks or accessing the navigation. All too often, you have to navigate a myriad of menus in the infotainment to perform simple tasks, and that can be distracting on the move.
All models come with steering wheel controls for features like the cruise control and stereo, while the standard dials are clear and easy to read. Overall, Kia has pretty much nailed the balance between usability and design - newer models might look a bit flashier inside but they usually have more complicated 'haptic' switchgear or too much screen reliance.
Quality and finish
It might not look as upmarket as a Volkswagen Golf or Mazda 3, but the Kia Ceed's cabin feels generally well finished. There are plenty of squishy materials and all of the switchgear feels of decent qualilty.
You'll notice a marked difference in high-spec models compared to the more affordable Ceeds on the market. The part-faux-leather seats on pricier cars do a good job of lifting the interior, as does the faux-leather door trim and chrome dashboard trim.
While Kia might have a reputation as a budget brand amongst those who haven't moved with times, it's changed quite a lot since the days of the Kia Pride of the 1990s. We have no doubt that the interior will remain rattle-free for a number of years, and it's certainly not going to start falling apart any sooner than a Vauxhall Astra's.
Infotainment: Touchscreen, USB, nav and stereo in the Kia Ceed
The standard Kia Ceed 2 uses a simple eight-inch colour infotainment screen without navigation. This is fine, actually - just as big as systems used in rivals, with Apple CarPlay and Android Auto meaning you shouldn't actually miss navigation that much (you can mirror Google Maps from your phone instead).
The rest of the range gets a 10.25-inch navigation system tacked onto the dashboard (Kia describes it as 'floating'). The location of this looks a little odd - some rivals do a better job of incorporating the media system into the dash - but it's actually really well located for glancing at while driving.
Our biggest gripe is that it's touchscreen-only. That's pretty normal for a car in this class, but we find the rotary controller in the Mazda 3 is easier to use on the move.
Still, it's a quick and easy system to use, with logical menus and clear graphics. You can split the display into three, showing things like navigation and radio information at the same time. It's also not entirely button-less - there are physical shortcuts to things like the radio and navigation underneath the main screen, meaning it's not too much of a faff to navigate while driving.
Other nice-to-have tech features include a wireless phone charger (only offered on GT-Line S models) and a premium eight-speaker JBL sound system (again, only offered on GT-Line S models). There's a fancy 12.3-inch digital instrument cluster available too, but only on (you guessed it), GT-Line S models.
Space and practicality: Kia Ceed boot space
As far as modern family cars go, the Kia Ceed's quite a small one – with exterior dimensions of 4310mm (length), 1800mm (width) and 1447mm (height). Despite this, some clever packaging (with all four wheels pushed towards the corners of the car) means it's surprisingly spacious inside - if not as versatile as the massive Skoda Octavia.
Provided you're not the BFG, you should be able to get comfortable up front fairly easily. You can drop the seats nice and low to prioritise headroom, should you wish, and there's plenty of elbow room to prevent those awkward clashes with passengers.
There's plenty of space for storing odds and ends, including fairly big door bins, a useful cubby box under the front armrest and a pair of usefully large cupholders.
If you plan to regularly carry passengers in the back, you might be better looking at a family SUV like the Kia Sportage. Rear space isn't overly generous, but you'll fit a pair of tall adults at a push. There's room for someone in the middle seat - if they don't mind rubbing shoulders - and a lack of a noticeable lump in the floor (usually for the transmission tunnel) means rear-seat passengers won't be vying for foot room.
The Kia Ceed's boot can hold 395 litres of luggage which means it's slightly bigger than a Volkswagen Golf or Ford Focus. There's a useful split-level boot floor and not much in the way of a lip for lifting bulky items over. If you need more space, the rear bench splits 60:40, dropping to provide up to 1291 litres of luggage capacity.
Oddly, the only Kia Ceed available with a space-saver spare wheel is the GT-Line Lunar Edition. It's not even offered elsewhere in the range, with drivers having to make do with a puncture repair kit in the case of a puncture. A dealer should be able to help if this is a deal-breaker for you, though.
Handling and ride quality: What is the Kia Ceed like to drive?
"The best compliment we can pay the Kia Ceed is to say it feels very similar to a Volkswagen Golf to drive. By that, we mean it handles reassuringly (although it's not as fun as a Ford Focus), while its fully-independent suspension soaks up bumps very well - even on larger alloy wheels."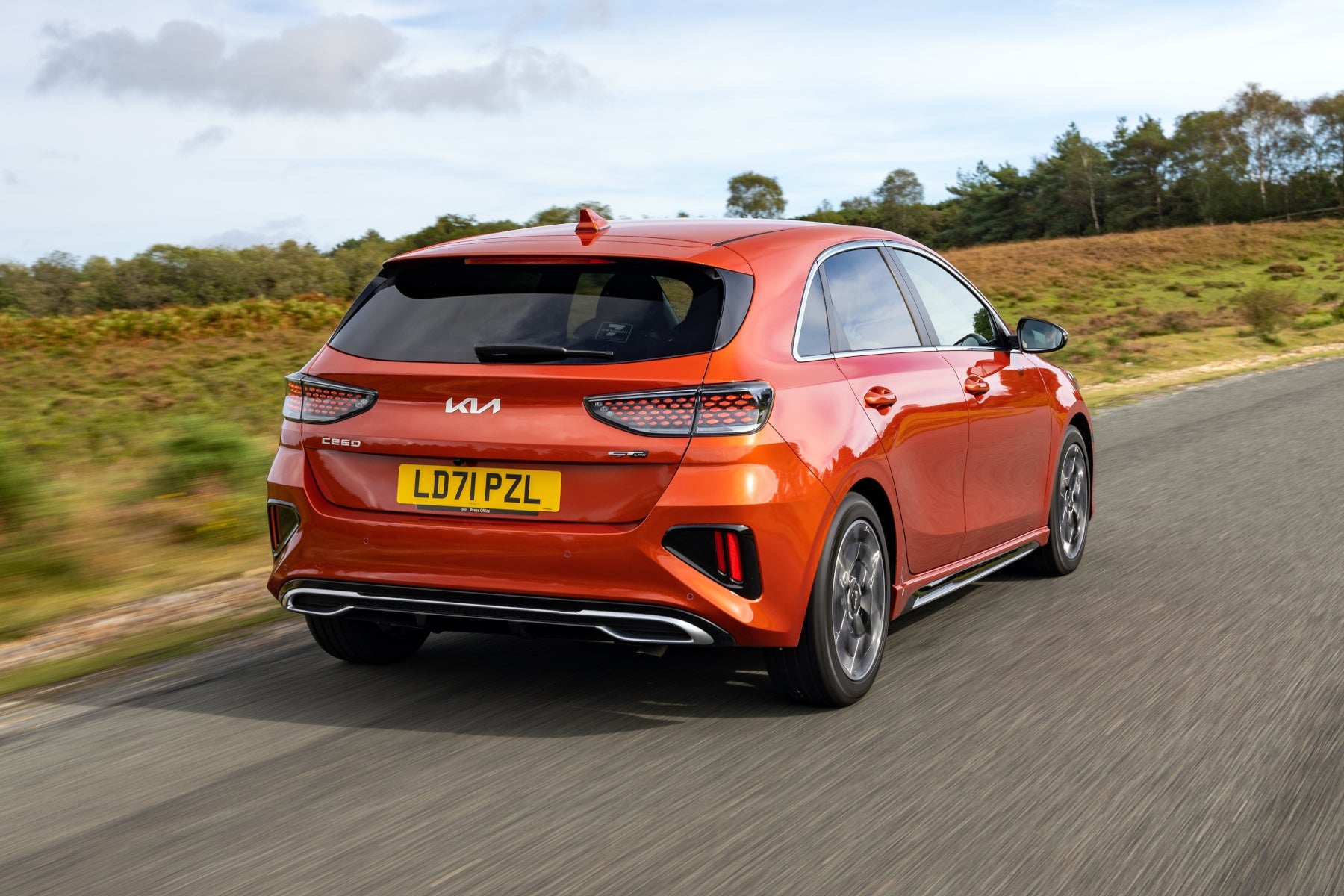 Anyone should be able to jump into the Ceed and find it easy to drive from the off. The steering is light - great for manoeuvring through town - while forward visibility is very good, thanks to thin windscreen pillars. Rear visibility isn't quite so impressive but a very good reversing camera system is standard across the range, while most models also get rear parking sensors.
Out of town, a quick steering rack means it feels quite agile, and there's plenty of grip on hand until you start really throwing it about. The Ceed is a popular choice with high-mileage company car drivers, and that's reflected in its big-car feel on the motorway.
The ride quality is generally very good and isn't ruined by the 18-inch alloy wheels fitted to top GT-Line S and GT models. It'll get flustered sooner than a Volkswagen Golf or Toyota Corolla, passing shudders through the cabin when you a hit a bump in the road, but most of the time it's perfectly acceptable.
What engines and gearboxes are available in the Kia Ceed?
The number of Kia Ceeds on the used market is split roughly equally between petrol and diesel power. You need to decide which suits your needs best. If you cover more than 12,000 miles a year, including lots of long motorway journeys, a diesel might be the best option. For lower mileages, including lots of short journeys or driving around town, you'd be better with a petrol.
The most affordable engine is a buzzy little 1.0-litre three-cylinder turbocharged petrol which we rate highly. Don't dismiss it for being a small engine. It packs a punch, with 120PS, accelerating to 60mph in 10.7 seconds. It's at its best around town where it'll dart in and out of traffic, with a decent shove in the mid-range thanks to its turbocharger.
If you cover more miles out of town, look for one with the 140PS 1.4-litre T-GDI petrol engine. This'll reach 60mph in a moderately quick 8.6 seconds, making joining motorways that little bit easier and meaning overtakes require less planning. This is also available with a seven-speed dual-clutch automatic gearbox, with which it takes 8.9 seconds to reach 60mph.
You won't notice the drop in performance in the real world, although you might get a little frustrated by the auto transmission's slightly hesitant changes at times. It's not a bad gearbox but it is easily caught out when you need a burst of forward momentum. The manual, on the other hand, has a reasonably smooth shift, but the clutch on the 1.5 T-GDI is a bit sharp and springy. It can be tricky to feel the biting point, meaning if you're not used to it you'll almost certainly stall it the first few times.
In early 2021 the 1.4-litre turbo petrol engine was replaced by the 1.5 T-GDI. With 160PS it feels a bit faster than the old 1.4, although the 0-62mph time is similar. It's an engine that needs revving to get the best out of it, as below 3,000rpm it's not the most gutsy unit around. But it's refined enough low-down and makes a pretty pleasant noise (if vocal) when you do rev it out.
Wannabe racing drivers are catered for with the 204PS Kia Ceed GT. This is a bit daft, really, covering 0-60mph in 7.2 seconds. It's expensive, thirsty, and just not as fun as a proper hot hatch like the Volkswagen Golf GTI or Ford Focus ST.
Diesel offerings are made up of a 1.6 CRDi engine available with 116 or 134PS. The lower-powered engine is aimed at the most frugal-minded and is only available with a manual gearbox, while the latter and can be paired with manual or automatic transmissions.
The diesels are fine if you absolutely must have a diesel, with plenty of low-down torque meaning they're relaxing to drive with enough poke when required. Later in the diesel's life it was offered with mild hybrid technology and a clever shift-by-wire manual gearbox, which allowed engine-off coasting and an improved stop-start system for better fuel economy.
Refinement and noise levels
It's refinement levels that let the Kia Ceed down against more established rivals like the Ford Focus and Volkswagen Golf. It's not a particularly uncivilised car to drive every day, but a little more noise and vibration makes its way into the cabin than we'd like.
While characterful, the 1.0-litre petrol engine is fairly vocal - especially if you work it hard to keep up with traffic. There's quite a lot of noticeable vibration through the pedals, too. The 1.4's better but we're still surprised by how gruff it can sound. Neither are bad, but by the standards of 2022 they could definitely be smoother and quieter. The 1.5-litre petrol engine isn't really any more refined than the older 1.4, although it doesn't need revving quite as much to get up to speed.
The diesels have the usual grumble, particularly on start-up, although this settles down when up to temperature and running at low revs on a gentle motorway cruise.
The Ceed is good at isolating you from wind noise, but road noise is more noticeable than it is in a VW Golf, or a good few newer rivals. It means that on poor surfaces you'll need to turn up the radio quite loud to drown out the din from the tyres.
If you want a relaxing choice, don't go for the Ceed GT. This uses a sound actuator to pump fake noise into the cabin and make it sound sportier than it is. It's just annoying, frankly.
This is all sounding pretty negative and, in truth, most buyers will be perfectly happy with the Ceed's refinement levels. Many people cover many miles in their Ceeds and they're hardly a Caterham 7 when it comes to refinement. But, drive one back-to-back with the Volkswagen Golf (a benchmark in this segment), and you'll notice the difference.
Safety equipment: How safe is the Kia Ceed?
There's a whole heap of clever safety equipment available on the Kia Ceed, although not all of it is included on the more affordable models.
The entry-level Kia Ceed 2 has features like the Forward Collision-Avoidance Assist (City), which uses a camera and sensors to detect an impending low-speed collision with another car and alert the driver. If you don't respond, it can apply the brakes to mitigate the impact.
As standard, this doesn't look out for cyclists and pedestrians, although this feature was offered as an option when new (it's standard on 3 trim levels and up with the manual transmission). If you're looking at a model after the 2021 facelift the system has been upgraded to be able to detect cyclists and pedestrians across the range.
It also gets Hill-start Assist Control - which will prevent you from clumsily rolling backwards during a hill start - and a Driver Attention Warning which will tell you off if you're showing signs of drowsiness or inattentiveness. Lane Keep Assist will nudge you back into your lane if you stray, while Lane Following Assist - standard on GT-Line S models only - can use vehicles ahead to control acceleration, braking and steering when you're in stop/start traffic.
The 2021 facelift also upgraded the blind spot monitoring system, which can not only warn you if you're about to steer towards a car in your blind spot but also steer you away from a collision. The rear-cross traffic alert system can also stamp on the brakes if it things you're going to reverse out of a space into the path of a moving car.
Plenty of airbags will keep your family safe in the case of a crash, will Isofix points (standard across the range) on the outer rear seats will help secure a child seat.
When Euro NCAP crash tested the Kia Ceed in 2019, it scored an impressive five-star rating when fitted with the safety pack (which is standard on all Ceeds sold in the UK).
MPG and fuel costs: What does a Kia Ceed cost to run?
"Fuel consumption varies depending on things like trim levels, alloy wheel size and - obviously - engine. The good news is that no Kia Ceed should cost a fortune in fuel."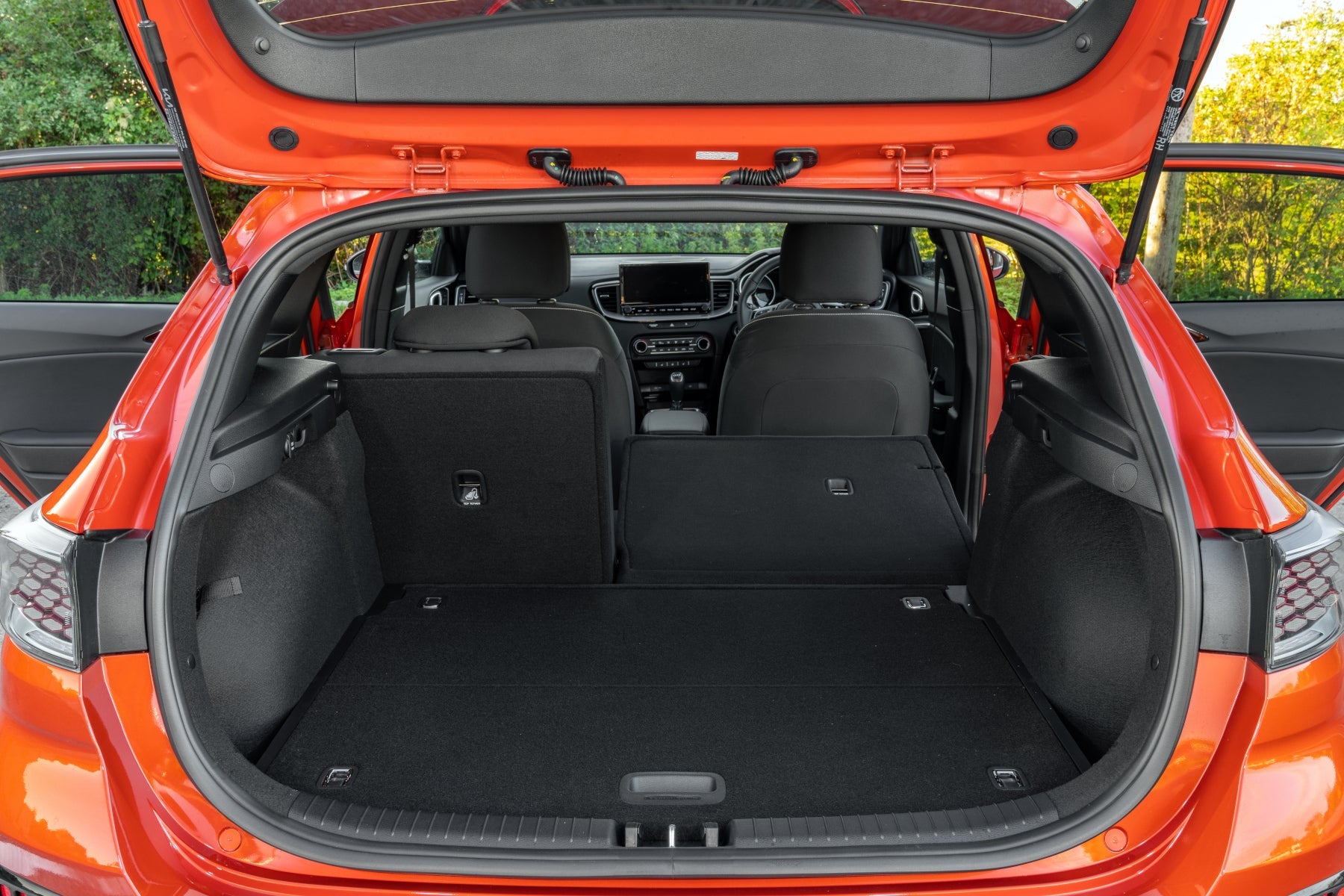 The Kia Ceed's 1.6 CRDi diesel engine in 116PS guise is the most efficient of the bunch. This returns up to 60.1mpg combined in official WLTP fuel economy tests and, with some steady motorway driving you may well exceed that.
In 2021 the lower-powered diesel engine was dropped, but the new 136PS version gained mild hybrid technology. This makes it capable of up to 62.8mpg combined, even more than the earlier lower powered version.
The 1.0-litre T-GDI petrol is slightly more efficient than the 1.4, although neither are particularly thirsty. The smaller engine officially returns up to 50.4mpg, while the 1.4 is good for 45.6mpg. With a 50-litre fuel tank, you'll pay around £50 to fill it from near-empty, and that'll be good for 350 to 400 miles.
The later 1.5-litre petrol engine is even more efficient than the 1.4, and very close to the official fuel economy of the 1.0-litre. It'll return 49.6mpg combined, and our experience suggests that is realistic.
The warm Ceed GT model is the thirstiest, officially seeing 38.2mpg. Drive it hard and you'll see considerably less than that.
How reliable is a Kia Ceed?
While the Kia Ceed isn't exactly a Toyota Corolla when it comes to unwaivering reliability, it ought to be a pretty dependable choice. Kia consistently performs well in the HonestJohn.co.uk Satisfaction Index, while the brand's seven-year warranty (transferable to subsequent owners) ought to give you some extra confidence, too.
Insurance groups and costs
Unless you're a particularly young driver or opt for the sporty GT model, the Kia Ceed should be very reasonable to insure. The cheapest will be the affordable 2 trim level with the 1.0-litre T-GDI engine, as this falls into insurance group 8. The Kia Ceed GT is classed as insurance group 22.
VED car tax: What is the annual road tax on a Kia Ceed?
All Kia Ceed models will be charged a flat rate of £165 per year in road tax (VED) after the first year. That's true for competitors, too, apart from hybrid models like the certain versions of the Toyota Corolla (which will save £10 a year in tax).
The first year rate will vary depending on which engine you go for. The diesel will cost £170 in the first year, with the 1.5-litre petrol costing £190. These are both competitive figures alongside rivals.
How much should you be paying for a used Kia Ceed?
"As Kia has traditionally been seen as a budget brand, but times change and the list price of a new Ceed isn't much cheaper than the equivalent Ford Focus."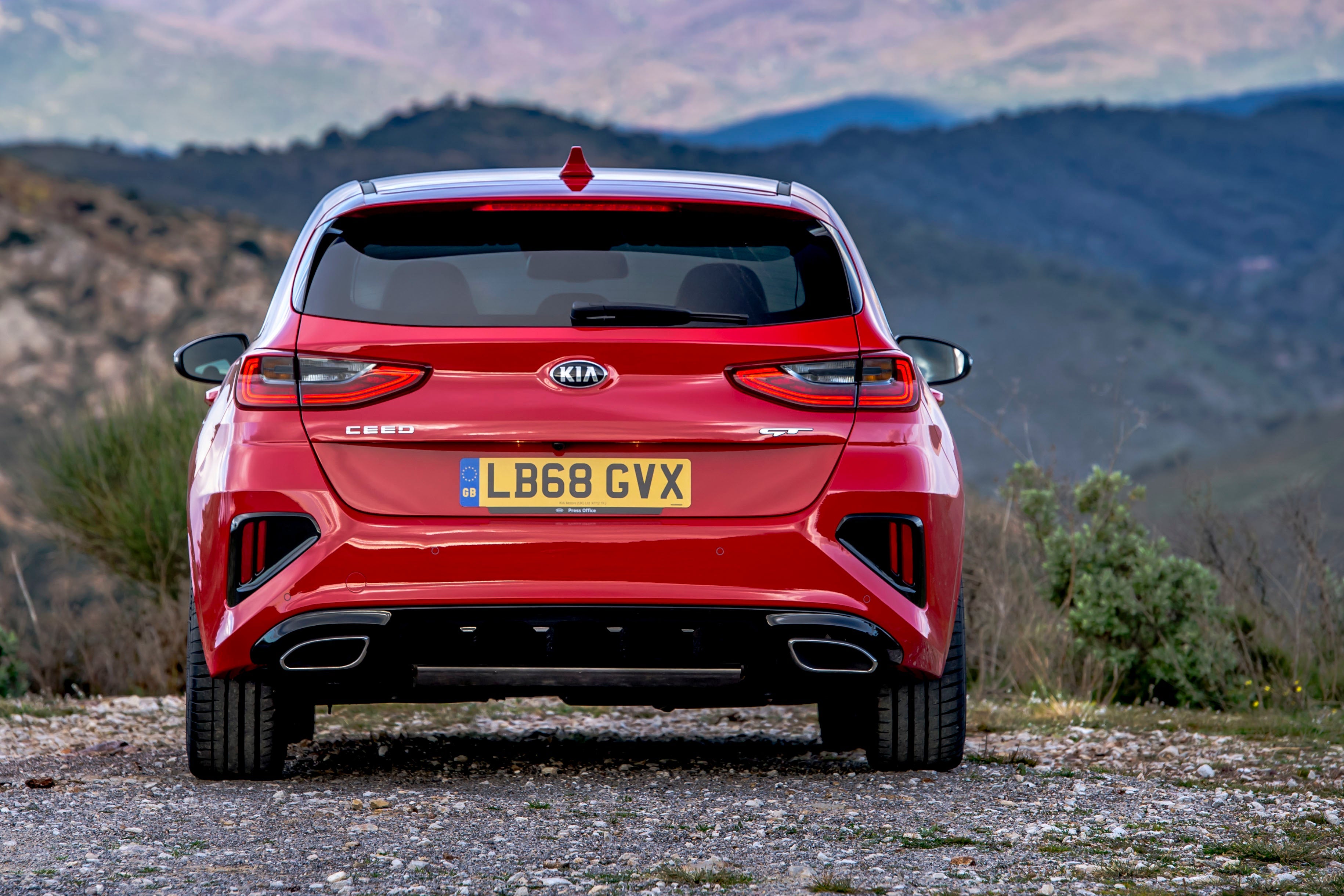 That's true on the used market, too, although the Ceed's high levels of standard equipment (and that transferable seven-year warranty) mean it offers decent value for money.
If you want an as-new model, look for a pre-registered car. These will have been ordered by dealers to meet targets and are ready to go at a discounted rate compared to retail price. You get the same lengthy warranty and get to skip the waiting list, although it means you can't pick your own colour and optional extras.
The cheapest of this generation of Kia Ceed we've found on the used market (and available to buy right now on heycar) is a 2018 1.6-litre diesel in 2 spec with 53,000 miles on the clock for £11,600. There are many used diesel Ceeds for sale as they were popular with business fleets.
A 1.0-litre petrol in the same spec isn't much more with lower mileage, but you'll need around £13,000 for a higher spec 1.4. Facelifted versions of the Kia Ceed start at around £18,000 as a 2021 model with low mileage, while 1.5-litre petrols start at £19,000.
Trim levels and standard equipment
The entry-level Kia Ceed 2 might be the most affordable model in the range, but it's still pretty well-equipped as standard. Highlights include 16-inch alloy wheels, an eight-inch media system with Apple CarPlay and Android Auto, and DAB radio. A reversing camera helps when parking while the Forward Collision-Avoidance Assist feature could prevent you from having minor bumps or scrapes in slow-moving traffic.
As its name suggests, the Kia Ceed 2 Nav builds on this with a bigger 10.25-inch touchscreen media system including navigation, as well as a USB fast charger.
Mid-range Kia Ceed 3 models start to feel a bit flashier with 17-inch alloy wheels, tinted windows and rain-sensing windscreen wipers. Black cloth seat trim with faux-leather bolsters look a bit swisher than the standard seats, while adjustable lumbar support helps comfort levels.
The Kia Ceed GT-Line gets a sporty look, with unique 17-inch wheels, a black and satin chrome radiator grille, high gloss black door mirrors and side sill mouldings, a dual exhaust system and a small rear spoiler. The exterior door handles are illuminated (fancy…), while the interior gets black cloth and light grey faux leather seats (heated in the front), and a heated flat-bottomed steering wheel with grey stitching. It also gets sporty aluminium pedals and an engine start/stop button.
Moving up to the Kia Ceed GT-Line S specification, you get 18-inch wheels as well as LED headlights. There's a wide sunroof with an electric sunblind, while the driver's seat features 10-way power adjustment with memory functionality. The upholstery is upgraded to black leather and faux suede with grey stitching, with heated outer rear seats. A premium JBL sound system is standard with a pair of additional speakers, as well as wireless phone charging.
There's also smart cruise control with stop and go included, as well as the Smart Park Assist System which will park the car automatically for you. This also brings with it front parking sensors while additional safety features include a Blind-Sport Collision Warning, Lane Following Assist, Forward Collision-Avoidance Assist with city and pedestrian detection.
The range-topping Ceed GT builds on this with various red trim highlights (including centre caps for the 18-inch alloy wheels and a grille insert) as well as LED bi-function headlights. The cabin is uprated with black leath and faux suede upholstery and faux leather door centre trim with red accents.
The seats, door cards and steering wheel all feature red contrasting stitching, while a GT Performance mode has been added to the 4.2-inch colour supervision cluster display. Completing the list of additional equipment is a Smart Park Assist System (SPAS).
Ask the heycar experts:
common questions
Is the Kia Ceed a good car?
Although it's not as cheap as it was, the Kia Ceed is still a good car that's well finished. It represents good value for money on the used market and ought to be a very reliable choice.

Is the Kia Ceed reliable?
The Kia Ceed comes with a seven-year/100,000-mile warranty, while the brand regularly performs well in reliability surveys. We're sure a Kia Ceed would be a very reliable choice.

How big is the boot on the Kia Ceed?
The Kia Ceed has 395 litres of boot space with the seats up, and 1291 litres with the seats down.

Get a month's free insurance for your new car with heycar
£--.--*
Monthly thereafter
Terms, conditions, exclusions and excesses apply.
What's included?
Fully comprehensive policy
Monthly subscription, cancel anytime
No deposit or interest charges
Price guarantee for 12 months
Manage your policy anytime, anywhere
No fees for changes and cancellations
‍We've assumed that you:
– Have had a full UK driving licence for two or more years
– Will be the registered owner and keeper of your car
– Haven't made any modifications to your car
– Have never been declined insurance
– Haven't had any claims or driving convictions
Kia Ceed cars for sale on heycar
2,977
Number of cars available
£7.5K - £31K
Price bracket of these cars
Colours available on heycar
Keep me updated by email with the latest advice, news and offers from heycar
By submitting, you agree to our
privacy policy
.
Popular models
Similar models