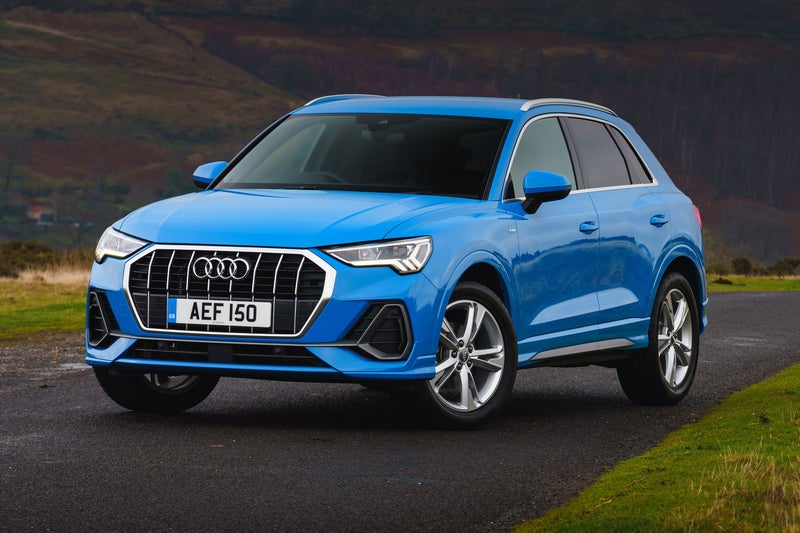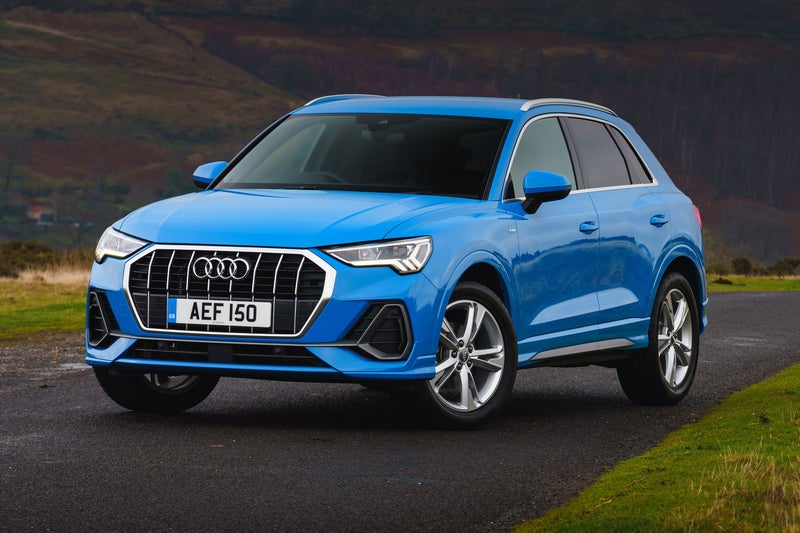 1/10
heycar rating
"Desirable yet practical small SUV"
Launched: 2018

Small SUV

Petrol, Diesel
Quick overview
Pros
Very practical premium SUV with a clever sliding rear bench
Interior is modern and loaded with technology
The peak of automotive fashion
Cons
High-spec models are expensive
Not the most rewarding SUV to drive
2.0-litre petrols are very thirsty
Overall verdict
On the inside
Driving
Cost to run
Prices and Specs
Common questions
Overall verdict on the Audi Q3
"The Audi Q3 is an ultra desirable small SUV. It's not cheap - especially high-spec models - but it's clear where your money goes, with a feel-good interior and lots of standard equipment. Buying a used example will save you money, though, and the most affordable engines and trim levels are actually the most desirable."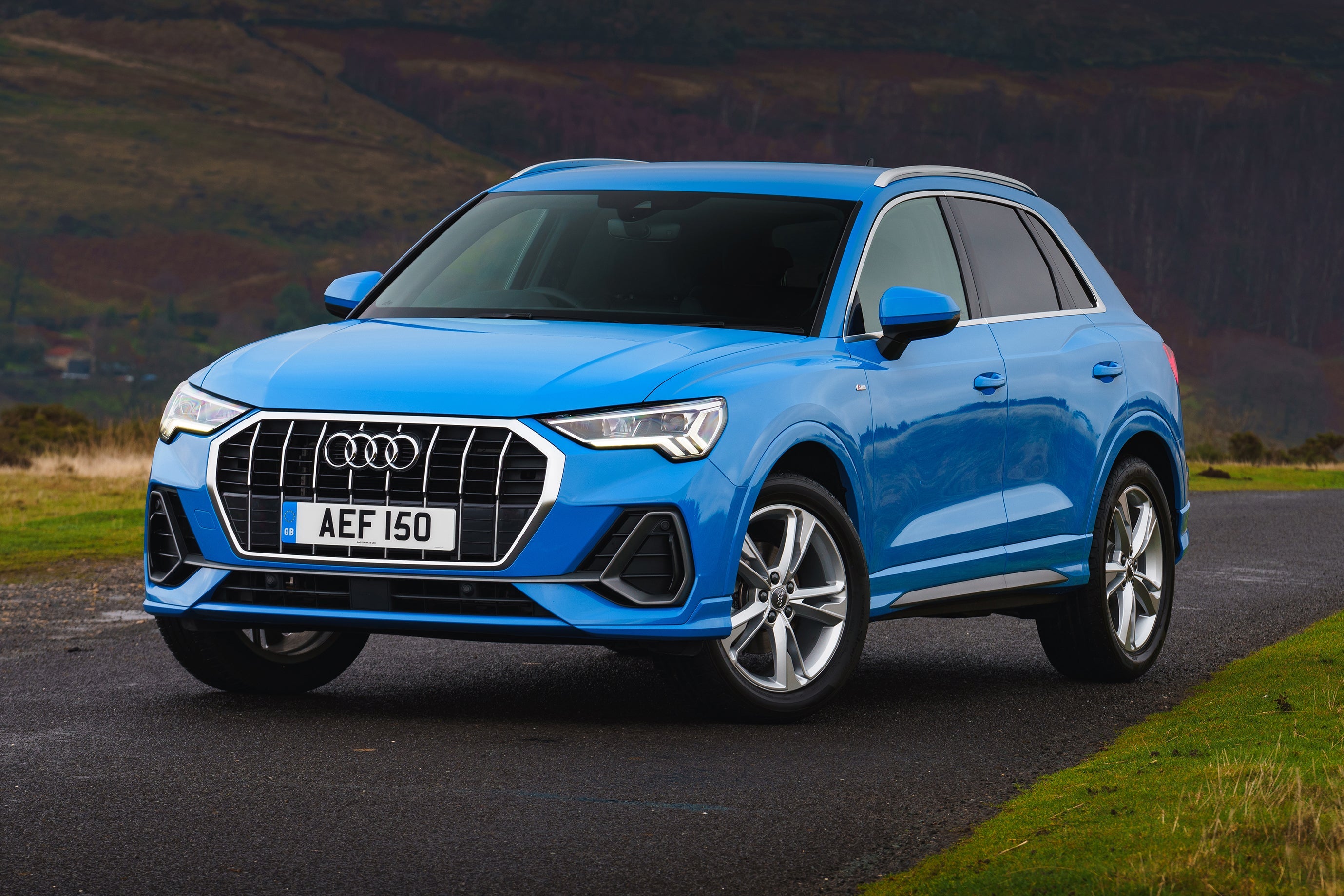 Like just about any Audi, the Q3 isn't exciting to drive but it's extremely refined, no matter which engine you choose. The ride is on the firm side, particularly with the bigger wheels - although the adaptive suspension fitted as standard on top-spec models does help. We'll explain all in our 2022 Audi Q3 review.
The last-generation Audi Q3 was one of the original small premium SUVs, yet it was disappointing in so many ways. The interior was cramped, it was dull to drive, and cheaper alternatives did the job better. However, buyers loved the idea of an upmarket SUV in a small package (and the image that brought), leading to it flying out of showrooms despite it being, objectively, not as good as the A3 hatchback on which it was based.
Fortunately, the latest 2022 Audi Q3 is better in pretty much every way. It's more practical, the interior feels like a scaled-down version of the Q7, and it's much better to drive (if not quite as enjoyable as a BMW X1).
You'll pay more for an Audi Q3 over a mainstream alternative like the Volkswagen Tiguan, but you can counter some of that expense by looking for a nearly-new example. Audi dealers have as-new Q3s in stock with as little as 100 miles on the clock and £5000 off list price (provided you're not fussed about having the latest number plate).
And any ideas about saving money by buying a mainstream competitor will vanish as soon as you sit in the Audi Q3's interior and marvel at its premium materials and generous standard equipment levels. It might not quite be as quirky and interesting as the Volvo XC40, but its simplistic design isn't going to offend anyone.
The Audi Q3 is a practical choice, too, with plenty of room in the cabin and a useful 530 litres of boot space. The rear bench can slide backwards and forwards, which makes the Audi Q3 more versatile than a lot of SUVs of this size, and it can even adjust for angle - making the Q3 surprisingly comfortable for rear-seat passengers.
Unless you cover mega miles, we'd look for one with the entry-level 1.5-litre petrol engine (badged the 35 TFSI). With 150PS, this has a decent amount of power and is very efficient day-to-day. Opt for one with the automatic gearbox and the 1.5 uses a mild-hybrid system, but the S tronic transmission is a little slow to respond and frustrating to use, so we'd recommend one with the six-speed manual gearbox.
The latest Audi Q3 is finally up to the standards we'd expect from Audi. It's not the cheapest option, nor the most comfortable or the best to drive - but it's an ultra convincing all-round package with decent standard equipment levels which makes it a compelling choice on the used market. It's certainly one of the best small SUVs you can buy today.
Looking for a used car for sale? We've got 100s of Audi Approved Used Cars for Sale, for you to choose from, including a wide range of Audi Q3s for sale. If you're looking for the high performance version of the Q3, you need our Audi RS Q3 review.
Is the Audi Q3 right for you?
If you want a practical SUV that'll be cheap to run and doubles up as a feel-good status symbol, the Audi Q3 should be on your shortlist. Its big boot and clever sliding rear bench means it's practical enough to use as a family car, yet its classy image (and that desirable four-ringed badge) will appeal to a younger audience.
There's a strong engine line-up which should meet a wide variety of requirements. The Q3 is comfortable enough for long-distance drivers, while compact enough to make negotiating city centre streets a breeze. Optional quattro four-wheel-drive means the Q3 should appeal to country-dwellers as well as urbanites, too. If you want something a bit more svelte, there's the Audi Q3 Sportback.
What other cars are similar to the Audi Q3?
Other premium manufacturers provide plenty of competition for the Audi Q3. The BMW X1 lags behind in terms of practicality but is more entertaining to drive, while the Volvo XC40 has a superbly Scandinavian interior. The new Mercedes-Benz GLA is a stylish competitor with a superb cabin, while you could also consider the Lexus NX (particularly if you value reliability and low running costs).
Comfort and design: Audi Q3 interior
"It's got a cool edge and doesn't feel quite as homely as the Volvo XC40's cabin somehow, but it's certainly very impressive in terms of design. The ambient lighting of the higher-spec models is a neat touch, too - adding to the premium feel of the Audi Q3's interior."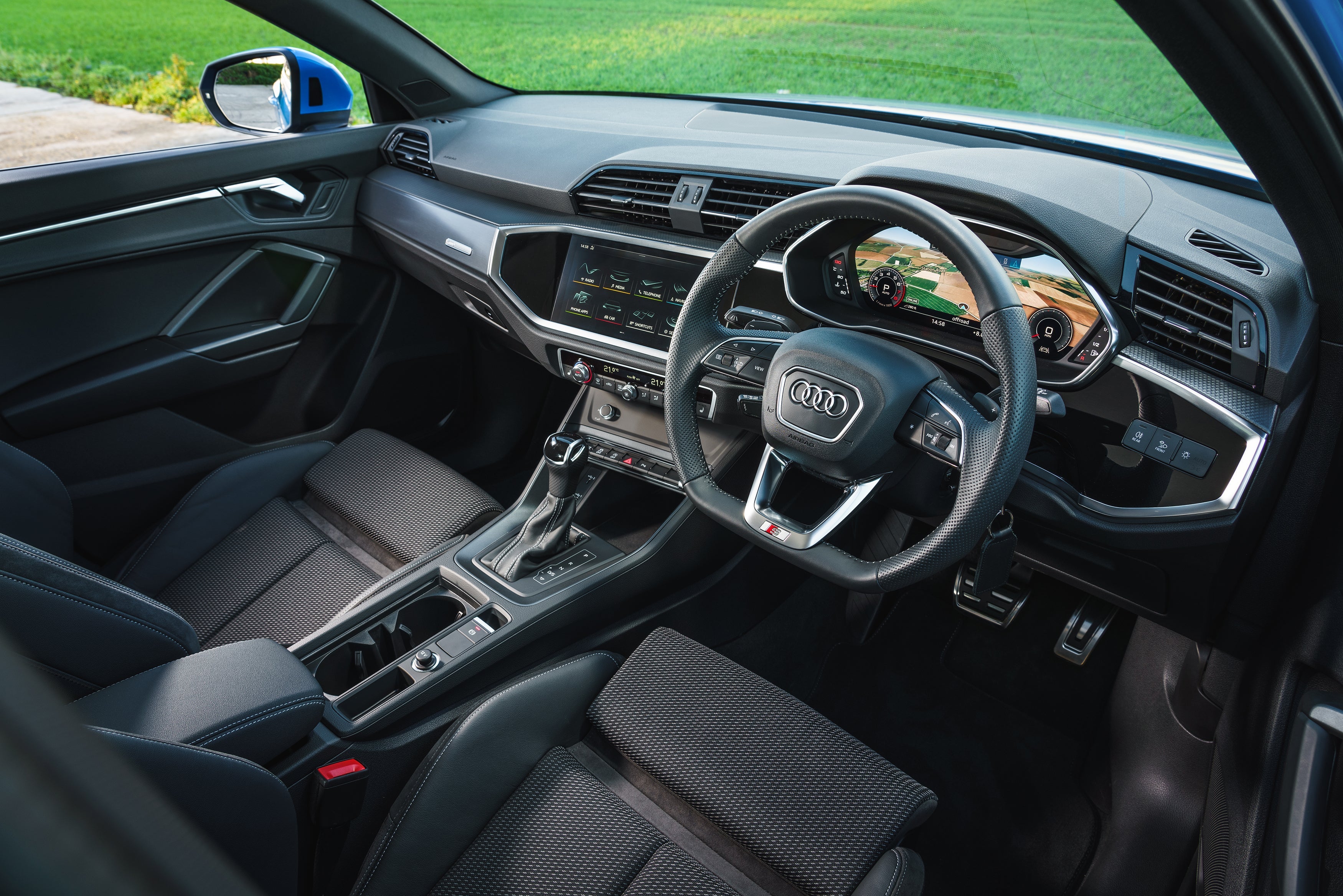 The first thing you'll notice about the Audi Q3's interior is how angular it is. It feels contemporary, with a typically Audi attention to detail - from the unusual door handles to the infotainment screen that's slightly angled towards the driver, it's a cabin that's been well thought-out.
Finding a comfortable seating position is easy thanks to a huge amount of adjustment in the seats and steering wheel, although you'll have to pay more for the Audi Q3 Edition 1 or Vorsprung if you're expecting electric seat adjustment. Of course, being a small SUV, you get a higher seating position than you would in a standard hatchback like the A3 - perfect for seeing over other cars at the traffic ahead.
In typical Audi form, the seats are on the firm side, but ultimately very supportive over long journeys. You'll have to hunt out a higher-spec model if you want leather seats, too, with Sport models making do with cloth and S line featuring part-leather sports seats. Leather is available as an option on lower trim levels, so you might strike lucky and find a used example with them specced.
Quality and finish
It almost goes without saying that an Audi has a superb interior, but what do you expect for a car that's significantly more expensive than everyday SUVs like the Nissan Qashqai?
The Audi Q3 does feel extremely well built, with soft-touch materials almost everywhere you lay your fingers. We say 'almost'... there are a few slightly flimsy plastics if you go looking for them (such as the lower door cards and the glove box lid).
As well as leather seats, higher-spec Audi Q3 models feature aluminium dash inlays which manage to make the cabin feel even more special (and, of course, the aforementioned ambient lighting).
All the controls are well finished, with a pleasing tactility to their operation. One grievance we do have is with the touchscreen infotainment system - its glossy finish means it soon starts to show up fingerprints.
Infotainment: Touchscreen, USB, nav and stereo in the Audi Q3
All Audi Q3 models come with a 10.1-inch touchscreen infotainment system located in the centre of the dash and angled slightly towards the driver. This incorporates all the usual features - a connected navigation system, voice recognition, DAB radio, Bluetooth, Apple CarPlay and Android Auto.
It's a very slick system, with sharp graphics and fast responses. The menus are laid out logically and you don't have to wade through endless submenus to perform the simplest of tasks. It's not perfect, though. Older Audi models came with a rotary controller positioned between the front seats, letting you scroll through the media system without having to jab away at the touchscreen display. This is much easier to use on the move. There aren't any physical buttons providing shortcuts to useful features, either.
One feature we do really like is the Virtual Cockpit, which is standard across the range. This is quite simply the best digital dashboard on the market, replacing old school dials with a sharp 10.25-inch display (12.3-inch on Edition 1 and Vorsprung models). It's easily customisable, although adding Android Auto and Apple CarPlay functionality would make it perfect.
Space and practicality: Audi Q3 boot space
Practicality is usually high up in the list of requirements for SUV buyers and you'll be pleased to hear the Audi Q3 is a very versatile choice. That's because it's relatively large for its class, measuring 4484mm long, 2024mm wide (including door mirrors) and 1616mm high.
In the front, there's room for the bulkiest of passengers, with plenty of space between the two front seats. There's loads of stowage, too - including large door bins ready to take whatever family life chucks at them.
One of the Audi Q3's clever features is the sliding rear bench which allows you to prioritise space for people or luggage. You can even adjust the angle of the backrest, meaning your rear passengers can pretend they're being chauffeur-driven as they take a kip in the back. Indeed, rear-seat passengers get plenty of space. Large rear windows and generous headroom means it doesn't feel claustrophobic at all back there. Even adults (or the tallest of teenagers) won't have much cause for complaint in the back of a Q3.
There are ISOFIX points for the outer rear seats, with plenty of space for a pair of child seats. Getting kids in is easy, too - the high SUV position means you won't be leaning down to strap them in, and the doors open usefully wide.
In total, Audi Q3's boot capacity can hold up to 530 litres of luggage. That's more than the BMW X1 (which holds 505 litres), Volvo XC40 (460 litres) and Range Rover Evoque (472 litres) - and significantly more than the Audi A3 Sportback. Access to the boot is easy, although obviously it's higher up than a comparable family hatchback. An adjustable boot floor helps here, as does an electric tailgate which is standard across the range. Should you need more room, the rear bench splits into three and can be dropped to provide 1525 litres of space.
The Audi Q3 comes with a tyre repair kit as standard, rather than a spare wheel. There is room for a space saver spare wheel, though - any Audi dealer should be able to provide one for around £150 (including the tool kit and jack).
Handling and ride quality: What is the Audi Q3 like to drive?
"The Audi Q3 feels competent and assured, although offers little in the way of excitement in the way it handles. There's little in the way of lean, so your kids won't feel seasick on winding roads, but it's not as eager to devour twists and turns as the BMW X1. Its steering feels pretty lifeless, but it's easy to judge."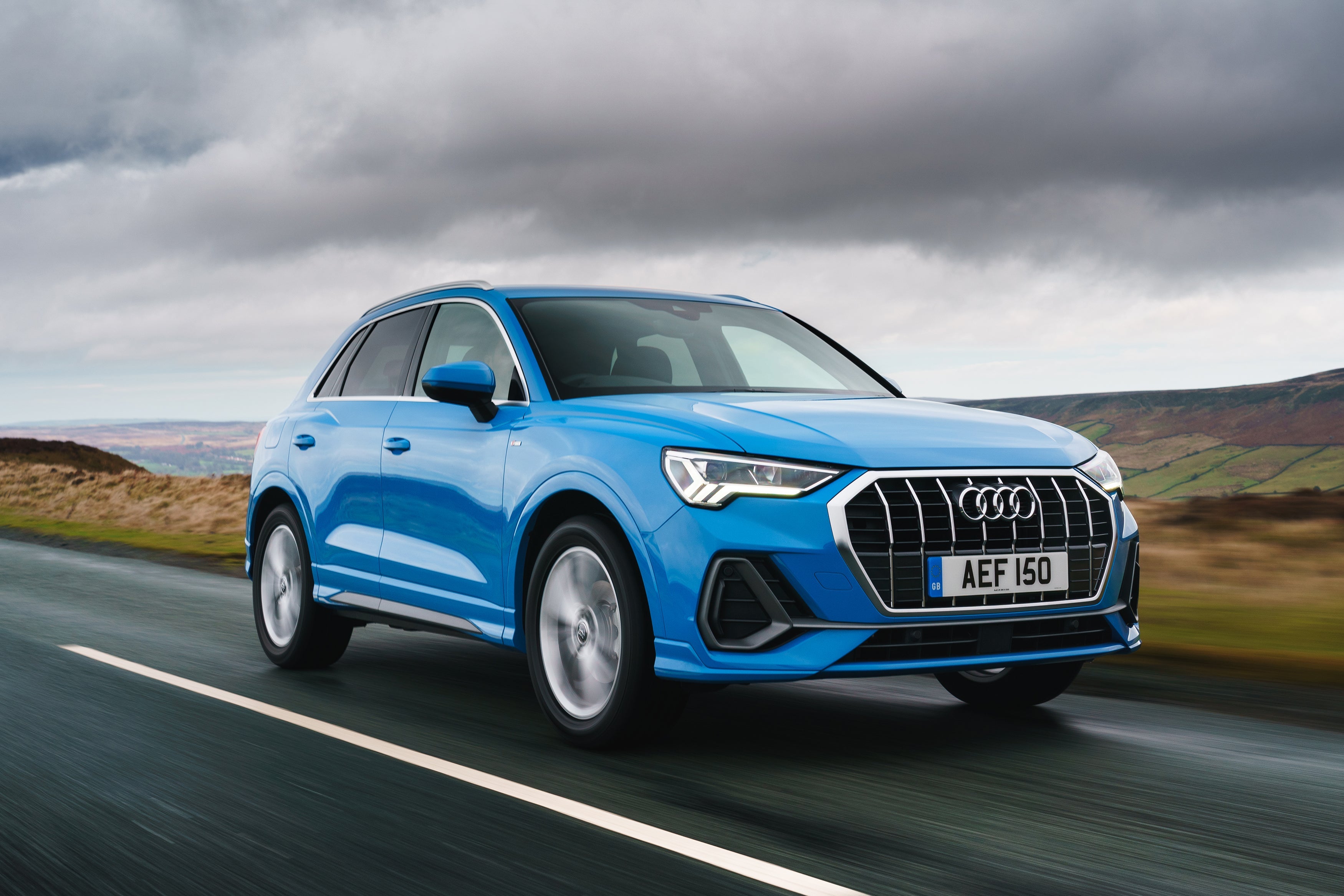 There's loads of grip thanks to its wide tyres, even from front-wheel-drive models. There isn't really any reason to look for a Quattro all-wheel-drive version, unless you plan on lugging a caravan into a muddy field. You'd be surprised at the difference a set of winter tyres make if you're concerned about cold weather.
The Audi Q3's ride quality is better than Audis of old, but still isn't as good as a Volvo XC40's. Small wheels help, although the adaptive suspension of high-spec models provide the most comfortable ride (providing the dynamic select system is left in comfort mode).
Audi Q3 S line models combine sports suspension with 19-inch alloy wheels, which sounds like a recipe for discomfort. It's not as bad as you might think, but you will find yourself bracing for potholes.
Around town, the Q3 offers decent forward visibility and is an easy car to place in the road. Rear visibility isn't great, especially if you're carrying passengers in the back (there's no digital rear-view mirror like the Range Rover Evoque). It's better than the Q3 Sportback, though, and rear parking sensors are standard across the range.
The top-spec Audi Q3 Vorsprung comes with a plethora of driver assistance technology to make your life easier, including a 360-degree camera (a lifesaver in tricky parking manoeuvres) and even a self-parking system.
What engines and gearboxes are available in the Audi Q3?
If you're unsure about whether to buy a petrol or diesel, you need to look at how many miles you expect to cover and the kind of journeys you do. Generally, diesels are best suited to high mileages (more than 12,000 a year) and long motorway jaunts, while petrols are better for low mileages or lots of short journeys.
Unless you really want to take on hot hatches, the entry-level 35 TFSI engine is the best combination of performance and low running costs. It's a turbocharged 1.5-litre petrol engine with 150PS, and can be combined with a manual or automatic gearbox. Ordinarily we'd recommend an auto in a car like this, but the S transmission is annoyingly hesitant to respond, lurching forwards when you attempt to make a quick getaway on a roundabout.
The 2.0-litre petrols, badged 40 and 45 TFSI with 190 or 230PS respectively, are fun to drive but quicker than most drivers will need. They're only available with the S tronic transmission and all-wheel-drive, which means you'll become a regular at your local petrol station.
If you cover a lot of motorway miles, the 35 TDI is the big seller. This is a 2.0-litre diesel with 150PS and is sold new as a Quattro with a manual or automatic gearbox, or a front-drive model with the S tronic transmission. Most sensible buyers opt for the latter, which means it's the most prevalent on the used market.
The top-of-the-range diesel is a 190PS unit badged the 40 TDI. This comes with Quattro four-wheel-drive and an S tronic automatic transmission as standard, making it ideal for anyone who's planning to put their Q3 to work towing trailers and the like.
Refinement and noise levels
Audi has entire departments dedicated to ensuring its cars are more refined than competitors, and that's clear in the Audi Q3 - provided you're sensible with the options. Bigger wheels are more likely to cause a rumble in the cabin, but the adaptive suspension helps improve refinement.
The 1.5-litre petrol is surprisingly vocal in a characterful way, but the mild-hybrid system (fitted as standard on 35 TFSI automatics) allows the Audi Q3 to coast with the engine off, improving refinement. You'll notice when the petrol engine kicks in again, but it doesn't make much of a difference to the Q3's overall excellent refinement levels.
The most refined engines are the 2.0-litre petrols. The 45 TFSI in particular, with its 230PS, has plenty of performance on offer - meaning it doesn't need working quite as hard to join traffic or overtake. That helps with refinement.
As you'd expect, the diesels provide a giveaway rumble (especially on start-up when cold), but no more so than rivals. They soon settle down at motorway speeds, too - with very little noise or vibration making its way into the cabin.
Safety equipment: How safe is the Audi Q3?
The Audi Q3 was crash tested by Euro NCAP in 2018 and it performed very well indeed, achieving a maximum five-star rating. In fact, it scored well across the board, receiving a 95% rating for adult occupants and 86% for children. NCAP also awarded the Q3 85% for its safety assist features, and 76% for protecting vulnerable road users. Basically, if you're going to be in a crash, the Audi Q3's a very good car to do it in.
There's also plenty of active safety equipment designed to prevent you being in a crash in the first place. Most of it is standard across the range, which helped the A3 achieve this impressive five-star safety rating. All Q3 models come with Audi's Pre-Sense Front with pedestrian and cyclist detection. This clever system uses radar sensors to detect other vehicles, pedestrians and cyclists in front of the car. If it detects an imminent collision, it will warn the driver - and if you don't react, it'll apply the brakes to prevent a crash or, at the least, reduce the impact.
Other handy safety tech highlights include a lane departure warning, which will nudge the steering if you accidentally stray from your lane (useful but also a bit annoying, in our experience), and a camera-based traffic sign recognition system.
The Audi Q3 Vorsprung comes with some extra features such as the cross-traffic assist rear system. This will alert the driver of any approaching traffic when reversing out of a parking space - and even apply the brake if required.
MPG and fuel costs: What does an Audi Q3 cost to run?
"Avoid the 2.0-litre petrols if you're concerned about fuel costs - these will struggle to see 30mpg in the real world. Painful. "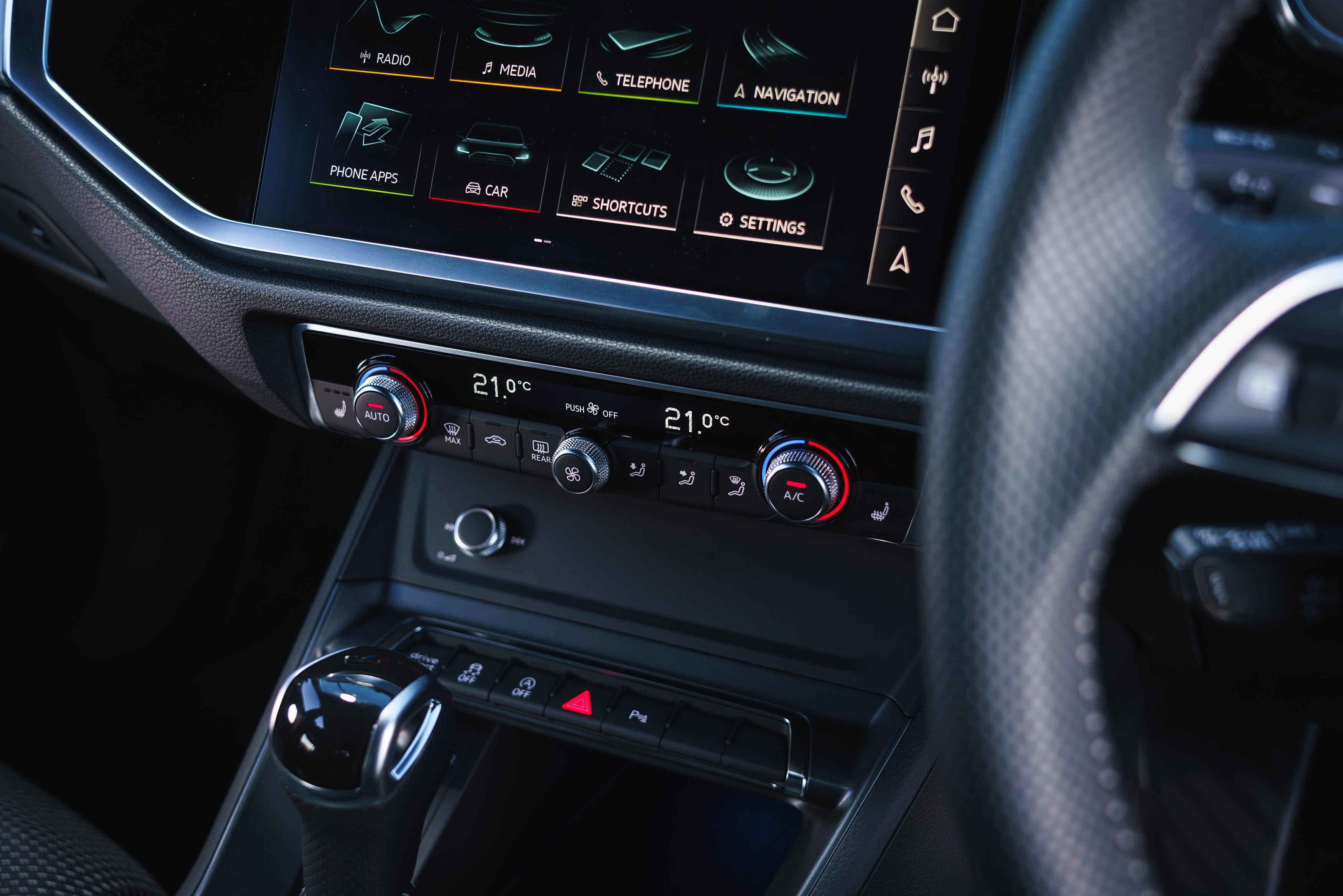 The 1.5-litre is best, officially returning up to 41.5mpg depending on things like the trim level and gearbox. The automatic is marginally more efficient thanks to its mild-hybrid system, but you probably won't notice a huge difference in economy in the real world.
The diesels are, of course, the most frugal. Combined with the S tronic automatic gearbox, the 35 TDI will return up to 47.9mpg. The Quattro all-wheel-drive system hits this pretty hard - knocking around 6mpg off that figure.
How reliable is an Audi Q3?
Audi performs well for reliability, with the brand achieving a score of 9.12 out of 10 in the HonestJohn.co.uk Satisfaction Index.
There aren't many common issues to look for with the Q3, although the 1.5-litre 35 TFSI petrol engine has experienced hesitation issues at low revs (particularly with the manual gearbox). This was fixed by an update in 2020.
Insurance groups and costs
Insurance groups range from 20 to 28 depending on engine and trim level, with the Sport 35 TFSI manual being the cheapest to insure. You'll probably end up paying slightly more to insure the Q3 than a mainstream competitor like the Ford Kuga, but it shouldn't be obscenely expensive unless you're a new driver.
VED car tax: What is the annual road tax on an Audi Q3?
All of the current Q3 models will be taxed under the current system, attracting a flat £150 a year rate. Be careful not to be stung by the premium tax, though. This applies to all vehicles with a list price of more than £40,000 - meaning some Q3 models. If the car you're looking at cost more than £40,000 when it was new, you'll have to pay an extra £325 a year for the first five years.
How much should you be paying for a used Audi Q3?
"A new Audi Q3 will set you back anything from around £31,500 for an entry-level Sport model with the 35 TFSI petrol engine and six-speed manual gearbox, rising to more than £47,000 for a top-spec Vorsprung model with the 45 TFSI engine, Quattro four-wheel-drive and S tronic automatic gearbox."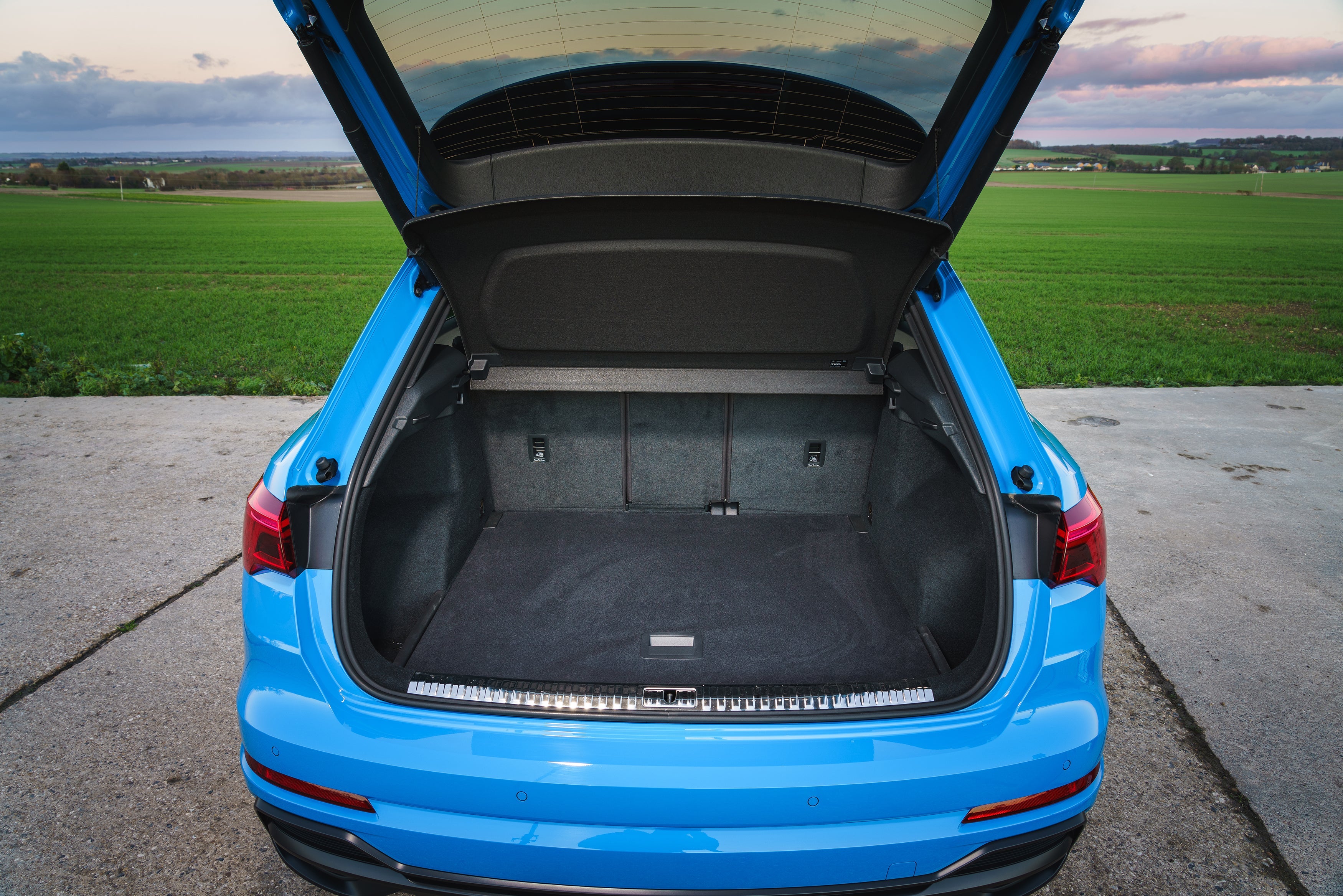 Of course, you can save a significant amount of money by considering a used example. The Audi Q3's desirable image means it holds onto its value very well, but there are still some excellent nearly-new deals to be had. We've seen examples with three-figure mileages selling for around £25,500 - that's a saving of £6,000 over list price.
Trim levels and standard equipment
You'd be surprised how much you get for your money on the standard Audi Q3 Sport, including 18-inch alloys, LED headlights (including fancy dynamic rear indicators), cloth sports seats and Audi's MMI Navigation Plus, as well as its Virtual Cockpit.
The popular Audi Q3 S line sits comfortably in the middle of the range representing good value money, with spec highlights including 19-inch alloy wheels and bespoke exterior styling. Interior highlights include part-leather sports seats and ambient lighting.
Things start to get pricey with the Q3 Edition 1 models, which feature 20-inch wheels, Audi's clever Matrix LED headlights (including front and rear dynamic indicators), a black exterior styling pack and full leather upholstery. The ambient lighting pack is extended, too, giving you a choice of colours.
Topping the range is the Audi Q3 Vorsprung, which comes with its own take on 20-inch alloy wheels, a panoramic sunroof and premium Bang & Olufsen sound system. It also has the Driver Assistance Pack which includes a range of nice-to-have features like adaptive cruise control and a 360-degree camera.
Ask the heycar experts:
common questions
Is the Audi Q3 a good car?
The Audi Q3 is a premium car with a premium interior and a premium price. It's a strong alternative to cars like the Mercedes-Benz GLA, BMW X1 and Volvo XC40.
Which is better Audi Q3 or VW Tiguan?
If you need to move people, then the Volkswagen Tiguan has more space for passengers and luggage. The Audi Q3 is a more stylish and premium choice, though.

When did the new shape Audi Q3 come out?
The latest Audi Q3 went on sale in 2018. Its predecessor – the first-generation Audi Q3 – was launched in 2011.

Answered by
Lawrence Allan
Are Audi Q3s expensive to maintain?
Audi offers a service plan to help keep costs under control. The Audi Q3 should be a reliable choice, too, while it shouldn't cost a fortune in fuel.

Get a month's free insurance for your new car with heycar
£--.--*
Monthly thereafter
Terms, conditions, exclusions and excesses apply.
What's included?
Fully comprehensive policy
Monthly subscription, cancel anytime
No deposit or interest charges
Price guarantee for 12 months
Manage your policy anytime, anywhere
No fees for changes and cancellations
‍We've assumed that you:
– Have had a full UK driving licence for two or more years
– Will be the registered owner and keeper of your car
– Haven't made any modifications to your car
– Have never been declined insurance
– Haven't had any claims or driving convictions
Audi Q3 cars for sale on heycar
5,845
Number of cars available
£11K - £49K
Price bracket of these cars
Colours available on heycar
Keep me updated by email with the latest advice, news and offers from heycar
By submitting, you agree to our
privacy policy
.