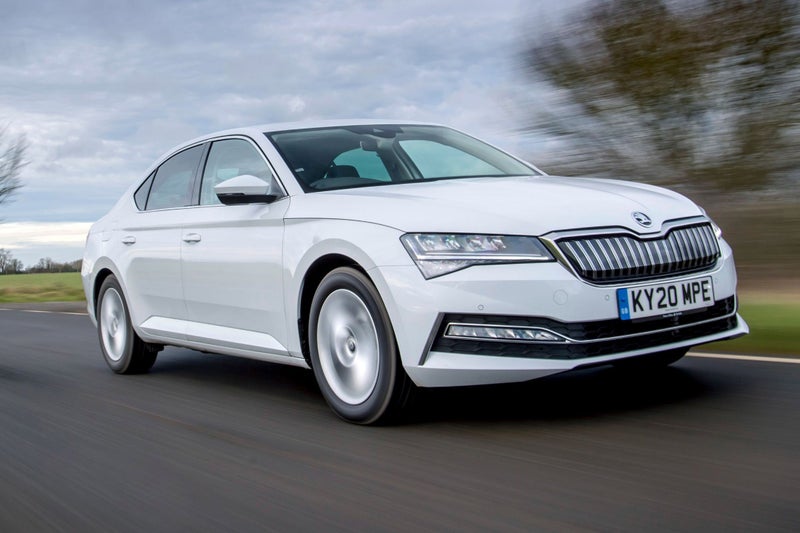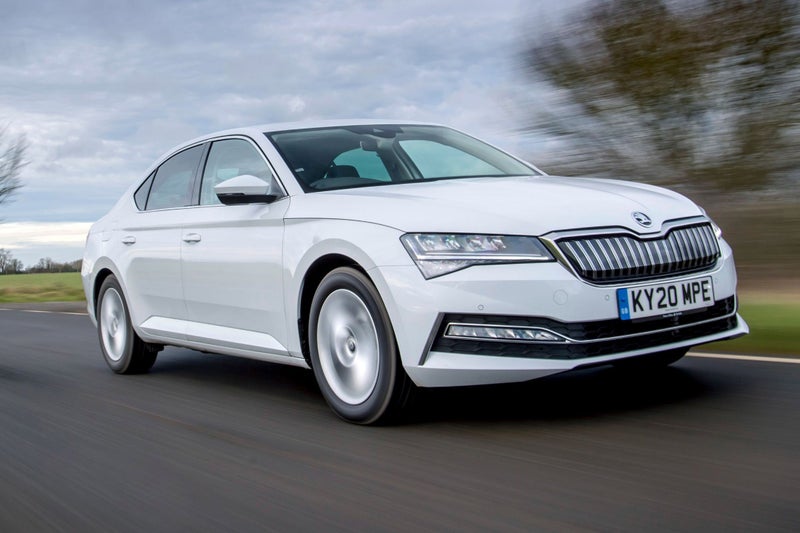 1/10
heycar rating
"Big, understated, luxury car alternative"
Launched: 2015

Large family car

Petrol, Diesel, Hybrid
Quick overview
Pros
More space than a black hole
Hybrid really does offer the best of both worlds
So much car for the money, but it doesn't feel cheap
Cons
Not a thrilling drive
It might actually be superb, but you'll feel silly saying its name
DSG automatic can get befuddled and the diesels noisy
Overall verdict
On the inside
Driving
Cost to run
Prices and Specs
Common questions
Overall verdict on the Skoda Superb
"There's big, then there's Skoda Superb big. Don't assume you need an SUV if you want lots of interior space, because the Superb is one of the most accommodating cars money can buy. If you sat in the rear and closed your eyes you'd be forgiven for thinking you were in the back of a Mercedes-Benz S-Class, and it's this that makes the Superb feel more luxurious than its name badge would suggest."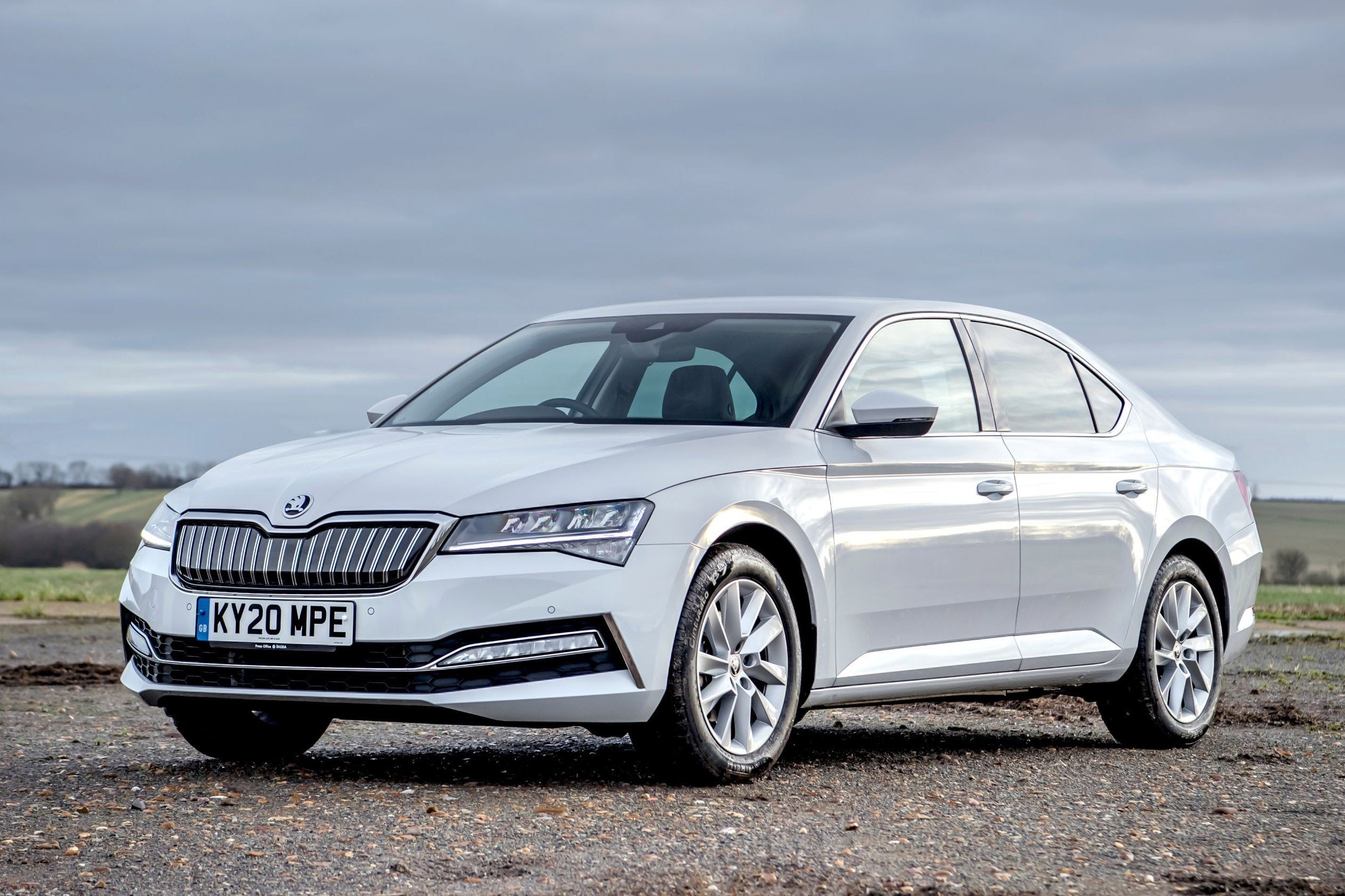 If you can look beyond the notion that only SUVs make good family cars, the Skoda Superb is right there waiting for you as the perfect clan-hauling machine. That it is a popular choice among taxi and chauffeuring firms tells you everything you need to know; this car offers tons of space for passengers and luggage, but can also do starship mileages and has a tendency to not go wrong.

Indeed, take the Skoda badges out of a Superb and your passengers would merrily describe it as a Volkswagen or Audi inside such is the interior quality, and they wouldn't be entirely wrong either. It all feels very Volkswagen Group in its interior fit, finish and look, which is a compliment here, again only adding to the feeling that you're getting a lot of car for your money.
A hatchback rather than a saloon, the wide opening at the rear only adds to the Skoda Superb's usefulness, though if you want even more space you can have the Superb as an estate model, which we've reviewed separately.
There are five trim levels and seven engine choices, in manual or automatic guise and front or four-wheel drive. One of the engine choices being a plug-in hybrid that mates a 1.4 turbocharged petrol engine to an electric motor, which brings the potential for electric only motoring over a genuinely useful range. Known as the Superb iV, it's a great hybrid car if you're in the market for one.
This model arrived in 2015, and was given a facelift for the 2020 model year. The name couldn't be more descriptive, either, as really it is Superb, indeed, the biggest bugbear for those of us writing about it is to find other adjectives to describe it. The Skoda Superb is then, according to Microsoft Word's thesaurus - outstanding, wonderful, terrific, splendid, fabulous, fantastic, marvellous, magnificent and more, and really we're not about to disagree.
Is the 2022 Skoda Superb right for you?
It's difficult to make a case against the Skoda Superb, unless you're sold on the idea of a higher riding SUV. Even then we'd default to the big, capable Skoda, because it'll serve you just as well, if not better. Indeed, there's barely a question the Superb can't answer, whether it's in relation to space, comfort, economy, budget and more. Now there's the plug-in hybrid, there's even decent battery-only electric vehicle (EV) capability to allow guilt-free school drop-offs with no tailpipe emissions.
Actually, there's one area where the Skoda Superb misses out, and that's sportiness. Skoda, sensibly chose not to graft its sporting vRS badge on the Superb, dropping the suspension, upping the power, and adding some contrasting stitching inside - because nobody really wants them to. Need more space? Then the Skoda Superb Estate is the one, but as all-rounders go the Superb is among the very best out there, which pretty much makes it the perfect family car.
What's the best Skoda Superb model/engine to choose?
Skoda offers the Superb with seven engine choices and they're all turbocharged whether they're diesel or petrol. The smaller petrol and diesel engines are fine, but a little bit overwhelmed, so we'd avoid them unless you're really tight on your budget. The previous go-to engine was always the 150PS 2.0-litre TDI, and that remains the case, particularly combined with SE L trim, because of its ample equipment, acceptable, easy performance and good economy.
With the 2019 revisions Skoda introduced the 1.4 TSI iv, which is a plug-in hybrid, it being more tax efficient, offers a useful up to 30 mile electric-only range and good combined economy when you need to go further. Again, we'd opt for it in SE L trim because you get pretty much everything you need, or want, at a sensible price. Pounding motorways? Pick that diesel. Do more mixed driving with a plug-in charging box at home and work? Then the iv hybrid will serve you very well.
What other cars are similar to the Skoda Superb?
Similar in relation to interior space? That puts the Superb up along with luxury cars like the Mercedes-Benz S-Class . In the mainstream large family saloon/hatchback sphere its most obvious rival is the Volkswagen Passat. Indeed, compare the brochures for the Volkswagen and the Skoda and you'll notice that the Superb uses all the same engines, transmissions and even hybrid systems, but wraps it all up in a larger, cheaper package.
Other mainstream alternatives include cars like the Mazda 6, Volvo S60, Vauxhall Insignia Grand Sport and many more, while you might consider their premium alternatives, like the BMW 3 Series, Audi A4 and Mercedes-Benz C-Class, even if the Superb's scale is more BMW 5 Series, Audi A6 and Mercedes E-Class outside, and the class above inside.
Comfort and design
"If comfort is space, then the Skoda Superb is difficult to beat. The design inside is best described as simple and neat, it looks like a scaled-up Skoda Octavia around the dashboard, in a style that wouldn't have disgraced an Audi a generation or so back and that still works very well today. Indeed, its unfussiness is a big part of its appeal in a world where massive and masses of screens now dominate, the Superb's familiar, easy controls – with a touchscreen in its centre - adding to its comfort. "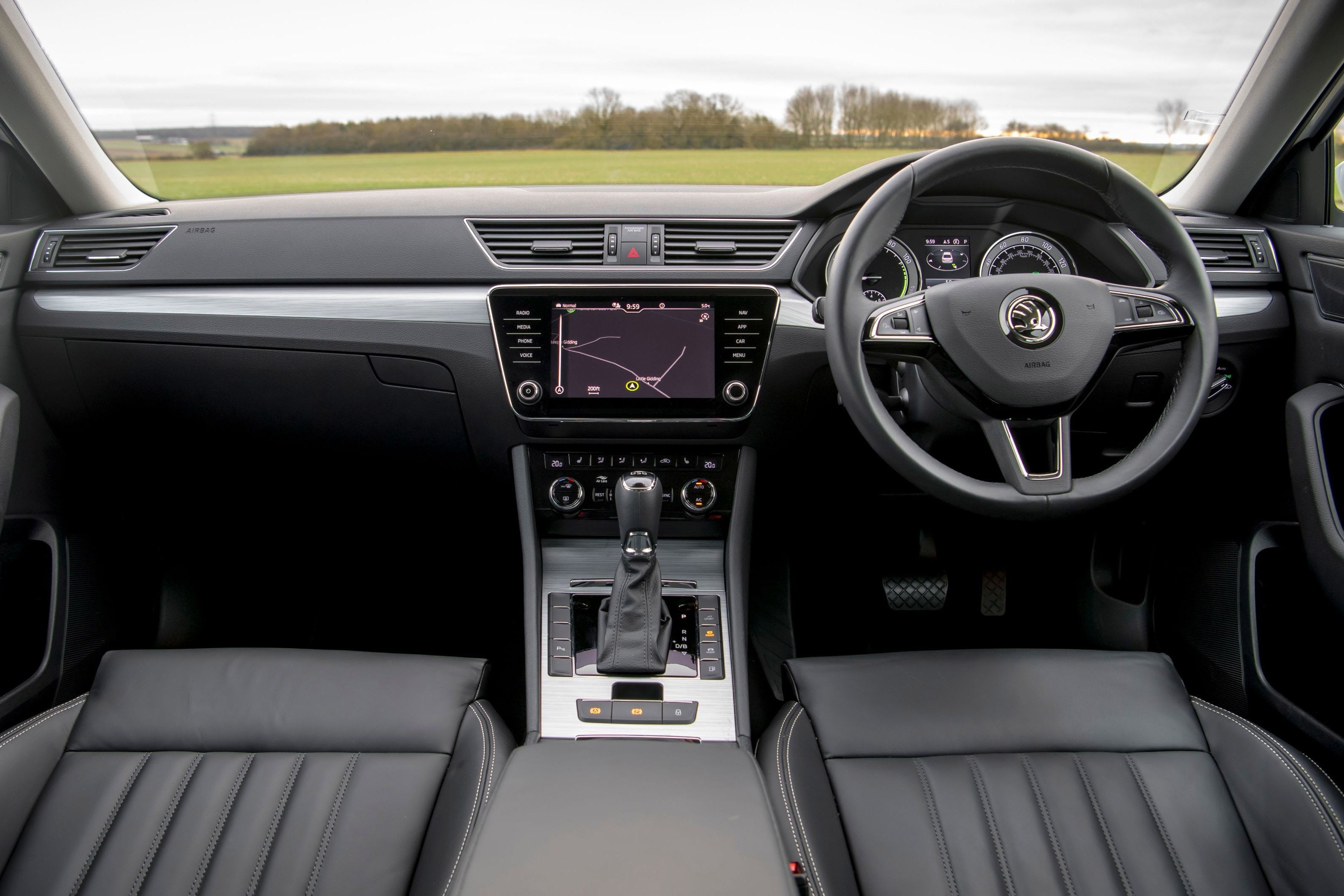 All Skoda Superb models come with air conditioning, a basic manual system on the budget special entry-level S models, with all from SE upwards coming with dual zone electronic climate control – tri-zone in the range-topping model.
SE also gains useful features like adaptive cruise control, electrically folding door mirrors and delayed headlights, while the SE L's mirrors add heating and memory function, SE L also seeing the boot gaining electrically operated opening and closing and the front seats are heated.
Keep climbing the trim levels and the comfort only gets more indulgent, with full electrically adjustable and ventilated front seats offered in the range-topping Laurin & Klement model, with the option of a massage function on the driver's side, too.
Underlining the commodious luxury of the rear seat area is the option of a footrest (dubbed 'lounge step'), while those rear seats can be heated, too. SE L models and above also gain rear sun blinds, which is something more common to luxury cars, as well as keyless entry and go.
Quality and finish
With a price tag that's firmly in the mainstream sphere, but scale in the premium large saloon and bigger range, you might think Skoda's paid for all that extra metal by cutting corners inside. It hasn't. No, the interior isn't as stylish to look at or feel as an Audi A6, but it doesn't disgrace itself.
On the entry models some of the plastics are a bit harder and shinier than anything you'd find in an Audi, but at the Skoda Superb's sales heartland – around SE L trim – the interior is lifted to levels that feel and look very good, with fine material quality on all the touch points. The build quality throughout the entire range is very impressive, with every switch, dial and knob all working with satisfying, consistent weighting, the overall impression is one of high quality longevity.
Skoda sensibly keeps things like the ventilation controls separate from the touchscreen system, so they're easy to feel for when you're driving.
Infotainment: Touchscreen, USB, nav and stereo in the Skoda Superb
The touchscreen interface also works well, with shortcut buttons making it easy to navigate menus. Skoda Superb S and SE models comes with an 8-inch touchscreen DAB audio system with Bluetooth, USB and SD card connection with voice control and a multifunction steering wheel. Smartlink+ comes as standard and includes Apple CarPlay and Android Auto, so you can mirror your smartphone's display on the car's big screen.
Skoda Superb SE L model's Amundsen system adds built-in sat nav, integrated WIFI and a year's subscription to Skoda's connected services for things like live traffic updates and fuel prices.
SportLine Plus and Laurin & Klement Superbs gain the larger 9.2-inch Columbus touchscreen, which is available as an option on SE and SE L models as part of the Technology Pack. Skoda also offers a Virtual Cockpit from SE L upwards. It replaces the conventional instrument pack with a 10.25-inch screen that offers five different views.
Laurin & Klement models get this digital display as standard and add the range-topping 610W CANTON sound system with 12 speakers, vehicle noise cancellation and 3D surround sound.
Space and practicality
The Skoda Superb's dimensions are understandably big, at 4.8m in length and 1.8m wide, but that's what gets you such generous interior space. The back seat will generously accommodate a pair of adults over six feet tall, with ample headroom and acres of legroom, while the large opening doors make getting in pretty easy, too. Like all cars, save a few MPVs, the middle rear seat feels perched, but even tall adults will fit alright.
The Skoda Superb's boot is massive, being 625 litres in capacity with the seats up, over 1.1 metres long and a metre wide. Being a hatchback it's easy to pack that space and the boot's square shape lets you make use of all those litres. Fold the rear seats (in a 60/40 split) and the Superb hatchback's boot offers a vast 1,760 litres of volume.
That's basically identical to the space you get in the Mercedes E-Class estate – that's right, the estate – which comes from the class above. It's worth mentioning that the hybrid model – which hides battery under the boot floor – isn't quite so capacious with a 485-litre capacity rising to 1,610 litres with the back seats folded.
Opt for an S, SE or SE L model and, as an option, the front passenger seat can fold flat for carrying lengthier items and you can add additional Isofix points.
The Skoda Superb is crammed full of handy features like neat boot dividers, an umbrella hidden in the driver's door, an integrated torch that charges in the boot, a couple of boot cubbies and masses of oddment storage throughout the interior.
Handling and ride quality: What is the Skoda Superb like to drive?
"While the Skoda Superb conducts itself very well on the road it's not going to thrill like some more driver-focussed rivals might. That is in no way a complaint though as it is surefooted and comfortable, which is all you'll ever really need or want in a family car like this. "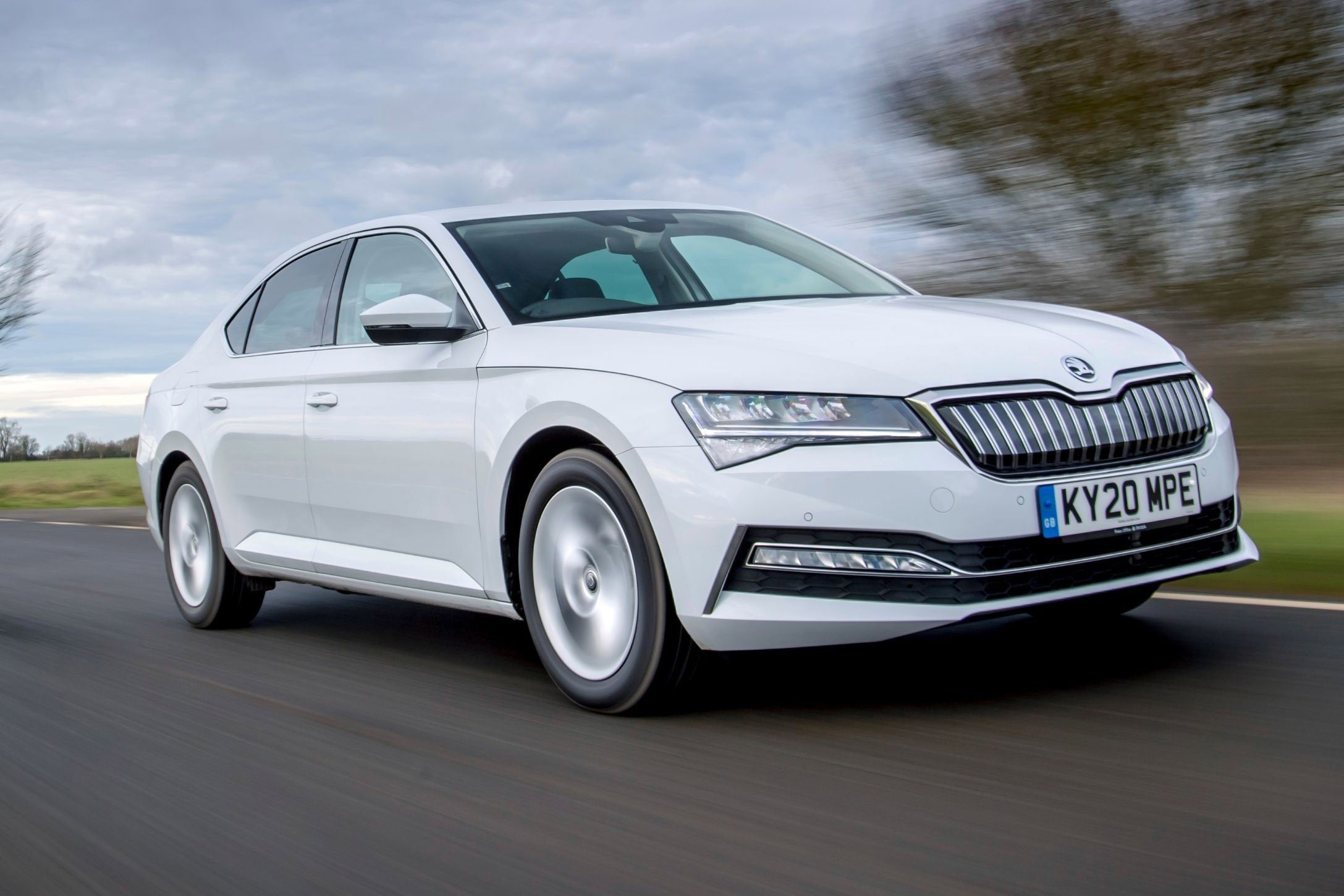 The base Skoda Superb S rides on 16-inch alloy wheels, SE and SE-L gaining 17-inch wheels, SportLine Plus coming with 19-inch wheels and the range-topping Laurin & Klement (L&K) model dropping that back to the more sensible 18-inch wheels.
As ever, opting for larger wheels does impact on the ride quality, with bigger bumps, rougher surfaces being felt a bit more in the cabin. It's not so bad as to be distracting, but the 18-inch wheel options is as big as we'd suggest – striking a balance between looks and comfort.
You can add variable dampers to the ride and handling mix, which offer a choice of modes, from the cushioning Comfort through to stiffer Sport. It's standard on the range-topping L& K model, and a cost option on SE cars and above.
Otherwise the Skoda Superb's an easy car to drive, with light steering, plenty of grip (traction greater in the four-wheel drive models if you feel you need them – as you might if you tow), and a suppleness that makes it comfortable on a range of roads.
What engines and gearboxes are available in the Skoda Superb?
There's no real weak spot in the Skoda Superb's engine line up. The 120 PS 1.6 TDI will suit if you're after an economical cruiser; its not fast, but you'll avoid fuel pumps rather well. The petrol 1.5 TSI alternative feels smoother to drive, though isn't quite as good on fuel, despite its ability to shut down cylinders when they're not required.
Diesels have typically been the core engine for cars like the Superb. The 2.0 TDI with 150PS will suit most buyers, with its 9.1 second 0-62mph time being ample and it has plenty of mid-range for overtaking when you're on the move, regardless of whether it's mated to the six-speed manual or 7-speed automatic transmission. There's a more powerful 190PS version, but save your money as the marginal performance gains it brings are offset by reduced fuel economy.
There are more powerful 190PS and 272PS 2.0-litre TSI petrol engines, which offer ever greater performance, but in a car like the Skoda Superb aren't really necessary.
The hybrid offers a compelling mix of electric-only range, with a 35 miles electric-only range, backed up by a 1.4-litre TSI petrol engine. Combined, the electric and petrol motors deliver 218PS, which brings a brisk 7.7 second 0-62mph time. It's only offered with the automatic transmission.
Refinement and noise levels
The Skoda Superb's big car space and supple ride comfort would all be wasted if refinement wasn't up to scratch, but the well-rounded Skoda does a decent job here, too. There's a bit of road noise on the move on poor surfaces, exacerbated by larger wheel sizes, but it's no worse than any of its rivals in this respect. Engine sounds are nicely dampened, too, with the diesels a bit more vocal than their petrol alternatives, but only at higher revs.
Wind noise is decently contained, too, with only the faintest whisper of it at higher speeds. For the ultimate in refinement the hybrid, when running in EV mode, is super hushed, and even when its petrol engine does kick in it does so seamlessly.
Safety equipment: How safe is the Skoda Superb?
Crash tested back in 2015 by Euro NCAP, the Skoda Superb scored a full 5 star rating. It comes with stability and traction control, ABS brakes, automatic post collision braking system, automatic emergency brakes with predictive pedestrian protection, seven airbags and tyre pressure monitoring.
Optionally Skoda offers Crew Protection Assist, which includes a pre-emptive system that closes windows, the sunroof and tightens the seatbelts, it also adds side rear airbags for £475 on all.
SE and above adds a Driver Fatigue sensor, SE L and above all also gain Blind Spot Detection, with a more comprehensive Lane Assist and Blind Spot Detection system also standard on SE L upwards. All offer the option of Traffic Sign Recognition - which displays the current speed limit on the infotainment screen – though at just £90, we're at a loss as to why it's not just standard equipment on all.
Maximum EV range
Now offered with a plug-in hybrid drivetrain, the Skoda Superb can be run in electric only mode for up to 35 miles, depending on the driving conditions. Expect a mid-20s range in reality, which is enough to cover most commutes. Unlike some, it's not a stand-alone model, simply being a powertrain choice, offered from SE L trim upwards.
MPG and fuel costs: What does the Skoda Superb cost to run?
"That plug-in hybrid takes about 4 hours to charge from a home or work wallbox."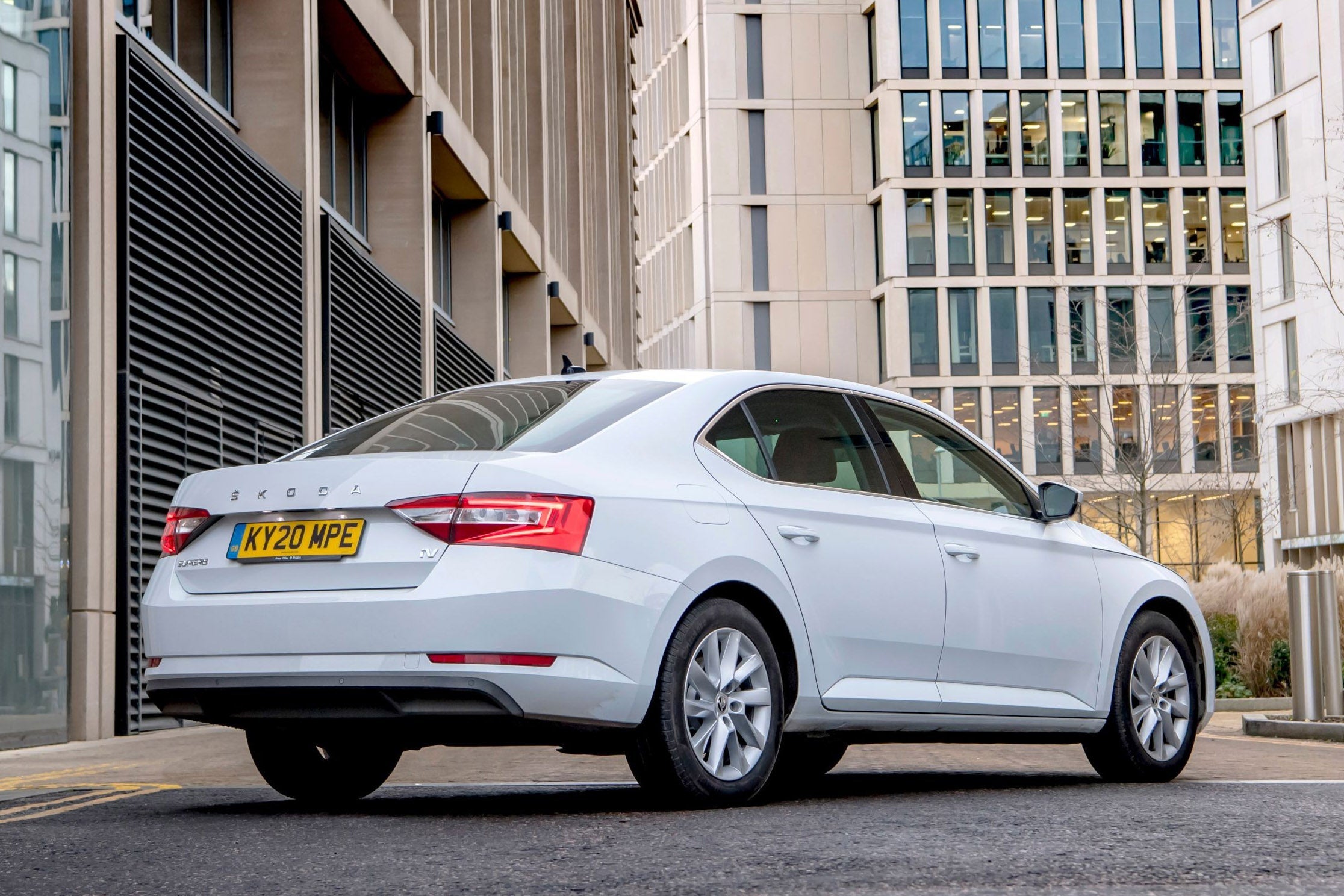 Charge it from a normal three pin socket and it'll take over 6 hours. Fuel consumption in all Superbs is affordale, with the diesels being the stars.
Pick the 2.0-litre TDI and you'll achieve anywhere between 49.6-58.9mpg under the WLTP measurement, choosing the DSG automatic will dent that slightly, while the best petrols will achieve between 5-10mpg less according to the official figures.
The 148.7-217.3mpg of the hybrids is a quirk of measurement, as outside the battery's 35-mile ultimate range you'll be needing the petrol engine. Expect it in these conditions to achieve a still very impressive 50-70mpg, or more if you're particularly light of foot.
How reliable is the Skoda Superb?
The Skoda Superb in this form has been around for a few years now, so the fact that it achieved a strong 9.48 rating for reliability in the HonestJohn.co.uk Satisfaction Index is a good sign. Skoda as a brand also came 6th in the overall Satisfaction ranking, so it's fair to say a lot of current Skoda owners are very happy with their cars.
One issue to look out for is 'kangarooing' on 1.5-litre TSI vehicles fitted with a manual transmission, an issue that affected cars across the VW Group.
Insurance groups and costs
The base S model attracts an insurance grouping of 18E, that rising to a 31E for the range SportLine Plus or Laurin & Klement models with the most powerful 272PS turbocharged petrol engine. A 150PS 2.0 TDI auto SE L hatch, our motorway choice, is group 22E, while our short commute, tax-efficient pick, a SE L 1.4 TSI iV plug-in hybrid is group 26E.
VED car tax
VED bands vary from B to K, with a few versions at the top of the range attracting the £40,000 initial rate VED penalty fee. Those in band K attract a £1,420 initial payment, then £165 annually thereafter, with the plug-in hybrid obviously the cheapest in band B, it costing just £10 to tax.
How much should you be paying for a used Skoda Superb?
"You can get a 2016 model Skoda Superb for a starting price of around £12,000 in the classifieds. Expect relatively high mileages at this price point, but the Superb should wear them well."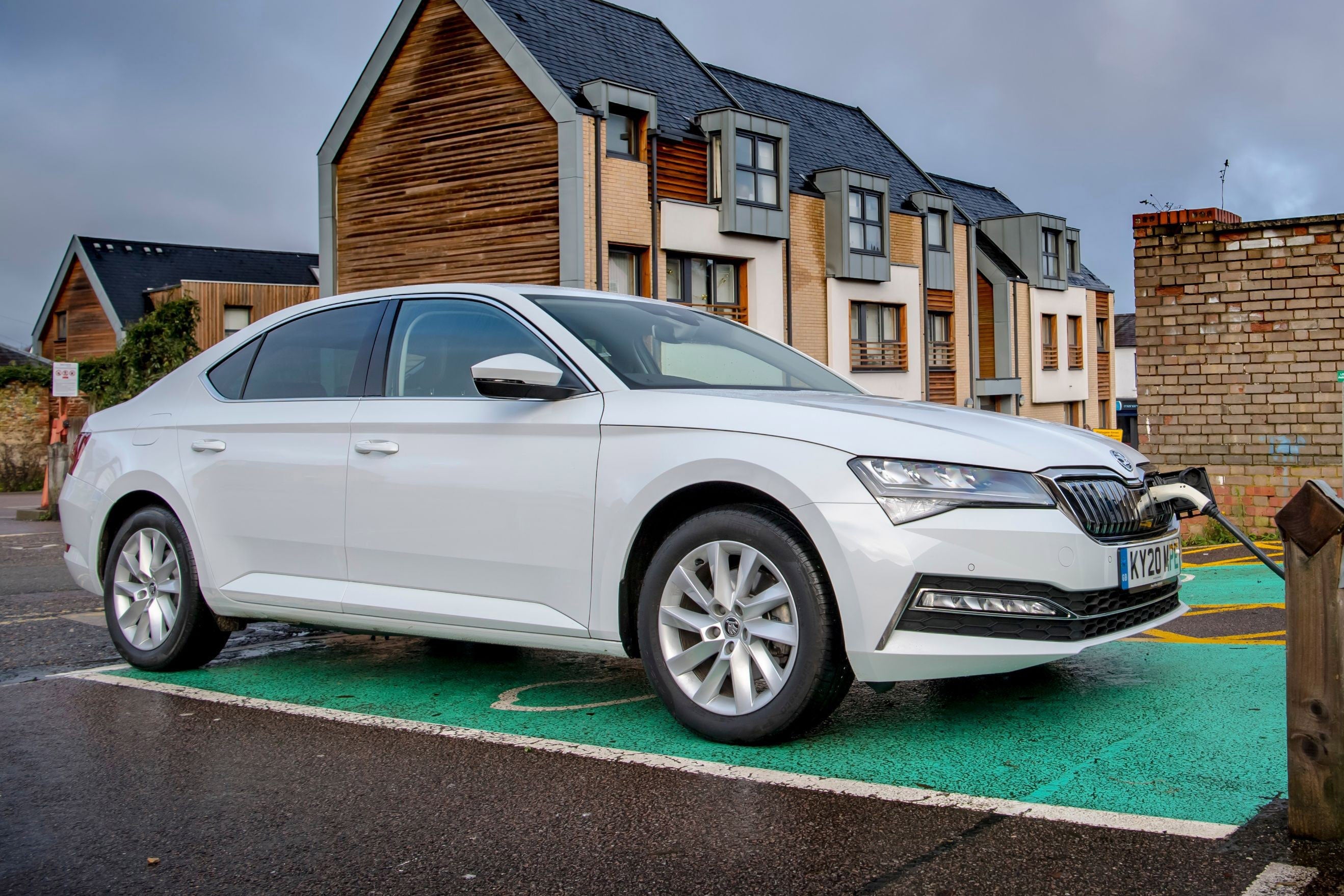 Underlining the popularity of diesel in this segment is the fact that most are 2.0-litre TDIs, with a few 1.6 TDIs, too. In the £10,000 and above market there's rich pickings, with relatively low mileage models available with desirable specs.
Trim levels and standard equipment
Skoda Superb S trim has 16-inch alloy wheels, LED headlights, Smartlink+ (Apple CarPlay/Android Auto), Keyless Start/Stop and manual air conditioning, but the Skoda Superb SE is a better bet with 17-inch alloy wheels, manual lumbar support, chrome window surrounds, umbrella holders in front doors with 1x umbrella, dual-zone climate control and a driver fatigue sensor.
Skoda Superb SE L models upgrade to 18-inch alloy wheels, full matrix LED headlights with washers plus leather upholstery while SportLine Plus adds 19-inch alloy wheels, SportLine Plus interior and exterior styling, 9.2 Columbus Nav and a sport chassis. The top Skoda Superb Laurin & Klement gets 18-inch alloy wheels, heated front and rear seats and a Canton Sound system
Ask the heycar experts:
common questions
Is the Skoda Superb based on the VW Passat?
Strictly speaking it isn't; it's more a case that the Skoda Superb and the Volkswagen Passat are just two cars made by the VW Group that share a lot of parts, and you'll find some of those same parts in SEATs and Audis too.

Is it worth buying a Skoda Superb?
Bigger cars normally cost more money, so the Skoda Superb delivers excellent value by virtue of offering a huge amount of space for similar money to smaller cars. It's a very capable machine, is very good at lots of things, isn't too flash and isn't likely to go wrong either, which makes it a smart choice.

Is Skoda Superb a luxury car?
We would say yes. If your idea of a luxury car is a premium badge then maybe you'll be disappointed, but our idea of a luxury car is something that is very spacious, comfortable, well-built, well-equipped and pleasurable to spend time in. The Skoda Superb ticks all of those boxes.

Get a month's free insurance for your new car with heycar
£--.--*
Monthly thereafter
Terms, conditions, exclusions and excesses apply.
What's included?
Fully comprehensive policy
Monthly subscription, cancel anytime
No deposit or interest charges
Price guarantee for 12 months
Manage your policy anytime, anywhere
No fees for changes and cancellations
‍We've assumed that you:
– Have had a full UK driving licence for two or more years
– Will be the registered owner and keeper of your car
– Haven't made any modifications to your car
– Have never been declined insurance
– Haven't had any claims or driving convictions
Skoda Superb cars for sale on heycar
2,983
Number of cars available
£10K - £45K
Price bracket of these cars
Colours available on heycar
Keep me updated by email with the latest advice, news and offers from heycar
By submitting, you agree to our
privacy policy
.