Audi A3 Sportback Review 2023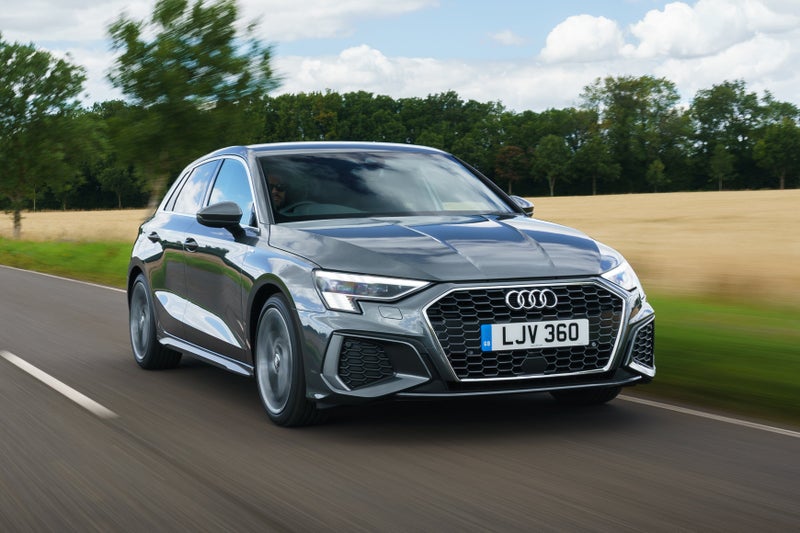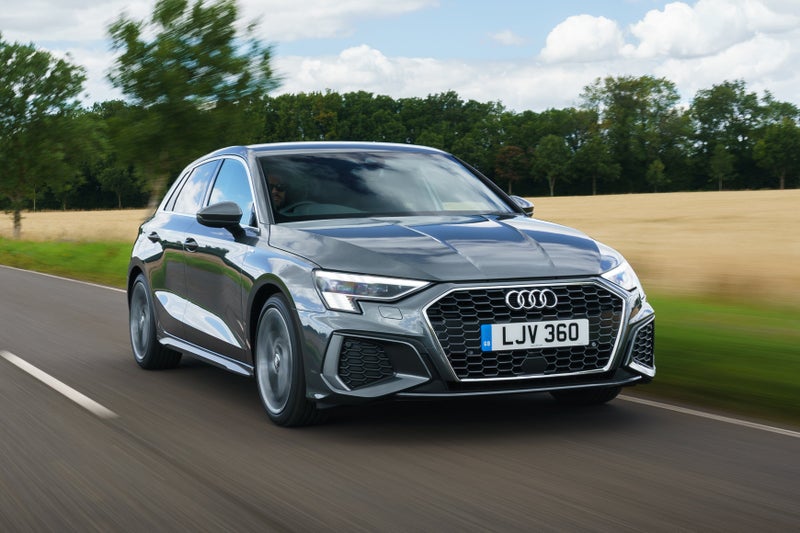 1/10
heycar rating
"Classy car with superb interior"
Launched: 2020

Family hatch

Petrol, Diesel, PHEV
Quick overview
Pros
Navigation and Audi's Virtual Cockpit standard on all models
High quality cabin with lots of soft-touch materials
Good to drive with economical petrol and diesel engines
Cons
More expensive than stuff like the (very similar) Volkswagen Golf
Looks very similar to the old model
High-end models miss key kit as standard
Overall verdict
On the inside
Driving
Cost to run
Prices and Specs
Common questions
Overall verdict on the Audi A3 Sportback
"The Audi A3 Sportback demands a premium price over the similar Volkswagen Golf, and whether it's worth it is entirely up to you. But what you do get for your money is a sharp, modern interior that's crammed with plenty of tech, a smooth and refined driving experience and arguably the best-looking car in the class."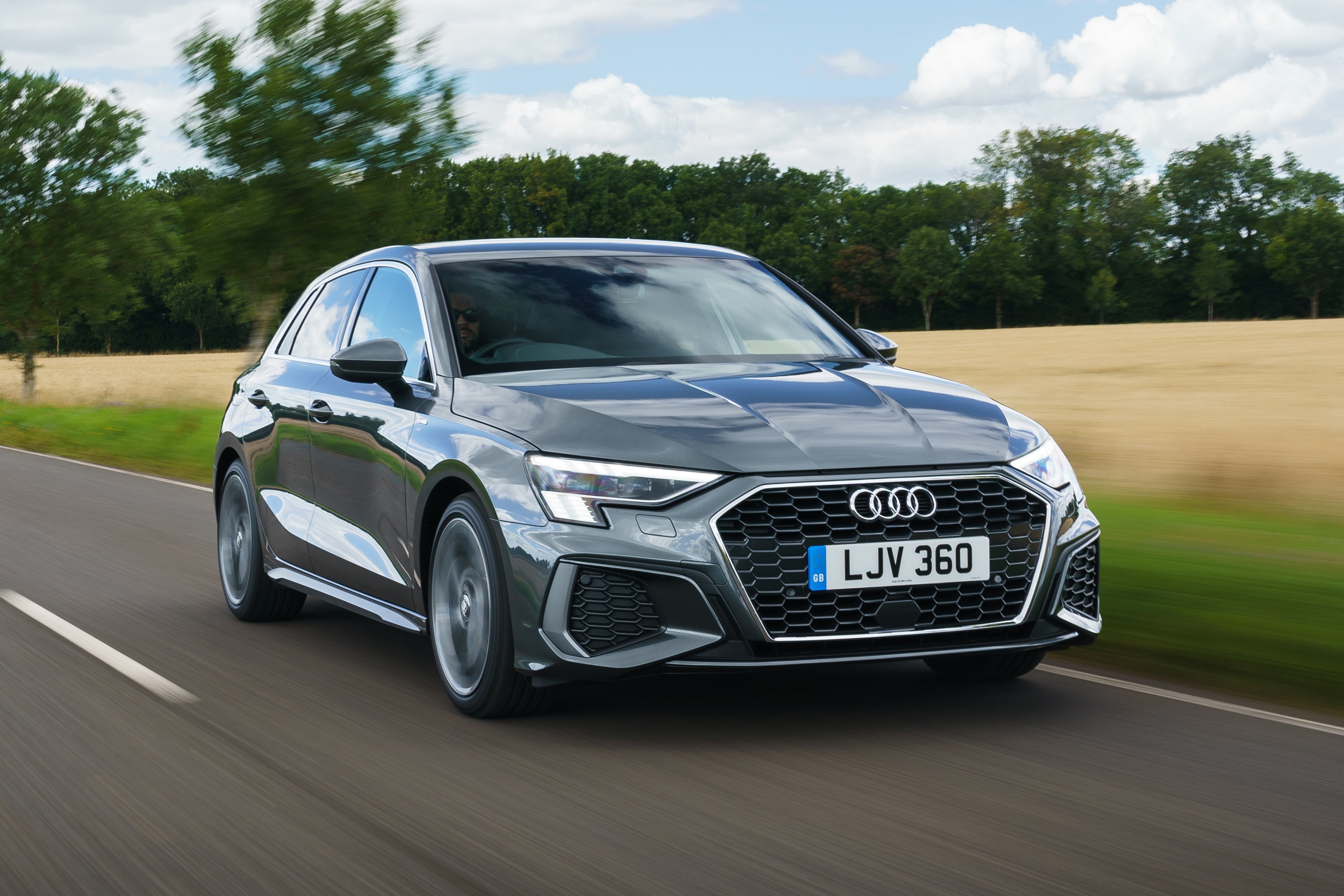 But it would be doing the Audi A3 Sportback (to give it it's full name) a disservice to describe it as a Golf in a posh frock. The junior Audi is one of the best small premium cars on sale - holding its own against the latest BMW 1 Series and Mercedes A-Class. Find out more in our 2022 Audi A3 review.
Sure, it shares a base (and engines) with the likes of the Volkswagen Golf and SEAT Leon, but it has a bang up-to-date interior and plenty of technology.


At its launch in 2020, this Audi A3 Sportback came with the choice of just one petrol and one diesel engine - both with the same 150PS power output. The petrol is a 1.5-litre four-cylinder engine, badged 35 TFSI while the 2.0 TDI is called the 35 TDI. Yes, the Audi naming system confuses us, too...


Both engines are powerful yet also economical, while plug-in hybrids and an ultra-efficient 115PS diesel followed later, along with the 310PS Audi S3.


The Audi A3 Sportback is really at home on the motorway, where an acoustic windscreen makes for very hushed progress. All the models ride well (avoid the S line with its sports suspension if comfort's important), with little in the way of wind or road noise.


The A3's interior is ultra-modern and as premium as you'd expect from an Audi. True it may not have the wow factor of the Mercedes A-Class but you won't be disappointed with the A3. Everything you touch is made out of the same high-quality materials you'd find in a bigger Audi.


Talking of bigger, there's marginally more space in this A3 than the old model - we doubt anyone in the front will be left wanting more room. The same can't be said for those in the back. As you'd expect from a car of this size, tall passengers in the back might need you and your front seat passenger to slide their seats forwards a little more than is ideal. If you want to regularly carry three or four people, look at something like a Skoda Octavia instead. Oh, and there's no three-door version of this A3, either.


While the new Audi A3 isn't dramatically different, it remains a classy hatchback that's packed with kit. It's more expensive than alternatives like the Volkswagen Golf and Mazda 3, but with a superb cabin you can see where your money's going. This does mean you'll have to wait a while before values drop on the second-hand market.
Looking for a used car for sale? We've got 100s of Audi Approved Used Cars for Sale for you to choose from, including a wide range of Audi A3s for sale. If you're looking for the older version, you need our used Audi A3 Sportback (2013-2020) review. While if you're after the four-door version, we also have a review of the latest Audi A3 Saloon.
Is the 2023 Audi A3 right for you?
In some ways, it's difficult to justify the Audi A3 Sportback over the very similar (and very competent) Volkswagen Golf. But if you want something more special than a Golf (or alternatives like the Ford Focus and Mazda 3), the A3's a perfect choice. Having those four rings on the grille still carries a bit of status.
Like most cars of this size, you'll struggle to use it as your only family car but it's ideal for a couple or as a second car. The interior is superb and packed with technology. It feels extremely well built and we're sure it should last for many years without excessive signs of wear.
What other cars are similar to the Audi A3 Sportback?
The obvious competitors here are the BMW 1 Series and Mercedes A-Class. The BMW 1 Series is a practical choice that's also fun to drive, while the Mercedes A-Class has an interior that wouldn't feel out of place in a much more expensive car. Both arguably offer bolder looks than the Audi A3 Sportback.
Then you've got more mainstream alternatives like the Volkswagen Golf, SEAT Leon and Mazda 3. All do pretty much the same job as the Audi A3 Sportback, but lack the Audi's premium feel-good factor. That said, the Volkswagen Golf isn't that far off...
Comfort and design: Audi A3 Sportback interior
"Seeing as it's marketed as quite a posh car, you might be surprised to find there's no electric seat adjustment in most versions of the Audi A3 Sportback. Not that adjusting the seats and steering wheel is hard work. Most will be very comfortable in the Audi A3. Indeed, it's a very focussed cabin, with the dash and centre console angled towards the driver. Everything is easily accessible."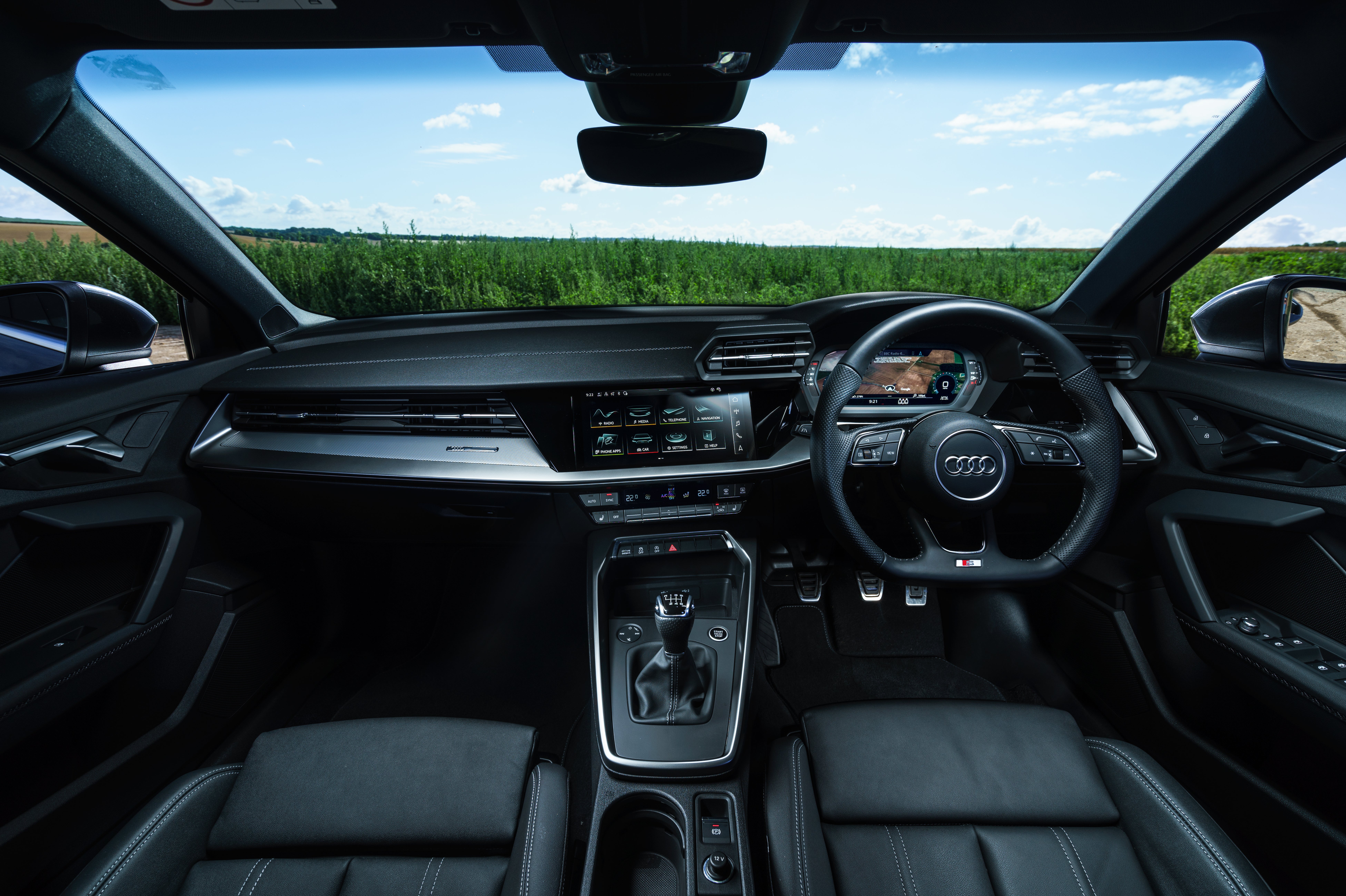 Touchscreens are used to control most features in modern cars - especially premium models like the Audi A3 Sportback - but there are a lot of buttons in the Sportback's cabin. They're logically laid out, so it's easy to do things like change the temperature or turn the radio up on the move.
A quirk of the automatic models is a stubby toggle switch instead of a conventional gear lever. It looks modern (in a quirky way) and frees up space on the centre console.
The Audi A3 Sportback's cabin is the sort of well-designed interior we've come to expect from Audi. It might lack flair compared to the Mercedes A-Class but you can see where your money's been spent compared to a Ford Focus, for example.
Quality and finish
If you're looking for a car with a high-quality interior, an Audi is generally a very good choice. The Audi A3 Sportback is no exception. It's very well made, with lots of soft-touch materials and an abundance of gloss black finishes. Everything you touch feels like it should last the distance.
It's easy to turn your nose up at the standard cloth seats of the Audi A3 Technik, but even these feel well-finished. Sport models get leather, while the S line comes with leather sports seats. These look the part and are surprisingly comfortable.
The Audi A3 Sportback S line also features things like aluminium dash inlays and an LED interior lighting pack with ambient door lighting, which makes the A3 Sportback's interior even more special (and rival that of the Mercedes A-Class, with its fancy interior ambient lighting).
Audi S3 Sportback performance models feel even nicer inside. They get a swoosh of cheese-grater style trim across the dashboard and diamond-stitched Nappa leather seats as standard.
Infotainment: touchscreen, USB, nav and stereo in the Audi A3 Sportback
We're used to having to pay extra for the biggest infotainment systems, but a slick 10.1-inch display is standard on all Audi A3 Sportback models. This is very easy to use, with good graphics, logical menu systems and fast responses.
It features everything you'd expect from such a system in a premium car - including DAB radio and connected navigation. It can be operated a bit like a smartphone with click, swipe, scroll and zoom gestures - so it's very intuitive.
There's a caveat though. There are no physical buttons for the media system so, on the move, you find yourself jabbing at the touchscreen display which is frustrating at best and dangerously distracting at worst.
Audi will point you towards its voice command function but this isn't as smooth as Apple's Siri or Google Assistant. Fortunately, Apple CarPlay and Android Auto are standard. This means you can use your phone's features on the move - including the aforementioned Siri and Google Assistant, as well as accessing your Spotify playlists and using apps like Google Maps or Waze.
Another Audi A3 Sportback standard feature is the 10.25-inch Virtual Cockpit. This is the slickest digital instrument display around, with sharp graphics and numerous ways to customise it - changing the size of the dials or prioritising navigation directions, for example.
Space and practicality: Audi A3 Sportback boot space
The dimensions of the Audi A3 Sportback are pretty much par for the class at 4.3m in length and 1.8m wide. While there are more practical hatchbacks (step forward, Skoda Octavia), the Audi A3 Sportback will be big enough for most. There's plenty of room for a pair of adults up front, with generous head, leg and shoulder room.
There's a decent amount of stowage such as a pair of generous cup holders in the centre console, and door bins big enough for all your bits and bobs.
Two adults will fit in the rear and as this is a five-door, access is easy enough. Along with the ISOFIX points, there are top tether points on the outer rear seats.
There's no more or less room than the Audi A3 Sportback's direct premium rivals, but you'd probably be better looking at a bigger car or SUV if you regularly carry rear-seat passengers. There's the usual lump in the floor hindering foot room for middle passengers (who'll also struggle for shoulder room), and anyone over six foot will find their knees sticking into the seats in front.
The Audi A3 Sportback's 380-litre boot capacity compares well with rivals and there's a handy adjustable boot floor - meaning you won't have to lean into the boot to get your shopping.
The rear seats on Technik models split 60/40 and 40/20/40 on higher-spec models, so they can be dropped easily if you need more luggage space. Up to 1200 litres of boot space is available with the rear seats dropped - although they don't fold entirely flat.
All A3 Sportback models come with a tyre repair kit rather than a spare wheel. This means more room for luggage, but if you're like us, we'd rather have the security of a spare wheel in case of a puncture.
Handling and ride quality: What is the Audi A3 Sportback like to drive?
"The Audi A3 Sportback's suspension varies depending on trim level and the size of the engine. The good news is that if you avoid larger wheels or the S line specification, the A3 rides very well."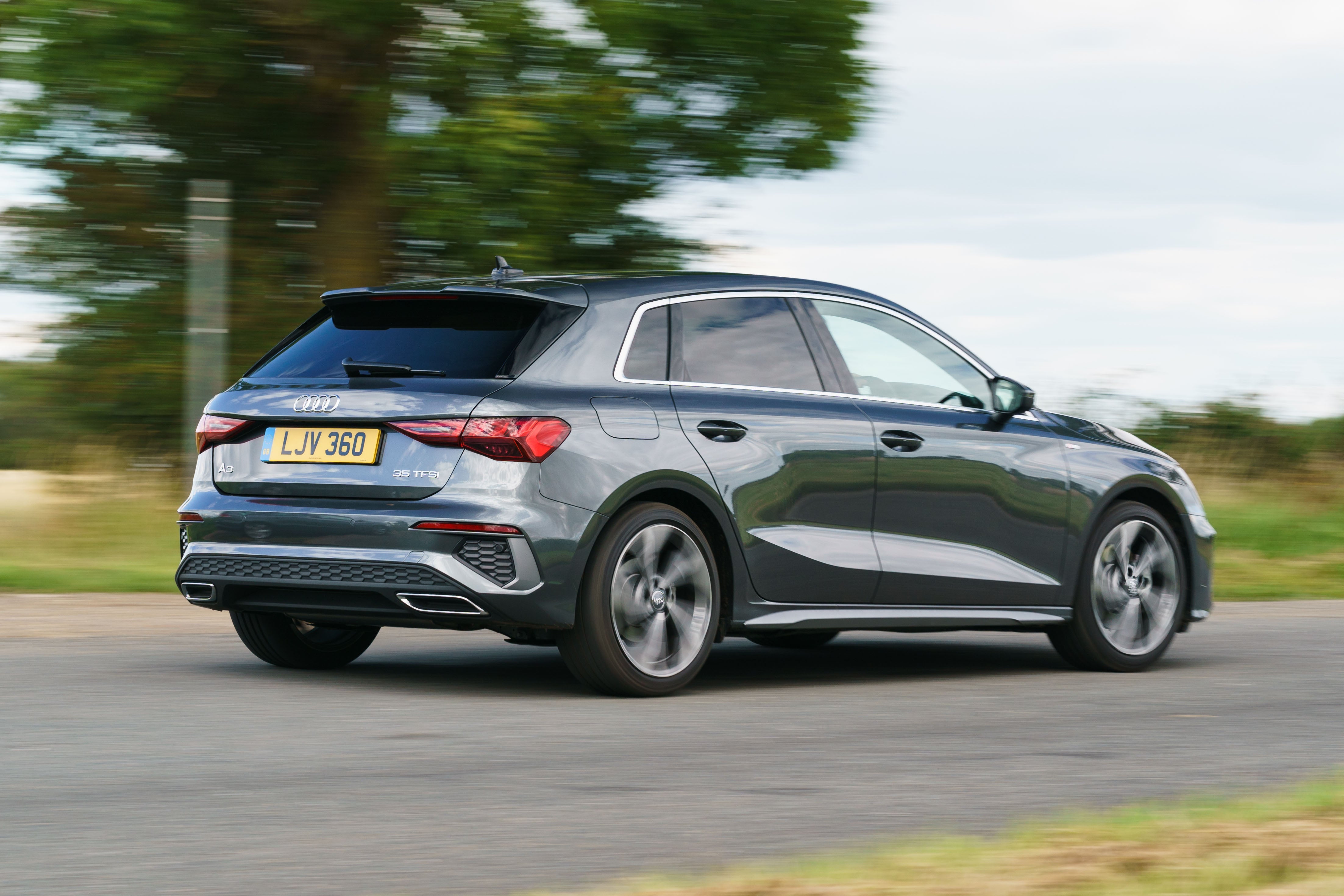 The lower-powered models (with less than 150PS) have a standard suspension set-up while anything with more than 150PS gets a more sophisticated system. We reckon the standard setup is the sweet spot in the range, providing a good combination of handling and comfort. It's less firm than sporty rivals, which will suit the majority of Audi A3 Sportback buyers.
If you want something a bit more dynamic, Audi A3 S line models have sports suspension, which sits 15mm lower to the road. This provides a firmer ride, not helped by the S line's standard-fit 18-inch alloy wheels. It's not uncomfortable, but we reckon the standard springs suit the A3 better.
The Audi S3 gets a similar setup, but in these sporty models it's well resolved, offering a decent amount of comfort while also making the car feel better controlled in bends.
In typical Audi fashion, the A3 Sportback remains very composed during cornering, but it doesn't feel quite as agile as the Mercedes A-Class or BMW 1 Series. The steering will be too numb for enthusiastic drivers, but that translates into nice, light steering around town.
Indeed, the Audi A3 Sportback is excellent around town. Visibility is very good, while all models come with rear parking sensors as a minimum - making parking a piece of cake. That said, a reversing camera is optional even on the top-of-the-range Audi S3.
What engines and gearboxes are available in the Audi A3 Sportback?
Audi likes to roll out engines and gearboxes over time, so early examples of this generation Audi A3 Sportback are powered by one of just two engines. The only petrol to begin with was the popular 1.5-litre four-cylinder badged the 35 TFSI. It's a good combination of performance and economy, producing 150PS and available only with a six-speed manual gearbox.
If most of your driving is around town, look for the three-cylinder 1.0-litre petrol, badged the 30 TFSI. It punches above its weight in terms of performance, while being more economical than the 1.5.
If economy is important, a mild-hybrid version of the 1.5-litre soon followed, with the ability to coast with the engine off for short periods, using less fuel. If you want a PHEV, the Audi A3 Sportback obliges with a model that can cover 40-odd miles on electric power.
Cover lots of miles on the motorway? Go for a diesel like the 150PS 2.0-litre diesel badged the 35 TDI and paired exclusively with Audi's seven-speed S tronic dual-clutch automatic transmission. It's ultra-refined and ultra-efficient, with plenty of power. If you want the ultimate in frugality, though, you should seek out the 115PS 30 TDI.
Ultimate performance more your thing? Then you'll want the Audi S3 Sportback, which comes with a 310PS 2.0-litre four-cylinder petrol engine. It delivers its power smoothly and consistently – it's got plenty of get up and go but never feels ragged. It's paired to a seven-speed dual-clutch gearbox that gives smooth shifts in Comfort and quick changes in Sport – backed up by a crackle from the exhaust on up changes.
All trim levels bar the Technik get the Drive Select system fitted to the Audi S3. It lets you choose from multiple drive modes. In standard cars, we find that this is best left in Comfort or Auto modes - otherwise the automatic gearbox holds onto low gears and the steering is pointlessly heavy. We're not a fan.
Refinement and noise levels
The Audi A3 Sportback is in its element on the motorway. No matter which engine you opt for, it's extremely refined - helped by a new acoustic windscreen which is fitted as standard across the range.
There's some noticeable road noise in models fitted with larger wheels, but find a lower-spec model with high-profile tyres and it's an extremely civilised motorway cruiser. All models come with cruise control, upgradable to adaptive cruise control (which slows down and speeds up with the traffic) as part of the Driver Assistance Pack.
There's a little diesel burble from the 35 TDI on start-up, but that soon quietens down and, at motorway speeds, you'd be hard pushed to notice it's a diesel. There's no real noticeable vibration through the pedals or steering wheel, it's an extremely soothing car to drive.
The petrols are very quiet, too - although you'll have to accept a slight three-cylinder resonance from the 1.0-litre 30 TFSI. It makes quite a characterful noise at high revs, but it's not particularly intruding. Audi S3 models – which have 18-inch wheels as standard – do produce a little more tyre roar than models with smaller wheels.
The most refined Audi A3 Sportback will be the plug-in hybrid, provided you charge it at home and cover mainly short journeys. In this situation, it runs mainly under electric power - with instant acceleration and no rumbling petrol engine starting up unless you're particularly demanding with the accelerator.
Safety equipment: How safe is the Audi A3 Sportback?
Euro NCAP - the independent body responsible for crash testing new cars - gave the Audi A3 Sportback a five-star rating for safety.
There's a lot of standard safety equipment including Audi's pre sense front - the brand's automatic braking system - on all models. The optional Driver Assistance Package adds useful lane change and exit warnings. The former alerts the driver to a vehicle in their blind spot when changing lanes, while the exit warning will warn you of vehicles and cyclists approaching from behind when the car is at a standstill.
Rear parking sensors are standard across the range while you should look for examples with the Comfort and Sound Pack if you're concerned about parking. This features a reversing camera as well as parking assist with parking system plus. This sounds complicated but essentially lets the car reverse into parallel or perpendicular parking spaces for you at the touch of a button.
MPG and fuel costs: What does a Audi A3 Sportback cost to run?
"Unsurprisingly, the most efficient Audi A3 Sportback models are the diesels. The 35 TDI officially returns between 60mpg under WLTP fuel economy tests - meaning you should be able to get fairly close to this in the real world. The lower powered 30 TDI is even better on fuel, officially good for more than 80mpg."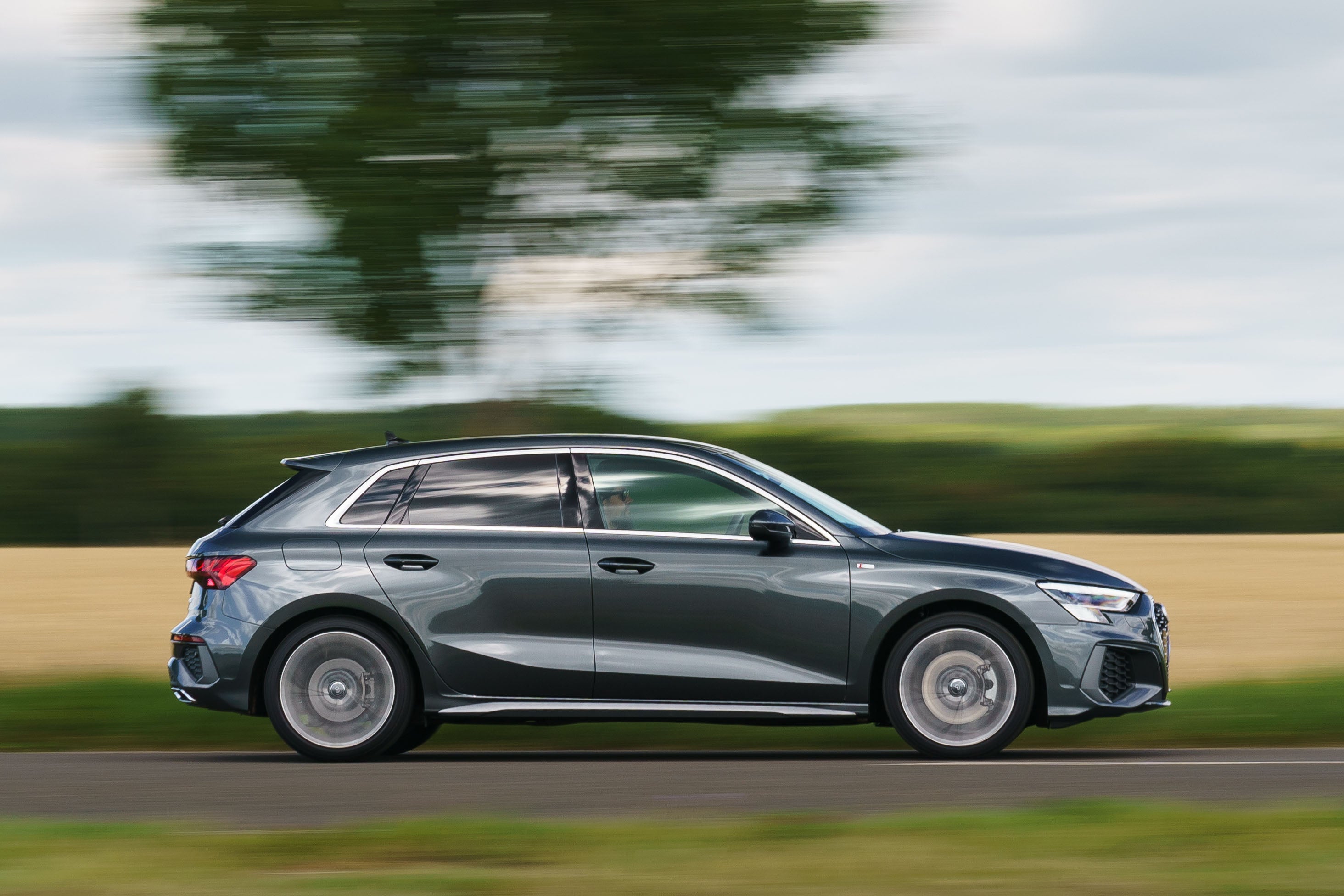 While the diesels are tempting for their improved fuel economy, they're more expensive to buy second-hand and can be problematic further down the line if you don't cover many miles. We'd choose the petrol if you're expecting to travel less than 12,000 miles a year. The 35 TFSI returns around 45mpg under the WLTP fuel economy tests.
Even the sporty Audi S3 shouldn't cost a fortune to run – it gets 39mpg officially, so 35mpg should be relatively easy to achieve in reality.
How reliable is the Audi A3 Sportback?
As a brand Audi does very well in terms of reliability, scoring 9.12 out of 10 in the HonestJohn.co.uk Satisfaction Index.
There don't seem to be many common issues with the Audi A3 Sportback for now, with the car proving to be very reliable. It's worth just paying attention though if you're looking to get an A3 Sportback with the 1.5-litre 35 TFSI petrol engine as it has had some issues when used elsewhere in the range, with some reports of hesitation issues at low revs (particularly with the manual gearbox). Audi fixed this with an update in 2020.
Insurance groups and costs
The Audi badge might attract slightly more expensive insurance premiums than mainstream alternatives, but the difference will be marginal unless you're a young or new driver. You might want to take a look at our guide to the cheapest Audi models to insure.
The Audi A3 Sportback 30 TFSI in Technik trim will be the cheapest to insure, in insurance group 15. That jumps up to group 21E for the 25 TFSI, while diesels start from group 17 for the 30 TDI.
That's comparable to rivals - the BMW 1 Series starts from group 15 for the 116d SE, while the Mercedes-Benz A-Class also starts from group 15 for the A180d Sport. This means, if you're looking for a cheap-to-insure diesel, you might find others cost less.
Audi S3 Sportback models sit in group 31 and are the most expensive to insure until the new RS3 joins the range.
How much should you be paying for a used Audi A3 Sportback?
"A pre-reg A3 will save you money on a brand new model. These are cars that have been registered by dealers in order to meet targets placed on them by manufacturers and are generally in as-new condition with less than 100 miles on the clock. While you can't be picky about specification or options when buying a pre-registered car, you will save money compared to the list price and skip the waiting list."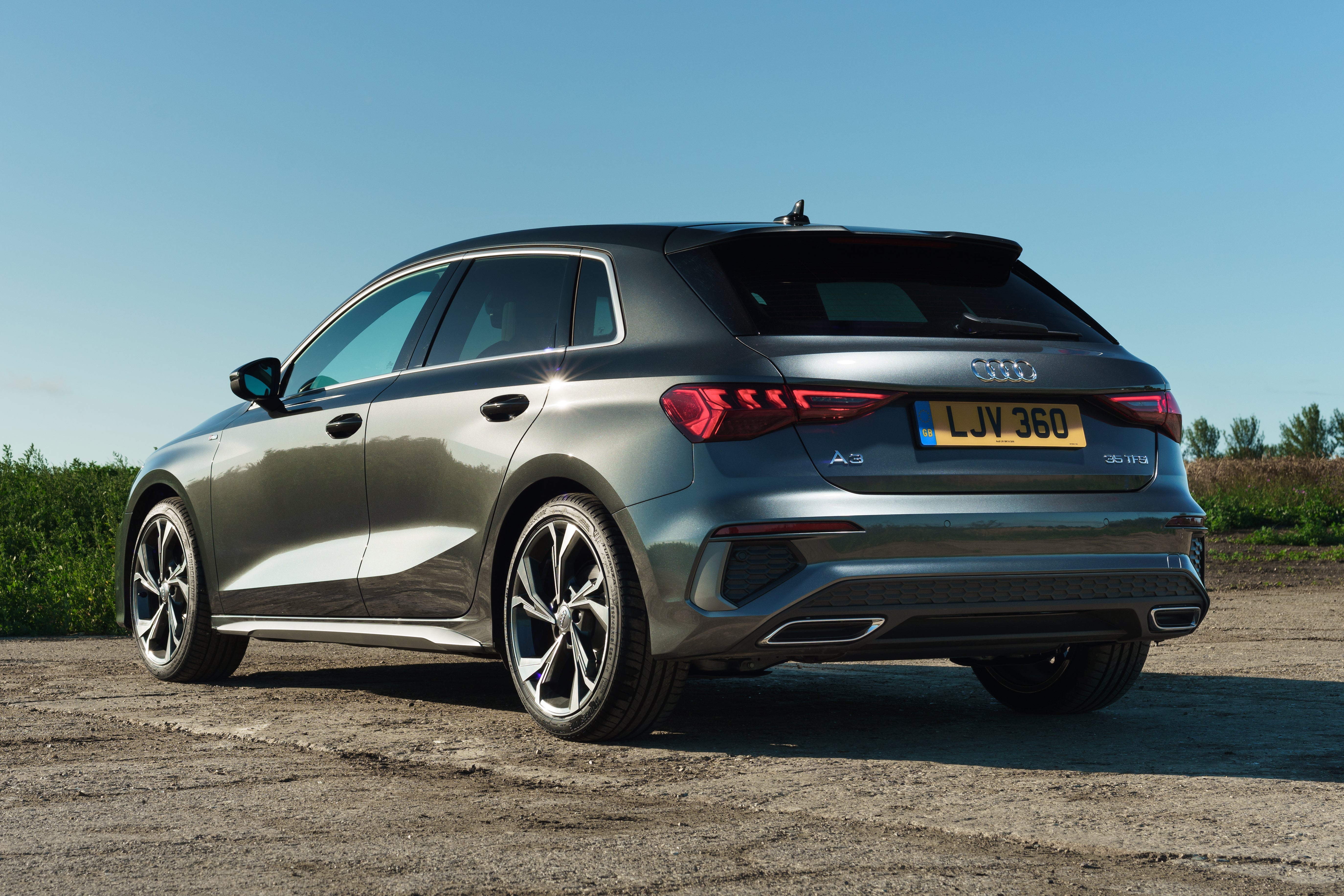 When new, the Audi A3 Sportback started from around £23,000 for the 30 TFSI model in Technik trim, rising to close to £32,000 for the 35 TDI S Line. Traditionally, the Audi A3 Sportback has held its value much better than mainstream alternatives but there will still be some reasonable savings available if you hold out a couple of years for a second-hand model.
A few years down the line, expect to pay anything from £12,000 to £20,000 for a three-year-old example with average miles, dependent on spec, engine and condition. Many Audi A3 Sportbacks will be coming out of finance or lease deals at three years old, so it's a good age to look for one.
Trim levels and standard equipment
Even the most affordable Audi A3 Sportback Technik model is comprehensively equipped with a long list of standard equipment including LED headlights, a 10.1-inch navigation system, Audi's Virtual Cockpit, cruise control and rear parking sensors. You're unlikely to feel short-changed with the Technik, although many Audi buyers will be tempted by the flashier looks of the pricier models.
The A3 Sportback Sport (catchy name) comes with bigger 17-inch wheels, various sport styling highlights (such as a titanium black radiator grille) and Audi's selectable drive modes. None of these is an essential feature, but the cosmetic upgrades do make the A3 Sportback look a bit more special.
The Audi A3 Sportback S Line comes with 18-inch wheels and sports suspension, lowered by 15mm - meaning it's the one to avoid if you're after ride comfort. There's more unique exterior styling, along with swoopy dynamic rear indicators. It does take the A3's already excellent interior and make it even more special with ambient door lighting, aluminium dash inlays and leather sports seats.
Audi S3 Sportback models come in two trim levels – standard or Vorsprung. All cars come with 18-inch alloy wheels, a body kit, sports suspension, Nappa leather interior and progressive steering which gets quicker the faster you go. Audi S3 Sportback Vorsprung models swap the 18-inch wheels for 19-inch alloys and the standard car's passive suspension for adjustable dampers. They also get a Bang & Olufsen stereo and matrix LED headlights that mean you can use your full beams in oncoming traffic.
In terms of options, the Comfort and Sound Pack (£1195 when new) is a 'nice to have' - with a premium B&O sound system, parking assist with parking system plus, heated front seats and reversing camera. The Driver Assistance Pack could be useful if you cover a lot of miles - with the aforementioned parking assist with parking system plus, camera-based traffic sign recognition, adaptive cruise control and adaptive cruise assist which will keep your car in lane at motorway speeds or in traffic jams.
Ask the heycar experts:
common questions
Can I buy a three-door Audi A3?
Not any more. The Audi A3 is available as a five-door Sportback model, while there's also an A3 Saloon if you're looking for something a little classy and upmarket. Audi used to offer a three-door A3 but it was a slow seller so has been dropped from the range.

Is there a hybrid Audi A3?
Yes, Audi offers a couple of options when it comes to hybrid power. The mild hybrid Audi A3 Sportback 1.5-litre TFSI petrol engine uses a 48-volt system which allows the engine to switch off for short periods during coasting, however it can't travel under electric power alone. There's also two plug-in hybrid models to choose from as well.
How efficient is the Audi A3?
The most efficient Audi A3 Sportback is the 35 TDI diesel which returns 62.8mpg and emits 119g/km CO2. An even more efficient diesel engine, the 30 TDI, is on its way. The 35 TFSI petrol, meanwhile, returns 48.7mpg and emits 132g/km CO2 under official tests.

Get a month's free insurance for your new car with heycar
£--.--*
Monthly thereafter
Terms, conditions, exclusions and excesses apply.
What's included?
Fully comprehensive policy
Monthly subscription, cancel anytime
No deposit or interest charges
Price guarantee for 12 months
Manage your policy anytime, anywhere
No fees for changes and cancellations
‍We've assumed that you:
– Have had a full UK driving licence for two or more years
– Will be the registered owner and keeper of your car
– Haven't made any modifications to your car
– Have never been declined insurance
– Haven't had any claims or driving convictions
Audi A3 cars for sale on heycar
5,951
Number of cars available
£7.5K - £48K
Price bracket of these cars
Colours available on heycar
Keep me updated by email with the latest advice, news and offers from heycar
By submitting, you agree to our
privacy policy
.